Beyond the Booth
Yes, he's the Ravens' play-by-play announcer, but there's so much more to Gerry Sandusky.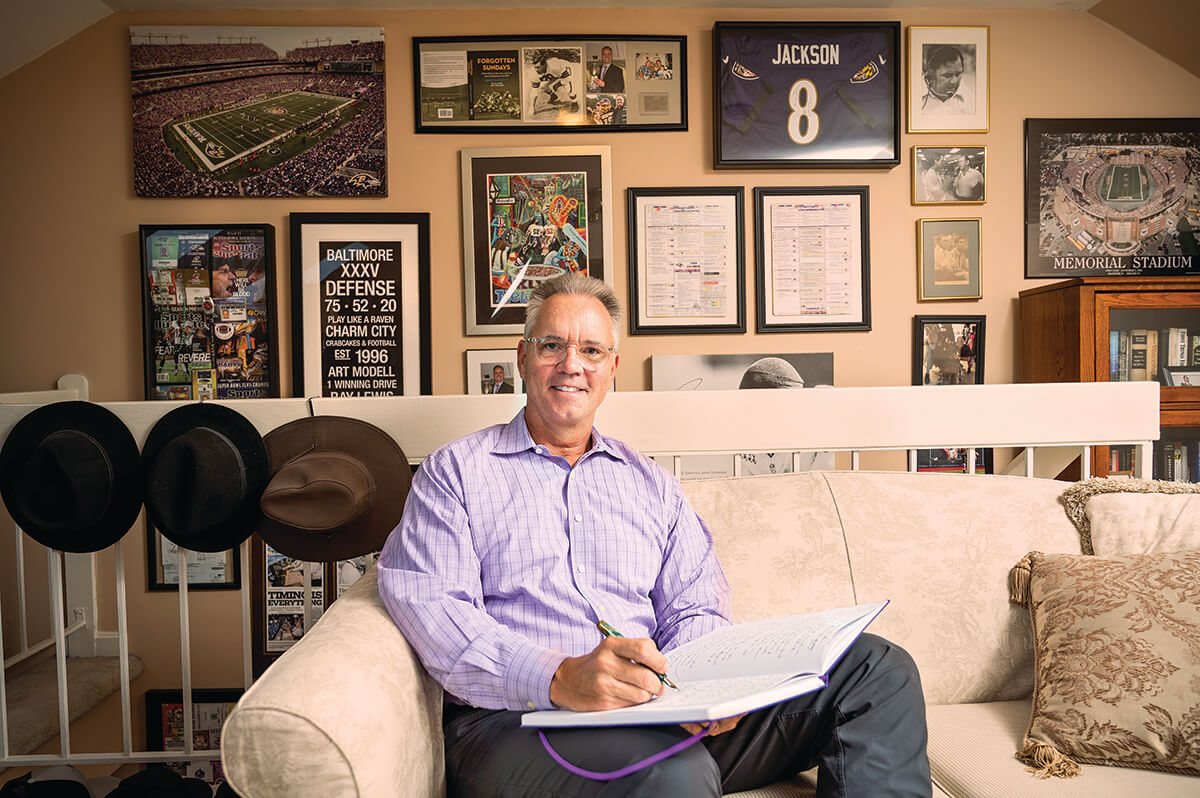 Gerry Sandusky, the super-smooth voice of the Ravens, is sitting at an outdoor table at the Rotunda in Hampden on steamy summer day. He is struggling to speak. His eyes well with tears as he reflects on a particularly meaningful memory of his mother, a pivotal day that changed the course of his life. But true to his unflappable nature, the longtime WBAL sportscaster quickly regains his composure and continues his story.
In 1983, after graduating from Towson University, he was living with his parents in Florida, working as a part-time pool boy, and trying (unsuccessfully) to break into broadcasting. Although he had majored in finance and economics in college, a visit to the school's football broadcast booth had bitten him with the sports announcing bug. But he had no real prospects. As he drove home from his pool job one evening, he felt stuck. "What have I done?" he thought. "I have no obvious career path."
He realized he was at turning point in his life. He returned to his parents' house unsure what his next career move would be. At home, there was a present waiting for him: a white gooseneck lamp with a red bow and a card: "I hope this light shines a little light on your dreams. Love, Mom."
His mother, Ruth, who died in 1985 of lung cancer, knew about her son's broadcasting aspirations. "You go back to that moment," Sandusky says. "It was an unbelievable act of kindness. On the very night I had lost my last thread of hope and was ready to quit, my Mom gave me the gift of confidence and encouragement."
While chatting, the bespectacled Sandusky relaxes his tall, lanky frame in a steel chair, sipping bottled water. Even on a sticky August afternoon, he appears unruffled, wearing neatly pressed marine-blue slacks and a black polo shirt. His silver-gray hair is brushed off his forehead, adding an air of sophistication, as he reflects on his mother's impact on his life.
After being bolstered by her support, Sandusky set out to find a way to break into broadcasting. Of course, his younger self had no idea that one day he would be the sports director at WBAL-TV and the play-by-play announcer for the Baltimore Ravens.
He approached WSVN-TV in Miami, where he convinced the staff to let him spend time in the newsroom, even though the station didn't have an internship program. "For a year and a half, I'd hang out, ask questions, and learn from the anchors and reporters," he says. By 1984, he was hired as a sports broadcaster.
"The big thing I learned was how to tell stories," Sandusky says. "The other thing I learned was how to talk to a camera. You aren't 'broadcasting.' You're always talking to one person when you talk to a camera. I learned to think of a camera as just that, a person."
But Sandusky had Baltimore roots. He lived here until he was 12, attending Immaculate Heart of Mary School in Towson while his father, John Sandusky, was a Colts assistant coach before briefly becoming head coach. The family—including his mother and four siblings, Jack, Jim, Joe, and Ruth Ann—lived in the Parkville area until the elder Sandusky's career took them to New Jersey and then to Miami. When the opportunity presented itself, Gerry Sandusky had no qualms about moving back to Maryland in 1988 to work at WBAL-TV as the 11 p.m. sports anchor, even though he was leaving a bigger TV market.
He told The Baltimore Sun at the time, "Most people in broadcasting wonder what I'm doing, but Baltimore is the one place on the planet that I call home. You can either have great weather or a great town."
"YOU AREN'T BROADCASTING. YOU'RE ALWAYS TALKING TO ONE PERSON WHEN YOU TALK TO A CAMERA."
His wife, Lee Ann Sandusky, who met her husband in Florida, says he always wanted to return. "His mother died. His father remarried. He was craving a connection to his siblings," she says. "We wanted to raise a family and be near family."
The couple, who will be married 34 years on Dec. 31, have lived in the same Sparks townhouse for 31 years. "When we moved in, we had one car and no furniture," Gerry Sandusky says. "We thought we'd stay for three or four years, but it was such a great neighborhood. There were about 30 kids."
That suited the Sanduskys, who have two children: Katy, who is now 31 and an associate communications director for the National Network of Public Health Institutes in New Orleans, and Zack, 26, who lives in Nashville, Tennessee, and works at Plein Air Agency, a marketing company.
Sandusky has always been an involved dad, coaching the kids' baseball and field hockey teams and volunteering at their school. "The beautiful part of my job is that I work nights," he explains. And when he needed to coach or attend a school function in the evening, "On my dinner break, I'd run out to practice," he says. "Like any parent, you just find time."
When the kids were growing up, the family had a friendly football rivalry. Lee Ann, a Pittsburgh native, was (gasp!) a Steelers fan. Katy rooted for the black-and-gold with her mom, while Zack supported the Ravens with his dad. "It was the girls versus the guys in our home," Lee Ann says. "The losers had to make breakfast."
For a while, Lee Ann and Katy were the beneficiaries. "Gerry is the best omelet and pancake maker ever," she says. But the family joined football forces when Katy, who went to Towson University, became a marketing intern for the Ravens. "We're all Ravens fans now," says Lee Ann, 61. "I had to throw out the Terrible Towel and the Troy Polamalu jersey."
During the Ravens football season, Sandusky, 60, estimates that he spends about 40 to 50 hours at the station and another 20 hours working on his own. And each week, he is the familiar voice that makes the game come alive for his listeners, though he admits by the end of the game he is "completely and totally and utterly exhausted." "It's a little bit like riding the front edge of a storm. You don't know what's coming. That's the part that's most exhilarating."
Sandusky learned early on that preparedness is key. "Chuck Thompson [the beloved Baltimore sports broadcaster who was the play-by-play announcer for the Colts] told me something years ago that I always remember. He said, 'If you don't bring it, you won't find it in the broadcast booth,'" he recalls. "You have to do your homework ahead of time….What I love about it is that for three hours I'm nowhere else because you have to be right there for every play and be involved in every play."
Sandusky's latest challenge is keeping track of quarterback Lamar Jackson. "I had to change the way I do play-by-play to adapt to his plays because he is so good with his ball skills that you don't know where the ball is," he says. "Before Lamar, I'd try to be right where the ball is…With Lamar, I try to stay a heartbeat behind the ball. Frankly, with La- mar, you think you know where the ball is, but you're wrong. I've had to learn more patience."
Peter Schmuck, a former Baltimore Sun sports columnist and WBAL talk-show host, praises Sandusky's on-air performance. "He's good at capturing the excitement of the moment," he says. "But he doesn't do it at the expense of what has to be said. He also reflects on the angst felt by the fans when things go badly…He's so good at what he does you have to smile when you listen to him."
Perhaps no phrase of Sandusky's elicits more grins than "the hay's in the barn." He uses the expression when a play signals a win for the Ravens near the end of a game. It originated from his Towson University football coach, Phil Albert. (Sandusky played tight end on the team until he broke his leg during his junior year.) The coach would say, "The hay's in the barn," at the end of each practice to indicate that the team's hard work was done.
Sandusky thinks it resonates with football fans because "it speaks to everybody's innate nature about how good it feels to do what you set out to do," he says. "I remember feeling the same way in [football] practice. You've done the heavy work you came to do, and now it's time to finish it up."
But his friendly, on-air image took a hit in 2011 when his name came under scrutiny after Jerry Sandusky, the former assistant Penn State football coach, was charged with sexually abusing children. Many people wrongly assumed that Gerry Sandusky was related to him. He isn't.
"It was terrible. It was awful," Lee Ann Sandusky says. "He's very proud of the Sandusky name because of his father."
At the time, Gerry Sandusky, who now introduces himself as "Gerry with a 'G,' no relation," gathered his family in the loft above the couple's bedroom. (The loft, filled with football memorabilia, was a makeshift studio for Sandusky during the pandemic.) He told them: "You can't punch every idiot who comes along." Lee Ann says, "You choose how to handle them."
But her husband kept the situation in perspective, she says: "He was emphatic. There were real victims who were part of this. His inconvenience was a small part of it."
Even a decade later, he can still get a negative response when he's introduced to someone new. He calls it the "Sandusky flinch." "People literally flinch," he confirms.
Deborah Weiner, a WBAL-TV news anchor and reporter, has known Gerry Sandusky for almost 20 years and remembers the Jerry Sandusky fallout.
"It was a pretty awful experience," she says. "But he handled it the way he handles everything else, which is he can deflect like nobody else, and he has a great sense of humor, and while this wasn't a humorous situation, there was this cinematic humor to being on TV every night as the good Sandusky and the news broadcast team is referring to that other guy with the same name. It was the stuff of movies, but he handled it with finesse."
And Weiner emphasizes that Sandusky is much more than a football person. "I know Gerry is the voice of the Ravens but calling him the voice is slightly demeaning because he is pretty much the brain as well," Weiner says. "He is one of the smartest people I know. His institutional knowledge is unsurpassed. I mean Gerry can be chatting about Mesopotamia history and [poet John] Milton, all in the span of the same minute."
Tom Tasselmyer, WBAL-TV's chief meteorologist who has worked with Gerry Sandusky since 1989, agrees that his colleague is more well-rounded than most viewers may realize. "I think he's just a guy who loves to learn, and loves to learn your opinion on something," he says. "You can talk to him about any topic, and if he doesn't know it, he'll go read something about it and have a discussion with you about it."
"FRANKLY, WITH LAMAR, YOU THINK YOU KNOW WHERE THE BALL IS BUT YOU'RE WRONG. I'VE HAD TO LEARN MORE PATIENCE."
Sandusky is an avid reader and appreciates the nuances of sentence structure, punctuation, and grammar. His favorite authors include Graham Greene, John Steinbeck, and Barbara Kingsolver. He always has a book in hand, recently reading Chimes of a Lost Cathedral by Janet Fitch. His hobby should serve him well as he recovers from hip replacement surgery, scheduled for Oct. 25, during a Ravens bye week. "I'll make it a reading week," he says.
Sandusky also keeps a daily journal, a practice he has been doing since college. "I just started to write to kind of figure my way out of things," he says. "It was a sounding board, and it just became a habit." He uses a fountain pen—he has several—to capture his musings because he likes the weight of the writing instrument and its relationship to paper. "It's a connection that's not present with a traditional ballpoint pen," he says.
His journals provided background for his memoir, Forgotten Sundays: A Son's Story of Life, Loss, and Love from the Sidelines of the NFL, published in 2014 by Running Press. Sandusky wrote it to honor his late father, who developed Alzheimer's disease in his later years and died in 2006. He did it for two reasons. "At the end of his life, I saw all the things he had accomplished and stood for but forgot. There was a part of me that wanted to capture it in book form," he says. "Also, we went through so much with the Sandusky name that I wanted people to understand why I would never ever consider changing my name."
In the book, he also shares details of another tragic event—the death of his brother Joe in 1978 at age 19 of complications from pneumonia. He and Lee Ann started the Joe Sandusky Fund through the Baltimore Community Foundation in his memory to provide college funds to needy students. "Joe's death was painful for Gerry," Lee Ann says. "They were very close. Joe was a mentor. He was gregarious, smart, and good-looking. We take that spirit and continue that."
Gerry also stays busy with The Sandusky Group, a media organization he founded in the mid-1990s. "It was an accidental business," he says. He started helping medical professionals prepare for on-air appearances before forming an official company and now helps people with their presentation skills. "This is something I love doing," he says. "It was a little nothing thing for a long time, and then it grew and became a bigger thing."
Sandusky has come a long way since his mom gave him a lamp in Florida. But calling football games is just part of it. As his WBAL-TV co-worker Tasselmyer says, "Sports is what he's known for on the surface. But his field of interest is unlimited."
His parents would be proud.