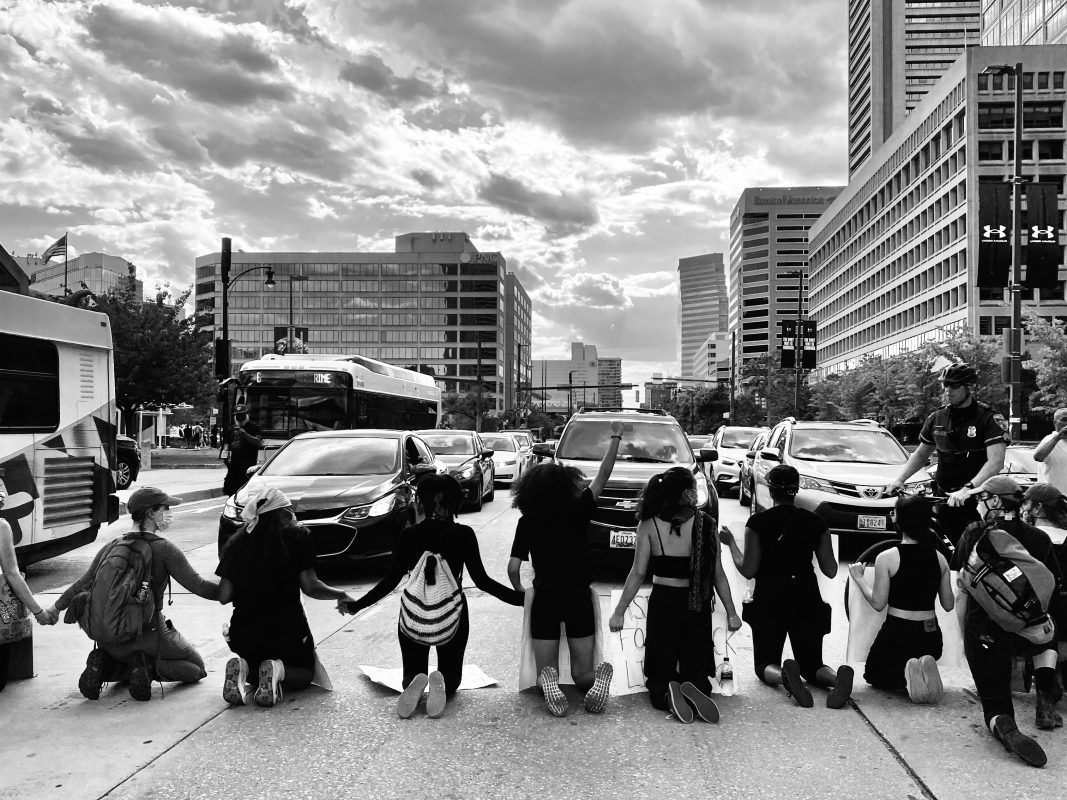 Photography by Philip Muriel
In the days following the death of George Floyd, a Minneapolis black man who died in police custody last Monday, a national outcry over racism and racial inequality has fanned out across the country. At the same time, an outpouring of ways to support, donate, and learn has also popped up in towns and cities throughout America, including here in Baltimore. From joining protests to patronizing Black-led or Black-owned establishments, we've rounded up some of the many ways to get involved on the local level.
JOIN THE PROTESTS
Protests: For those looking to get involved in local protests, the People's Power Assembly will be leading an emergency march and car caravan for Breonna Taylor on Saturday, September 26, from 1 to 4 p.m. at at the Gather Solidarity Center on 2011 N. Charles St. Baltimore students are also organizing a youth-led Black Lives Matter rally on Saturday, October 3, from 3 to 6 p.m. at Patriot Plaza in Towson, followed by aa march along Bosley Avenue. On Friday, October 9, a Trans Lives Matter rally will be held on October 9 at Roosevelt Park following an anti-trans incident in skateboarding community.
Protest Signs: The Reginald F. Lewis Museum is asking protestors to donate their protest signs to the museum to be added to its permanent collection, with drop-offs welcome at the Pratt Street loading dock. Local printmakers are also joining the fight, with the Globe Collection and Press at the Maryland Institute College of Art offering posters in their iconic neon colors and bold fonts for suggestion donation with all proceeds benefiting MICA's Art and Design College Accelerator Program for Baltimore City high school students.
SUPPORT BLACK BUSINESSES
One of the many ways to take action is to make a conscious effort to support Black-owned businesses, which have already been disproportionally impacted by the coronavirus. According to the Washington Post, the number of working African-American business owners has plummeted to 40 percent.
Made in Baltimore has compiled a list of more than 60 places to patronize, including KSM Candle Co. candles, Oyin Handmade beauty products,Keeper's Vintage clothing, Power Nail Decals accessories, Creative King hats and T-shirts, and A Day N June vintage, among others.
On September 25, the Downtown Partnership is hosting a free, virtual Black Business Friday happy hour from 6:30 to 8:30 p.m. with conversations between Mess in a Bottle owner Kalilah Wright and Night Brunch co-founder Jason Bass, as well as maker demonstrations from KSM Candle Co. and cocktail making from Cajou Creamery feat CAnE Collective. A virtual marketplace will also feature products from 11 Black-owned businesses.
Meanwhile, Black-owned restaurants, food businesses, and farms abound, with our own roundup including nearly 50 options, from Ida B's Table to Connie's Chicken & Waffles, while local food blogger Arli Lima of of Arli's Appetite has also created a list including several others. Local food education nonprofit Black Girls Cook Inc. has also started a list of several local Black-led organizations fighting for food justice, access, and sovereignty.
In South Baltimore, the Cherry Hill Food Co-Op is fundraising to create the first Black, community-owned grocery store in Baltimore, in an effort to increase fresh food access and Black food sovereignty and land justice, with 260 pledges met of their 750 pledge goal. Sign-ups are available through their website.
Black-owned bakery Crust By Mack has created a new pastry-filled "celebrate box," with a portion of proceeds in honor of families who have lost loved ones to gun violence or police brutality and benefitting organizations like Invisible Majority, a Baltimore creative incubator that provides resources for local Black artists.
CLLCTVLY, a local social change nonprofit, has also created the Baltimore Black-Led Solidarity Fund to provide $500 micro-grants for Black-led and Black-owned organizations impacted by COVID-19.
LISTEN & LEARN
In recent days, the Internet has exploded with lists of resources for readers to better educate themselves on racism, inequality, and the Black experience.
Local Bookstores: In Baltimore, the worker-owned Red Emma's in Mt. Vernon, which is currently closed but open for online sales, has long been a hub for books on social justice, arts-activism, and racial history, including works by local writers of color like D. Watkins, Ta-Nehisi Coates, and Lawrence Burney's True Laurels zine. Other local shops around town, like Charm City Books in Pigtown, Greedy Reads in Fells Point and Remington, and Bird In Hand in Charles Village are also promoting antiracist titles.
Virtual Resources: In the midst of coronavirus, online learning opportunities are popping up across the local community with renowned Black artists, activists, and leaders speaking on their experiences and offering insight and ideas for change.
The Motor House, along with other local organizations like Maryland VLA, Arts Education in Maryland Schools, the CityLit Project, and Rapid Lemon Productions, is hosting a new Anti-Racism Book Club on the third Monday of each month, starting with White Fragility by Robin DiAngelo.
On Thursday October 1, local anti-racism educators Both/And presents "Disrupt Your Practice: A Workshop for White Artists and Creatives" and "White Womxn Anti-Racism Alliance Foundational Workshop" for individuals to better understand systemic racism.
Art As Activism: The city's arts scene has long been a place for artists of color to address topics like race, inequality, and justice, as well as documenting Black beauty, struggle, and life in Baltimore. From painters and photographers to musicians, these creatives can be supported by following their pages, patronizing their projects, and donating to Black-owned or Black-led arts spaces and events, such as the Reginald F. Lewis Museum, Waller Gallery, Galerie Myrtis, Muse 360, Motor House, As They Lay, and the Pennsylvania Avenue Black Arts District, among others.
Now live, the first exhibition, titled "The Softer I Feel, the Freer I Be," from As They Lay, the new art and programming initiative from local artist Abdu Ali, is on display in the Baltimore Museum of Art's new BMA Salon virtual gallery, featuring works by young emerging Black artists such as Sydney J. Allen, Kyle Vincent Scott, and Darius Johnson. The museum's new Screening Room program also features works by notable Black Baltimore artists such as Devin N. Morris, Nia Hampton, and NIa June.
On Saturday, September 26, local poet Kondwani Fidel will be hosting a book launch for his new The Antiracist, featuring readings, signings, and a Q&A with photographer Devin Allen at the Ynot Lot at 6:30 p.m.
Through October 1, Bmore Art's Connect + Collect presents Close Read, featuring a digital window exhibition of works by local Black women artists, including Akea Brionne Brown, Shan Wallace, and Savannah Wood, inspired by research into the Afro American newspaper archieves. It is on view nightly on N. Charles Street from dusk until 11 p.m.
Through October 10, Current Space's window gallery presents Black Noise, a solo exhibition by artist Alpha Massaquoi, whose powerful charcoal drawings captures the raw emotions of his subjects and brings Black joy and beauty.
On October 17, the Black women-led Two Strikes Theatre Collective is teaming up with the female-focused Strand Theatre Company to present The Brown Sugar Bake-Off Play Festival, a one-day virtual theatre festival, featuring 10-minute plays by local directors and playwrights.
Through October 31, the Impact Hub presents The North Ave Window Joint, a community art show and window exhbitions curated by Baltimore contributor Alanah Nichole Davis, featuring photographs by more than 15 artists, including Rob Ferrell, Phillip Muriel, and Asia Kimpley.
MAKE A DONATION
There is no shortage of Black-led organizations in Baltimore who are working tirelessly to create positive change and promote racial justice for communities of color across the city. To name a few:
Baltimore Ceasefire, co-led by organizer Erricka Bridgeford, is a call-to-action group that works to promote peace and reduce violence through community events, or "sacred space rituals." They are seeking outreach volunteers, Ceasefire ambassadors, event hosts, and donations through their website, in addition to hosting a Juneteenth Father's Day Bailout fundraiser for other local employment and legal aid organizations on June 19-21.
The Black Church Food Security Network, run by Reverend Dr. Heber Brown III, is a community-owned food system anchored in African-American farmers and congregation-owned farmland, working to advance food and land sovereignty for communities of color. They offer membership for other churches of color, volunteer opportunities at their sites, and accept financial contributions online.
Baltimore Safe Haven is a new non-profit organization that provides outreach, resources, and housing services for the transgender community in Baltimore City. They accept one-time or recurring donations through their website, which benefits their food pantry, outreach vans, and drop-in center in Old Goucher.
The Baltimore Action Legal Team (BALT) is a community lawyer group that works to provide legal support for protesters involved in civil liberties movements for racial equality, including a community bail fund, legal training workshops, and arrest resources. They are currently accepting volunteers for the likes of court and jail support, as well as donations on their website.
The No Boundaries Coalition is a resident-led advocacy organization aimed at bolstering West Baltimore through all-neighborhood gatherings, community outreach, youth organizing, food and health advocacy, and more. They are seeking volunteers for their weekly produce market, initiative partners, and donations through mail or website.
Baltimore Youth Arts is a creative entrepreneurship and job training program that, with a focus on social justice, provides artistic and professional opportunities for young people age 14 to 22 in Baltimore City. Donations can be made online and through PayPal.
Leaders of a Beautiful Struggle (LBS) is a grassroots think tank, and co-founder of the Pennsylvania Avenue Black Arts & Entertainment District, that works toward the incorporation of voices of Black Baltimoreans into local politics and more inclusive public policy through research, advocacy, and outreach. They offer partnership opportunities, from panelists to performing artists to keynote speakers, as well as a three-tiered platform for one-time or long-term donations.
On the national level, there are many organizations to support that are currently accepting donations such as the Official George Floyd Memorial Fund; Colin Kaepernick's Know Your Rights Camp that provides resources for black and brown youth; the National Association for the Advancement of Colored People; the American Civil Liberties Union; and the Southern Poverty Law Center, among others.