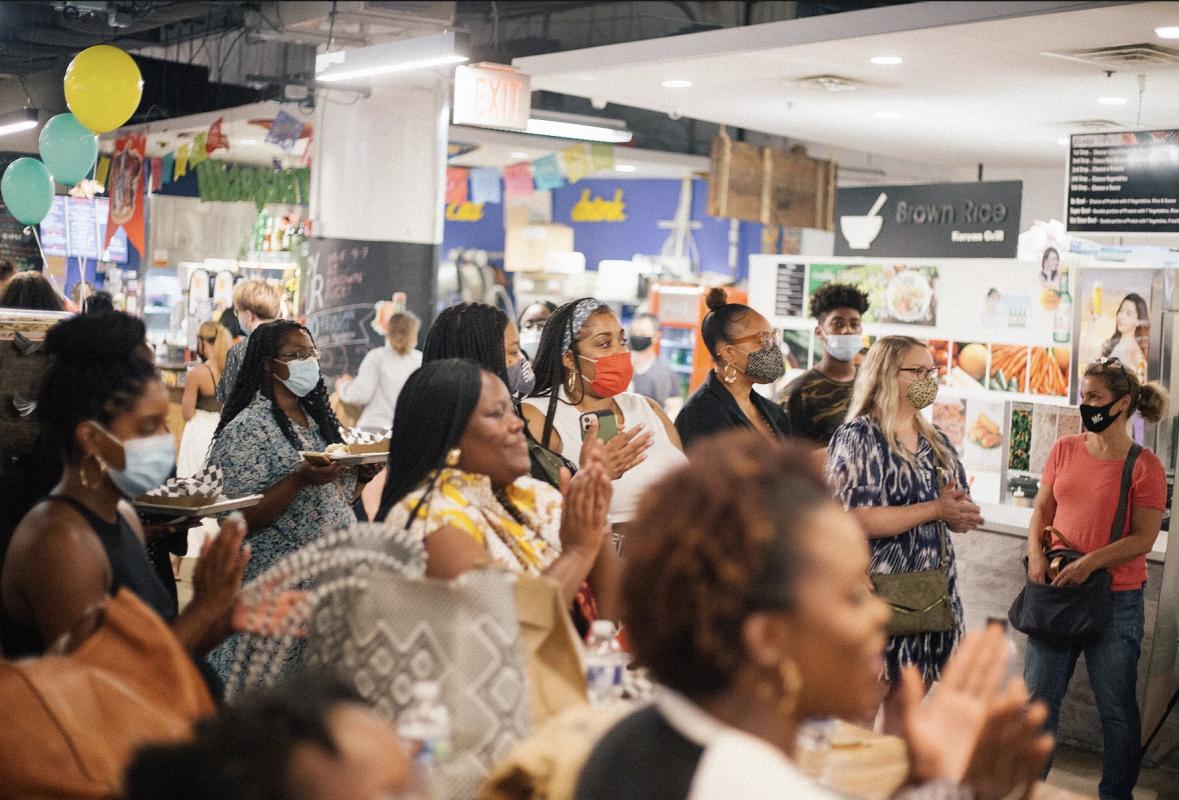 Visit participating Black-owned restaurants, including Fishnet, this weekend to get virtual access to a pre-recorded Juneteenth performance.—Photos by Syranno
On New Year's Day 1863, The Emancipation Proclamation—which would free enslaved Blacks in Confederate states—was signed by President Abraham Lincoln. The first known Juneteenth celebrations took place roughly four years after the fact in Galveston, Texas, where locals were late to learn that freedom had finally rung. 
Although Maryland has yet to declare it an official paid holiday (a bill to recognize it as such unanimously passed in the Senate this week and now heads to the House), June 19th has long been big and bold here—marked with cookouts, bright red foods symbolizing perseverance in bondage, and parades in the streets. And after a year-plus spent indoors—and last year's holiday marked with emotional strain—Baltimore is ready to ring in Freedom Day with a new sense of hope.
That was the sentiment that Keyia Yalcin, owner of Fishnet in Mount Vernon Marketplace, wanted to bring to Juneteenth celebrations within Baltimore's Black-owned restaurant scene.
"Last year, while we were in the pandemic and dealing with social unrest, it affected me," Yalcin says, "In many ways, it changed me. I wanted to do what I could to help empower other Black-owned businesses like myself, and also to celebrate something."
So, last month, Yalcin partnered with the team behind the Takeout Getdown and other area eateries to host and record a Pre-Juneteenth Celebration: The Joy Edition. This Friday and Saturday, a video of the celebration—which features a spoken word performance by Kondwani Fidel and live DJ sets from local legends James Nasty and Trillakay—will be available to those who purchase bites at participating Black-owned spots including Fishnet, Crust by Mack, and The Land of Kush. Ultimately, Yalcin hopes that the food, paired with the not-so-live bash, will be a source of joy.
"I'm hoping that [viewers] are dancing in their houses, or their backyards, or with their small groups of people," she says. "And I hope that they're just, in a happy way, being conscious of Black-owned restaurants, artists, and creatives."
Below, we round up some other local events to get involved this Juneteenth week.
6/17: Juneteenth with Equiano Rum and Cane Collective
Hosted by Equiano Rum founder Ian Burrell and Cane Collective co-founder Aaron Joseph, this virtual Juneteenth cocktail crash course benefits Strong City Baltimore. Get in on the Freedom Day fun when you purchase a bottle of Cane's Guava Tiki Punch Mixer (available for pickup at locations listed here.) Then, tune in to watch the pair shake things up.
6/18-20 Codetta Bakeshop Dessert On Demand
We'll take every single treat on this Federal Hill fixture's scrumptious Juneteenth menu, which boasts all the cocoa and rich-hued goodness to make the holiday complete. Try the "BLACK Velvet" cupcakes, which come topped with cream cheese buttercream icing and sweet black sprinkles to make for a melanated twist on a Freedom Day classic. Or indulge with "BLACK Cookies N Cream," complete with chocolate cake, chocolate Oreo butter cream, and dark chocolate Oreos—available to savor as cupcakes or trademark cake jars.
6/19: Brunch Gods Juneteenth Brunch and Day Party
The crew behind this celebrated pop-up is set to ring in Juneteenth (and their opening) with a full-day lineup of bubbles and brunch. Snag tickets before heading to Dream Mega Lounge downtown to feast on comforting favorites, including "Hot Honey Chick'n Biscuits," sweet potato pancakes, and "CINNA" rolls. 
6/19: Fifth Annual Juneteenth Festival and Art Bazaar at Dovecote Cafe
Grab the fam and visit Dovecote Cafe for a healthy dose of Juneteenth fun, complete with a jumpy maze, face paint, yoga, trivia, and carriage rides. Look out for Baltimore contributor Alanah Nichole Davis, who will host the musical likes of Davonne D'Neil, John Tyler and Friends, Eze Jackson, and more as they take to the outdoor stage. And shop around for art by more than 80 local makers.
6/19: Juneteenth: A Brunch Conversation and Celebration at BLK Swan
Head to this new Harbor East hotspot to enjoy live DJ entertainment, bottomless mimosas, a tapas-style brunch by chef Saon Brice, and an intimate discussion with local leaders led by Baltimore's own White House correspondent and CNN political analyst April Ryan. The talk will cover topics such as mental health in the Black community and the importance of supporting Black-owned businesses.
6/19:  Juneteenth at Topside Outside
This Juneteenth, join Breaking Bread and Black-owned whiskey brand Uncle Nearest at Topside—located inside Hotel Revival in Mt. Vernon—for an evening outdoors. Browse Uncle Nearest-infused sips and enjoy free plates (on a first come, first served basis) of blackened fish, red beans and rice, and collard greens courtesy of Breaking Bread. Plus, take in live sounds, performances, and art inspired by the annual holiday.
The food will be free and first come first served. Breaking Bread is preparing "traditional southern cuisine representative of the red, black and green" which will include blackened fish, red beans and rice, and collard greens in to-go containers to recognize the holiday that celebrates the emancipation of those who had been enslaved in the United States. There will be a curated playlist, giveaways from Uncle Nearest to recognize the holiday and cocktails for sale featuring the Black-owned premium whiskey brand.
6/19: Juneteenth Open Air Celebration at The National Great Blacks in Wax Museum
Visit the museum's Great Blacks Field from 12 to 6 p.m. to ring in Freedom Day with local tunes and tasty bites galore. Stick around to hear special guest speakers implore the power of a good education—which just so happens to be the theme of this year's spaced-out Juneteenth fête.
6/19: Juneteenth at R. House and r.bar
All day long, score sweet deals on drinks when you help this Remington food hall support its Black-owned vendors Creole Soul, Noisy Burger, and Taharka Bros. Plus, hear Rufus Roundtree rock the R. House stage from 3 to 5 p.m. And sample a sip or two when you visit the folks at Ambrosia Wine Studio, who will be popping up on site. 
6/19: Juneteenth Picnic and Paint Celebration with R.I.S.E. Arts Center of Baltimore
Join R.I.S.E Arts Center of Baltimore at Lake Montebello for the program's first-ever Juneteenth bash—a guided picnic and paint experience. Spread out on the grass with your blanket and snacks (paint and supplies will be provided) and watch and learn as local artist Jazmin Manning works her magic.
6/19: Playwrights Collective Showcase
The Playwrights Collective, a forum supporting Black women writers, will collaborate with the Fells Point Corner Theatre to feature a series of readings and filmed content in this celebration of Juneteenth.
6/19: Juneteenth at the Pratt
The library's Juneteenth celebration recognizes African-American freedom and includes performances, cooking demos from The Land of Kush and Crystal Forman of Holistic Wellness and Health, among other activities.
6/19: Juneteenth Stories of Freedom
In collaboration with the Griots' Circle of Maryland, this virtual celebration features African-American storytellers who will speak on stories of freedom.
To 6/19: The Coal Skuttle Legacy
This Station North exhibition features the work of Baltimore artists who showcase the cultural identity of the city and will pay special tribute to the contributions of emerging Black artists.
Additional reporting by Shauneen Miranda.