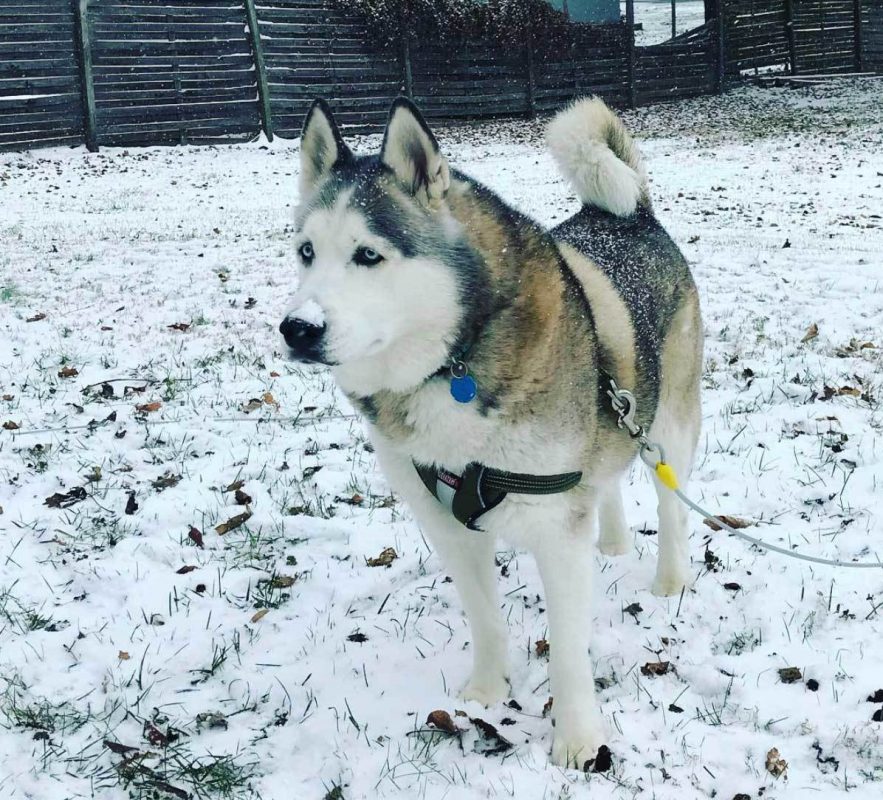 Jeff St. Pierre
Who says you can't teach an old dog new tricks? Seven-year-old Husky, Nanook, will be playing in Animal Planet's first-ever Dog Bowl on Saturday, February 3. The Baltimore Humane Society (BHS) alumnus will be one of 50 adult dogs to play in the newly added football games for older dogs.
The executive producer for both the Puppy Bowl and Dog Bowl, Simon Morris, said this inaugural event is meant to showcase adult dogs from two to 15 years old—of various sizes and breeds—to show viewers the variety of dogs in their local shelters available for adoption.
"Adults dogs are often overlooked," he said. "But with insight from their fosters and/or shelter and rescue staff, one can learn so much about their personality to make a perfect fit for their family."
Nanook was originally a rescue at the SPCA in Lancaster County, Pennsylvania, but when the location was forced to close, someone from BHS brought down as many animals they could fit in their car. Nanook was one of them. While at BHS, he was one of five dogs whose photos and bios were submitted to Animal Planet, hoping it would help his chances of finding a loving home.
In August, it happened. Nanook found a home with WPOC radio personality Jeff St. Pierre and his family. Shortly after the adoption, St. Pierre was notified that Nanook was selected to participate in the first-ever Dog Bowl on Animal Planet. St. Pierre jumped at the opportunity.   
"We were really excited to see our guy on TV," he said. "He's such a great addition."
On Saturday, viewers can watch Nanook on Team Paws take on Team Tails in an intensely cute, yet competitive, football game. Similar to the Puppy Bowl, a group of dogs on opposing teams gather on the gridiron to try to adorably score touchdowns.
"This group of dogs takes the opportunity to not just be cute, but to show off their manners like 'sit' and 'stay,'" Morris said. "There also may be a few more naps involved in this game."   
The Dog Bowl will premiere before the Puppy Bowl in a one-hour special. St. Pierre doesn't know the outcome of the game that was pre-recorded in October, but he did get to see some behind-the-scenes photo of Nanook and even got the lowdown on some drama.
"I did hear that at one point Nanook got into an argument with one of the referees," he said, "which sounds just like my kid."