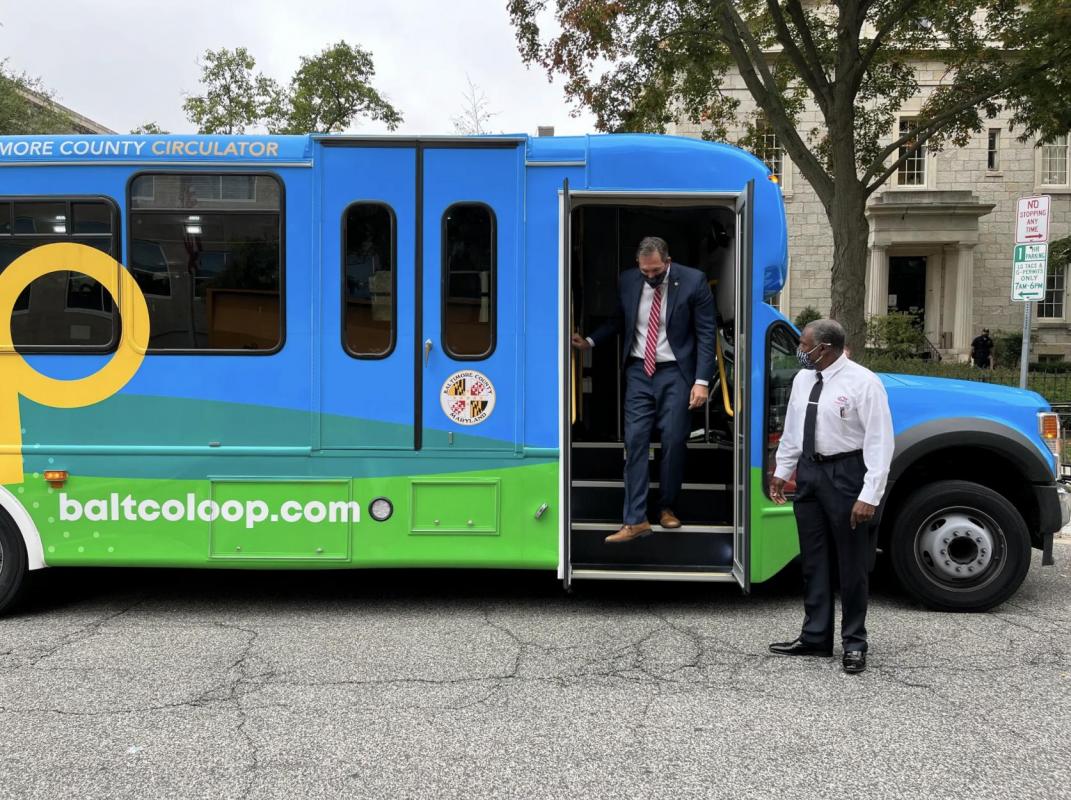 Baltimore County Executive Johnny Olszewski Jr. steps off from a ride on one of the new shuttles. —Photography by Cody Boteler
After years of talk, planning, and studies, a free circulator bus in Towson hit the road with passengers for the first time today. 
The transit service, dubbed the Towson Loop, offers a north-south purple route, as well as an east-west orange route. The shuttles will officially embark on the routes, which share a stop at the Towson Town Center, on Tuesday, Oct. 12 at noon.
County Executive Johnny Olszewski Jr. and other elected officials—including Sen. Chris Van Hollen, Rep. John Sarbanes, County Council Chairman Julian Jones, and County Councilman David Marks—rode the Towson Loop around the Baltimore County Historic Courthouse before stepping off for a kickoff press conference and celebration on Tuesday morning.
Olszewski called the circulator bus "the realization of a long-awaited dream for the Towson community." 
"We're creating a blueprint for the future of transportation in Baltimore County," he said. 
Van Hollen, who has represented Maryland in the Senate since 2017, said the Loop is an example of "why we need to invest more in modern infrastructure" at all levels of government.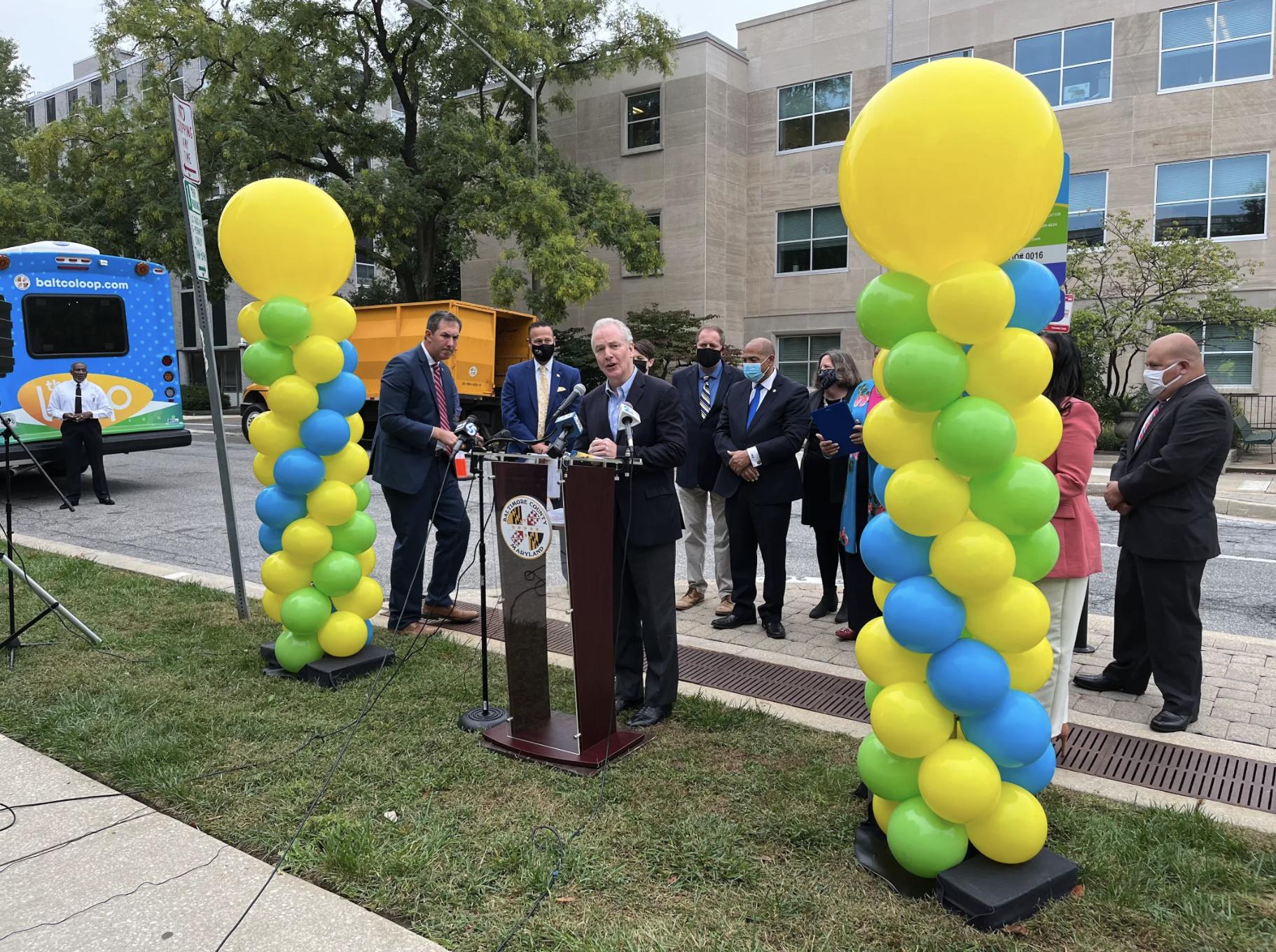 Twelve shuttles make up the fleet of the Towson Loop, each equipped with a bike rack, air conditioning, and capacity for 25 passengers. The county promises that the Loop will run every 15-20 minutes during its operating hours, which are 6 a.m. to midnight Monday through Friday, and 10 a.m. to midnight on Saturdays. 
"We're hopeful that [county] residents will find ease of access," says D'Andrea Walker, the county's acting director in the Department of Public Works & Transportation. "Get out of your cars. Go to the different anchor institutions that we have, because [now] you don't have to search for parking. You don't have to wait a long time."
The circulator's routes go as far west as The Exchange building on Kenilworth drive, as far east as La Salle Road, as far north as the intersection of Dulaney Valley and Southerly roads, and as far south as York Road at Stevenson Lane. The purple route can also take passengers around GBMC, the University of Maryland Medical System, St. Joseph Medical Center, and Sheppard Pratt Health System. 
From day one, I've been committed to improving transit opportunities across Baltimore County so our residents can more easily move around, and so we can reduce our impact on the planet.

In just a few months, you will begin seeing the Towson Loop on the streets of Towson. pic.twitter.com/0HLpoleTj2

— County Executive Johnny Olszewski (@BaltCoExec) June 23, 2021
Carol Ott, who lives in Waverly and travels to Towson via bus, says the Towson Loop is a welcome addition to regional transit options. Since she doesn't have a car, the loop routes in Towson will allow Ott to reach more shops and amenities in the county. 
"It's the freedom of mobility, it's the freedom of multi-tasking," she says. "Most of my errand-running and appointments, all of the sort of day-to-day, daily life stuff that I do, most of it is in Towson."
County Councilman Marks, a Republican who represents Towson, says he's "thrilled" to see the shuttle system up and running. Marks, who used to serve as chief of staff in the Maryland Department of Transportation, has long pushed for a free circulator in Towson.
"I'm a firm believer that transportation needs to be complementary to the way people want to live," he says. "I think there's a strong base of people in Towson who want to use transit." 
Marks adds that his hope is for the Loop to be successful in Towson. Then, maybe, it will become a model for other areas of Baltimore County to eventually have their own free modes of transport.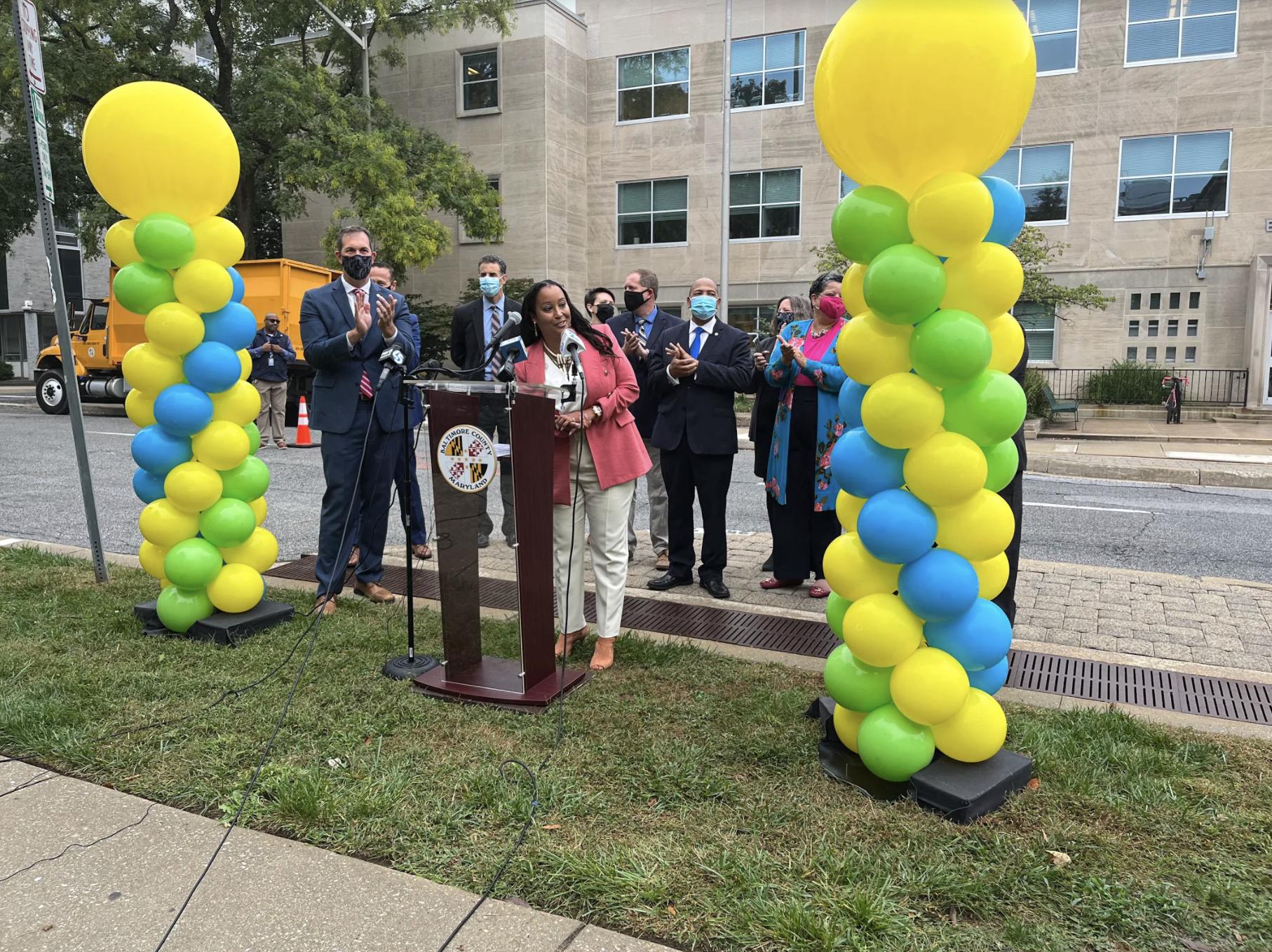 That's a vision that's entirely possible, according to Walker and Jones, the county council chair who says he's "sure there will be additional loops in Baltimore County."
The county is requesting $200,000 in state funds to begin planning for circulator routes in communities including Owings Mills, White Marsh, Catonsville, Middle River, and Sparrows Point. That's in addition to the federal funds already used for the Towson Loop—a grant of $1.65 million from the Department of Transportation allowed the county to actually purchase the 12 vehicles being used in the loop fleet. The county has also earmarked $3.4 million in its operating budget to keep the shuttles running, Walker says. 
The official launch today has been years in the making. A prior feasibility study for the project was completed in 2015—but it goes back to at least 2006. That's when, Marks says, the Maryland Department of Transportation first funded a study for the project.
"I had resistance from [late] County Executive Kevin Kamenetz," Marks says. "That did not help things. But slowly but surely, we built support for this idea."
Sean Naron, a spokesman for the county, says the prior administration "did not embrace" the idea of the circulator and "pun fully intended, kind of put the breaks on it." 
Overall, county officials view the Towson Loop as improving not just mobility, but also sustainability. Elisabeth Sachs, Director of Government Reform and Strategic Initiatives in Olszewski's office, says the circulator service will get cars off the road, reducing the county's overall carbon output. 
"It's changing how people get from one place to another," Sachs says.