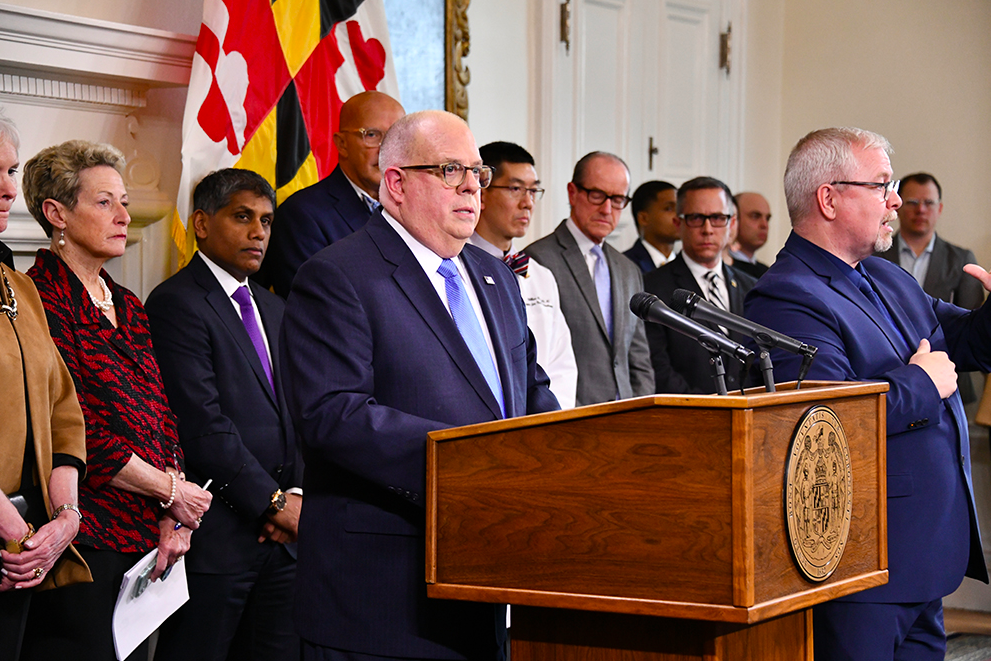 This afternoon, one week after Maryland's first confirmed case of coronavirus, Governor Hogan issued a series of new directives, including that all Maryland public schools would close effective March 16 through March 27.
The two-week closure, which will affect approximately 1 million students, comes after news of the state's first confirmed case via community transmission, meaning exposure unrelated to travel or known contact with an infected person. Yesterday, the coronavirus, or COVID-19, outbreak was also declared a pandemic by the World Health Organization.
"We are entering a new phase of this crisis in our state," Hogan said. "We should expect the number of cases to dramatically and rapidly rise. Our primary focus is now turning from containment to aggressively working to mitigate and limit the spread of the virus."
Maryland and Ohio are the first states to close all K-12 public schools. During the closure, all school buildings and buses will be cleaned.
Local officials are also working to develop a plan for providing meals to children in need. At last count, more than 100,000 Baltimore City and County students were enrolled in free or reduced-price meal programs.
Earlier this week, numerous Maryland colleges, including Towson, Morgan State, Johns Hopkins, Loyola, and Notre Dame of Maryland universities, canceled classes for the rest of the week. Following next week's spring break, most plan to resume through online courses through at least early April. Other statewide programming and events have also been cancelled at the likes of libraries and museums.
In addition to school closures, Hogan announced the closure of senior activity centers and the cancellation of large gatherings of more than 250 people. Hospitals will now implement limited visitor policies, while state prisons are to suspend all visits.
He also activated the National Guard to a higher state of readiness and closed the cruise ship terminal at the Port of Baltimore. Nonessential state employees have been ordered to telework if possible, and public access has been restricted at state buildings, including the State House, until further notice.
"[These actions] may sound extreme and they may sound frightening, but they could be the difference in saving lives and helping keep people safe," said Hogan, also urging daily life to carry on and essential businesses like grocery stores, gas stations, and restaurants to remain open.
Currently 12 cases of coronavirus have been confirmed in Maryland, including the first in Baltimore County. Until today, all local cases have been linked to travel, with patients in Montgomery, Harford, Prince George's, and Anne Arundel counties, with the majority including patients between their 50 and 80s. Two patients continue to be hospitalized, while three have fully recovered.
Symptoms range from mild, such as cough and fever, to severe, such as pneumonia, with older adults and people with existing health problems at higher risk of serious illness. According to the Maryland Department of Health, people who think they're infected should call their doctor or local emergency room.