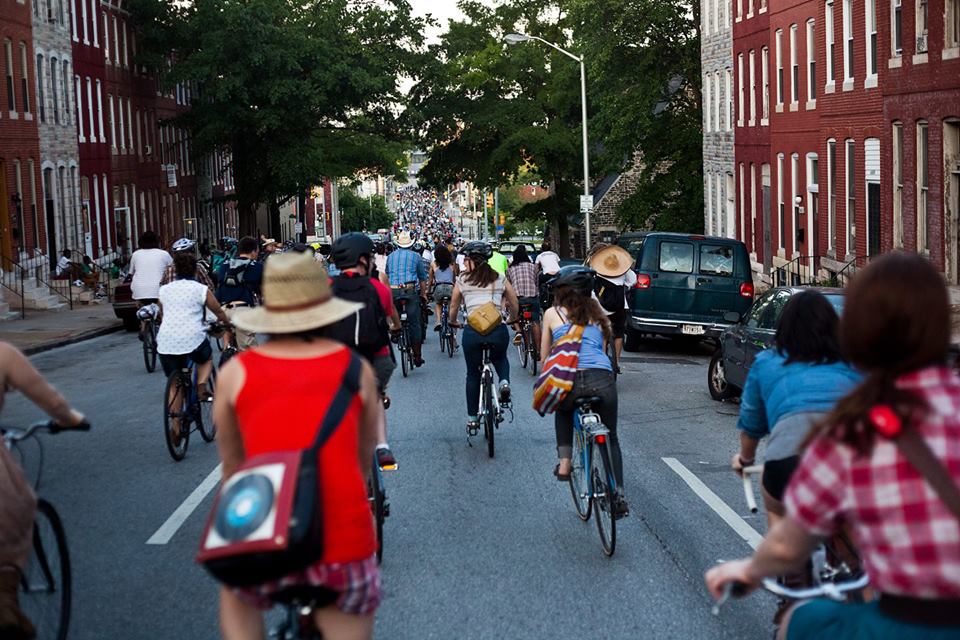 There's no shortage of bike events this month. Some are free, some are recurring rides, some require a fee and/or charity fundraising. Check the links for more info. Pedal on.
May 3 – 16th Annual Baltimore Kinetic Sculpture Race: Opening ceremonies and LeMans start at the American Visionary Arts Museum from 9:30 – 10 a.m. There's even a handy spectator's guide.
May 4 – Monument to Monument: Informal 97-mile round trip from Baltimore's Washington Monument to Washington's Washington Monument on lightly trafficked roads. Slow and steady pace, "enjoying the company of fellow riders and the excitement of arriving in another city by bike."
May 7 – B'more Green Ride to Loch Raven Falls: Casual, zero-emissions weekly, Wednesday morning ride leaving from Bonjour at 6070 Falls Road for eventual mountain biking jaunt. More info on the Bikemore calendar.
May 11 – Union Bridge Pancake Ride: Baltimore Bicycle Club's final "pancake ride" of the season until October. Leaves from South Carroll High School at 9 a.m. with 36 and 42-mile routes available. Bring a few bucks for breakfast.
May 16 – 17th Annual Bike to Work Day: Sponsored by the Baltimore Metropolitan Council, more than 20 bicycle commuter events are scheduled around the area, including 13 in Baltimore City, four in Baltimore County, and three in Annapolis.
May 17 – Chesapeake Bay Tour de Cure: Easton charity ride with 10, 31, 62 and 100-mile routes from the Talbot County Community Center. Sponsored by the American Diabetes Association. All cyclists must meet the $200 fundraising minimum in addition to the registration fee.
May 18 – Bike Jam 14: Patterson Park. Kelly Cup racing for all ages and abilities, family activities, plus The Gathering food truck festival and live music from June Star.
May 18 – Bike Maryland Rec Ride: Patterson Park, 8 a.m. Two routes,12 and 30 miles, for rides through Charm City. Both routes provide a tour for all levels of bicyclists. Registration and fee required.
May 21– Baltimore's Ride of Silence: Leaving City Hall at 7 p.m. to raise awareness and honor all cyclists that have been injured or killed by motorists.
May 23-26 – 32nd Annual Kent County Spring Fling. Baltimore Bicycling Club event, offering four days of cycling the lightly traveled roads of the Eastern Shore. Registration and fee required.
May 30 – Baltimore Bike Party: Last Friday of every month awesome, costumed-themed celebration of bicycling, including fun-paced trek through city neighborhoods and after-party.
May 31-June 1 – Bike MS Chesapeake Challenge. Easton charity ride, offering 34, 68 and 100-mile routes on Saturday; 30 and 50 miles on Sunday. Rides from Talbot County Community Center and take cyclists through waterfront communities of Tilghman Island, Oxford, St. Michaels and Trappe. Sponsored by the National MS Society, Maryland Chapter. Registration fee and fundraising required.