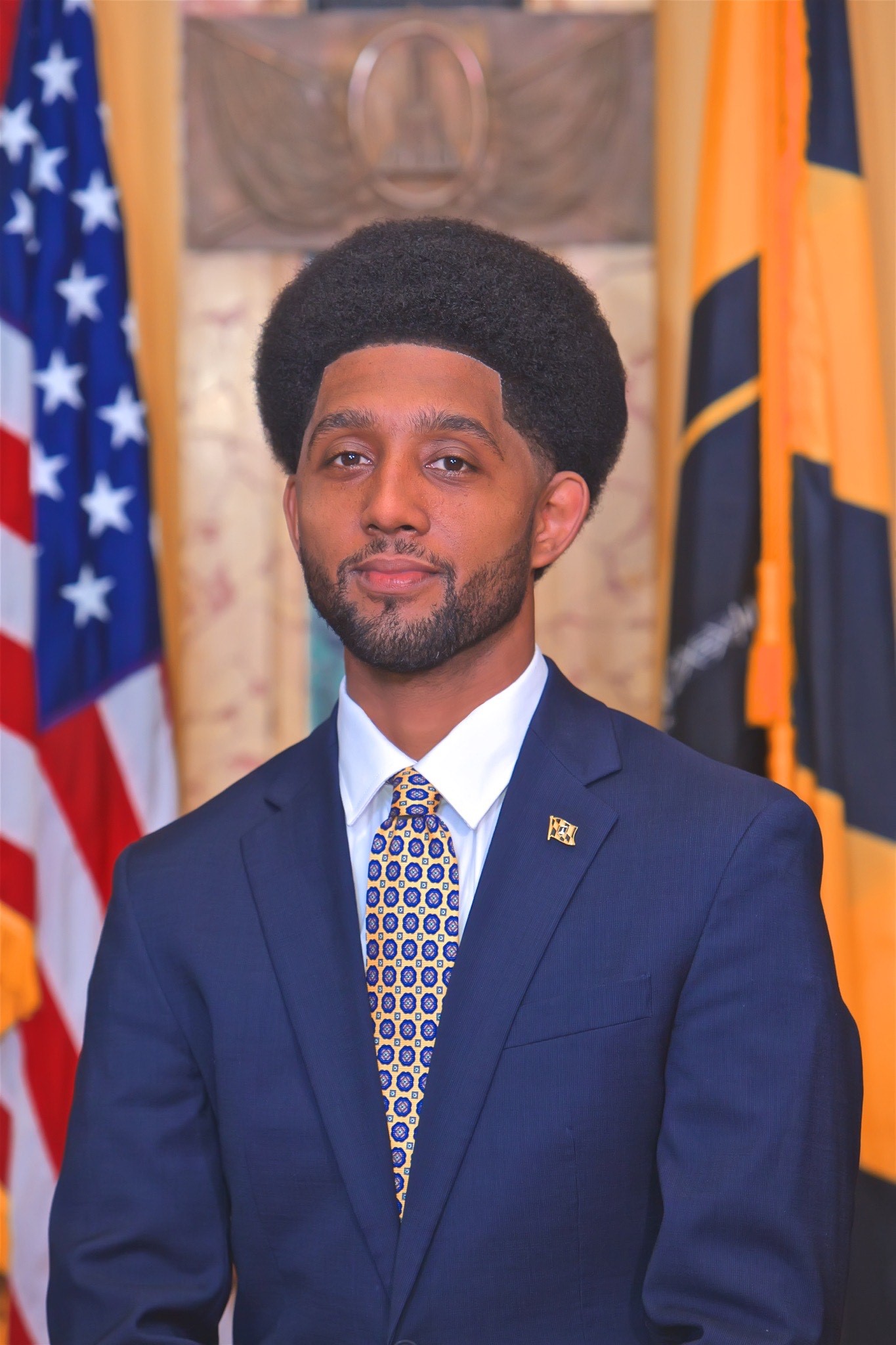 Today, Brandon Maurice Scott became Baltimore's 52nd mayor in a low-key ceremony at City Hall, during which he vowed to chart a new path for the city.
At 36, Scott is the youngest person to become mayor of Baltimore in at least the last century, and the tenth consecutive Baltimore City mayor to come from the Democratic party.
Because of the coronavirus pandemic, his inauguration was a no-frills affair, with Scott's parents and an ASL interpreter providing the only in-person audience as he took the oath of office from the city's clerk of courts.
Afterwards, Scott stood just outside of City Hall to deliver his first remarks as mayor. In a 10-minute address, he presented himself as a realist who knows that Baltimore faces "a very difficult time" ahead. His speech was part pep-talk and part dose of cold water.
"I am not a savior for our city," he said. "No one is coming to save us. We have the ability to save ourselves. But we can only do that together."
Scott reiterated themes that he voiced throughout his campaign for mayor: That it can't be business as usual. That this is a time for change and fresh thinking. That he is prepared to lead the way and appreciates the trust others have placed in him, but everyone has to do their part.
Scott began his remarks by noting that he's beginning his term at a time when the city is battling what he sees as two public health emergencies at once: COVID-19 and a continued epidemic of gun violence that has led to more than 300 murders in the city for six years in a row.  
In terms of fighting crime, "I am moving us from a one-size-fits-all strategy to an all-hands-on-deck approach," he said. "Under my leadership, every day, every city agency here must use their resources to reduce murders and build public safety hand-in-hand with our communities."
While confronting those dual emergencies will be a big part of his job, Scott said he also sees a need to address the "underlying and obvious inequities" facing residents of Baltimore, exacerbated by a staggering loss of jobs and city tax revenue due to the business closings and decreased retail activity caused by COVID-19.
"COVID cases are rising. Deaths are rising. Small businesses are suffering, and an eviction crisis looms large over our city," he said. "Not to mention the huge fiscal impact to our city's budget that will require sacrifices. We are also losing too many lives to violence and preventable overdose deaths each and every day. That must change. We cannot accept this as normal in our city."
Scott said his goals include making the city cleaner, safer, and better educated.
"We will get back to the basics of safe neighborhoods, reliable trash and recycling collection, plowed roads, dependable public transit, clean and affordable water and most importantly, a good education, all with a focus on equity," he added.
The goal of reducing murders—he wants to bring the number below 300 in 2021—"will not be easy, but it is a challenge we must attack because we have to…Every day that we do not transform our approach, every day that we don't build public safety, the consequences are measured in the loss of Black lives."
In just about every aspect of his first term as mayor, he said, a fresh start is needed.
"This is our new way forward," he said. "What is before us is foundational work. This term is about changing business as usual and building a strategy that serves us all. This term is about making sure that we are tearing down what doesn't work and laying a foundation, brick by brick, that allows the next generation to thrive. 
"This term is not, and let me say that again, is not about cutting ribbons or making headlines. We will celebrate our wins, but this term is fundamentally about doing the hard work to put Baltimore on a better path…This term is about doing what's required to chart a new path, save lives, and prepare Baltimore for a prosperous and equitable future."
A member of Baltimore's City Council since 2011 and President of the Council since last year, Scott succeeds Bernard C. "Jack" Young—another former council president who became mayor in the spring of 2019, after Catherine Pugh resigned following an investigation related to the sale of her Healthy Holly books. Young ran for mayor in the 2020 primary but lost to Scott, who then went on to win the general election with 70.5 percent of the vote. 
Last week, Scott was in quarantine because he had potentially been exposed to the coronavirus, but he has tested negative. Yesterday, Scott announced the selection of Christopher Shorter, assistant city manager in Austin, Texas, to be Baltimore's City Administrator, a new position designed to help manage city government.
Scott also named Michael Huber, his chief of staff when he was City Council President, to be his Chief of Staff in the mayor's office. He also has named dozens of Baltimoreans to serve on a transition team that will address 10 different areas, from Public Health and Public Safety to Housing and Neighborhood Development to Arts and Culture.
On Thursday, more city leaders will be sworn in, when the newly-elected City Council members take the oath of office for their four-year terms. Scott said he intends to work closely with new City Council President Nick Mosby, new Comptroller Bill Henry, and others to move the city forward. 
"I am humbled by the task before us and I have hope, but I am not naïve to the challenges we face," he said. "You have entrusted me to be your mayor in this critical moment. Through fresh thinking, transparency, professionalism, integrity, and hard work, we can meet these challenges. You will not agree with everything that I do, but I know you agree that the status quo cannot continue, and under my leadership it will not. Under my leadership, we will chart a new way forward for Baltimore."