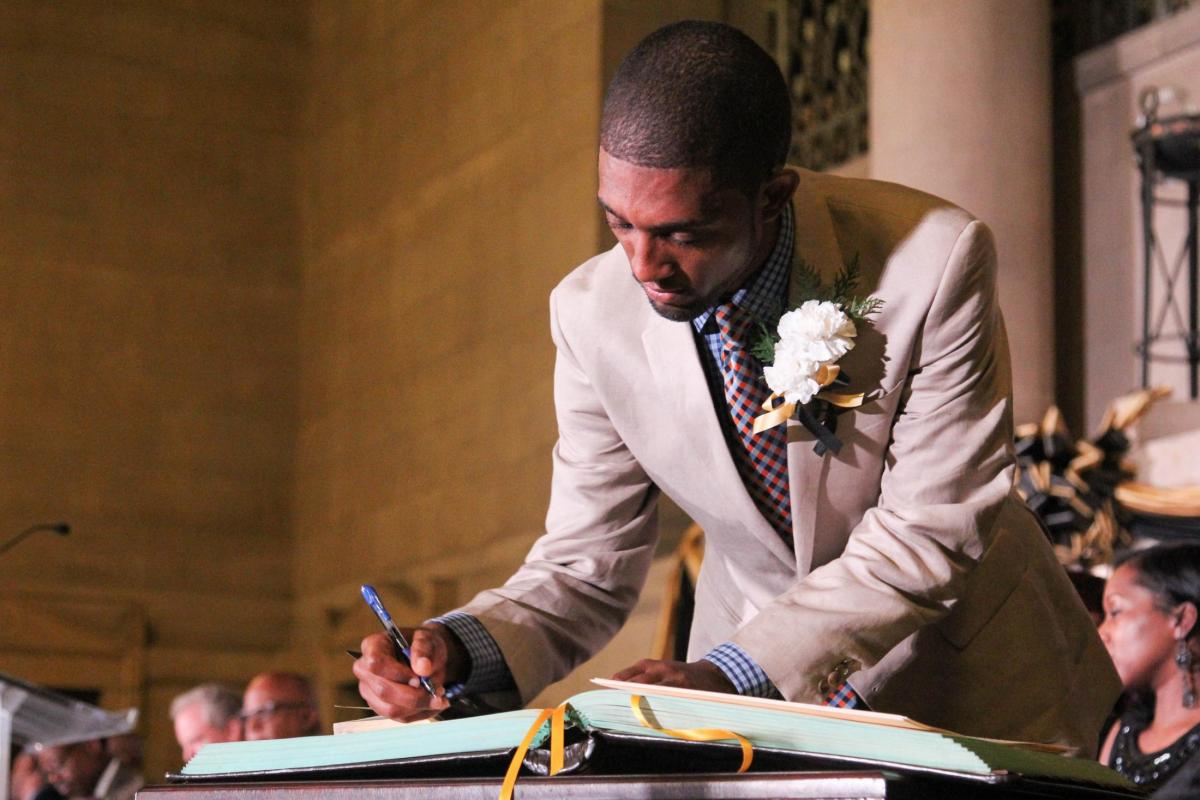 Mayor-elect Brandon Scott being sworn into City Council in 2016. —Photography by Meredith Herzing
While people all across Maryland went to sleep not knowing the winner of the presidential election, most other races in the Old Line State were largely settled on Tuesday night—even if there were some hiccups counting ballots in several jurisdictions. Here in Baltimore, City Council President Brandon Scott, 36, won the race for mayor, becoming the youngest person to secure the city's top job. The state's delegation in the U.S. House of Representatives remained unchanged, seven Democrats to one Republican. There will be five new faces on the Baltimore City Council, Councilman Bill Henry will become the new comptroller, and Delegate Nick J. Mosby will be sworn in as City Council President—outcomes that were more or less sealed during the primary election.
Even so, there were significant developments in local politics following the election. Here are four takeaways from the results.
High-profile races fail to deliver upsets
While most of the council races were effectively settled after the primary, one incumbent received what appeared to be a strong challenge: 12th District Councilman Robert Stokes. The Green Party ran local teacher and organizer Franca Muller Paz, and she soon grew an enthusiastic following online and raised a formidable war chest. In the end, voters in the heavily Democratic district stuck with the incumbent, handing Stokes a comfortable win, 59 percent to 36 percent.
Similarly, independent mayoral candidate Bob Wallace and Republican Congressional candidate Kim Klacik, both of whom had considerable funds and spent accordingly, couldn't make much of a dent against the favorites. Scott, who won a tight race for the Democratic nomination, beat Wallace by more than 50 points. In the 7th Congressional District, covering parts of Baltimore City and Baltimore and Howard Counties, Klacik couldn't gain ground on Kweisi Mfume in a rematch of the special election to complete the term of the late Elijah Cummings.
Turnout appears to be in line with past elections
As of Wednesday morning, more than 474,000 people reportedly went to the polls on Election Day, according to an unofficial count from the Maryland State Board of Elections. Combined with mail-in votes and early voting across the state, some 2.8 million Marylanders cast ballots, and officials reportedly anticipate another 300,000 mail-in ballots postmarked on Tuesday to arrive and be counted.
According to data compiled by WMAR's Mallory Sofastaii, that raw vote total would top the last four presidential elections.
However, there are 4.1 million eligible voters in the state, meaning the percentage of the electorate who went to the polls or mailed in a ballot is in line with recent history. Figures are still incomplete. The five largest jurisdictions in the state stopped posting results from Election Day because the data transfer was reportedly taking too long, but more information should be finalized soon.
Voters choose to remake city government
When Scott takes over as mayor, he will do so without some of the power his predecessors enjoyed. Voters overwhelmingly backed a series of questions weakening the city's strong-mayor structure of government and giving more tools to the City Council. Don't feel too bad for Scott, though, because these were many of the reforms he pushed for in his role as president of the council.
Here's a rundown of some of the major changes: Question F gives the City Council greater authority over the budget, allowing members to increase spending in the general fund. Previously, the council could only cut from a proposed budget, but it could not reallocate any of that money.
Both Question G and Question H give the council great power to override a mayoral veto. The former measure lowers the threshold from three-fourths of the council to two-thirds, and the latter gives members more time to take up an override. Outgoing Mayor Bernard C. "Jack" Young vetoed legislation to put both questions on the ballot, but the council successfully overrode him.
Question K creates the position of City Administrator to oversee day-to-day operations of municipal government.
With an eye toward future changes, Question E establishes a commission to review the city charter every 10 years and suggest new additions or deletions.
Sports betting is legalized
By a vote of 66 percent to 34 percent, voters overwhelmingly approved a measure to legalize sports betting in Maryland, joining nearby jurisdictions Pennsylvania, West Virginia, Delaware and the District of Columbia.
It wasn't always a foregone conclusion. According to a Goucher poll released in February, Marylanders were lukewarm about the idea, with 47 percent of respondents supporting sports betting and 43 percent opposing it.
Unfortunately, sports fans won't be able to place a bet anytime soon on a Super Bowl run for the Ravens. The Maryland General Assembly now has to figure out some pretty important details, such as which companies and casinos can offer wagering, whether bettors can use apps, and just how much of revenues would go toward education. As of this writing, the legislative session is scheduled to begin on Jan. 21, 2021.