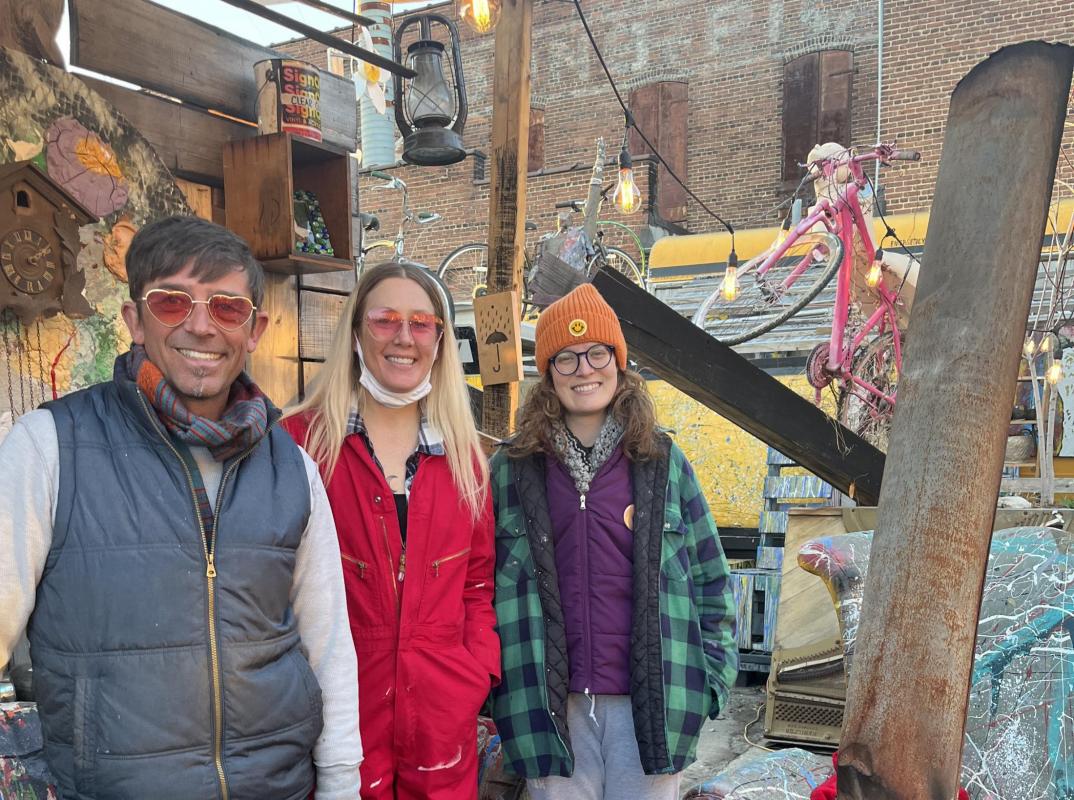 Artists Michael Metcalf, Nicole Clark, and Rebecca Burr at Phoenix Art Yard. —Photography by Grace Hebron
On a peculiarly balmy mid-December afternoon, artists Michael Metcalf, Nicole Clark, and Rebecca Burr are gathered on the mulch and gravel-covered grounds of 1320 Bayard Street in Southwest Baltimore. A playful, fleece-clad spotted dog named Finnegan is casually pacing at their feet, and the sun is creeping lower as the trio stands engulfed in a lurid testament to urban artistry. 
Behind them sits a graffiti-splattered loveseat, and in front of them, there's an old (but working) rusted fireplace, a tricked-out yellow school bus with an awning, and a colorful workstation lined with paint-emblazoned animal statues. Above them, a collection of shiny, hanging fixtures catch the breeze, and sneakers dangle from a wire by their laces. 
Although it may not seem like it, "The place was really bad when we moved in," recalls Metcalf with a chuckle. "I wanted to call it 'The Oil Can.' It was an engine repair space for 25 years, and when it rained, you would just see oil everywhere."
But it was perfect for Creative Labs, a Hampden-based collective led by Meltcalf and a group of fellow Baltimore makers. Known for hosting countless artists' studios and pop-up music shows, the venture–which began seven years ago—was in the market for new roots, and saw the hard-to-miss yard as an ideal, local springboard to help broaden its reach. 
"The big thing about making art is that you need to sell it," Metcalf explains. "Providing a market is humungous, and in our last spot, that was the one thing we lacked. We wanted to create an open area for artists to come out and sell their wares."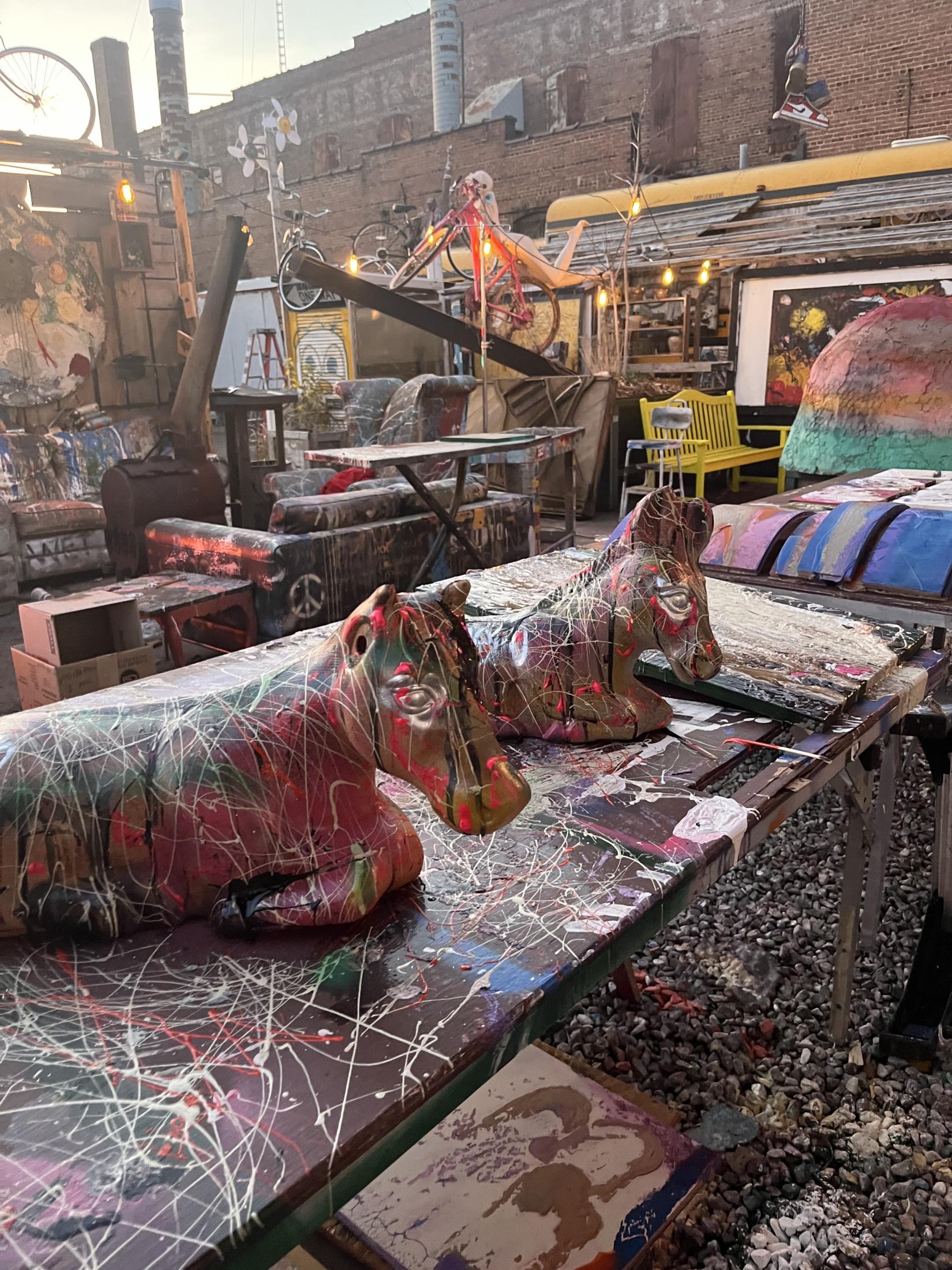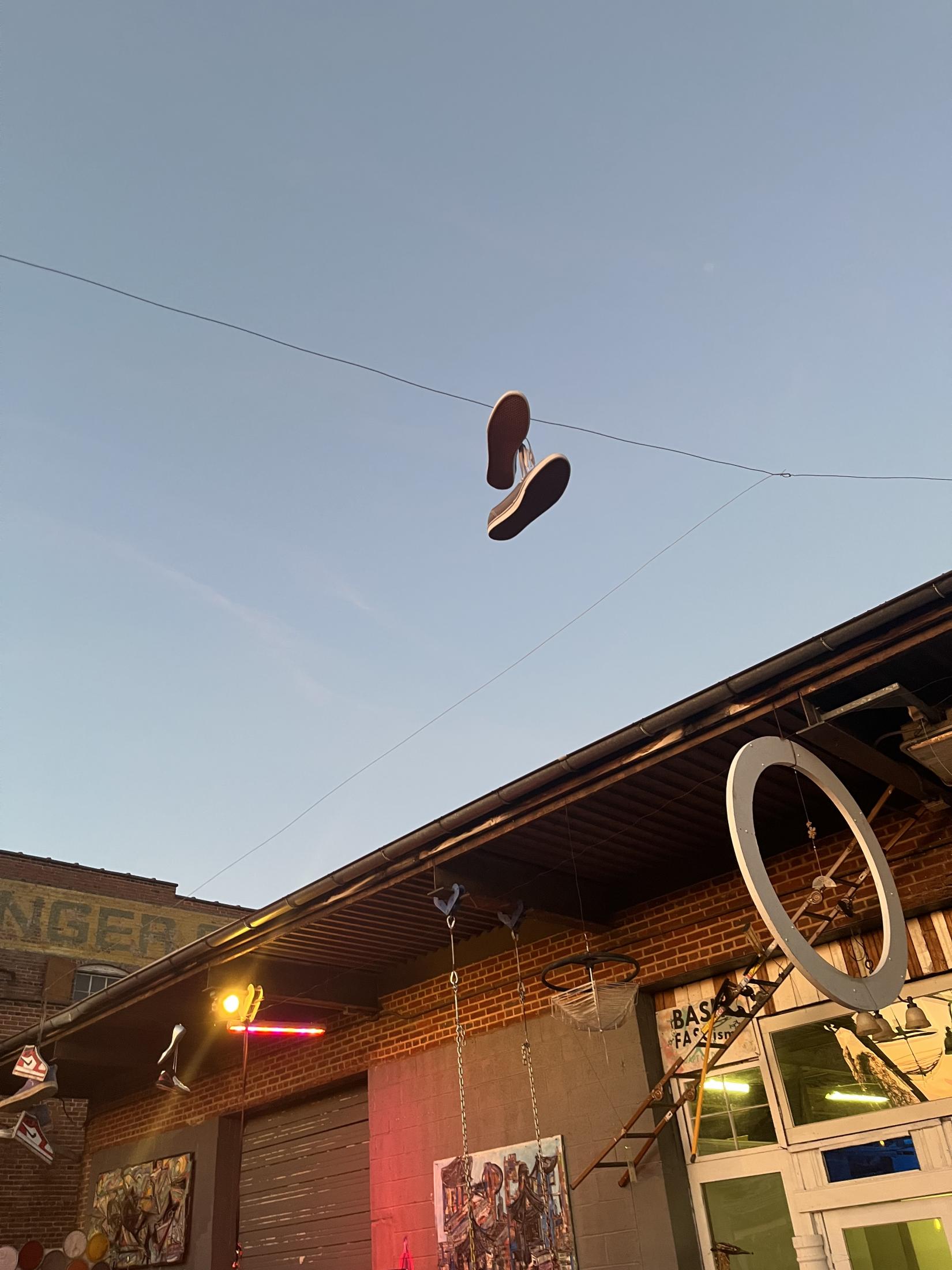 That is exactly what Creative Labs accomplished in 2019 when it reemerged—or, rose from the ashes, so to speak—as Phoenix Art Yard in Pigtown's Carroll-Camden area. Named after the immortal bird by one of its co-founders, Brandon Decker, the industrial venue has evolved to become a sacred hub in light of COVID-19, providing local artists with a place to vend for free, and allowing the community a safe, outdoor place to consume local works while getting in touch with their creative side. 
"The goal of Phoenix Art Yard is to inspire people to be creative—to step into that headspace and invest in that part of life," says Burr, the venue's resident artist and programming coordinator, who calls it "a place for people to congregate where you don't have to pay a ticketing fee, or feel like you have to buy a drink. We're just trying to inspire other artists in the same ways that we've been inspired." 
Every Sunday from noon to 4 p.m. the effervescent lot and its adjacent digs act as an open art market, hosting painting sessions and vendors toting everything from handmade crafts and tie-dyed threads to upcycled furniture. This fall, the art yard was flooded with donations for a "queer clothing swap," in which unwanted threads found better homes and fabric found its way to eager sewers. 
In addition to its reoccurring programming, Phoenix Art Yard is preparing to unveil a pivotal exhibit Dec. 17-19. On view this Friday and Saturday from 6-9 p.m., as well as Sunday from 12-4 p.m. at the weekly art market, the collective will present Phoenix Rising, a striking interactive exhibition set to celebrate survival and rebirth—not only in terms of the artists collective, but of our culture as a whole. 
"I think it's interesting how after the last pandemic, which was the Spanish Flu, you had the Roaring Twenties," explains Clark, the exhibit's curator and a Phoenix Art Yard resident. "You had the Jazz Age. You had an arduous journey to the Civil Rights movement. I think we're at a point where if history repeats itself, we're going to see another kind of explosion of art and creativity that's informed by all of the things that have been happening, kind of universally, throughout the last few years."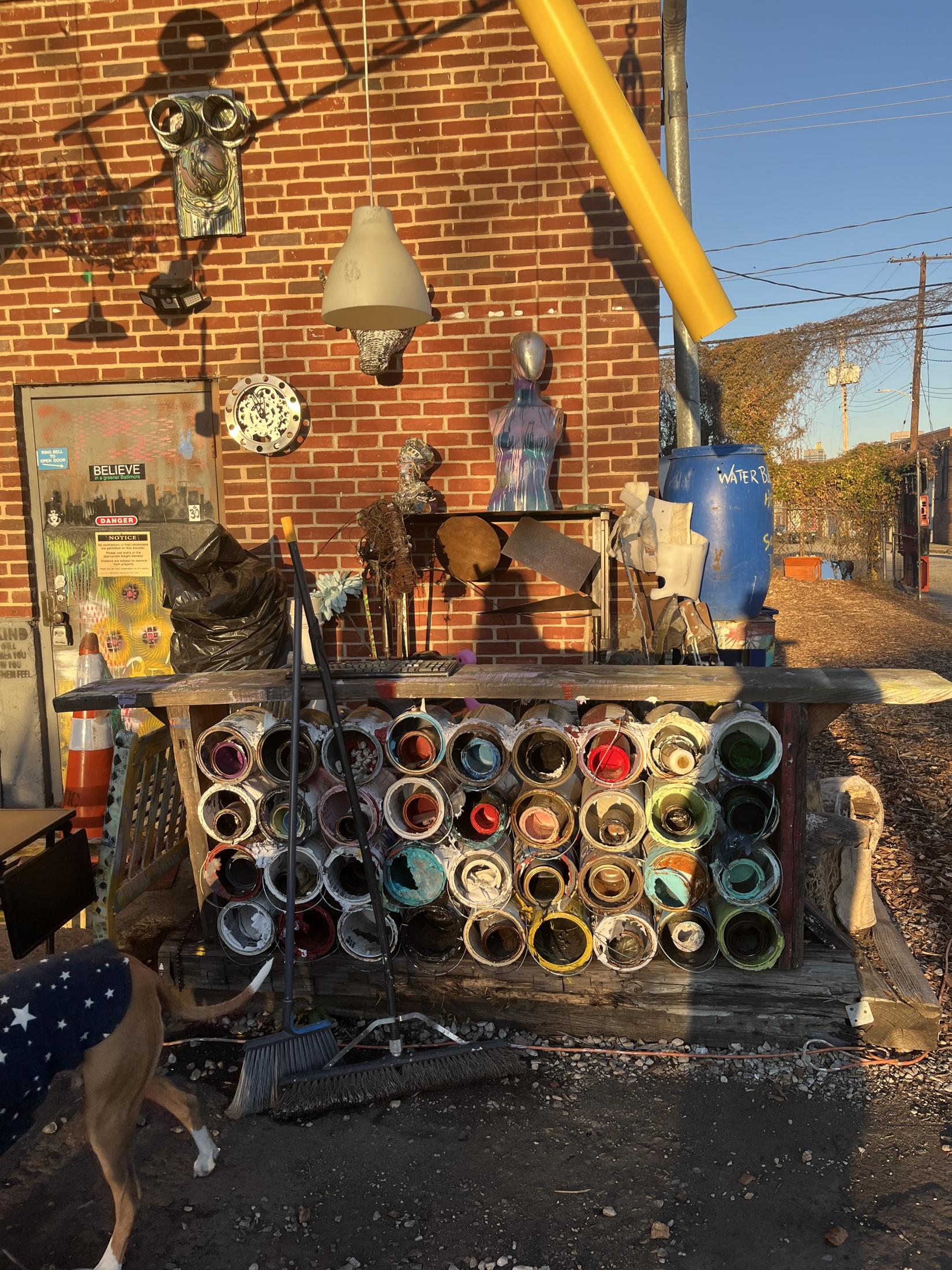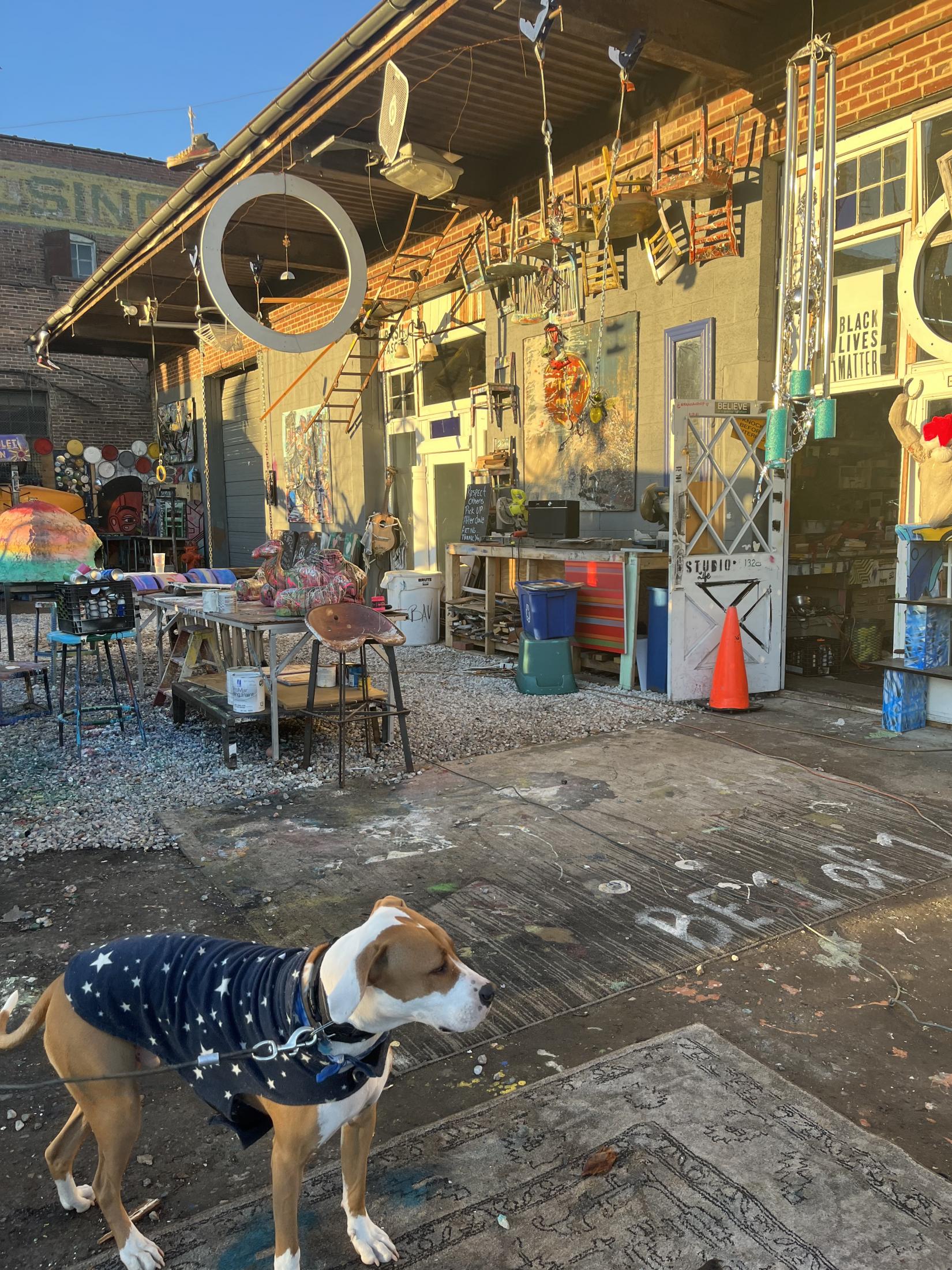 Phoenix Rising will commence with a 30-minute panel discussion addressing social and environmental equity in the neighborhood on Dec. 17. Both nights, guests are invited to explore more than 100 works produced by art yard members such as Metcalf, Burr, and Clark—who will unveil an interactive installation called "Phone Booth Confessions," inviting attendees to anonymously record their own tales of survival and rebirth in a decommissioned phone booth. There will also be works on display by roster of local artists including Reed Bmore and Brando Ecker.
Above all, Metcalf hopes that visitors to this weekend's showcase are struck with curiosity. 
"A lot of times, I hear people ask, 'Who does this? Why?' And that's what art is about," he says. "You want people to have questions by the time they are done looking at something."
For Clark, the exhibit is an opportunity to restore a sense of normalcy after navigating a tumultuous time. 
"I think there's this need for a lot of us right now to mark the passage of time," Clark says. "It feels like we've been in this loophole of disrupted norms [throughout] the last two years. With this show, there's an internal purpose for us as a collective to celebrate arriving at the end of 2021, still standing and creating. And hopefully, people who come to the show can feed off of that energy in a way that helps them understand they're also still standing."
Talk about rising from the ashes.