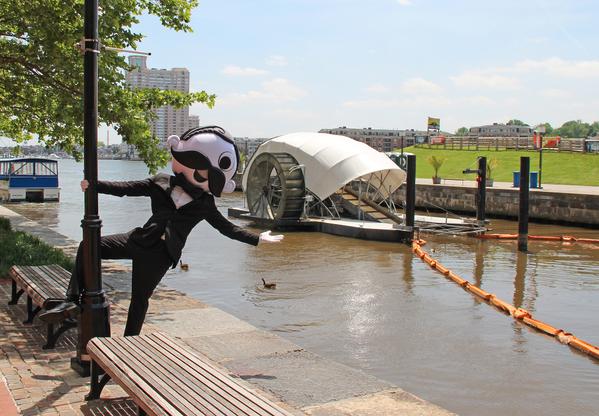 Courtesy Waterfront Partnership
Mr. Trash Wheel may soon have a garbage-fighting sidekick to help clean up the harbor.
Since its implementation in the spring of 2014, the Inner Harbor's trash wheel at the bottom of the Jones Falls River has collected 205 tons of trash, receiving national and international attention. Affectionately known as "Mr. Trash Wheel," a clip of the groundbreaking device in action after a May rain storm last year garnered more than 1.1 million views on YouTube.
Now, a second trash wheel is being planned for Canton, near Pier Park, across the street from the Boston Street Safeway.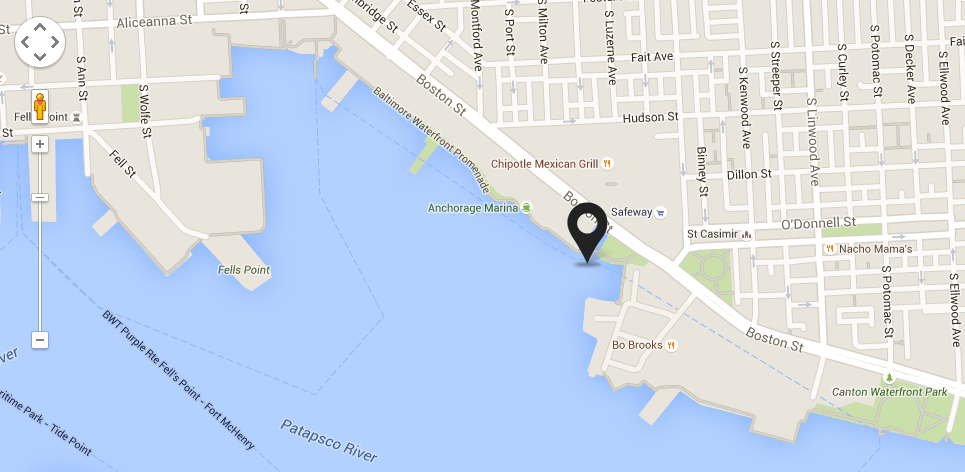 Buried Harris Creek, which is completely piped and drains two square miles of Baltimore beginning in Clifton Park, runs beneath Patterson Park and ultimately discharges into the harbor in Canton. It transports over a hundred tons of trash into the water there every year, according to the Waterfront Partnership, which has announced a $550,000 fundraising goal for the Canton water wheel project. To date, more than $175,000 has been raised through the support of the Keith Campbell Foundation, the Clayton Baker Trust, the Rauch Foundation, and local business community.
The new water wheel in Canton will be smaller (but faster) and cost approximately 30 percent less than the Inner Harbor wheel. It will use solar and hydropower to capture litter and debris before they reach the harbor and Chesapeake Bay. If the Canton effort goes as expected, a third trash wheel in South Baltimore could also become a possibility, environmental advocates said at the release of the Waterfront Partnership's annual Healthy Harbor report earlier this month.
More information on the Canton water wheel project—as well as a link to make donations—can be found here.
And in case you're wondering what the 205 tons of trash scooped up by Mr. Trash Wheel—who has a great Twitter feed, by the away—would've looked like entering harbor, picture this:
123, 670 plastic bottles
160,919 polystyrene containers
93,429 chip bags
4,767,000 cigarette butts
50,410 grocery bottles
2,725 glass bottles
534 sport balls
Yup, and at least one tire and one beer keg.