The Life of Reilly
From a secret backroom location, we sit down with the one-time nun-in-training, former Romper Room teacher, and still-serious poker player.
Mary Carol Reilly refused to drop her drawers in a room full of men. Even at gunpoint. "I thought, 'This is it, I will just have to die right here,'" the 77-year-old one-time nun-in-training, former Romper Room teacher, ex-actress, ex-cabbie, and still-serious poker player recalls with a chuckle and blue-eyed twinkle.
Armed robbers had busted into the illegal backroom poker game in Greektown where she had a seat at one of the tables—the only woman in the joint—and told everyone to stand, face the wall, and pull their pants down to their ankles. "They broke in yelling, 'MFer this, MFer that' and pistol-whipped one guy because he couldn't open the safe. The man next to me shook like a leaf."
Known in local poker lore as "The Hold'em, Hold up," the 2006 stick-up gained real notoriety because of what happened next. A player who had stepped out moments before to call his girlfriend heard the commotion and flagged down a patrol car. Police broke up the heist and recovered almost $24,000. Such games, often moving site to site, were more common before the Horseshoe Casino opened, Reilly notes.
How a former Catholic postulant, who became Chicago TV's Romper Room teacher in 1967—and later acted in national commercials with Jodie Foster and the Pillsbury Doughboy—ended up in Greektown is a circuitous story.(Romper Room, of course, had originated in Baltimore in the 1950s.)
Other highlights from her Zelig-like journey: Reilly was in the courtroom gallery during the Manson trial and nearly got tossed out after she began sobbing when the details of Sharon Tate's death were presented. She landed a bit part in the groundbreaking '70s series All in the Family—from which she still receives occasional 17-cent royalty checks—drove a cab in Hollywood, hosted a talk show on WBAL-TV (Phil Donahue was once a guest), volunteered in New Orleans after Hurricane Katrina, and taught English in China. In between, she taught literature to Archdiocese of Baltimore middle schoolers for 25 years.
"If you want to understand my life," she volunteers before, yes, a lively poker game including several political types at a secret backroom location in Southeast Baltimore, "you've got to understand I was always running away from three things—my mother, the Catholic Church, and Baltimore." But always running back, too.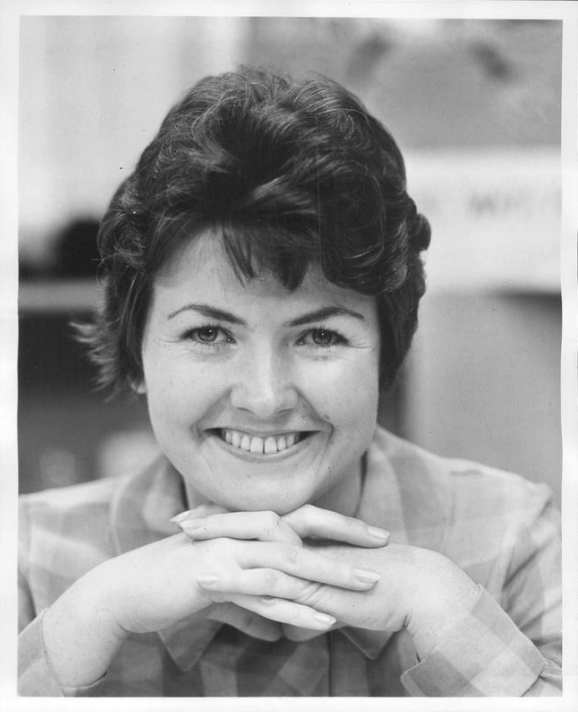 Reilly grew up in a multigenerational household near Pimlico (sneaking in to pet the horses as a girl), the daughter of a depressive alcoholic father, who ran the family's downtown leather shop, and an overworked, neurotic, devout, loving, and kind mother. After attending the all-girls Seton High, Reilly started at what is now Frostburg University—"far away as I could get"—before quitting to join the Sisters of Saints Cyril and Methodius. "A girl I had a crush on left school to get married, and that had broken my heart," recalls Reilly, who was still coming to terms with her sexuality.
However, after learning of her parents' mental health issues (her father had undergone electroshock therapy), the convent asked her to leave. A few years later, her beloved younger brother's suicide sent her into a alcoholic tailspin. She's been sober 44 years.
Reilly finally told her mother she was gay in the early 1970s (by then, Reilly was sharing an apartment in New York with a prominent women's rights leader). She and her mother were driving to mass at St. Patrick's. Initially, her mother appeared more flummoxed than shocked or angry. "We were in the car, just me and her, and I'll never forget it, she said, 'What do you do?' I said, 'Mother! I don't ask what you and Daddy do.' We didn't talk the rest of the way. Then, as we were walking up the steps to St. Patrick's, she slipped her arm underneath my arm. Said more than any words."
The poker, she explains, is social and competitive, which she likes. It's also soothing— keeping her mind on the game and people around her. She's competed twice in World Series of Poker tournaments in Las Vegas, never winning, nor losing, outrageous money. At Delaware Park, she's known as "Sister Mary," which she doesn't mind. On occasion, she'll hear, "Nice hand, Granny," which she does. "I told one guy 'F—you,' and they threw me out."