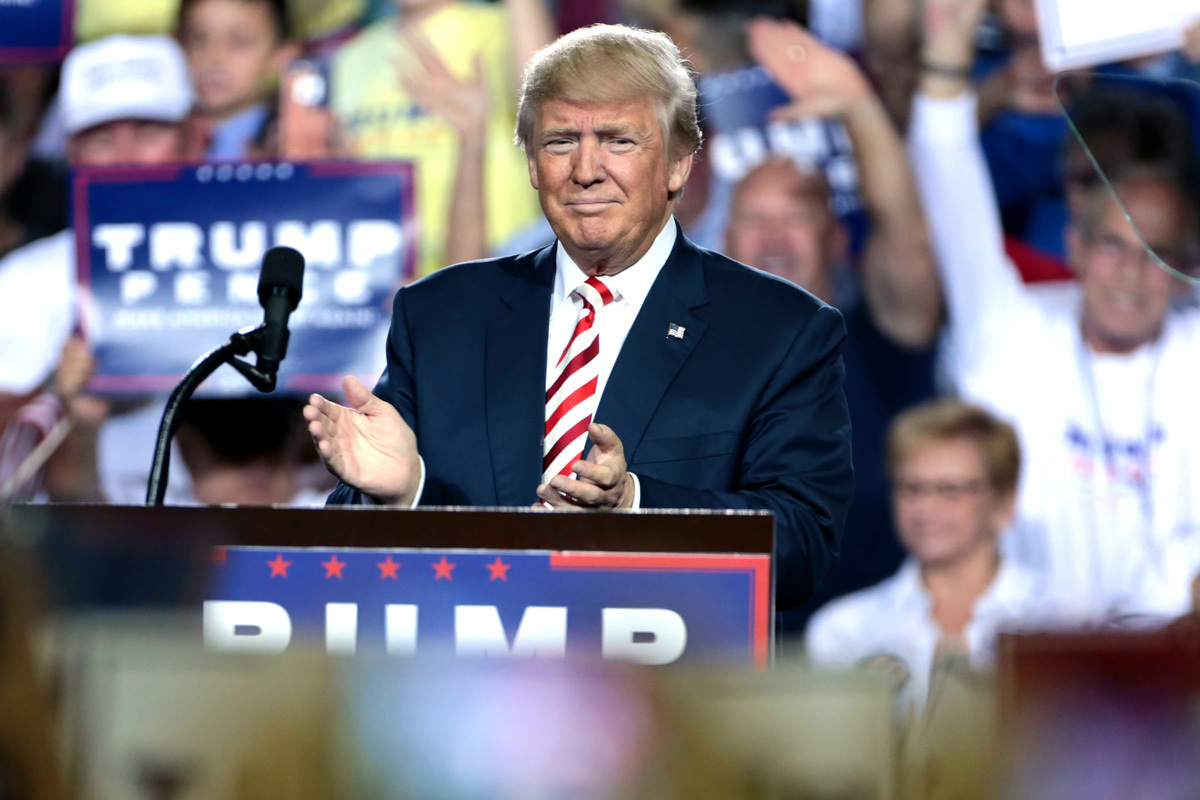 flickr commons
President Donald Trump was scheduled to make the short trip up the Baltimore-Washington Parkway on Wednesday at the invitation of Rev. Donté Hickman of Southern Baptist Church in East Baltimore. But, according to a spokesman from Rep. Elijah Cummings office, the meeting that was scheduled to take place at the church will now happen at the White House—whose officials say the cancellation was due to a scheduling conflict.
"The president will still meet with a number of stakeholders, including several from Baltimore," reads a statement issued by the White House on Monday morning. "And provide remarks on the opportunity zone and urban revitalization initiative, highlighting the administration's agenda to expand the economic boom to all Americans, especially those in distressed communities—both rural and urban."
Trump was supposed to be meeting with Hickman, as well as other clergy members and elected officials, in Baltimore to discuss federal funding to revitalize the suffering communities in the city. Hickman, who has been working to redevelop East Baltimore for the past decade, says that his master plan entered its third phase earlier this year. The plan includes the rebuild of the $16 million Mary Harvin Transformation Center with senior housing and workforce training, which was a target of arson in the Baltimore Uprising in 2015.
"It is time that we realize that we cannot continue to normalize violence, poverty and murder," Hickman said in a Facebook post Sunday afternoon. "We cannot wait for the administration we like or elect to take bold faith steps together towards investment opportunities. If we fail, we will fail trying and God will bless our faithfulness. Whatever vitriol we have for this presidential administration should be manifested in our determination to do what we can to restore our broken city."
Hickman's hope for the visit was to encourage Trump to initiate the opportunity zone investment—a Republican-backed tax initiative that will place investment capital into struggling communities by offering a substantial tax break—in East Baltimore neighborhoods. The U.S. Treasury estimates that this opportunity zone program will inject $100 billion in private capital in areas where the poverty rate averages 32 percent.
Critics believe the costs will outweigh the benefits and force poor people from their neighborhoods. But Hickman has stated publicly that this initiative is a way to jumpstart the development of affordable housing, grocery stores, and improve public safety and education in the area. To date, 42 zones in Baltimore City including Port Covington, Poppleton, Perkins Homes, and Park Heights are already scheduled to receive assistance for redevelopment through the opportunity zone initiative.
"Focus on what really matters for our city going forward," Hickman said in a Facebook post. "Faith-based institutions can lead the effort and partner with other institutions to obtain the public and private dollars necessary to revitalize our city through restoring people and rebuilding properties. I know it's difficult for many, but don't get distracted. It's our communities and we have the power to maintain and sustain them."