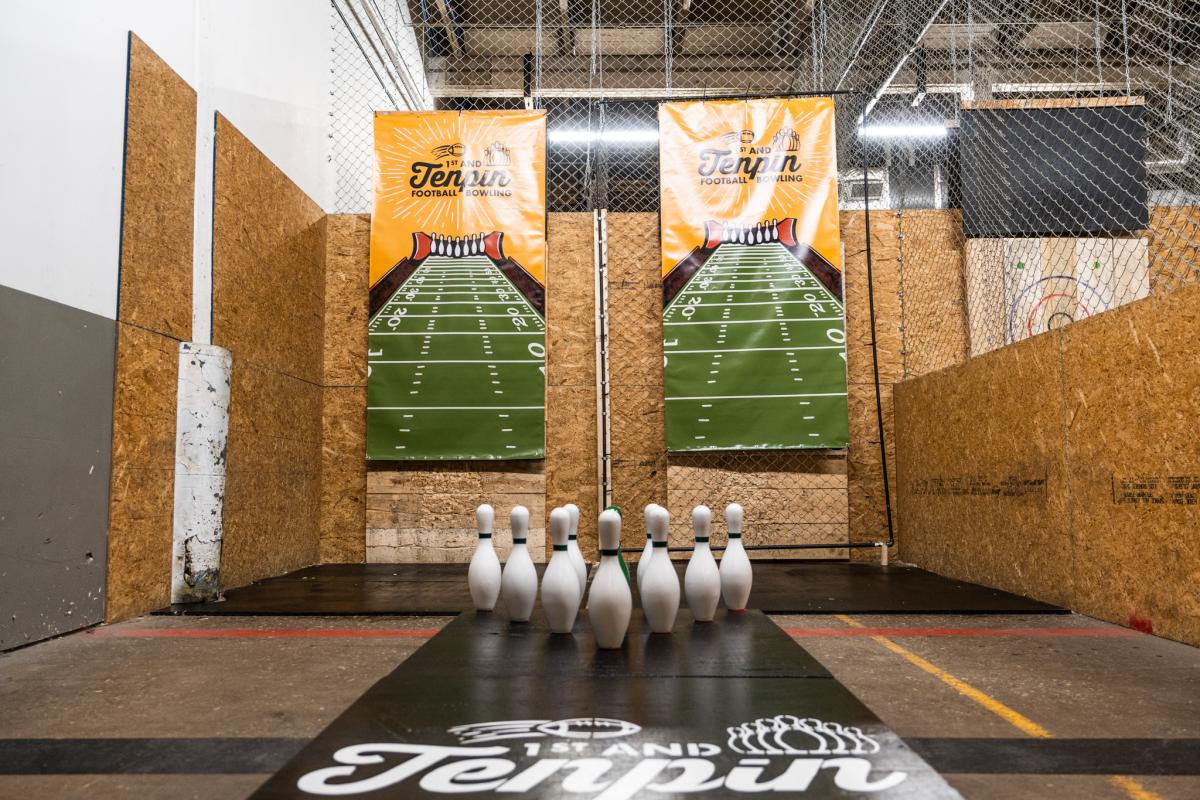 —Courtesy of Urban Axes
East Baltimore's bowling traditions are entering a new era, it seems.
On the heels of this month's announcement that 95-year-old duckpin destination Patterson Bowling Center would be closing to make room for apartments on Eastern Avenue, the area is ushering in a more modern take on the sport.
A few blocks over in Highlandtown, axe-throwing venue Urban Axes has introduced a new football-bowling hybrid called 1st and Tenpin. Though it might be a difficult sell for duckpin purists, Urban Axes co-founder Krista Paton encourages locals to try their hand at the new social sport—which she calls "footbowling."
To play the game, teams face one another (cornhole-style) and use a football to try to knock down the opposing players' pins.
"The goal is to knock down the other team's pins before they knock down yours," Paton explains. A green pin in the center is intended to up the ante. "If you knock down the other team's green pin before you knock down any other pins—without hitting any other pins—you automatically win." (For axe-throwing regulars—the green pin is similar to the act of calling "clutch.")
Paton says she first learned about the hybrid sport when she was doing research for a new Urban Axes location in Michigan five years ago. In Baltimore, she hopes that the new game will catch on with social leagues, as well as smaller groups looking to try something new—with as few as one or up to five players per team permitted. 
A perk, Paton says, is that like axe-throwing (which Urban Axes continues to offer in addition to the new 1st and Tenpin setups), the new game is suitable for players of all experience levels.
"When you see it in play, and you actually participate in it, you realize that it's not about being strong or having grown up playing football," she says. "Anyone can do it."
Of course, the North Haven Street venue's bar—complete with local beer, wine, and canned cocktails, as well as an option to bring your own food—also ups the appeal.
With interest forms for leagues now circulating, Paton hopes that locals—even those loyal to duckpin—will be down to explore the new concept in the coming months. 
"Baltimore has always been a welcoming place," Paton says.  "I hope that we can build a league community of people playing "footbowl" every  week."