Despite still-rising numbers of COVID-19 intensive care cases and deaths in Maryland, Governor Larry Hogan sounded a positive note at a press conference Friday, presenting his outline for reopening economic and recreational activities in the state.
"I'm optimistic and hopeful that if Marylanders continue staying at home and practicing aggressive physical distancing for a little while longer, our numbers could continue to plateau," Hogan told reporters in Annapolis, "and then we should be able to begin the recovery. I'm hopeful we could then begin our recovery in early May."
With 74 additional deaths from the novel coronavirus in the last 24 hours, the number of confirmed deaths to date in the state has now reached 797. Additionally, the state has reported another 78 probable deaths due to the COVID-19 outbreak. The African American community, in particular, has been hard by the virus, experiencing the majority, and significantly disproportionate, number of deaths in Maryland.
Outbreaks and deaths at nursing home facilities continue to drive the death toll in the state.
Confirmed cases and deaths from the coronavirus cases continue to rise in broader capital region, Hogan highlighted. In Maryland, 1,408 people remained in the hospital at the start of the weekend because of the virus.
On Friday, Hogan outlined a gradual three-step plan to reopen the state, including some retail shops, service businesses, outdoor religious gatherings, outside recreational activities—such as golf, tennis, boating and fishing—and elective surgeries in the first phase. He cautioned, however, that the state's key COVID-19 outbreak data—including hospitalizations, ICU admissions, and deaths—would need to decline for at least 14 days. Predicting when the state could resume full activities is impossible at this time, the governor added.
"Until a vaccine is developed, the way we go about our daily lives and the way we work is going to be significantly different for a little while longer," Hogan said.
Public health experts and researchers have said a vaccine is likely many months, possibly up to 12 and 18 months, away from being available to the public at large.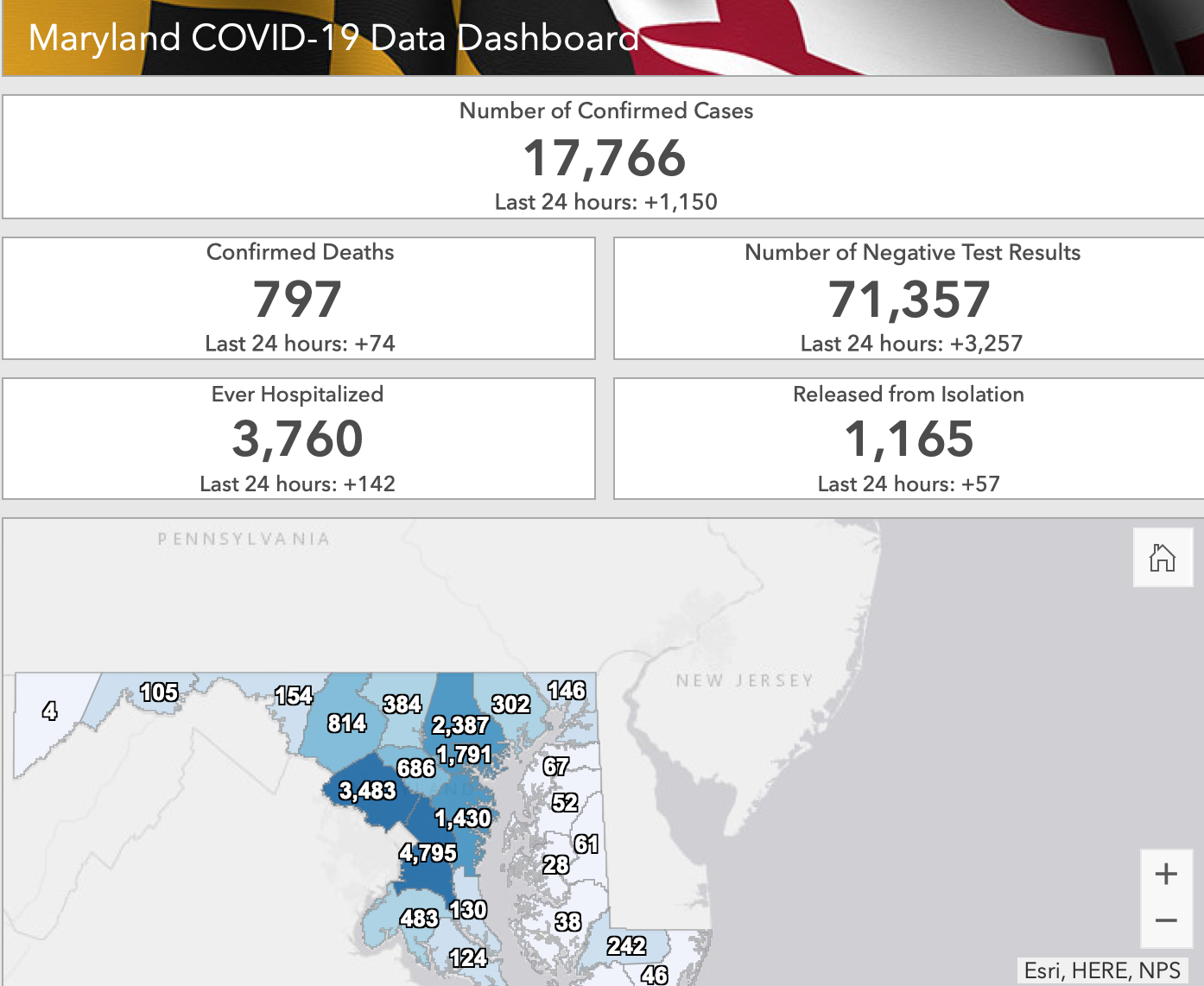 In the second stage of the phased-in reopening of the state, the limit would be raised on social gatherings, non-essential workers who cannot telecommute would be allowed to return to work, and bars and restaurants could open with certain safety restrictions.
Stage three of the phased-in reopening would essentially return life to something closer to a new normal with larger entertainment venues open, larger religious gatherings allowed, a lessening of restrictions at state hospitals, and family visits allowed to nursing homes.
"We all want the state to reopen as quickly as it can, but it's clear that if we open the state today we would risk a fast acceleration in the epidemic to very high numbers," said Dr. Tom Inglesby, director of the Center for Health Security of the Johns Hopkins Bloomberg School of Public Health and advisor to Hogan on coronavirus containment.
Among other unfortunate and potentially tragic news Friday, Gov. Hogan's communication director, Mike Ricci, said more than 100 Marylanders called the state's emergency hotline asking about whether injecting or ingesting disinfectants could help cure COVID-19 following President Donald Trump's comments during a White House briefing Thursday.
MORE THAN 100 PEOPLE called Maryland's emergency hotline asking about whether injecting or ingesting disinfectants could help cure Covid-19, according to Gov. LARRY HOGAN'S comms director @riccimike

via @playbookplus — Jonathan Martin (@jmartNYT) April 24, 2020
Hogan's "Roadmap to Recovery" did not offer timeline goals—or specific COVID-19 health-related data, but emphasized the need for decreased numbers of hospitalizations, intensive care unit admissions, and deaths.
"There isn't a decline yet and we need to get to a point where the numbers are starting to move downward," Inglesby said.
The governor did not offer an update on the continued closure of Maryland schools, which he said previously will remain closed through May 15. Most states have already decided to keep schools closed for the remainder of the spring calendar. Classes are held online, but not all students in the state have been logging on local school websites and participating, some due to lack of proper technology and internet access.
Maryland schools have been closed since March 13. Hogan ordered nonessential businesses to close March 23 and Marylanders to stay at home March 30.
Meanwhile, more than 344,000 people have filed for unemployment in Maryland from the start of the outbreak through April 18, more than 125,000 more state residents than all of last year.
By late Friday, some 44,000 people had logged on to the state's new unemployment site, which crashed several times during the day with 19,000 new claims to process.
Last weekend, at least 200 protestors in Annapolis caravanned around State Circle, demanding the governor lift restrictions on public gatherings and reopen Maryland businesses.
Hogan also announced a "recovery team" Friday to assist in the planning of the state's economic reopening and recovery.
Team members include: Arne Sorensen, the president of Marriott International; Robert Doar, president of the American Enterprise Institute; Kevin Plank, executive chairman of Under Armour; Jim Davis, chairman of the Allegis Group; Mark McManus, general president of United Association, a union; and Augie Chiasera, president of M&T Bank's Baltimore and Chesapeake regions.