Homeward Bound
Funeral director Hari P. Close II has become a leader in the public health fight against COVID-19.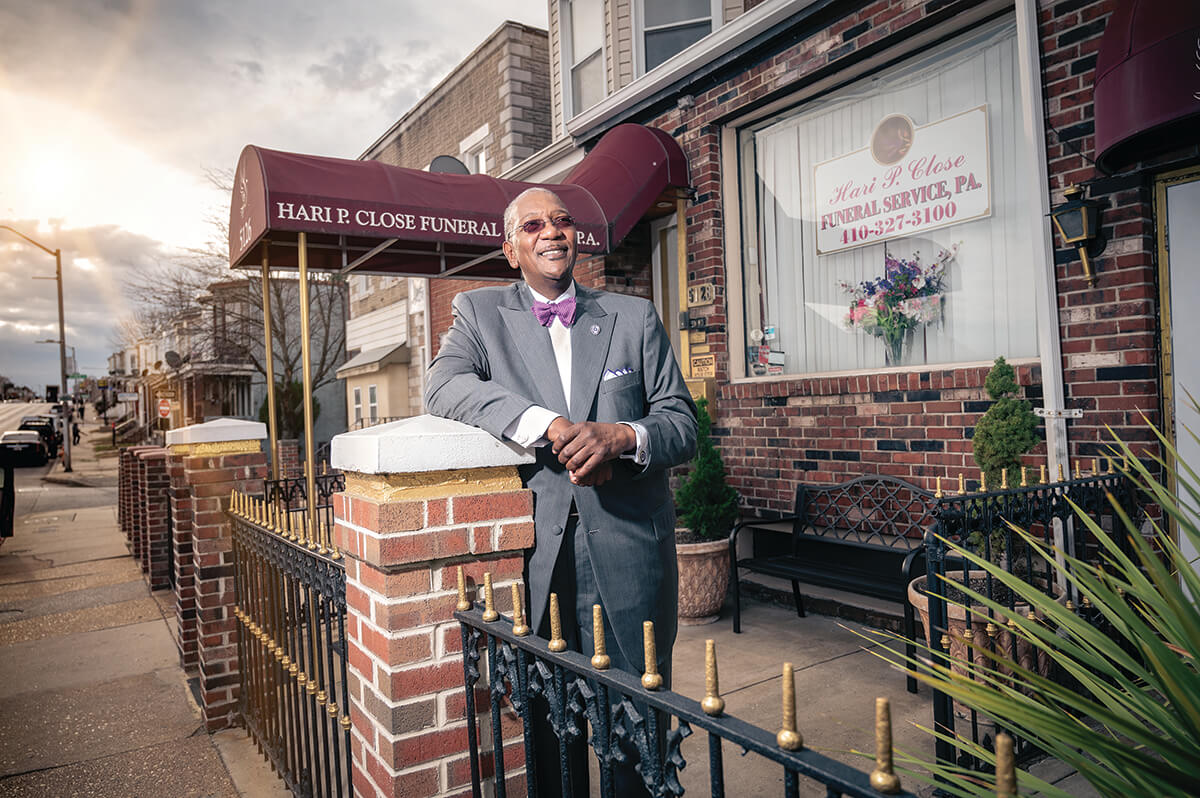 Hari Close sweeps the sidewalk in front of the tidy Northeast funeral home that bears his name several times a day. "I've been outside already three times today," he says. "The wind just keeps blowing."
It's a habit he picked up working at a relative's funeral home in Boston, Massachusetts, when he was growing up. With more than three decades of experience in the business, the 61-year-old Close knows that presentation and first impressions matter. "I tell my whole staff you must clean the whole block and around the corner."
Inside Hari P. Close Funeral Service, however, things look much different than when he started. With the emergence of COVID-19, business has gone from busy to tragically brisk, while demanding a whole new set of protocols and attention. And Close, as the president of the National Funeral Directors and Morticians Association (NFDMA), which represents more than 2,000 Black funeral directors, has been at the forefront of protecting families—and morticians. By his count, more than 180 Black morticians and funeral directors have died across the country since the start of the pandemic. The actual toll could be higher, in the several hundreds, Close believes, because the association doesn't keep an official tally of deaths among its members.
"And that doesn't include staff. It could be thousands of deaths overall in the funeral home business," Close says. "In the Black community, funeral directors and morticians are often the pillars of their towns," Close told The New York Times last fall. "But beyond that, they're friends and family. And so our industry has been completely devastated by this pandemic."
When COVID-19 hit, it shook up the world of funeral service, and Close quickly found himself on the front lines of the public health fight. As the death toll began rising, funeral directors were being overlooked. Personal protective equipment was reserved for healthcare workers in hospitals and nursing homes. In the beginning of the pandemic, some cases weren't even identified with COVID-19 as the cause of death on their death certificates. (Now that FEMA will pay up to $9,000 for funeral expenses, some families have had to amend death certificates to show the coronavirus was, in fact, the cause of death in order to be reimbursed.)
Meanwhile, morticians and funeral staff, who were handling the bodies after they left the health care facilities and nursing homes, were also at risk, and forced to scramble to protect themselves. Close had to have $20 bottles of Lysol shipped in from California. His question at the outset was, "What about funeral directors? We need to be protected, too." The crisis became personal after NFDMA members, who'd been exposed to the virus while preparing bodies, began dying.
"All of the PPE gear was being saved for hospitals," he says. "We couldn't get hand sanitizer. I had to get painters' suits with the hoods from Home Depot."
As bodies were piling up at his funeral home, Close accepted the burden of doing all the embalming himself to avoid exposing the young workers on his staff to the virus. "I had to keep them safe," he explains. "They are married and have young children to go home to."
He also made it his business to ensure his colleagues at the NFDMA were among the first to receive the vaccine. He began to lobby on their behalf, and because of his diligence, funeral directors in Maryland as well as a number of other states were included in the first round of available doses. It was also during the early stages of the COVID-19 outbreak that Close began recording his process for safe embalming—the art of preserving the human body—carefully explaining each step, for a funeral protocol podcast. The raw emotion bled through the audio as he emphasized bodies still had to be cared for with dignity and respect during an unprecedented time.
As the longest-serving president of NFDMA, he was asked to personally support the members of his organization who were handling the services for George Floyd and former Congressman John Lewis—both of whom passed just months after the pandemic took hold in the United States.
"COVID-19 was heavy when George Floyd died, but there was no social distancing in that church," Close says. "[At the same time], there was an awakening of the country that took me back to so many historical moments. I was honored when my colleagues asked me to come, and I was honored when those families asked me to sit with them."
"WE NEED TO BE PROTECTED, TOO. WE COULDN'T GET HAND SANITIZER. I HAD TO GET PAINTERS' SUITS WITH THE HOODS FROM HOME DEP0T."
Close now plans to document his experiences in a book. "Hari was on the forefront of acknowledging COVID-19 protocols to address families and the public," says Brandon Wylie, CEO of Wylie Funeral Homes and a member of the Maryland State Board of Morticians. "He ensured that we all knew the steps that funeral homes should take at a national level."
Close's mother was his third-grade teacher, and his father was a civil engineer, who, among other responsibilities, approved land for cemeteries in the state. It was his uncle, Napoleon Chisholm, who introduced him to funeral service. With three locations, Chisholm Funeral Home was the largest Black-owned funeral business in the Boston area for decades. Working after school and on weekends, Close spent many days answering the phone and doing maintenance around the funeral home. Back then, before pagers or cell phones, funeral service meant that someone always had to work the night shift in case someone called or showed up at the door with a death call.
Close didn't take naturally to the funeral business. He jokes that his mother used to say, when you see a dead bird, you should bury it or pray for it, adding that for a long time—despite, or perhaps because of, his experience—he chose to pray. Even with access to the fanciest Cadillacs on the market, it still wasn't enough incentive, initially, to convince him to make the family business a permanent career. He couldn't get a date, he says with a laugh, because all the girls—and their parents—knew that the Sevilles he drove around were attached to the family funeral business. He recalls one young woman's mother insisting he park his uncle's Cadillac down the street before picking her daughter up for a date. In that way, he learned early on that many people, if not most people, have a phobia about death.
"That's why I try not to look like a funeral director," he says. "We wear different colors to make sure I'm not in black [that people associate with their fears]. We prefer to wear gray, silver, and blue here." Similarly, his business' fleet, with a hearse and several limousines, consists not of black vehicles, but silver Cadillac automobiles.
A tall man with a quiet charisma and dignified manner, Close almost immediately became a big presence in the funeral industry. He was selected by the National Funeral Directors and Morticians Association to serve as their executive director and CEO at just 27—his professionalism and business acumen already evident. And it's not just funeral directors that he's led. He just ended his term as president of the Funeral and Memorialization Independence Council, an organization that, along with funeral directors, represents casket companies, vaults, supply manufacturers, and cemeteries. He is also a past five-term president of the Maryland State Board of Morticians.
"Hari is a very graceful leader," says Dalene Paull, executive director of the International Conference of Funeral Service Examining Boards, another organization in which Close has served in a leadership position. "He always moves the needle in the room when it comes to funeral service and regulation."
Close has also been a sought-after educator, traveling the world to teach embalming methods and funeral service practices. Before COVID-19 slowed down international travel and nearly doubled the volume of his business, Close spoke almost monthly on the evolving death-care industry in countries from Ghana to Japan and New Zealand. "I always try to fly back to make it to church on Sunday," he says.
On Sundays, he serves as the acting pastor of the New Union Baptist Church in West Baltimore. "He's committed to making sure we're especially knowledgeable of the history of funeral service and hold onto those traditions," says Wylie, who considers Close a mentor. "Keeping it at the forefront of funeral service is very important to him."
In terms of choosing a career in the funeral business, the turning point was a period when he once had to care for four loved ones at one time under one roof. Unfortunately, they all passed away within six weeks of each other. He saw firsthand the struggle some families go through in terms of resources, and realized he needed to commit. Learning the science of the trade, however, proved more challenging than he imagined. So, with the support of his mentor, O'Neil Swanson—the man who buried Rosa Parks and Aretha Franklin—he enrolled at the Community College of Baltimore County at Catonsville, one of the few mortuary science programs in the state.
"I had a bachelor's and master's degree [in business], and the hardest degree was the associate degree in mortuary science," he says. He actually failed and repeated an embalming course before becoming an expert in the subject.
Since then, Close has made it his business to pay it forward and does his best to ensure that his own students and young people in the industry are equipped with the skillset they need to be successful. When he began teaching embalming at Catonsville, he'd take his classes to the University of Maryland Baltimore campus to prepare bodies of people who donated their bodies to science for paramedics and medical and dental students to study.
"What we do for a living helps so many other professions learn what they need to do," he notes. "From the podiatrist to the dentist…we make sure that the body is done properly because so many other people need this body."
Making sure Black students, specifically, have a place in the funeral world is important for him. Among others, he helped create an opportunity for Amir Hakim, a local Muslim funeral director. Hakim completed his 1,000-hour apprenticeship with Close and, once he was licensed, Close recommended him to become the practicing mortician at two Muslim-owned funeral homes in the state. He now operates Hakim's Islamic Funeral Home in Woodlawn. "I'm a business owner because of him," Hakim says. "The business and models are from him. He provided a lot of affirmation and I needed that from another owner."
"WHAT WE DO FOR A LIVING HELPS SO MANY OTHER PROFESSIONS LEARN WHAT THEY NEED TO DO."
While funerals have been traditionally segregated—white-owned funeral homes bury white families and Black-owned funeral homes bury Black families—Close believes death doesn't discriminate and neither should funeral homes. He welcomes business from everyone and has managed to diversify. The key, he says, is not to wait for people to come to him, but to reach out and make himself visible to perspective clients. He adds with a laugh that his bank never asks him what color the person was who gave him the check to deposit.
"Twenty-eight percent of my business is from the majority [white] community," Close says. "Another five percent is Hindu because my name is Hari and that is the name of one of the gods in Hindu. I cover for three mosques that ship [bodies] out of the country. Another three percent of our clientele is Hispanic and the remaining is African American."
But Close doesn't do it alone. At different points, all four of his children and his wife have worked in the business. Some of his children quickly realized that funeral service wasn't for them. In one case, he realized it wasn't a good fit. "I fired my wife," he says with a chuckle. "Home and work are two different places. It wasn't personal."
His son A'lan, 34, now serves as the funeral home's vice president of business affairs.
A few years before COVID took hold, a family crisis made Close change his perspective on juggling so many things. He had reached the conclusion that it was time to formally prepare for retirement and focus on the simple pleasures of life. For now, however, with the virus rampant once again, he will continue to enjoy taking in the sounds of the birds chirping in his Northeast Baltimore backyard and sneaking candy to his three granddaughters—while still running the business.
Ultimately, perhaps because he's such a family man himself, it's caring for the families that entrust their loved ones to him that has always been his most important job. From the moment that a family walks through the doors of his establishment, Close becomes a personal concierge to guide them through every step of the process. One benefit of operating a small funeral home is the personal care that you can provide to your customers, he says.
Gwendolyn Davis had never heard of Hari P. Close Funeral Service when her sister-in-law recommended calling on him to bury her husband. Close now feels like a part of the family, after she later called upon him again to bury her mother and her sister.
"He told us that he would be there to make sure everything was right," Davis says. "And he was."
Over the last two decades, he's served thousands of Baltimore families in similar fashion. Simply put, Close says, "Our job is not to add grief, it's to relieve grief."