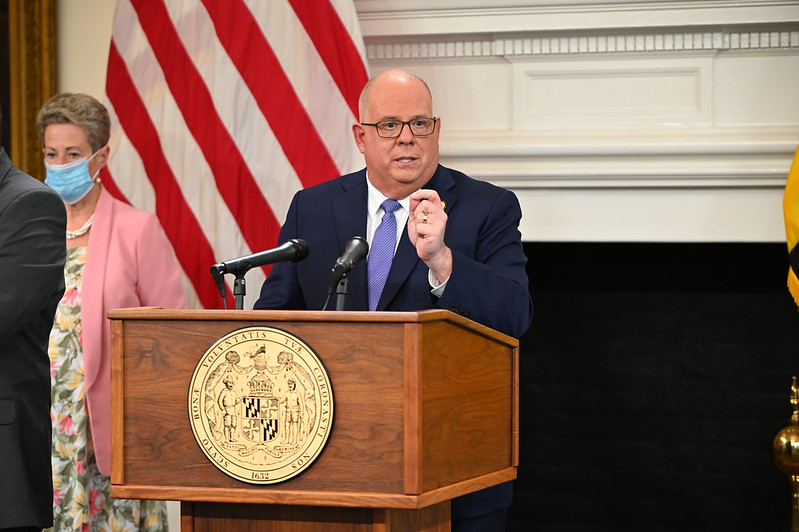 —Maryland GovPics
Citing lowering coronavirus positivity rates in the state, Gov. Larry Hogan implored local school boards to immediately take action toward reopening schools for in-person classes at a press conference in Annapolis Thursday afternoon.
All 24 school districts in Maryland will begin the 2020-2021 academic year with online instruction only. Hogan repeatedly pointed out that 16 districts currently have plans to bring some students back this fall in hybrid models, but other school districts have decided to wait until the start of the second semester to physically reopen—a cautionary timeline he does not support.
Baltimore City—which welcomed back teachers and staff this week—and Baltimore County,  as well as Anne Arundel, Howard, Montgomery, Prince George's, and Calvert counties issued statements that they have no intention of foregoing their virtual opening. During a virtual meeting Thursday, Baltimore County Public Schools community superintendent Christina Byers said that while the county school system acknowledges the governor's recommendations, it is not in a position to immediately address in-person instruction.
Byers said that local superintendents and boards did not receive any advanced notice about the details of Thursday's announcement.
Hogan, taking a strident tone at times, alleged those boards, as well as administrators, teachers unions, and associations, have failed to do the "hard work [that] lies in developing the safe reopening plans." "This is simply not acceptable," the governor said.
"As a result of our improved health metrics, every single county school system in the state of Maryland is now fully authorized to begin safely reopening," Hogan continued. "Nearly everyone agrees that there is no substitute for in-person instruction. It is essential that we all work together on flexible hybrid plans to safely get some of our kids back into classrooms and into healthy and supportive learning environments."
By law, the governor of the state does not have the power to mandate when schools open, which is a decision left to local school boards.
In his remarks, Hogan noted encouraging reports that the statewide positivity rate has dropped to 3.3 percent from a peak of 26.9 percent in mid-April.
The benchmark for generally safe reopening of public buildings, according to the CDC, is a 5 percent positivity rate. Maryland's overall rate has been below 4 percent since August 8, according to state health department methodology. Hogan also stressed that the positivity rate among Marylanders under the age of 35 has now fallen below to 3.79 percent.
That said, Towson University, like other colleges around the country, has already been forced to cancel in-person learning and close residence halls after a concerning number of students tested positive for the coronavirus just before classes resumed this week. In Baltimore City, the Department of Public Works announced Thursday it was suspending curbside recycling pickup because of staff shortages due to the COVID-19 outbreak.
Maryland Senate Majority Leader Bill Ferguson, a former teacher, said he appreciated the Hogan Administration's publishing of new health metrics for school reopening statewide, but also stated that the new information comes late in the process with schools so close to reopening. 
"These metrics are critical for Maryland schools to have the framework for in-person reopening," Ferguson tweeted. He added, however, that "expecting districts, administrators, educators, and families to flip the switch in 10 days is simply unreasonable."
We'd likely have more local school district consistency on reopening if the State had provided *any* guidance whatsoever prior to TEN DAYS before the planned start of SY 2020-21.

— Bill Ferguson (@SenBillFerg) August 27, 2020
Cheryl Bost, the president of the Maryland State Education Association, expressed frustration with the governor's rhetoric in a statement late Thursday.
"At a time when educators are focused on working hard to make the best of this year for students, the governor and [state Superintendent of Schools Karen Salmon, who joined Hogan] are focused on throwing school communities under the bus," Bost said. "We need collaboration and problem-solving, not political theater."
Bost stated that Gov. Hogan and the superintendent had previously "abdicated responsibility for creating reopening standards and told districts to come up with their own plans, indicating appropriate confidence that local school systems would do what is best for students."
"In the continued absence of adequate state and federal funds to help schools open safely—to include measures such as rapid testing, certified ventilation systems and needed PPE—this is a recipe for chaos, confusion, distrust, and deepening the inequities that too many of our students face," Bost said.
Salmon announced the state is making $10 million in grant funding available to help systems that are able to move toward in-person instruction.
"While adherence to these metrics for re-entry into classrooms are not considered requirements, I am strongly encouraging local school systems to utilize our improving numbers and the provided metrics as the driving force for the decision to return to school buildings," Salmon said. "Health and safety precautions must remain in place once we begin to bring more students back into schools, and school systems should continue to work in conjunction with local health officials to monitor trends in the metrics and any outbreaks at area schools."
The issues around school reopening are complicated. Educators are concerned about student safety, as well as their own health and that of their families, while also scrambling to address the digital divide. Economists are also worried about the impact on economic recovery if schools don't reopen. Without schools reopening, many parents will have trouble returning to work.
Hogan dismissed partisan concerns around his push to reopen schools, noting that the Democratic governors of New York and New Jersey, Andrew Cuomo and Phil Murphy, have issued similar statements about reopening classrooms.
Dr. Jinlene Chan, acting deputy secretary for public health services at the Maryland Department of Health, who also spoke at the press conference, sounded a more measured approach than the governor. She said that the new metrics and the guidance being offered at this time by the state is designed to aid in decision-making rather than serve as prescriptive policy.
"There is flexibility that schools have to make decisions about how to best meet the educational needs of their students while taking into account the level of community spread and their capacity to implement the guidelines," Chan said.