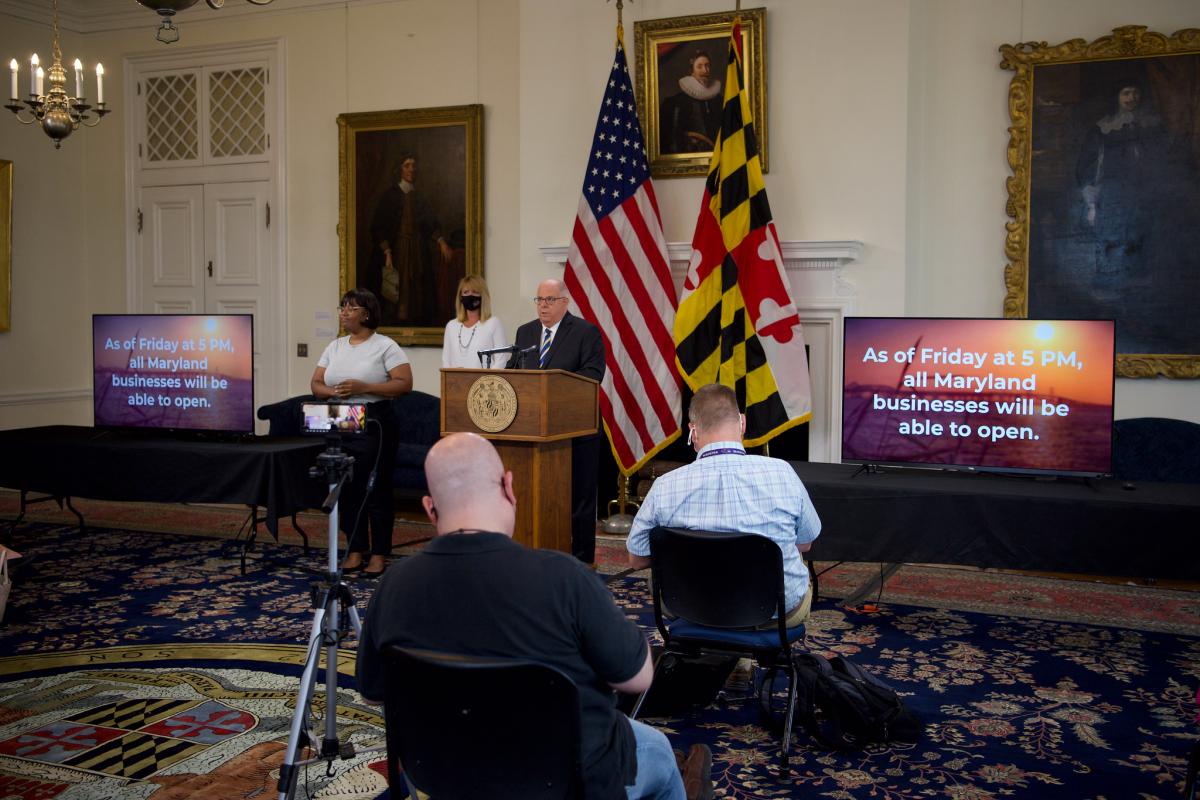 —Maryland GovPics
Governor Larry Hogan announced Tuesday that based on the state's flattening COVID-19 positivity and hospitalization rates, Maryland will begin to move into the state's next phase of reopening.
As with earlier stages of reopening, individual jurisdictions are empowered to make decisions regarding the timing of the reopening of movie theaters and live entertainment venues, as well as increased capacity at restaurants, retail stores, and religious services.
Baltimore Mayor Jack Young said Wednesday that the city is not yet ready to fully move into the next phase of the reopening guidelines put forth by the Hogan administration. But Baltimore will loosen restrictions in some areas, including restaurants and movie theaters. The city will allow restaurants to open indoor dining to 50 percent capacity next week, Young said during a Wednesday press conference at the War Memorial Building.
Late Wednesday, City officials said movie theaters will be allowed to open Friday at 25 percent of their capacity, according to reporting by The Baltimore Sun.
Baltimore County Executive Johnny Olszewski Jr. said in a statement that the county will align with the state and move into the next phase of the Hogan Administration's coronavirus recovery plan, allowing theaters to reopen and retail and religious facilities to expand indoor capacity.
"Baltimore County has taken significant steps to combat the COVID-19 pandemic while gradually and safely reopening our economy," Olszewski said. "Thanks to our efforts, and the efforts of county residents to protect themselves and their loved ones, we've seen continued progress. This dangerous disease is still with us and I urge all our residents and businesses to continue to follow the best public health guidance. In the days and weeks ahead, we will continue to strictly enforce state laws and guidelines—any businesses found to be violating face-covering or social distancing mandates will be held accountable."
According to state metrics, Baltimore County's positivity rate has remained below 5 percent since July 7, 2020 and is currently 4.4 percent. Baltimore County's case rate is 1,800 cases per 100,000 residents—35 percent lower than Prince George's County, 22 percent lower than Baltimore City, and 2 percent lower than Montgomery County.
Face coverings are still required under state and local order. Individuals aged 5 and up must wear face coverings in any indoor business, service, organization, or establishment that serves the general public. Individuals aged 5 and up are also required to wear face coverings when outdoors and unable to consistently maintain at least six feet of distance from those who are not members of their household.
Individuals are not required to wear a mask if eating or drinking while seated, but face coverings are required when otherwise moving in or about a restaurant or bar premises.
"As we move into this third and final stage of our recovery, I want to sincerely thank our doctors, nurses, and public health officials, our small business community, and, most importantly, the people of Maryland who have pulled together over the last five months to respond to this unprecedented challenge with incredible courage and perseverance," Hogan said.
Last week, Hogan implored local school boards to immediately take action toward reopening schools for in-person classes.
Although the rate of cases has flattened in Maryland in recent weeks, new cases continue to accumulate in the state with 3,833 positive results over the past seven days. Overall, there have been nearly 110,000 confirmed cases in the state. To date, there have been 3,623 coronavirus fatalities in the state, with another 143 probable tests, according to the Maryland Department of Health's tracking program. Maryland ranks 12th in per capita deaths, tied with Delaware, and just ahead of Pennsylvania.
As part of the state's new guidelines, the following gradual reopenings are allowed in Maryland:
Indoor theaters where live performances occur or motion pictures are shown may open to the general public at 50 percent capacity, or 100 people per auditorium—whichever is less—with appropriate health and safety protocols in place.
Outdoor venues where live performances occur or motion pictures are shown outdoors may open to the general public at 50 percent capacity, or 250 people—whichever is less—with appropriate health and safety protocols in place.
Capacity for retail establishments and religious facilities may increase from 50 to 75 percent.
Meanwhile, the Stronach Group—which owns the Preakness Stakes—and the Maryland Jockey Club announced Wednesday that the 145th Preakness will be run will without fans in attendance at Pimlico Race Course on Oct. 3.
"The Stronach Group and the Maryland Jockey Club have been working closely in consultation with local and state health and governmental authorities for the past several months to thoughtfully and safely plan for Preakness 145," Belinda Stronach, chairman and president of The Stronach Group, said in a statement. "While we had hoped to be able to welcome fans as we have for the past 145 years, the health and safety of our guests, horsemen, riders, team members and the community at large is, and will always be, our top priority."