Small Towns, Big Appeal
These quaint getaways offer a quarantine reprieve.
Dream vacations deferred. Cruises canceled. Beach rentals revoked. If there's one thing this fraught year has taught would-be travelers, it's to seek homebound solace. Tending a garden, for example, or walking a neighborhood trail.
But there's wisdom in expanding your travel horizons, if only slightly. Self- isolation can "adversely affect immune function and enhance risk for chronic health conditions," say the authors of a recent article in the Journal of Sport and Health Science. So take their advice and fill this timely, immunoenhancing prescription: Embark on a day trip with your nearest and dearest to someplace like home, and not far from it. The Mid-Atlantic abounds with modestly sized towns possessing outsized appeal.
We've picked six within two hours' drive of Baltimore. Most have populations so small they couldn't fill a large concert hall, even with their pets. (The two "big" towns would require a second seating.)
Each place beckons the cabin-feverish with its own balms, from a tranquil Chesapeake Bay waterfront, to cobblestone streets that echo history, to a secluded arts haven that honors, among other things, an infamous insect. Though, as of press time, COVID-19 restrictions are easing, operations and hours at these destinations may vary.
→ DENTON, MD
Drive time: 1 hr., 15 mins.

If you've only buzzed by en route to a Delmarva beach, you owe yourself a stop in this revitalized Eastern Shore community. Denton straddles the Choptank River, the Eastern Shore's longest tributary and among its most scenic. Get acquainted with local attractions and history at the Wharves of Choptank Visitor and Heritage Center. Perched on pilings above the water, the facility is an information and recreation hub. Watch soaring ospreys and eagles from observation decks. Launch a kayak or cast a line for bass and catfish.
Don't miss the photomurals at the base ofthe Choptank River Bridge (Business Route 404), which depict the town when steamboats cruised on roundtrips to Baltimore.
After orientation, head downtown to enjoy a juicy Guinness burger and a pint of Irish ale at the Market Street Public House, a popular local tavern. From there, it's a short walk to Denton's flourishing Artsway, a multi-block cultural and shopping nexus spurred by the restoration of one of the oldest houses in town. Now, respectively, The Foundry and the Fiber Arts Center of the Eastern Shore, the galleries sell the works of local artists, artisans, and quilt-makers. The large, hand-painted blocks that adorn neighborhood buildings mark waypoints on the Byway Quilt Trail, a public art project and history lesson complementing the region's Harriet Tubman Underground Railroad Byway. At day's end, visit Harry's for "Harry Hour" specialty cocktails and Gallic-inspired entrees.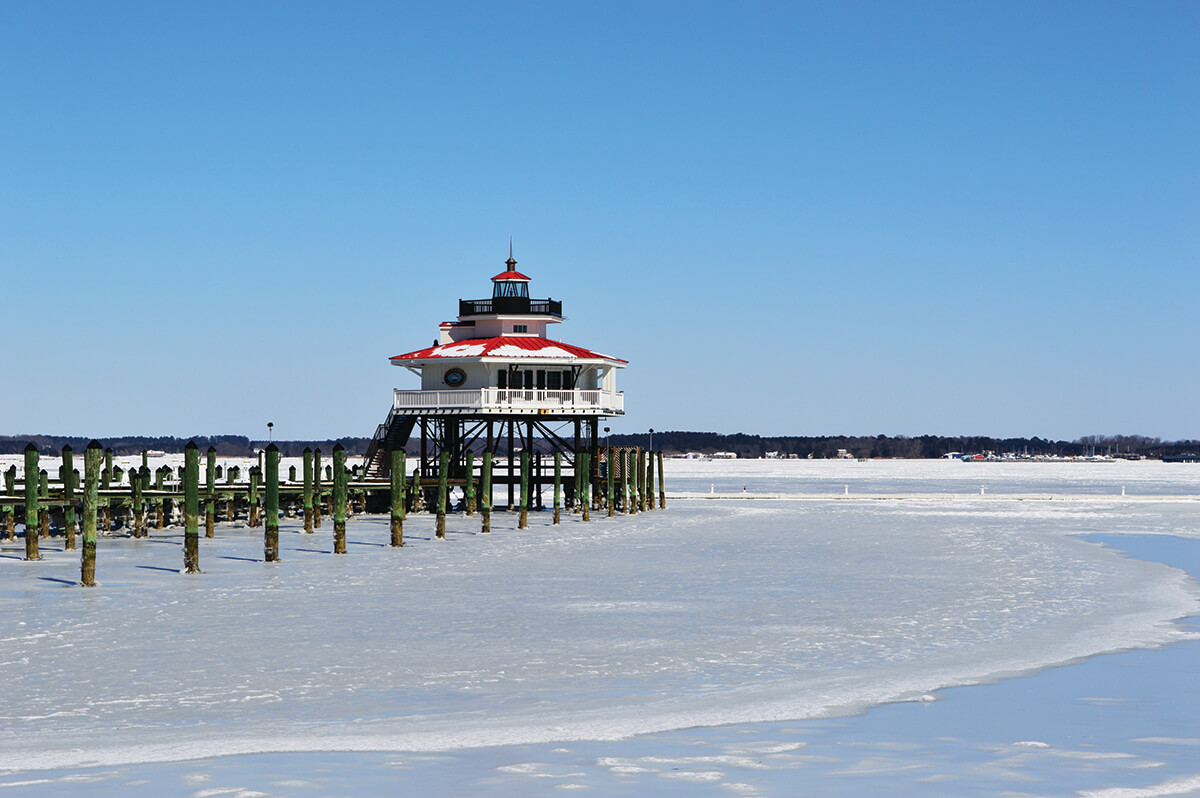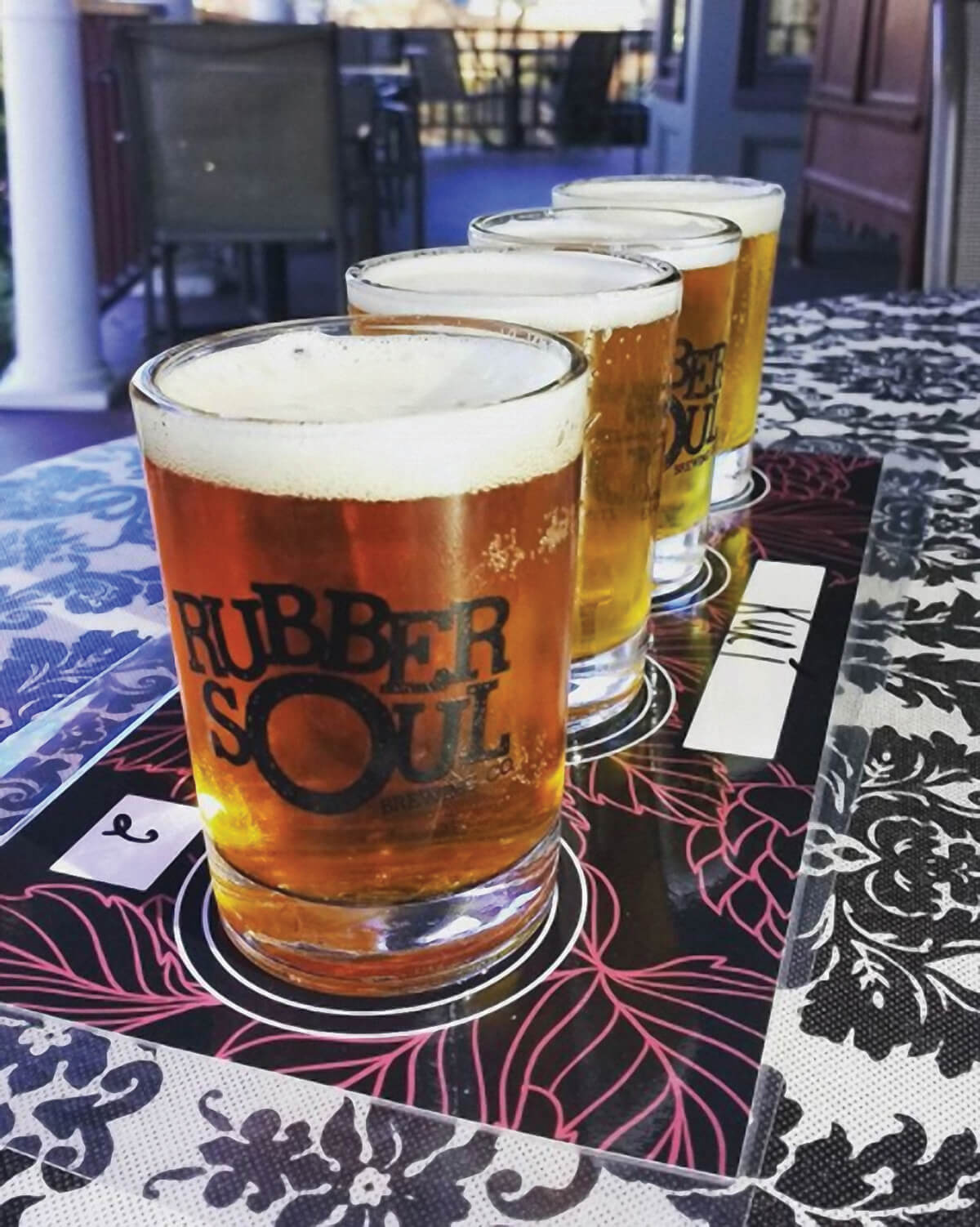 → HANCOCK, MD
Drive time: 1 hr., 30 mins
After the pandemic struck, this Western Maryland community saw an uptick in visitor traffic—of the two-wheeled type. Nicknamed "Trail Town," Hancock is a popular stop along the C&O Canal Towpath and the Western Maryland Rail Trail, which pass through to the south (towpath) and north (trail).
The primary visitor attraction remains the C&O towpath. Here, discover picturesque vestiges of its 19th-century past. Round Top Cement Mill, whose abandoned kilns peer vacantly from a rocky hillside, literally supplied the U.S. Capitol's foundation. Tonoloway Aqueduct, now waterless and vine-clad, once carried canal boats across Tonoloway Creek. Bowles House, an early farmhouse, conveys lore as a National Park Service museum and the town's official visitor center.
Rent a bike at C&O Bicycle to explore the earthen towpath or the more cyclist-friendly paved rail trail. The shop's owners suggest that rail-trailers head west, where the scenery— like the Paw Paw Tunnel's majestic maw—is stunning and visitor traffic is sparser. The shop will shuttle customers and bikes as far as Pittsburgh or Washington, D.C., to access different sections.
Satisfy your post-hiking and biking hunger at Buddy Lou's Eats Drinks & Antiques, where locally sourced ingredients meet comforting cuisine in dishes such as spiced duck breast salad and savory truffle fries. Sample local favorites like the steak and cheese sub at Triangle Restaurant and hand-dipped ice cream cones and sundaes at Fractured Banana. Or take dessert home—Blue Goose Market sells more than two-dozen varieties of luscious house-baked pies.
→ MIDDLEBURG, VA
Drive time: 1 hr., 30 mins
Nestled in Northern Virginia's equestrian wine country, historic Middleburg maintains its small town-ness while embracing fame as a premier destination. The five-star Salamander Resort & Spa put Middleburg on luxury travelers' maps seven years ago, embellishing a crossroads community that has dispensed Southern hospitality since the (still-operating) Red Fox Inn & Tavern opened in 1728.
For complete Middleburg immersion, tour the National Sporting Library & Museum, which celebrates field sports that define hunt-country life here. Don't miss its collection of equestrian fine art. Downtown's range of shops is small but compelling. Browse the latest women's fashionwear at Chloe's, riding accessories at The Tack Box, and holiday decor at The Christmas Sleigh. For lunch, pair a gourmet pizza with a glass of Virginia vino at Knead Wine, run by a master sommelier. The fieldstone building with the claret-red door is the Red Fox Inn, where Kennedys once dined. It's the traditional starting point for a colorful, horse-and hound-filled Christmas parade, the Middleburg Hunt Review.
Today, VIPs and other visitors still gravitate to the opulent amenities at the Salamander, a 340-acre complex at the northern edge of town that reflects its Thoroughbred environment. Enjoy one of the countryside trail rides conducted regularly from the resort's equestrian center. Afterward, drink in pastoral scenery from the terrace of Gold Cup Wine Bar over a bottle of vino and a plate of local charcuterie selected by Salamander's new executive chef.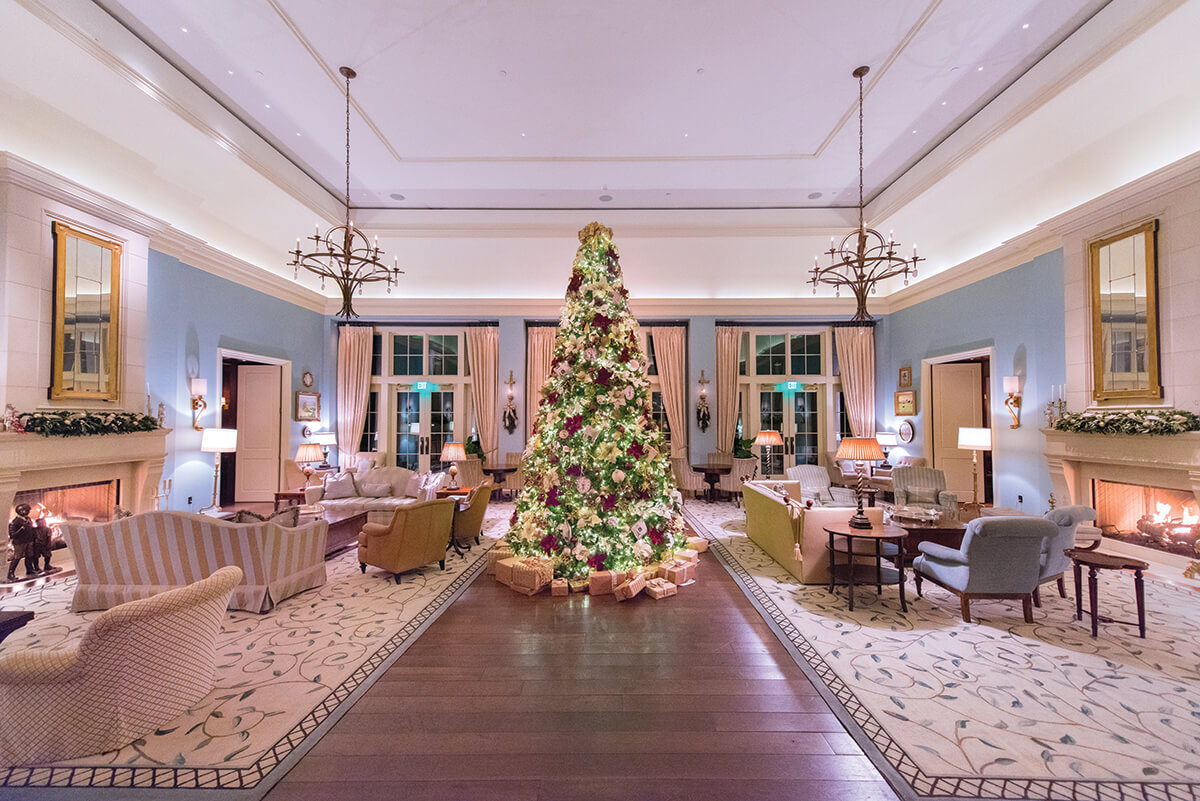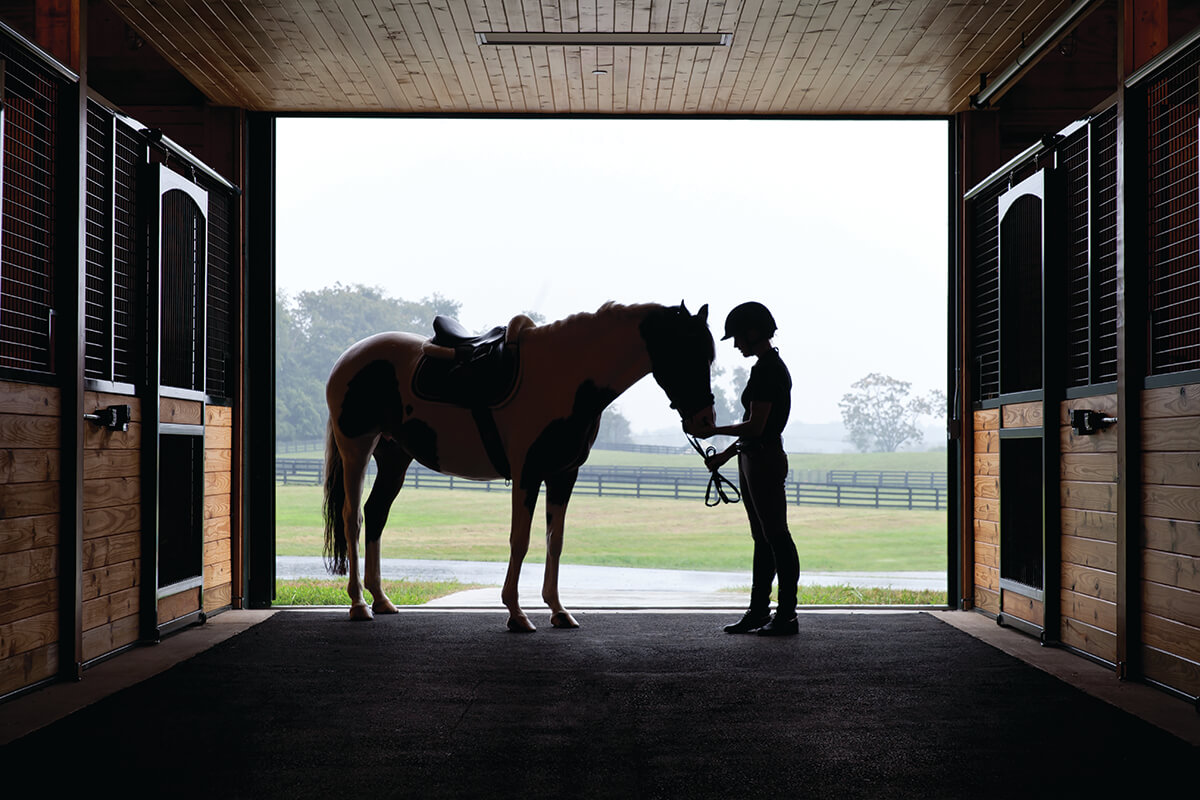 → MOUNT GRETNA, PA
Drive time: 1 hr., 40 mins.
Best known by its adjoining neighborhoods, Mount Gretna and Gretna Heights, this wooded enclave isn't a town in the traditional sense. What began as a multipurpose summer retreat for 19th-century amusement-seekers, Bible campers, and intellectuals has evolved into a largely year-round community devoted to pursuing its founding ideals and preserving its architectural inheritance. For arts lovers especially, it's a must-visit.
Admire the Victorian-era cottages that line corset-slender streets in the old Chautauqua and Camp meeting sections. See the rustic timber Tabernacle, which still hosts summer camp meeting events when the faithful gather for fellowship, music, and prayer. The Pennsylvania Chautauqua's open-air playhouse and stately Hall of Philosophy hold cultural events seasonally, from classical music performances to sum- mer theater to the Original Mount Gretna Cicada Music Festival, featuring classic- rock concerts as earwormy as the festival's namesake insect. Whatever the season, seek out the shop La Cigale, Mount Gretna's family-run sewing business that produces vibrantly colored Provencal table linens.
Food options are also close at hand. Try the huevos rancheros at Porch & Pantry Café, and don't miss the iconic Jigger Shop, an ice cream and sandwich parlor. Opened in 1895, it's one of the few surviving businesses that catered to patrons of Mount Gretna's old amusement park. Conjure sweet tooths of yore by sampling the shop's sinfully rich campfire s'more sundae. Afterward, stroll to nearby Lake Conewago, the picturesque municipal beach and swimming hole.
→ NEW CASTLE, DE
Drive time: 1 hr., 15 mins
A 17th-century port, this Delaware River settlement was so prized that three nations claimed it before Delaware's then-capital broke free, launching the colony's rush to statehood. Today "Old New Castle," the preferred moniker for the historic district in the heart of town, survives surprisingly intact, down to its cobblestone streets. With lovely private gardens, friendly neighborhoods, and a deep reverence for the past, it's part living museum and all charm.
The New Castle Historical Society Visitor Center at the Arsenal can get you situated. Attractions in the strollable downtown tell the town's tangled narrative. The humble Dutch House represents New Castle's first colonists. The tall ship Kalmar Nyckel, occasionally seen at the Delaware Street pier in Battery Park, replicates the Swedish vessel that carried the second wave of European inhabitants. The first parishioners at Immanuel Episcopal Church on the Green were Anglicans, members of the state church of England, New Castle's third overlord. At "Delaware's Independence Hall," the New Castle Courthouse (now a museum), assemblymen voted in June 1776 to separate the colony from English rule, thus creating the new nation's first state.
If you're not yet history-sated, lunch at colonial Jessop's Tavern, whose historically ecumenical menu includes Dutch pot roast, meatloaf with lingonberries, fish and chips, and tavern-roasted turkey. Enjoy a taste of "new" New Castle: voodoo chicken po'boys at Nora Lee's French Quarter Bistro, and saltimbocca burgers at Sonora, run by the operators of a popular food truck. Just be sure to visit a local landmark, the indoor-outdoor New Castle Farmers Market, which hawks everything from soft pretzels and fresh meats to cowboy hats and Korean plush toys.
→ NORTH BEACH, MD
Drive time: 1 hr., 15 mins.
On the western shore of the Chesapeake Bay, North Beach bides quietly in the shadow of its sister community, Chesapeake Beach, a splashier resort, charter fishing, and water park destination. Drive the mere mile or so from the latter to the former—the twin beaches are that close— and discover a friendly small town with a lovely beach and boardwalk, multi-story waterfront cottages, and a mix of shops, restaurants, bars, and parks.
Get the lay of the strand while stretching your legs on North Beach's half-mile-long boardwalk. Out-of-towners pay an access fee to use the small sandy beach, which may deter some. But visitors can enjoy water views for free at several town parks. Sunrise Garden near the waterfront features koi ponds, benches, drift- wood sculptures, and delightful bay breezes. Watch for herons and egrets at Wetlands Over- look Park, where gazebos and a pier bring visitors closer to nature.
From the Welcome Center, stroll north on Bay Avenue to explore downtown shopping and dining. COVID canceled the town's popular Friday evening open-air farmers' market in 2020, but you can still buy local seafood, artisan cheeses, farm-grown produce, and fresh-cut flowers at an indoor market, Chesapeake's Bounty. Shop for oyster plates and other collectibles at Nice and Fleazy Antiques. The [email protected] co-op sells the works of dozens of area artists. Take a java break and join the lo- cals for lattes at Sweet Sue's Bake Shop & Coffee Bar. For lunch, try the BLT deviled eggs and a plate of fresh fish tacos at Hook & Vine Kitchen and Bar, serving Southern coastal cuisine.