Ateira Griffin Has Become a Local Champion for Single Mothers
In 2016, Griffin founded Building Our Nation's Daughters to work on effective communication between Black single mothers and their daughters.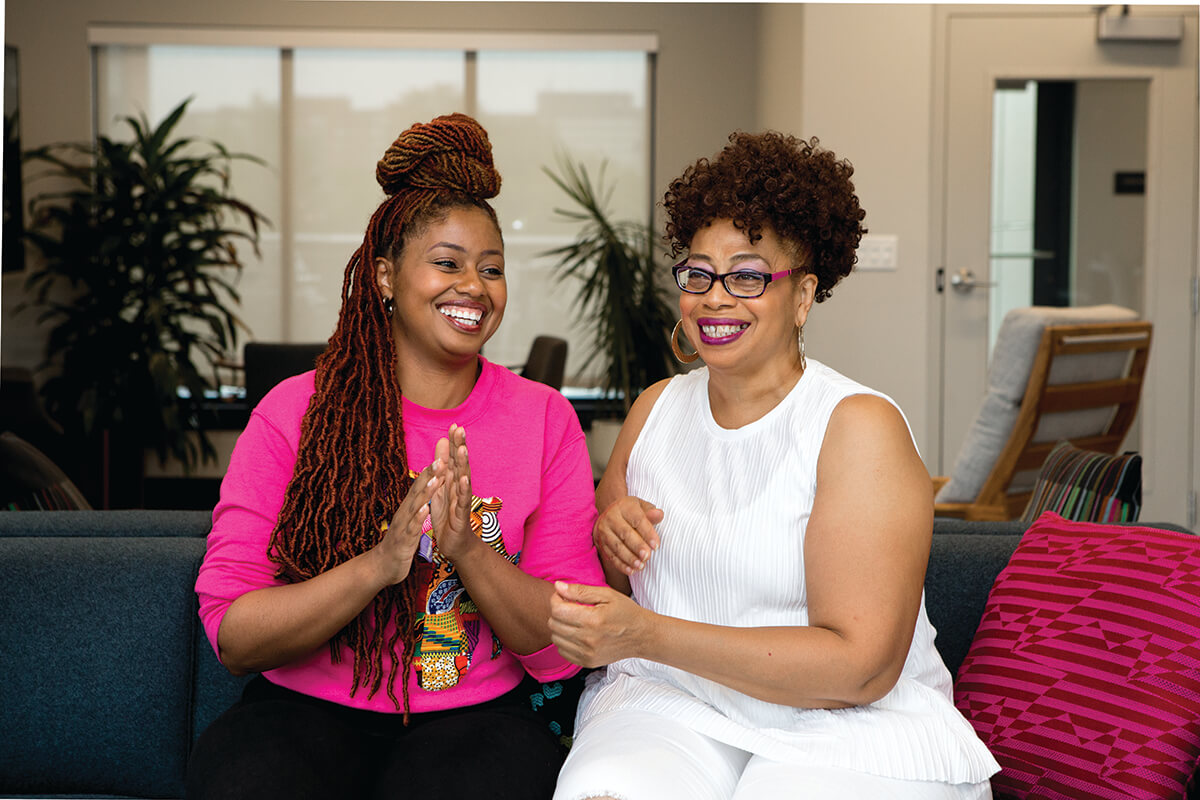 Ateira Griffin knows all about single mothers. She was raised by her mom and grandmother, both single.
"Growing up, I had a very close relationship with them and there was always a great line of communication in my house," she recalls. "I'm not saying it was all cupcakes and sunshine, but, at our house, the door was always open for discussions," she adds with a laugh.
And it was a two-way street. Her mom talked to her and her brother about what was going on in her life, too.
So, when Griffin, who was dean of students at the Baltimore Leadership School for Young Women, had students ask her for advice with personal problems, her first response was always, "Have you talked to your mom, aunt, or grandma about this? The answer was usually no. There were many reasons. Their mom was too busy, or they didn't want to worry her, etc. etc."
The students' moms also came to Griffin for advice on how to communicate with their daughters. It made Griffin wonder how her mother and grandmother created that atmosphere of open communication. So she asked her mom what her secret was.
"She told me that she struggled sometimes, but she had her mother and other people who were a support system. A big part of it was community, and the sharing of knowledge. Those generational knowledge gaps are really serious in our community, and I thought, 'Okay, we need to do something to fix this.'"
Griffin's solution was to found Building Our Nation's Daughters, Inc. (BOND) in 2016 to work on effective communication strategies with Black single mothers and their daughters in grades five through 12. Presently, BOND works with 25 kids and their maternal figures. Starting in the fall, BOND, which is funded by the Open Society Institute of Baltimore and other organizations, is expanding to work with two housing developments to bring the program to the moms and daughters who live there.
Filling a gap for the community, BOND offers a multigenerational model with mentoring, educational support, and career development for moms and daughters at the same time. They cover everything from science, technology, math, and art to health and wellness, including meditation, mindfulness, fitness, and nutrition. Even finance is a topic of discussion. And BOND brings in other organizations so the girls and moms can be exposed to their programming.
"Research has found links between positive, healthy relationships among mothers and daughters in a single-mother household and academic success, emotional health and well-being, and advancement in higher education," says Griffin. "When they hear, 'My mom felt this way,' or 'She went through this before,' they start to see each other as humans. Then we open up this space of communication where they share who they really are."