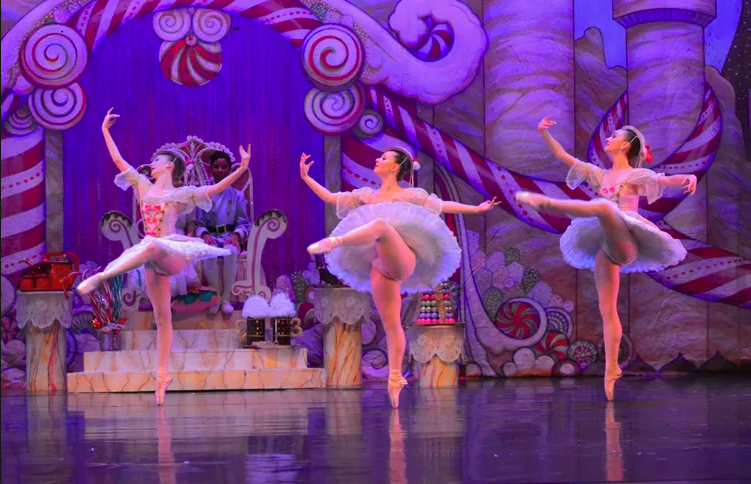 Ballet Chesapeake
Make your list and check it twice—we're moving full speed ahead with the holiday hoopla. If you're hoping to pencil in some quality time with the fam this season, look no further. Whether your tribe is into dancing and lights, or more hands-on activities like crafts and gingerbread-making, the Charm City community offers plenty of ways to celebrate together.
TWINKLING TRADITIONS
11/16-12/31: Winterfest of Lights
Head down to the ocean to explore more than 50 acres of holiday lights along the bay. 125th St., Ocean City. Times vary. Free-$5.
11/18-1/1, 2018: Lights on the Bay
View more than 60 Maryland-themed holiday light displays by the bay to support Anne Arundel Medical Center. Sandy Point State Park, 1100 E. College Pkwy., Annapolis. 5-10 p.m. $15-50.
11/25-12/31: Miracle on 34th Street
See Hampden's 34th Street transform into a festival of lights during this festive Charm City tradition lauded by the likes of Nightline and The Travel Channel. 700 block of W. 34th St. 5-11 p.m. Free.
12/2: Fells Point Old Thyme Christmas
Spend the day with Old Saint Nick at this Fells Point neighborhood fete. See Santa arrive via boat, snap a few family photos, enter into an eggnog contest, and finish off the evening with the annual tree lighting and Parade of Lighted Boats sailing down the harbor. Fells Point Main St., 9 a.m.- 6 p.m., Free
12/7: Annual Downtown Partnership Monument Lighting
Gather with thousands of neighbors to count down the annual lighting of the Washington Monument, which will be lit by more than 16,000 LEDs this year. There will also be plenty of food vendors, hot chocolate, and a beer garden to help keep warm. Mount Vernon Place, 600 block of Cathedral St., 5-8 p.m., Free
12/12: Baltimore Chanukah Festival
Bundle up the kiddos and head to the Inner Harbor to celebrate the Festival of Lights with crafts, cookie decorating, photo booth fun, eats from Brooklyn Sandwich Co., and, of course, the giant menorah lighting. McKeldin Square at the corner of Pratt and Light streets, 3:30 p.m., Free, 410-605-0505.
SEASONAL SIGHTS
11/11-1/7, 2018: Gingerbread Village
Admire this giant gingerbread village, which is set to break a Guinness World Record. Maryland Science Center, 601 Light St. Times & prices vary.
11/11- 1/2, 2018: Rudolph the Red-Nosed Reindeer
Bring the little ones to experience the classic tale of a reindeer ousted from Christmas-town because of his bright and shining nose in 4-D this season. National Aquarium, 501 E. Pratt St., Times vary.
11/13-12/24: Christmas Village
Get in the holiday spirit, grab some gifts, and indulge in beer and brats during this month-long German crafts festival. Inner Harbor. Times vary. Free.
11/17-19, 24-26: The Polar Express
Celebrate the holiday season with an activity-packed journey to the "North Pole." B&O Railroad Museum, 901 W. Pratt St. Times vary. $29-300.
11/24-26: Festival of Trees
See decorated trees, visit gift boutiques, and eat breakfast with Santa to benefit the Kennedy Krieger Institute. Maryland State Fairgrounds, 2200 York Rd., Timonium. Times vary. Free-$120.
11/25: Weinberg Winterfest
Join a caroling sing-along, watch the silent film Soup to Nuts, and pay a visit to Santa Claus.Weinberg Center for the Arts, 20 W. Patrick St., Frederick. 3 p.m. Free.
12/23: It's a Wonderful Life
Nothing says the holidays like Frank Capra's 1946 classic. This annual first-come, first-served screening collects non-perishable food items for GEDCO Cares Food Pantry in lieu of admission. The Senator Theatre, 5904 York Road, 9 a.m., Free
TO 1/15: Pandora Ice Rink
Practice your axels at this family-friendly rink that features the Inner Harbor skyline as its backdrop. Special happenings on the calendar for this season include an Ugly Sweater night, a Special Olympics of Maryland fundraiser, and a prince/princess dress-up skate. Harborplace Amphitheater, Inner Harbor, Times vary, $9-14.
HANDS-ON HERITAGE
12/2: Kwanzaa Family Day 2017
With tykes in tow, head to the Creative Alliance to celebrate Kwanzaa with face-painting, drumming workshops by Urban Foli, and traditional dance performances. Creative Alliance, 3134 Eastern Ave., 12 p.m., $5 suggested donation.
12/5: Hands-On Holidays
Join the Jewish Community Center of Baltimore to learn about and celebrate traditions and holidays. Enoch Pratt Free Library, 5108 Roland Ave. 10:30 a.m. Free.
12/9, 16, & 18: Gingerbread House Decorating
Get creative with all kinds of confections and candies at this gingerbread workshop, where participants will learn tips and tricks on how to bake the structure before rolling up their sleeves and decorating their own houses. Schola, 1005 N. Charles St., Times vary, $55
12/10: Second Annual Chanukah Hot Chocolate 5K
Jog around the JCC campus in this annual Chanukah event that rewards runners with steaming hot cocoa and a family-friendly after-party at the finish line. Rosenbloom Jewish Community Center, 3506 Gwynbrook Ave., Owings Mills, 9 a.m., $15-40
12/14: Legos, Lights, and Latkes
Feast on pizza and latkes before building a lego menorah and partaking in a fun Chanukah singalong. There will also be plenty of traditional sufganiyot (jelly donuts) for dessert. Rosenbloom Jewish Community Center, 3506 Gwynbrook Ave., Owings Mills, 5:30 p.m., $5-15
12/16: S'mores, Stars, and The Winter Solstice
Celebrate one of the longest nights of the year at this festive campfire featuring singalongs, solstice science, and plenty of toasty s'mores. Lake Roland, 1000 Lakeside Drive, 6-8 p.m., $3-5
12/30: Kwanzaa Celebration 2017
Celebrate Kwanzaa with the Reginald F. Lewis museum at this annual celebration highlighting African dance, storytelling, drumming performances, workshops, shopping, and traditional crafts using fiber art. Reginald F. Lewis Museum, 830 E. Pratt St., 12 p.m., $5
MERRY MUSIC
11/25: Tuba Christmas
Listen to four-part Christmas carols played by 80 regional tuba and euphonium players. Weinberg Center for the Arts, 20 W. Patrick St., Frederick. 12 p.m. Free.
11/25-26: The Nutcracker
This classic holiday ballet comes to the Bowie stage with Tchaikovsky's timeless score. Bowie Center for the Performing Arts, 15200 Annapolis Rd., Bowie. Sat. 7 p.m., Sun. 2 p.m. $13-31.
11/16-1/7, 2018: Miracle on 34th Street
The 1940s Christmas classic comes to musical life on this Columbia dinner theater stage. Toby's Dinner Theatre, 5900 Symphony Woods Rd., Columbia. Times & prices vary.
12/9-12/10: The Nutcracker
Bel Air's Ballet Chesapeake (formerly Harford Ballet Company) presents its iteration of this classic tale with special guest performers from the New York City Ballet. Towson University, Stephen's Hall Theatre, 7900 Stephens Ave., Times vary, $15-25