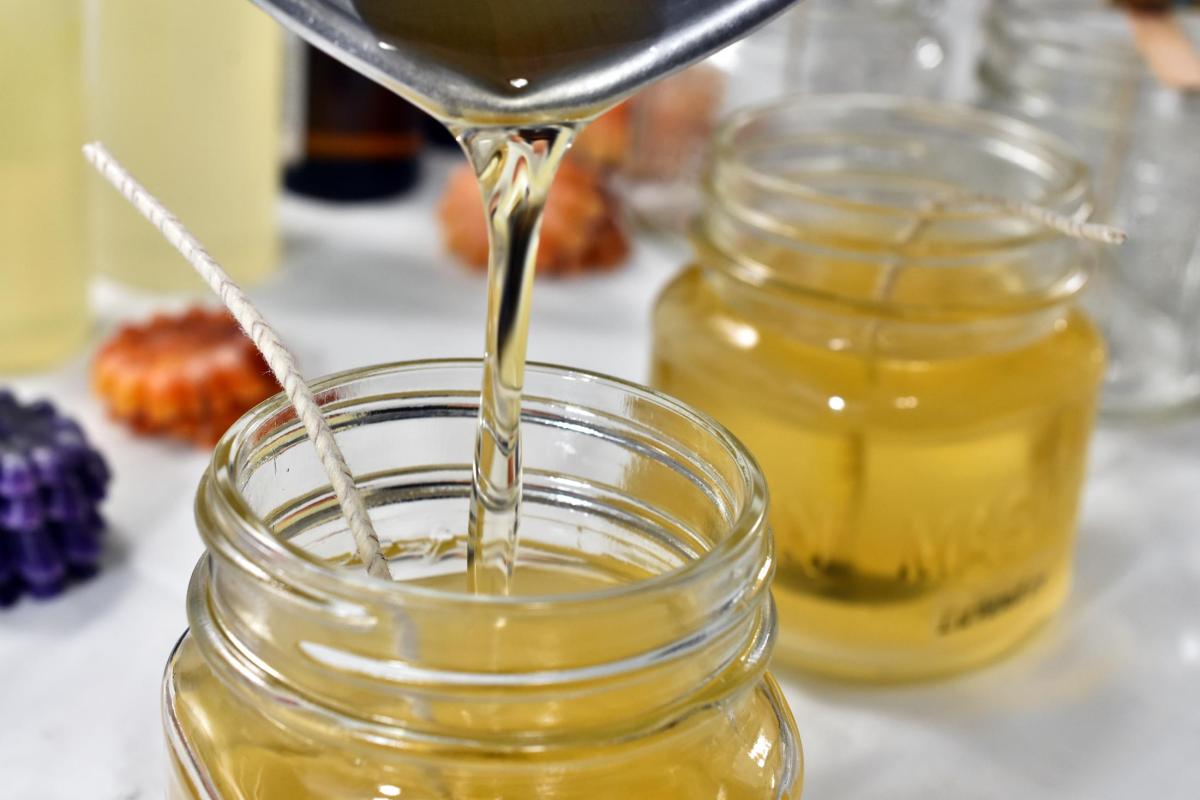 —Pam Walker
Few things can add a touch of warmth to chilly nights and freshen up our living spaces quite like candles. But instead of stocking up on jars from Bath & Body Works this year, why not get creative and pour your own? Yes, it requires a bit of instruction. But plenty of local studios are prepared to take care of the hard stuff. You just have to show up, select a cute jar, choose a color, and settle on scents to make your heart happy. 
The best part? Several local spots—including downtown favorite Lumière Candle Studio—let candle makers bring their own bottles of wine. Hosts at the bright venue on North Charles Street (which accepts walk-in appointments or prescheduled reservations) pour the sips while you design a custom label for your masterpiece as it cools. We can't think of a more relaxing way to ease into winter. 
Whether you're candle-crafting pro, or first-time pourer, check out our list of upcoming waxy workshops in the area:
11/3-12/22: Happy Hour Candle Workshop
Each Thursday leading up to Christmastime, this recurring event in Silver Spring invites you to unwind. Take a road trip and show up with your own wine and snacks to tide you over. Soy wax, aromatic oils, and materials are provided. Don't forget to wear a mask. Scents by The Company. 11262 Georgia Ave. Silver Spring. 6:30 p.m. $50.
11/5: Fall Candle Making and Yoga
Led by expert candle makers, this class at Milk Reclamation Barn in Timonium allows attendees mix three custom scents. You'll walk away with tips on how to choose the perfect wick to help each candle burn and keep. While your jars cool off, relax your mind and body with a yoga session held next door at Hit + The Lab. Milk Reclamation Barn Candle Company. 9 West Aylesbury Road, Ste. 9A. Timonium. 12-3 p.m. $49.
11/6-12/11: Candle Making and Mimosas
In Silver Spring, enjoy a glass of something sweet and bubbly while you craft a scented candle. Then, delight in an array of light refreshments and some music while the wax works its solidifying magic. Scents by The Company. 11262 Georgia Ave. Silver Spring. 1 p.m. $65.
11/16: Candle Making Class in Owen Brown
This no-frills candle crash course walks pourers through the basics. Learn how to craft an artisanal piece made with natural soy wax and cotton-based wicks. Owen Brown Community Center. 6800 Cradlerock Way. Columbia. 6:30 p.m. $15.
11/17: Friendsgiving Candle Making Class with Zoe & Co. Candle Company
In Towson, pour candles to give out as gifts for your loved ones, coworkers, and friends. You'll be able to choose from a range of fall scents, like Black Currant & Absinthe and Blueberry Cobbler. The Point in Towson. 523 York Road. Towson. 6:30 p.m. $65.
11/19: Candle Making Workshop with Sterling & Co.
Make your way to Hampden for this 90-minute workshop, which intends to walk participants through candle making standards. Pick a suitable wick, and mix warm, melty coconut apricot wax with a scent of your choice. You can bring your own bottle to sip on, and check out the neighborhood shops while your candle is cooling. 805 West 36th Street. Baltimore. 1 p.m. $40.
11/20: Tequila, Tacos, and Candles
No experience is needed for this candle-pouring workshop in North Baltimore, which boasts a spread of salsa, chips, and tacos, plus tequila for your complimentary sampling. Materials to help you craft a custom candle will be waiting for you. Pottillo & Co. 3524 Keswick Road. Baltimore. 4-7 p.m. $50.
11/26: Christmas Tree Candle Making Class
In Frederick, assemble a black or white Christmas tree candle, then trim it with quaint decorations galore. Bring your own wine or beer, plus some tasty refreshments to munch on. Or, visit the on-site bar. LiveYoung Candle Co. 916 N. East Street. Frederick. 6-8 p.m. $55.