The List: December 2022
The top things to do in Baltimore this month.
12/3-16: CANDY LANE
Last winter, we couldn't get over this larger-than-life, candy-themed wonderland built inside Center Plaza, complete with gargantuan ice-cream cone statues and lollipop sticks. As we walked and watched children play hide-and-seek in its candy cane forests, we hoped Candy Lane would be back again next year. Well, we're happy to report that Charm City is in for another treat. From Dec. 3 until Dec. 16, the exhibit returns to its previous home, bringing all of its same charm, food, and drinks, and some special programming to suit every palate. Channeling the spirit of the season, this year's lineup will include a Christmas karaoke night, an all-ages Frozen sing-along, a 21-plus PJ party, family fun days, and a social night for four-legged companions. To cap things off, the 21-plus Not So Silent Night soirée (Dec. 16) will boast an open bar, sugary-sweet holiday goodies, and a dance party in Candy Lane, with themed costumes encouraged. One Charles Center. 100 N Charles St. Times and prices vary
12/1: AFRO CHARITIES AT WORK
This virtual program explores how the local nonprofit preserves and shares vital Black stories through art exhibitions, renowned publications, and learning resources. Afro Charities. 12-1 p.m. 
12/1: LIGHTWIRE THEATER: A VERY ELECTRIC CHRISTMAS
At The Lyric, tune in to a tale of a young bird named Max who gets lost while his family flies south for the winter. He lands in the chilly North Pole, and makes colorful friends in the process. The Lyric. 7:30 p.m. $35-55.
12/1: MOTOWN CHRISTMAS
Kick off the yuletide season with a mesmerizing night of Motown song in Harbor East. Sing along with tinselly tributes to the likes of Stevie Wonder, Marvin Gaye, and Smokey Robinson. Keystone Korner. 7:30 p.m. $10-35.
12/1: MOUNT VERNON MONUMENT LIGHTING
Invite your friends and loved ones to enjoy this wintery ritual at Mount Vernon Place, complete with festive outdoor entertainment, tasty bites, and flashy fireworks to paint the city skyline. Mount Vernon Place. 5-8 p.m.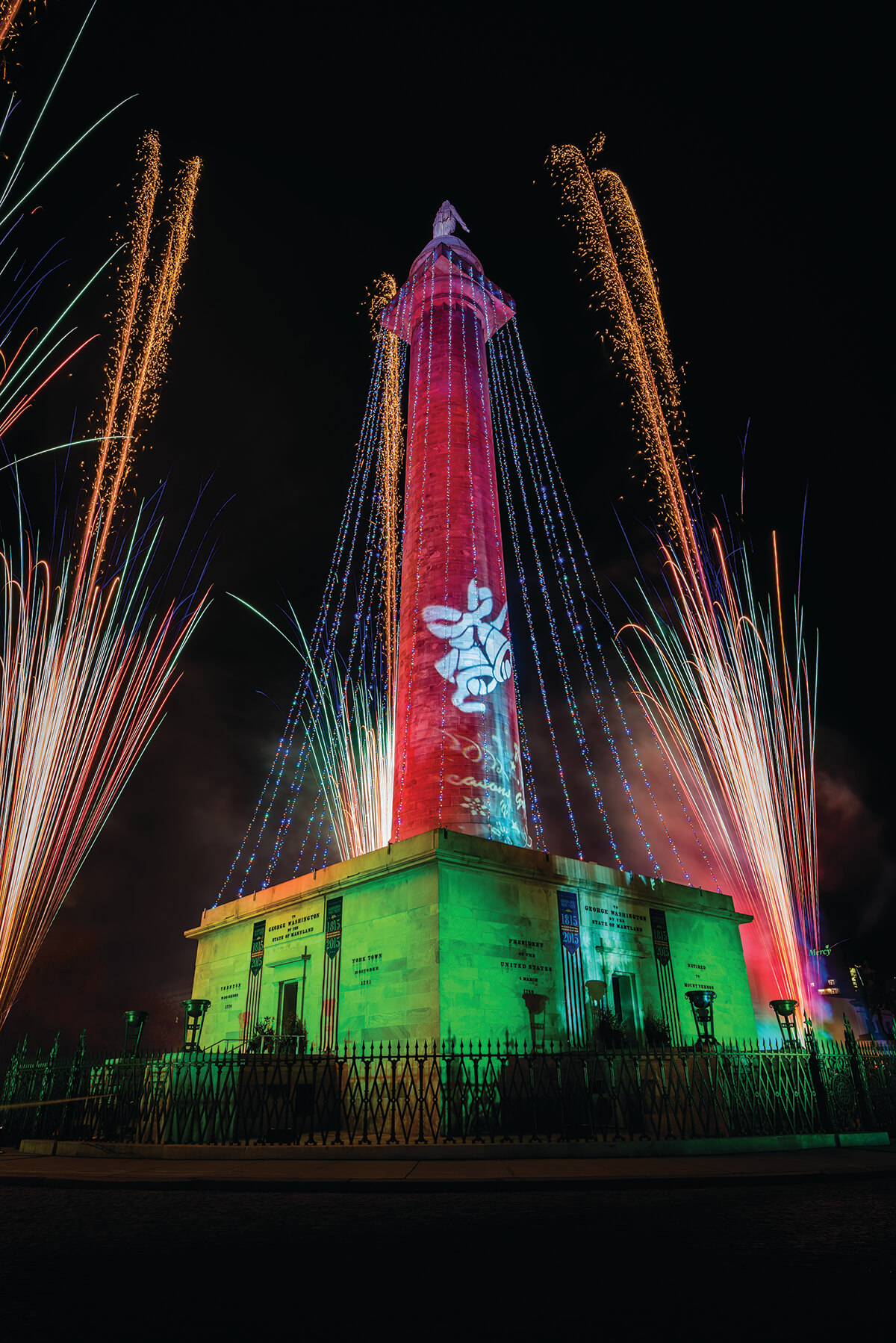 12/2: THANK YULE FOR BEING A FRIEND
This Golden Girls musical follows the gang on a quest to save Christmas—and locate Sophia in time for the big day. In doing so, the ladies are encountered with their presents, pasts, and futures. Motor House. 8 p.m. $20-35.
12/3: BLUEGRASS NUTCRACKER
In Highlandtown, an eight-piece bluegrass band and sassy narrator transform Tchaikovsky's masterpiece through twang and storytelling. Creative Alliance. 7 p.m. $10-20.
12/3: FUSED GLASS ORNAMENTS
On Eastern Avenue, join artist Viki Keating to turn glass scraps into keepsake Christmas ornaments. Creative Alliance. 1 p.m. $18-20. 
12/3: HOLIDAY TREE LIGHTING
In Port Covington, keep warm with sweet whiskey cocktails, hot cider, and cocoa while watching the Sagamore tree come to life. Stick around to grab dinner and holiday gifts for your loved ones and pals. Sagamore Spirit. 5-9 p.m.
12/3: OBJECT DIVE: PAPER DOLLS AND AMERICAN FASHION
This virtual art-making crash course explores Frederick-born Claire McCardell's foray into paper doll art, which was used as a means of showcasing her trailblazing women's designs. Craft your own doll at home and dive into McCardell's prolific portfolio. Maryland Center for History & Culture. 10 a.m.
12/6: CHRISTMAS WITH CHORAL ARTS
The long-enduring holiday tradition brings its brassy sounds and quintessential carols to The Baltimore Basilica this year. Broadcast details to beannounced for those who wish to keep cozy and listen at home. Baltimore Choral Arts Society. 7:30 p.m. $25-76. 
12/7-8: NUTCRACKER! MAGIC OF CHRISTMAS BALLET
At the Hippodrome, experience this classic tale through stunning acrobatics, giant puppets, and pristine footwork by way of the Ukraine Ballet. Hippodrome Theatre. 7 p.m. $49-601. 
12/10: 12 BARS OF CHRISTMAS CRAWL
Ugly sweaters are encouraged for this festive downtown bar crawl, with admission including a complimentary Santa hat, a necklace made of Christmas lights, and a mug to hold your drink. Power Plant Live. 12-8 p.m. $12. 
12/11: BREAKFAST WITH SANTA
Complete with raffles, tasty brunch, and photo opportunities with jolly old St. Nick, this inaugural fundraiser at the Mt. Washington Tavern benefits the Cool Kids Campaign, which supports pediatric oncology patients. Mt. Washington Tavern. 11 a.m. $22-30. 
12/10-11: A CIRQUE HOLIDAY SOIREE
On Cathedral Street, this thrilling adaptation of The Nutcracker will feature an array of acrobatic twists and tumbles. Meyerhoff Symphony Hall. Times vary. $57-475. 
12/10: HOLIDAY HEAP
This locally loved holiday festival returns to Charles Village with handmade wares eclectic art, and artisanal food by the region's best makers. St. John's Church. Times vary..
12/10: JINGLE BELL RUN
This year's festive 5K race returns to West Shore Park. Jog in-person with friends or chart your own virtual course to benefit the Arthritis Foundation. 401 Light St. 9 a.m. $30-40. 
12/11: UNION SQUARE CHRISTMAS COOKIE TOUR
Per holiday tradition, scour homes in the SOWEBO neighborhood for festive, homemade Christmas cookies. Union Square. 12-4:30 p.m. $20. 
12/13-18: JAGGED LITTLE PILL
Based on Alanis Morissette's revered and angsty 1990s album, this award-winning production hits the Hippodrome—and brings along a range of rich emotions. Hippodrome Theatre. Times and prices vary.
12/14: BALTIMORE SCHOOL FOR THE ARTS HOLIDAY CELEBRATION
At Keystone Korner, the academy's big band and jazz ensemble puts its own spin on the sounds of Miles Davis, Charlie Parker, Clifford Brown, and others. Keystone Korner. 7 p.m. $10-25.
12/16-17: A VERY JERRY CHRISTMAS
Homegrown singer-songwriter Cris Jacobs takes his tribute to the great Jerry Garcia (and a touch of Christmas magic) out to Fed Hill for two crazy nights. The 8×10. 8 p.m. $42. 
TO 12/17: SPECTRUM OF LIGHT AND SPIRIT
More than 100 creations—from paintings to sculptures—by Maryland artist Oletha DeVane head to UMBC, marking the first retrospective in her decades-long career. UMBC Center for Art, Design and Visual Culture. 10 a.m.-5 p.m. 
12/20-22: TRIXIE LITTLE'S HOLIDAY HOOTENANNIE
Joined by friends including Sunny Sighed and B'ald Lightning, the "naughty elf" and legend of burlesque heads to Charles Village with a holiday performance for the ages. Ottobar. 8 p.m. $25-45. 
12/22: A JOHN WATERS CHRISTMAS
Forget mistletoe and presents. Brace yourself for all things filthy and bizarre when this adored (and simply off-the-cuff) Charm City legend takes his one-man Christmas show downtown. Baltimore Soundstage. 8 p.m. $44-450.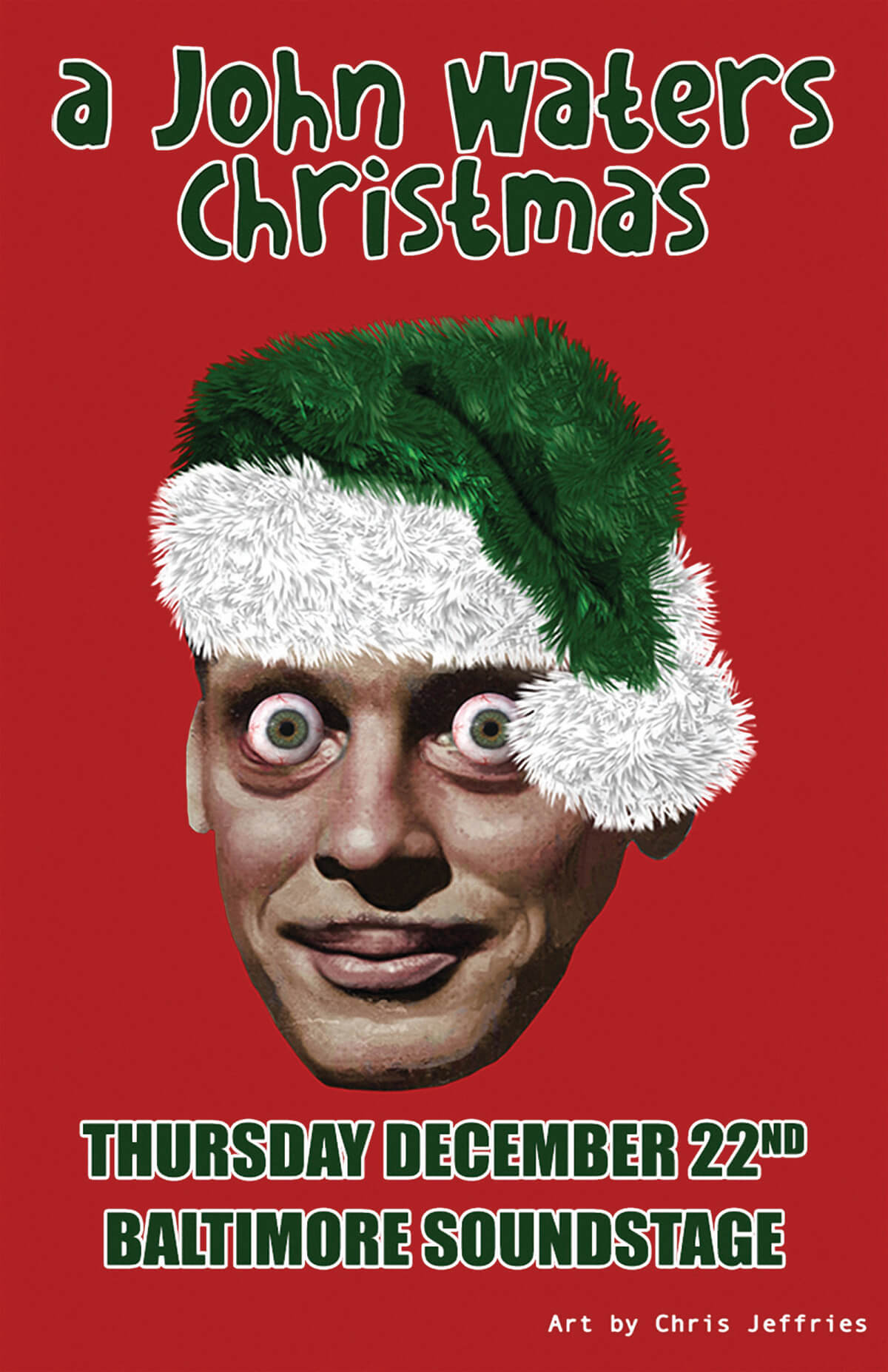 TO 12/24: CHRISTMAS VILLAGE
Baltimore's authentic German Christmas market returns with over 50 local and international vendors. West Shore Park. Times vary. Free-$5.
TO 1/2023: FOUR SEASONS WINTER VILLAGE
This annual event creates a winter wonderland within Four Seasons' rooftop terrace, complete with cozy firepits, a themed holiday menu, outdoor ice skating, and more. Four Seasons Hotel Baltimore. 3-7 p.m. 
TO 1/1/23: MIRACLE ON 34TH STREET
Known for its festive, eye-popping displays, this annual event illuminates the famous Hampden block in holiday cheer. W. 34th St. 6-11 p.m.
TO 1/1/23: MIRACLE HOLIDAY POP-UP BAR
Food & Dining. This year, the world renowned, Christmas-themed cocktail event series heads to our neck of the woods. Enjoy holiday sips, ogle festive decor, craft a gingerbread house with your buds, and much more. Various locations, times, and prices.
TO 1/1/23: ZOO LIGHTS
Grab the whole family and head to the Maryland Zoo, where more than 100,000 LED lights will shimmer in the shape of the historic institution's most beloved creatures. Ticket proceeds will benefit the zoo's animal care and conservation work. Maryland Zoo. Fri.-Sun. 5-8 p.m. Price TBD. 
TO 1/29/23: A MOVEMENT IN EVERY DIRECTION
A dozen Black artists explore the way the Great Migration, during which more than six million African Americans left the American South from 1915 to 1970, transformed nearly every aspect of Black life and culture. Baltimore Museum of Art. Wed.-Sun. 10 a.m.-5 p.m.
TO 3/23: VISIONS OF NIGHT: BALTIMORE NOCTURNES
Featuring works by Baltimore contributing photographer J.M. Giordano, this showcase brings a retrospective glimpse of local nightlife to the Maryland Center for History and Culture. Maryland Center for History and Culture. Wed.-Sat. 10 a.m.-5 p.m. Free-$9.
TO 4/16/23: THE JOHN WATERS COLLECTION
Charm City's Pope of Trash, beloved filmmaker John Waters, gifts the Baltimore Museum of Art with upward of 400 lewd and captivating works, a portion of which will be on view at the museum's Nancy Dorman and Stanley Mazaroff Center for the Study of Prints, Drawings, and Photographs. Baltimore Museum
of Art. Wed.-Sun. 10 a.m.-5 p.m. 
TO 9/3/23: ABUNDANCE: TOO MUCH, TOO LITTLE, JUST RIGHT
The AVAM's Zanvyl A. Krieger Main Building will play host to an exhibit that explores true, lasting wealth. Witness art as an expression of the longing for contentment, productivity, and freedom through a joyful range of works. American Visionary Art Museum. Tue.- Sun. 10 a.m.-5 p.m. $10.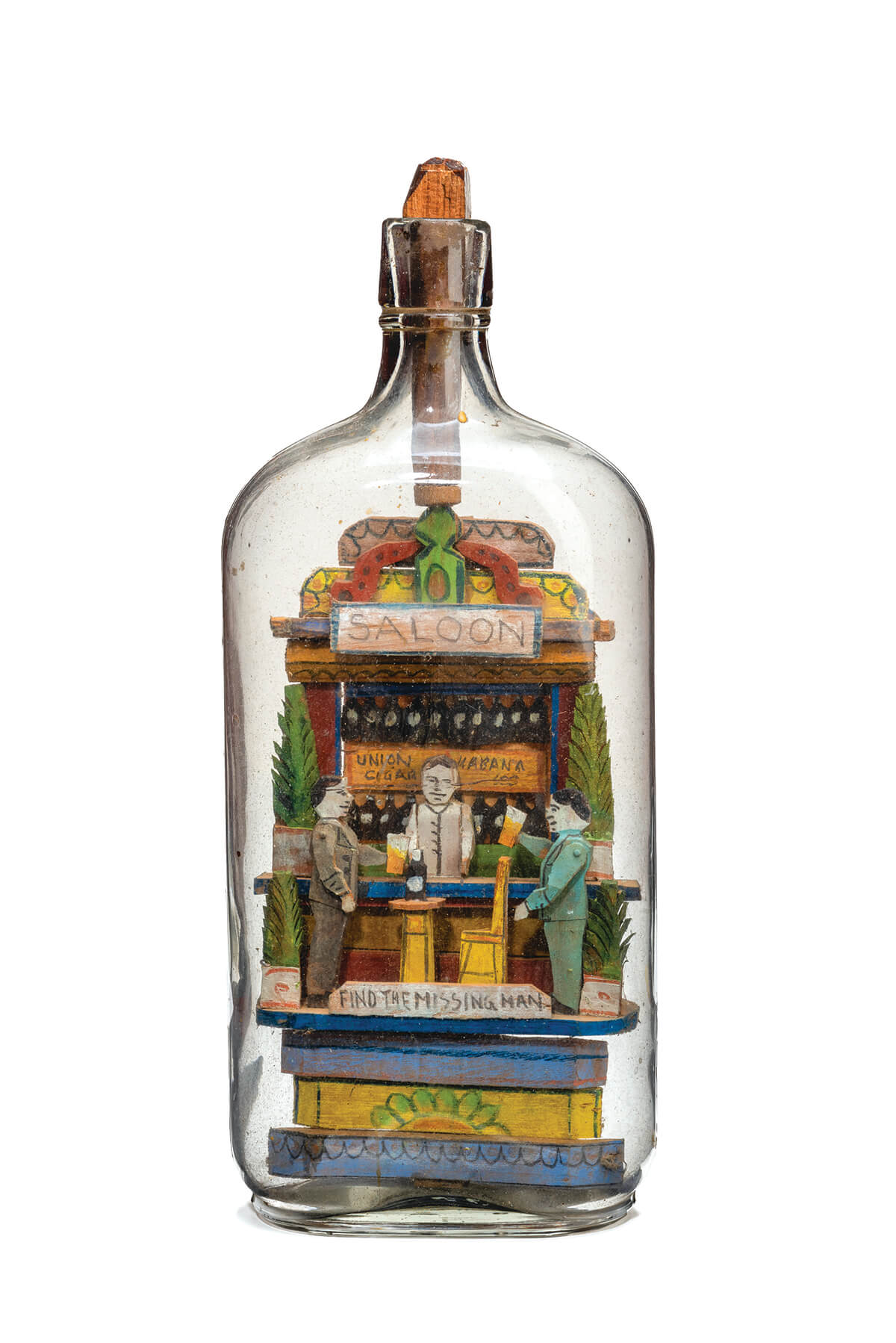 TO 3/2024: ESTHER AND THE DREAM OF ONE LOVING HUMAN FAMILY
The testimonial embroideries from Holocaust survivor Esther Nisenthal Krinitz reflect her experiences alongside works by other cultural genocide victims. American Visionary Art Museum. Tue.-Sun. 10 a.m.-5 p.m. Free-$15.95.