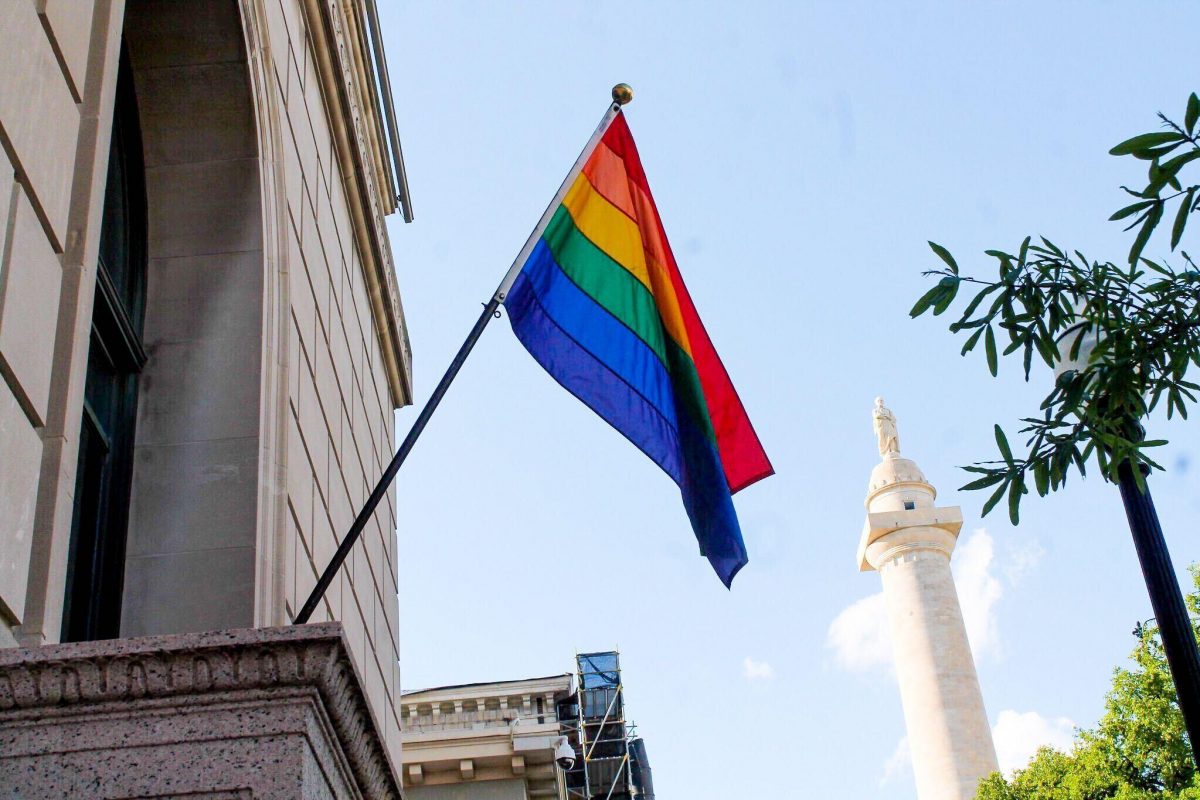 Photography by Elvert Barnes via Flickr Commons
From the first small rally in Charles Plaza 45 years ago to the rainbow-covered celebrations that span the city today, Baltimore Pride has always been about being accepted for who you are and who you love.
So while it was an emotional decision for Baltimore Pride Coordinator LaKesha Davis and her team to cancel beloved Pride Weekend traditions—including the time-honored parade, block party, and high-heeled race—due to the coronavirus, she says that the local LGBTQ community's call for inclusivity is only getting louder.
"Baltimore is a very diverse city, and that's what we promote in our Pride celebrations," Davis says. "Everyone is welcome and should feel welcome to celebrate with us."
On the heels of a historic Supreme Court decision that protects gay, lesbian, and transgender employees from discrimination based on sex, there's plenty to (virtually) celebrate during the 45th anniversary of Baltimore Pride. But as the city swells with protests against racial injustice and police brutality, Davis encourages Baltimoreans to reflect on how the values of the Pride movement line up with the nationwide demands for equal civil liberties across all domains.
"Pride is a matter of inclusivity, and that aligns with interracial disparities," Davis says. "I want people to take this time to get to know their neighbors and people who may not be like them, and embrace community, civility, and how we can celebrate who we are."
From colorful Zoom happy hours to open discussions about how racism impacts the LGBTQ community, here are a few social-distance-safe ways to celebrate Pride this month:
June 19: Juneteenth Pride Cel-Liberation
In an alternate universe without COVID-19, Baltimoreans would be spending this weekend bouncing between Baltimore Pride and Juneteenth celebrations happening across the city. But since we're social distancing, Baltimore in Conversations is keeping the momentum of both movements alive through this virtual event, with a focus on creating a space for reflection, healing, and celebration. Tune into this Zoom "cel-liberation" hosted by community organizer Alanah Nichole to hear performances and words by local artists, including Black Assets, Kotic Couture, and Alex Alexander.
June 19-28: SAY IT LOUD: Virtual Pride 2020
In lieu of in-person Pride events, the Baltimore City LGBTQ Affairs team is putting on a week-long collage of black LGBTQ art, experiences, and leadership. This can't-miss series of performances and discussions highlights ongoing calls to action within the movement for sexual and gender justice, including a presentation on the experiences and needs of black transgender students in city schools and a conversation about racism in the drag community. The illuminating program will culminate in Q4BLM: Queers for Black Lives Matter march and rally on June 27, celebrating and inspiring solidarity for the Black Lives Matter movement within the LGBTQ community. Times vary.
June 23: Virtual Pride Salon Series
Although Baltimore Pride events have been cancelled until 2021, the community work being done to make the Johns Hopkins' LGBTQ community a more inclusive space is a year-round effort. This Tuesday, join Hopkins' Director of LGBTQ Life Demere Woolway and alumnus Bill Kirst for an virtual interactive webinar addressing how LGBTQ inclusion necessitates an awareness of intersecting identities and oppressions on campus. 4-6 p.m.
June 23: Mentoring Youth Who Identify as LGBTQ
With an entire generation of teens quarantined at home and away from their peers, there's never been a better time to develop a mentoring relationship with LGBTQ youth. Register for this one-day Zoom program, hosted by Maryland Mentor, to learn how to be a thoughtful and effective advocate for members of one of the country's most underserved populations. 10-11:30 a.m.
June 24: Virtual Pride Happy Hour
All you need to celebrate the Maryland LGBT Chamber of Commerce's third anniversary is rainbow apparel and a Wi-Fi connection. Log into this Zoom happy hour to raise a glass to this nonprofit organization, and stick around to network with fellow revelers and listen to tunes spun live by DJ Kelly Kel. 7-8 p.m.
June 25: Drag Story Time
All summer long, standout local drag performers have been entertaining kids and adults alike with lively virtual readings of stories that promote diversity and acceptance. Tune into the Creative Alliance's Facebook Live feed every Thursday afternoon to hear some of the city's favorite drag personas read aloud from feel-good stories, and be sure to send a virtual tip before moving onto nap time. 1 p.m.
June 27: Pride Inside & Out: Annapolis Pride
The team behind Annapolis Pride is bringing its supporters, sponsors, and partners together to take a stand against racial injustice. Come to this virtual meeting prepared to have an open discussion about racism, homophobia, and other forms of hate present in the Annapolis community, as well as methods for organizing against white supremacy. Visit the group's website for anti-racism resources, along with updates on plans to host a virtual Pride festival later this year. 4-5 p.m.