Heart to Heart
Celebrate the most romantic night of the year at any one of these sweet events.
Whether you're spending it with a favorite friend, first date, old flame, or your own fabulous self, show a little love this Valentine's Day with our roundup of weekend rendezvous.
Art for the Heart
2/11: PAPER-CUTTING AND PRESSED FLOWER ARRANGING WORKSHOP
B. Willow and Annie Howe Papercuts are teaming up to host this artsy workshop where students will learn how to create their own paper-cut design and adorn it with pressed flowers. The price of admission to the pop-up includes cocktails, snacks, and a 15 percent-off discount on all Trohv merchandise before the class begins. Trohv, 921 W. 36th St., 6 p.m., $120, 410-366-3456.
2/12: VALENTINE'S DAY OPEN STUDIO SESSION
Mix and match flowers, clippers, and vases to create a one-of-a-kind arrangement for your valentine at this self-directed event. No need to worry if you aren't a botanical buff— experts will be on-hand to give advice throughout the session. Local Color Flowers, 3100 Brentwood Ave., 6:30 p.m., $30-75,410-262-1494
2/13: BLOCK PRINTING
This year, make your loved one a handmade Valentine's gift at this DIY workshop, using one of the oldest forms of printmaking. Maryland Science Center, 601 Light St. 10:30 a.m. $15.410-545-5980
Boozy Bashes
2/10: 30th & WELDON GALENTINE'S DAY PARTY
The trio behind local lifestyle blog 30th & Weldon is throwing this love-themed networking event to celebrate Charm City women who are doing big things. Guests are invited to sip cocktails, nosh on smoky snacks from Blue Pit BBQ, and mingle with other local movers and shakers. A portion of the night's cocktail proceeds will be donated to the House of Ruth.
Blue Pit BBQ & Whiskey Bar, 1601 Union Ave., 6 p.m., Free admission,
443-948-5590

2/12: THE BITTER HEART CLUB: AN ANTI-VALENTINE'S DAY TAKEOVER: Ware House 518 is teaming up with Drinkable Genius to host this party for all of the V-Day cynics who would much rather sip cocktails than snack on heart-shaped chocolates. Throw back cleverly named drink specials like "The Alanis Punch," "The Black Heart Old Fashioned," and "The Tinder Special" while rocking out to angsty music all night long. Ware House 518, 518 N. Charles St., 9 p.m.,443-869-3382
2/13: FEDERAL HILL V-DAY BAR CRAWL
In true Federal Hill fashion, neighborhood favorites like Noble's, Stalking Horse, Mad River, and Mother's are hosting this cupid-inspired crawl. Highlights will include $2 Miller Lite cans, $3 glasses of wine, costume contests, and live DJs at each bar. Multiple locations including 1113 S. Charles St., 5 p.m., $20-30
2/13: ANTI-VALENTINE'S DAY PARTY AT 14FORTY
If you'll be flying solo this V-Day, grab your best buds and head to this multi-level lounge inside Horseshoe Casino. Singles are invited to sip specialty cocktails, sock the casino's signature 'I Hate Valentine's Day' punch board, and enter to win cash prizes by sharing their "Best Worst-Ex" stories. Horseshoe Casino, 1525 Russell St., 8 p.m., Free admission, 844-777-7463
2/14: VALENTINE'S DAY PAJAMA BRUNCH
Mother's is spreading the love by throwing one of its signature boozy brunches on Valentine's Day. Enjoy plenty of bacon, Bloodies, and benedicts, and receive half-off of your entire check if you show up in your pajamas. Mother's Grille., 1113 S. Charles St., 9 a.m., 410-244-8686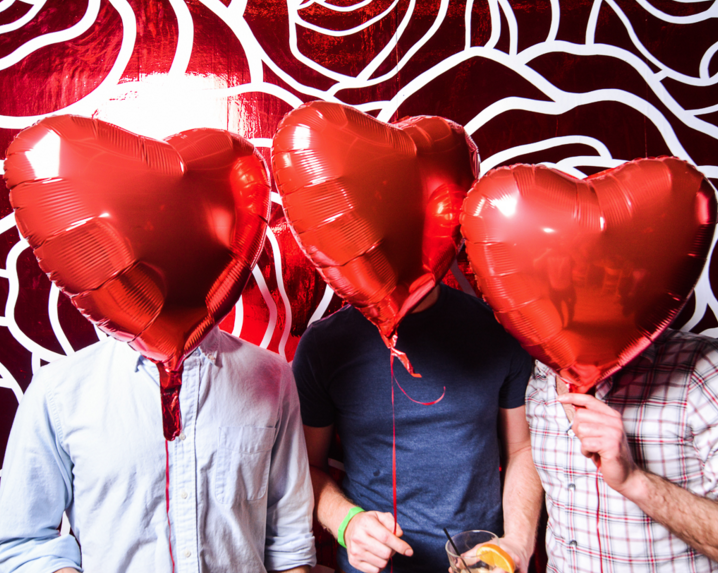 Dashing Dance Parties
2/13: LOVE SONGS OF THE PRESIDENTS
Sway to the sounds of romantic POTUSes like Washington, Adams, and Jefferson in this original, comedic concert. Creative Alliance, 3134 Eastern Ave. 3 p.m. $5-8. 410-276-1651
2/13: CHERUB
Grab a date and get your groove on as this electro-indie duo performs its disco dance party hits, like "Doses & Mimosas" and "Disco Shit." Baltimore Soundstage, 124 Market Pl. 9 p.m. $22-25. 410-244-0057
2/13: VALENTINE'S DAY DANCE PARTY
In the spirit of love, the Ottobar is donating all of the proceeds from this all-night dance-fest to Moveable Feast—an organization that puts healthy food on the table for locals in need.Grab your friends and get down to DJ sets from Dan Deacon, James Nasty, Chiffon, Young Coconut, and Dianamatic. Ottobar, 2549 N. Howard St., 9 p.m, $7-10 donation, 410-662-0069
2/13: FAMILY VALENTINE'S DANCE PARTY
Dress up the little ones and head to this evening event where families can explore the museum, create light-up valentine cards, decorate cookies, chow down on pizza, and dance to kid-friendly tunes spun by DJ Holly. Port Discovery, 35 Market Pl., 6 p.m., $15-18, 410-727-8120
2/14: ENCHANTMENT UNDER THE SEA DANCE
Baltimore Soundstage is recreating Back to the Future's iconic high school dance theme this V-Day, complete with dating games, door prizes, Hawaiian fusion fare, and live covers by local alternative band Sucker Punch. Baltimore Soundstage, 124 Market Pl., 7:30 p.m., $20-30, 410-244-0057
Out of the Ordinary
2/13: CUPID'S UNDIE RUN
For one wintry Saturday, strip down to your skivvies for this 1.5-mile run around Baltimore to benefit The Children's Tumor Foundation. Luckie's Tavern, 10 Market Pl. 12-4 p.m. $45-55
2/13: TASSELS & CHAMPAGNE
Gilded Lily Burlesque presents a special Valentine's Day show set to the sexy sounds of 1940s Chicago rhythm and blues. Creative Alliance, 3134 Eastern Ave. 7 & 10 p.m. 410-276-1651
2/13: SEX AT THE ZOO
Learn about love in the animal kingdom with a lecture on mating habits, an open bar, and plenty of food. The Maryland Zoo in Baltimore, 1876 Mansion House Dr. 6-9 p.m. $80. 410-396-7102
2/14: KATT WILLIAMS
Love doesn't have to be so serious, so spend one knee-slapping night with this outrageous, velvet-loving comedian. Royal Farms Arena, 201 W. Baltimore St. 8 p.m. $52-175. 410-347-2020
Sweet Soirees
2/11: CHEZ CHARMERIE
The Charmery is being transformed from a laid-back hangout into a swanky sit-down spot. To gear up for the romantic holiday weekend, scoopers will be serving up a fancy three-course ice cream dinner highlighting dishes like chilled ice cream soup with pecans and caramel jello, chocolate chip cheesecake ice cream sandwiches, and chocolate-covered strawberry milkshakes. The Charmery, 801 W. 36th St., 6 p.m., $20, Reservations required, 410-814-0493
2/13: MAYAN CHOCOLATE MAKING
On Valentine's Eve, learn the ancient Mayan art of chocolate making. Willow Grove Nature Center, 2175 Cromwell Bridge Rd., Parkville. 1-3 p.m. $10-12. 410-887-3014
2/13: CANDY AND CHOCOLATE MAKING CLASS
Throw on an apron and join the experts at Schola for an afternoon of sweet treats. Students enrolled in this confectionery class will learn how to create their own truffles, rum balls, chocolate bark, fudge, and pecan pralines. Schola, 1005 N. Charles St., 12 p.m., $52, 443-714-7516