Fixer Upper
We've devised a wish list of some realistic (and some unrealistic) improvements to Pimlico Race Course.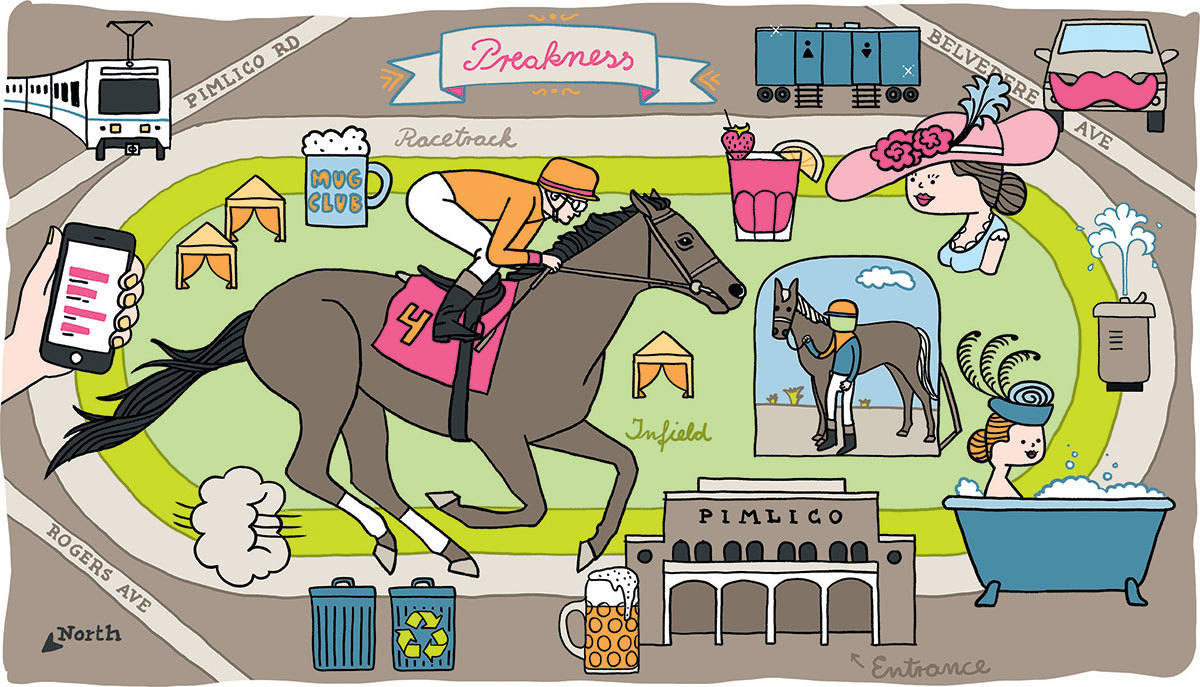 In February, the long-awaited study regarding the future of Pimlico Race Course—antiquated and in
need of a major overhaul—was finally released. The price tag for necessary renovations? About $300 million. While the fate of this hallowed horse track remains uncertain, we hope it makes a comeback and continues to carry on the Charm City tradition of the Preakness Stakes, which will run for the 142nd time on May 20. To help them get started, we've devised a wish list of some realistic—and, okay, some unrealistic—places to start. 
New entrance. We're not sure what font that is, or what decade it was created, but let's just say the entrance is not working. How about something grand and inviting, with hints of history and modern flair, like the cathedral that is Churchill Downs. 
Bathrooms, bathrooms, bathrooms. We will repeat this so that we never repeat the toilet fiasco of 2015. Also, just a thought, but those fancy restroom trailers are actually pretty nice. Plus, they're less dangerous to run across than Porta-Potties. 
Enliven the lines. If we can't streamline the wait—at the entrance, the bathrooms, the betting windows—perhaps we can add some in-line entertainment (aka interactive games and beer peddlers) to make it seem faster, at the very least.
Curtail the cops. We heartily support the Baltimore City Police, but as soon as you walk in, their heavy presence makes Preakness feel like a trip through the TSA line, without a tropical vacation as your happy ending. 
Lose the litter. A good start would be more trash cans and recycling bins, or maybe even use all of the aforementioned BPD to enforce some fines. Ultimately, we know it's hard when thousands of slightly intoxicated people are traipsing across your parking lot, but let's clean up the trash. 
Cocktails. With the pomp and circumstance of this 142-year-old event, we need fewer light beers and cheap wines and more classic cocktail options. In addition to the Black-Eyed Susan, we welcome all Triple Crown concoctions, including the Mint Julep, Southside, Bourbon Smash, and Belmont Breeze. And in larger cups, please.
More Mug Club tents. Or else the $80-120 wristband isn't worth the price.
 InfieldFest:
 A little more Springsteen, a little less pre-teen.
 Astrodome roof. We know it's a lot to ask, but there's nothing worse than getting stuck outside during a thunderstorm. 
 That being said, turf, instead of dirt, or at the very least, a mud-washing station. After a few hours of hip-bumping, booty-shaking, or even mosh-pitting, we're in need of a bath, and that's on a sunny year. 
 Free water fountains. Hydration is key.
Make-your-own derby hat stations. There's nothing worse than showing up to the party underdressed, or envious of another woman's opulent, oversized hat.
Instagrammable mementos. It might sound cheesy, but we'd really like some of those silly cutout photo ops that make it look like you're a jockey and your date's a horse. You know the ones.
Enough with the bikini contest. It's 2017. This is Baltimore, not Daytona Beach. 
Parking, solved. The parking situation might be a nightmare, but rather than fix it with high-rise garages, extended lots, or more shuttle buses, we suggest that The Pimlico of the Future discourage driving altogether, due to the copious amount of drinking done on its premises during Preakness. See below for automobile alternatives.
Light Rail to the rescue. Let's have a chat with Governor Hogan. We don't see why the train can't come all the way to the track.
Ride-share accessibility. In this on-demand economy, more designated lines for Uber and Lyft pickups are an absolute must. Currently, it's a total you-know-what show. 
Updated app: While the current handheld version features breaking news, event schedules, and horse information, we'd like to put the race right in our hands with a live stream mobile option. Whether you're 5'6" or 6'5", it can be hard to see the horses, especially from the infield.