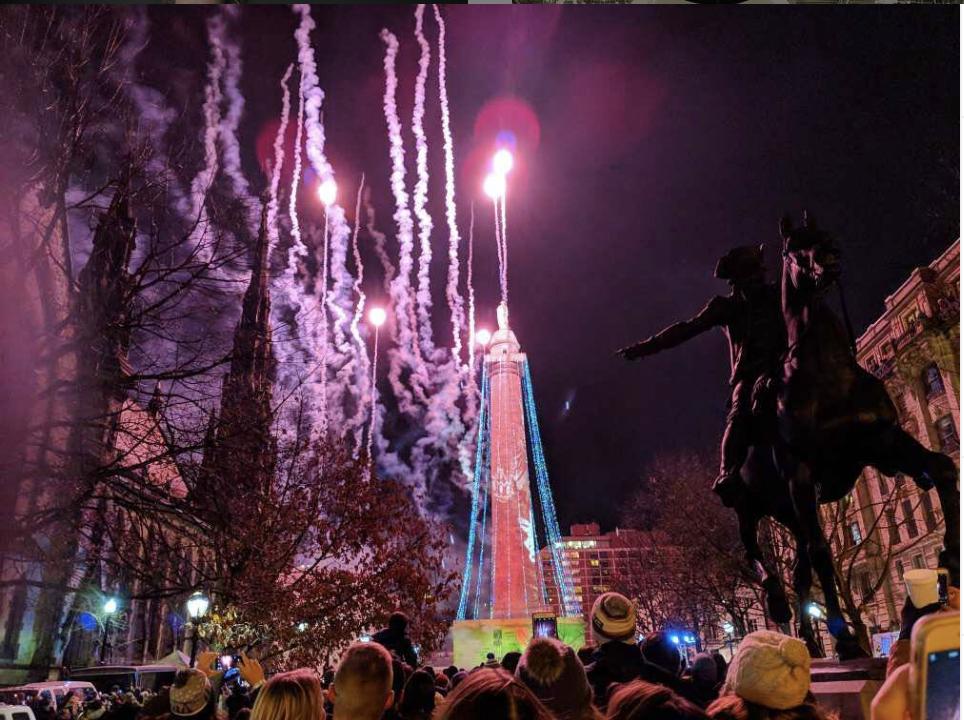 —Photography by Meredith Herzing
Ho Ho Ho? Not this year.
The holiday season is turning out to be neither merry nor bright for Baltimoreans who count on certain annual events and traditions to help put them in the mood to celebrate.
The Mayor's Christmas Parade? Canceled. The German-style Christmas Village at the Inner Harbor? Postponed. The lighting of the Washington Monument? Gone virtual. Still uncertain is perhaps the biggest local event of all, the Inner Harbor Fireworks extravaganza on New Year's Eve. 
Due to the coronavirus pandemic, organizers can't host crowds the way they usually do, and that means many of the most anticipated holiday events have been either put on hold or changed to a virtual format this year. Some time-honored traditions are skipping a year, breaking streaks that have lasted for decades.  
And yet, some organizers are still finding ways to continue traditions, even if it won't be exactly the same as in past years. 
One business owner with a clear-eyed perspective on this turn of events is Denise Whiting, the owner of Café Hon in Hampden and organizer of HonFest—an annual street festival that had to be converted to a virtual event last summer.
Last weekend, Whiting attended the Santa-free kickoff for the lighting of 34th Street—the famous block in Hampden where every house gets decorated for the holidays and people come from far and wide to see. The toned-down affair drew fewer visitors than in past years because organizers actively discouraged people from gathering on Saturday night. But the houses were decorated and the lights still came on. The pink flamingos, the multi-colored palm tree, and the hubcap sculpture were all in their usual places.
Whiting says she walked away thinking that it's still possible to mark the holidays, and see the lights, only in a different way: "This is a change from all other years," she says of the pandemic, "but we can't just ignore each other and crawl into a hole." 
If the Miracle on 34th Street provides any lessons, she says, it's that people can adapt and celebrate the holidays safely.
"You just limit things a little bit," she says. "You peel things down to basics so that everybody stays safe. It's definitely better to be careful. If you are out and about, wear a mask, wash your hands, do the right thing, social distance. You have to do those things. Period."
Rather than visiting 34th Street on a Saturday, "go see the lights on a Monday, Tuesday, or Wednesday," Whiting suggests. "Park your car. Get out and walk. Get some fresh air. But make sure you are socially distancing."
If everyone takes precautions this year, she said, "then we will all be here next year, and we're going to enjoy it and love it and cherish it more than we ever have before."
Whiting's sentiments are echoed by Bob Hosier, the "Mayor of 34th Street" and owner with his wife, Darlene, of one of the houses on the block where everyone decorates.
Hosier originally posted a message on his website warning people to stay away on Saturday, as a precautionary measure. That raised concerns from some merchants who count on people not only coming to see the lights on 34th Street, but also dining at a restaurant and patronizing the shops in Hampden as part of their trip to the neighborhood.
Hosier has since tempered his message to encourage visitors to come and see 34th Street as long as they wear a face covering and follow social distancing guidelines.
"We had our annual lighting last night and it was a great success," he wrote the next day on his website. "Everyone kept their distance and wore face masks. This can work…I have no doubt by last night's showing that people can come and see the lights and be safe and have a good time." 
In that spirit, here's a roundup of some of the many annual holiday events in the Baltimore area and their status in 2020.  
12/3: Lighting of the Washington Monument
Status: Virtual
Always held the first Thursday in December, Downtown Partnership's annual Monument Lighting typically draws thousands to Mount Vernon Place and provides an excuse for residents and organizations within walking distance to throw festive parties to kick off the season. This year's event, the 49th-annual lighting, will take place virtually and be viewable as part of the "WJZ Holiday Spectacular" from 7:30-8 p.m. on WJZ-TV or WJZ.com. 
Though the lights themselves are real and will be illuminated until the New Year, Downtown Partnership's senior vice president of communications Michael Evitts confirms that the ceremony will be pre-taped. In an effort to discourage people from gathering in the park on Thursday evening, there will be no fireworks. Charles and Monument streets won't be closed to traffic, and there won't be any hot cider or food vendors around the West Square. Essentially, there will be nothing out of the ordinary to see or do.
But on TV, viewers watching from home can look forward to a tribute to frontline workers and a performance by the Morgan State University choir, as well as appearances by Cal Ripken, former Baltimore Raven Torrey Smith, Gayle King from CBS This Morning, pastry chef Duff Goldman, Broadway performer Andre De Shields, and others. Instead of having people gather in the park, Evitts says, "we're encouraging people to get takeout and settle in at home." The holiday village, live stage performances, and fireworks will all be back for the event's 50th anniversary in 2021, he says.
12/6: Sixth-Annual Patterson Park Pagoda Lighting
Status: Virtual
As with the Washington Monument, the annual lighting ceremony will take place virtually this year. A program that includes singing, holiday messages, and a countdown to the lighting will be viewable on Facebook and on the community's website. The historic Pagoda will stay dressed in its holiday finest until mid-January, so people can go and view it in person over the next six weeks.
12/12: Stoop Storytelling Holiday Hoo-Ha
Status: Virtual
The Stoop Storytelling Series and WYPR are presenting an evening of seasonal stories, music, and comedy sketches starting at 7 p.m. The event will be hosted by WYPR's Aaron Heckin and broadcast live from the Creative Alliance on Eastern Avenue. Tickets are $8 for Creative Alliance members, $10 for non-members, and $20 for supporters of the series.
12/12 & 12/19: Maryland Opera's Home for the Holidays Concerts
Status: Virtual
Unable to perform in traditional concert halls due to COVID-19 restrictions, Maryland Opera has taken a new approach to presenting holiday music. Led by artistic director James Harp, the company is hosting a series of free, hour-long concerts from the homes of music-loving Baltimoreans, which will be live-streamed on Maryland Opera's Facebook page.
The idea, according to Harp, is to showcase beautiful music with decorated private homes instead of concert halls providing the backdrop. The first concert, on December 12 at 7:30 p.m., will feature soprano Christine Lyons and tenor Gabriel Hernandez, performing from the Mount Vernon residence of Curt Decker. The second concert, on December 19 at 7:30 p.m., will feature soprano Colleen Daly and tenor Yi Li, plus a visitor from the North Pole, performing from the Guilford home of Claire and Tom Miller. Harp will accompany the performers on the piano. "Although the details of our lives have changed," due to COVID-19, Harp said in a statement, "our love for great music and opera remains constant and powerful." 
12/14: 35th Annual Union Square Cookie Tour
Status: Virtual
Union Square's hallmark holiday event, a tour of historic homes, will be held virtually on December 13 from noon to 4 p.m. For $20, patrons will be able to access the virtual tour, and they will also receive a Cookie Tour booklet and recipe book. Registration is available via Eventbrite and proceeds benefit the Union Square Association and its activities.
TO 1/3: Zoo Lights at the Maryland Zoo in Baltimore
Status: On
Visit this seasonal spectacle featuring lights shaped like wildlife from the zoo itself. There are two ticket options: Drive-thru for $45 per vehicle, (Wednesday and Thursdays, 5 p.m. to 7 p.m. and Fridays and Sundays, 5 p.m. to 8 p.m.) and Walk-Thru (Saturdays from 4:30 p.m. to 7:30 p.m.) for $20 per person, age 2 and up. Advance reservations and face masks are required. Every dollar raised supports the zoo's mission.
Mayor's Christmas Parade in Hampden
Status: Canceled
The 48th annual parade, a popular event that typically draws thousands to a 2.5-mile route in Hampden, was canceled in September due to concerns about COVID-19 and uncertainty over whether the city would issue permits. Organizers were also having trouble lining up high school bands and other participants during the pandemic and didn't want to put on a sub-par event. Look for next year's parade scheduled on December 5, 2021. 
Christmas Village in Baltimore
Status: Canceled (Craft market is virtual)
The German-style market at West Shore Park in the Inner Harbor is on hiatus this year, but hopes to return bigger than ever in 2021, according to president Thomas Bauer. In the meantime, organizers with German American Marketing Inc. urge shoppers to support vendors in their virtual market. 
Inner Harbor Ice Rink
Status: Canceled
The ice rink that's usually operated by the Waterfront Partnership of Baltimore between the two Harborplace pavilions is not returning for the 2020-2021 season. "We hope to bring the ice rink back for a seventh season next winter, but only if we can do it in a way that is safe for the public," Waterfront Partnership president Laurie Schwartz said in a statement. In Harbor East, the Four Seasons Baltimore hotel has a synthetic ice rink on its fifth level Harbor Terrace, which is open from 2-7 p.m. daily until January 1. Tickets are $30 per person, and children 5 and under skate for free.
Downtown Dollar or Less Days
Status: Canceled
Downtown Partnership produces this promotional event, usually the weekend after the Monument Lighting, to give people a chance to visit some of Baltimore's most popular attractions—including the National Aquarium, Port Discovery, Maryland Science Center, and the Reginald F. Lewis Museum—for $1 or less. It has been cancelled this year due to public health concerns about crowd size. In a statement announcing the cancellation, Downtown Partnership president Shelonda Stokes encouraged people "to plan to attend on their own this season, if they can afford to."
Many city attractions are open for virtual or reduced capacity in-person visits and need patrons just like merchants do, Evitts adds: "We're encouraging the public to support our attractions however they can this winter, whether through charitable donations or by signing up for digital programming."