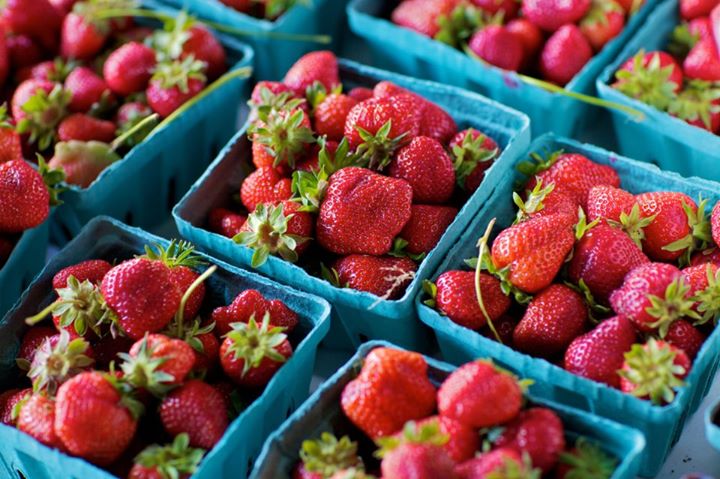 By Mark Dennis.
Five things to eat, drink, see, hear, and do with your Charm City weekend.
EAT
Apr. 5: Baltimore Farmers' Market & Bazaar
Underneath the Jones Falls Expressway at Holliday & Saratoga Streets. 7 a.m.-12 p.m. Free. 410-752-8632. promotionandarts.org.
Spring has finally sprung, and soon—this weekend—the local bounties will, too, with the return of the Baltimore Farmer's Market & Bazaar under the JFX. Once again, from now until December, you can resume your Sunday morning ritual of stockpiling local produce, snagging golden-yolked, farm-fresh eggs, standing in line for pickles, and pushing off your hangover with biscuit sandwiches from Blacksauce Kitchen. Berries will be ripe for the picking, flowers will be in bloom for your Easter table décor, and local chefs will be on-hand to teach you a new cooking trick.
DRINK
Apr. 3: Union Craft Brewing's Atomic Mutation Release
Eightbar at Atomic Books, 3620 Falls Rd. 5-9 p.m. Free. 410-662-4444. atomicbooks.com.
As an ode to the independent, alternative spirit of Hampden's awesome book store, the Union Craft Brewing boys have created a new, springtime brew and the second release of their Liquid Local Legends Series: the Atomic Mutation Saison, a la Atomic Books. The Belgian-style farmhouse ale is dry-hopped (which means it has an extra hoppy aroma) and goes down like a dry white wine with notes of apple, pear, and apricot. It's also a small-batch, limited release draft, so this Friday, head to the book shop's little back bar to sample and celebrate two of Charm City's best. While you're there, don't miss the store's annual Big Little Art Show of tiny community art, which runs through the end of May. Golden West Café will be on hand with necessary noshes, and afterwards, cruise The Avenue for other First Friday feasts, like the one and only Local Oyster at Corner BYOB.
SEE
Apr. 1-26: Wicked
The Hippodrome Theatre at the France-Merrick Performing Arts Center, 12 N. Eutaw St. Tues.-Sat. 8 p.m., Sat. 2 p.m., Sun. 1 & 6:30 p.m. $30-195. 410-837-7400. france-merrickpac.com.
It's hard to follow an act like
Chicago, but this month, Broadway's biggest blockbuster musical makes its way from the Land of Oz to the Land of Pleasant Living, staking out a residence on the historic Hippodrome stage. The tale is set before the Great Kansas Tornado of 1939—before Dorothy, Toto, and the rest of their misfit troupe set out in search of a wizard in Emerald City—when two young girls struck up an unlikely friendship on the mean, yellow-brick streets of high school. Like most teenage girls, the best buds would eventually become spell-casting enemies: Glenda the Good Witch and The Wicked Witch of the West. Find out why and how the rest came to be with a night at the theater, where actress Alyssa Fox kills it as the green-skinned sorceress and former O-Town bandmate Ashley Parker Angel makes a triumphant and tight-pansted comeback as her handsome love interest.
HEAR
Apr. 4: Charm City Junction
Creative Alliance, 3134 Eastern Ave. 8 p.m. $20-26. 410-276-1651. creativealliance.org.
From local legends like Caleb Stine and Bumper Jacksons to talented newcomers like Letitia VanSant and The Manly Deeds, the Baltimore folk and bluegrass scene has grown into a mighty, talented guild that won't be putting their fiddles down anytime soon. Meet the newest addition:
Charm City Junction. The young quartet combines traditional instruments—namely the accordion, banjo, fiddle, and bass—into a pretty, pastoral medley of folk, acoustic, and roots music. At times, their sound is bluegrass and backwoods Americana, all Appalachia mountain music or the kind of stomping holler you hear at a country-dance. At others, it's old-timey and Irish, like the plucky ditties played in the back of a pub or some seaside ballad from the shores of Galway Bay. Check them out with NYC folk duo The Murphy Beds on Saturday night in Highlandtown.
DO
Apr. 3: Save Your Soul Dance Party
Lithuanian Hall, 851 Hollins St. 9 p.m. $5. 410-685-5878. facebook.com.
We've said it before and we'll say it again: Go. Get out there. Let your hair down. Get your dance on. It's the weekend, dammit—and better yet, it's finally starting to feel like spring. Similarly, we've sent you to Save Your Soul before and we're sending you there again: this time at the O.G., Lith Hall. With cheap beers and a brand-new dance floor, the monthly get-down will feature soul and blues vinyl from NYC DJs The Thing With 2 Heads, plus Stax staples and Motown gems by veteran Rob Fearless on the ones and twos.