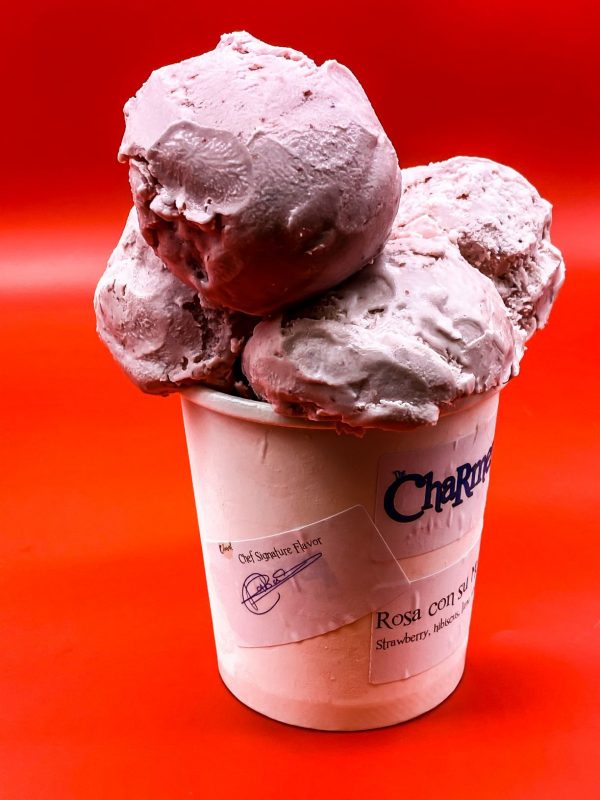 EAT
Multiple locations including 801 W. 36th St. $11.
If you're looking for a surefire way to spark a little joy during quarantine, ice cream is the answer. Not only is The Charmery offering its whimsical flavors for delivery and curbside pickup at its Hampden and Towson locations, but husband-and-wife owners David and Laura Alima are continuing to dream up fun ways to give love to their fellow hospitality workers during this time of need. Beginning this Friday, the duo will launch a new series called "Chef's Signature Flavor," in which they whip up a limited number of pints of a local chef's favorite variety. The Alimas' buddy Carlos Raba of Clavel is up first, collaborating on a Rosac Con Su Mezcal flavor that highlights strawberry, hibiscus, lime, and mezcal. Each pint costs $11 with $1 of all sales benefitting The Charmery's scooper fund, and another dollar donated to the Clavel employee fund. If you can't grab a mezcal pint before sellout, stay tuned for the next collaboration with Chef Opie Crooks of A Rake's Progress.
DRINK
Facebook Live. 4-5 p.m. Free.
Switch up your virtual happy hour plans this Friday and join Union Craft Brewing co-founder Jon Zerivitz on Instagram Live for a behind-the-scenes tour of the brewery. Crack open a cold can of Duckpin and follow along as Zerivitz talks through the style, aroma, and tasting notes of fan-favorite brews like the Duckpin Pale Ale and Steady Eddie IPA. Stock up on six packs before the happy hour with delivery, dockside pickup, or by grabbing from your favorite local liquor store.
SEE
7 p.m. http://micafilmmaking.org. Free.
Though MICA's MFA filmmaking class of 2020 won't be able to screen their thesis films in front of a live audience for the time being, students remain excited to get the projects they've worked long and hard on out into the world. In collaboration with the SNF Parkway Theatre, the films will be screened on three different platforms, including the MICA film program website and the Parkway's Facebook page, beginning with the first half on Friday, April 17 at 7 p.m. The second half will premiere on Saturday, April 18 at 7 p.m. Kick back and enjoy five documentaries, three dramas, and three horror films, and be sure to stick around for live Q&A sessions with the filmmakers after the broadcast.
HEAR
9-11 p.m. Zoom. Free.
We might not be able to go out, but that won't stop stir-crazy Baltimoreans from attending a DIY dance party. Break out your laptop to break it down at the virtual Club Quarantine with DJ Rob Macy of the famous Save Your Soul Dance Party. After you shimmy, shake, and dance the night away, throw a few dollars in the virtual tip jar and check back each week to see which Charm City DJ is spinning next.
DO
6-10 p.m. Facebook Live and Zoom. Free.
Unfortunately there's no virtual alternative to bouldering with your buddies at this Hampden climbing gym, but the Earth Treks team has put together a jam-packed evening of online activities that evoke the gym's communal spirit. After pre-registering, hop on Facebook Live for a HIIT class with instructor Jenna Scott before a dance party with beats spun by Union beertender and DJ dagm, a group trivia game, and a collective watch party of the sci-fi classic Tremors, with commentary encouraged in the Zoom chat box.