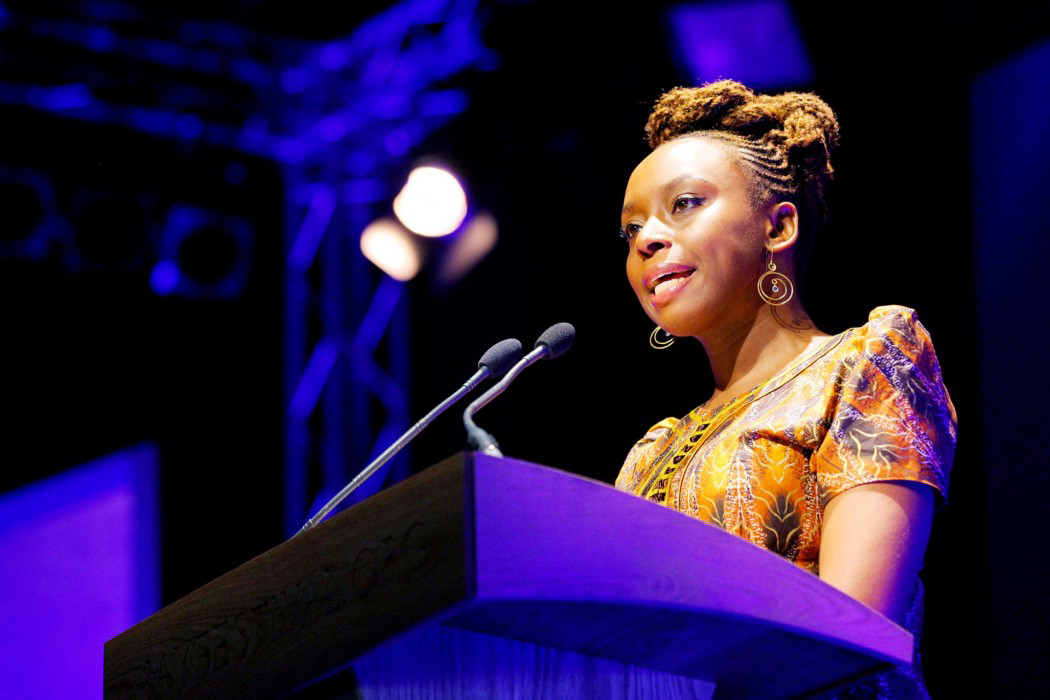 Courtesy of Adichie.
Five things to eat, drink, see, hear, and do with your Charm City weekend.
 EAT
Mount Vernon Marketplace, 520 Park Ave. 6:30 p.m.-12 a.m. Free.
This weekend, everyone's favorite party on wheels turns five years old, and its birthday celebration is going to be epic. Kick it all off with a killer route through Mount Vernon and Bolton Hill—starting at St. Mary's Park with a rest stop at Whitelock Park—followed by food, live music, and drinks at the Mount Vernon Marketplace. Get post-ride fuel with bites from The Local Oyster, Pinch Dumplings, and the new Cholitas Tacos, then "rehydrate" with cold, local brews from Taps Fill Station and Between2Buns. With themed and oftentimes costumed events, the monthly bike ride has become a must-attend happening and a creative incubator for the city's cycling community. As always, party hats, noisemakers, and balloons are encouraged. 
 DRINK
YogaWorks Midtown, 107 East Preston St. 12-3 p.m. $15. 
We know it's hard to decide between brunch cocktails or a morning workout, but luckily this weekend, you don't have to choose. On Saturday, join Yogaworks for a restorative yoga class, followed by fruity, bubbly, spring cocktails as part of the annual Baltimore Cocktail Week. With tipples like blood orange cocktails and prosecco-studded sips, we can't think of a better reward after sweating it out. All proceeds also benefit House of Ruth Maryland. Namaste, indeed! 
 SEE
University of Baltimore, William H. Thumel Sr. Business Center, 11 W. Mount Royal Ave. 10 a.m.-4 p.m. Free.
For the 14th year, Baltimore's CityLit Festival returns with an exciting lineup of acclaimed writers. With a focus on poetry, fiction, and non-fiction, award-winning author and TED Talk celebrity Chimamanda Ngozi Adichie will headline with conversations on feminism, poetry, and prose. Adichie—whose 2010 The Danger of A Single Story is one of the top 10 most-viewed TED Talks of all time and inspired her 2014 book We Should All Be Feminists—will chat with WYPR's Tom Hall about writing, raising our voices, and activism. With a full day of sessions, also sit in on discussions about writing as political resistance, editing tips and tricks, and character building through the written word.
 HEAR
Druid Hill Park, 900 Druid Park Lake Dr. 10 a.m.-9:30 p.m. $55. 
Now in its fifth year, this once small parking lot jam session has grown into Baltimore's biggest bluegrass festival, known for its stellar lineups, local food, and festival-only beer by Union Craft (we love the cleverly named When I Say Charm You Saison). Rain or shine, prepare to move and groove at two stages with local talents like Cris Jacobs and Seldom Scene, as well as big-name national acts such as The Lone Bellow and Dustbowl Revival.
 DO
Ottobar, 2549 N. Howard St. 9 p.m.-1:40 a.m. $7. 
This weekend, the "Excellent Women" of Baltimore are bringing you the ultimate girls night. In the spirit of making new friends and celebrating girl power, the new Society of Excellent Women meet-up group is hosting a Saturday night dance party at the Ottobar with DJ Pancakes spinning the best girl-power jams all night long. If the event is anything like the girl groups' previous get-togethers—full of fun like cotton candy, tie-dye—we expect a full-on fete with hits like Pat Benatar's  "Hit Me With Your Best Shot," TLC's "No Scrubs," and Beyoncé's "Run the World (Girls)." Because, let's be honest . . .