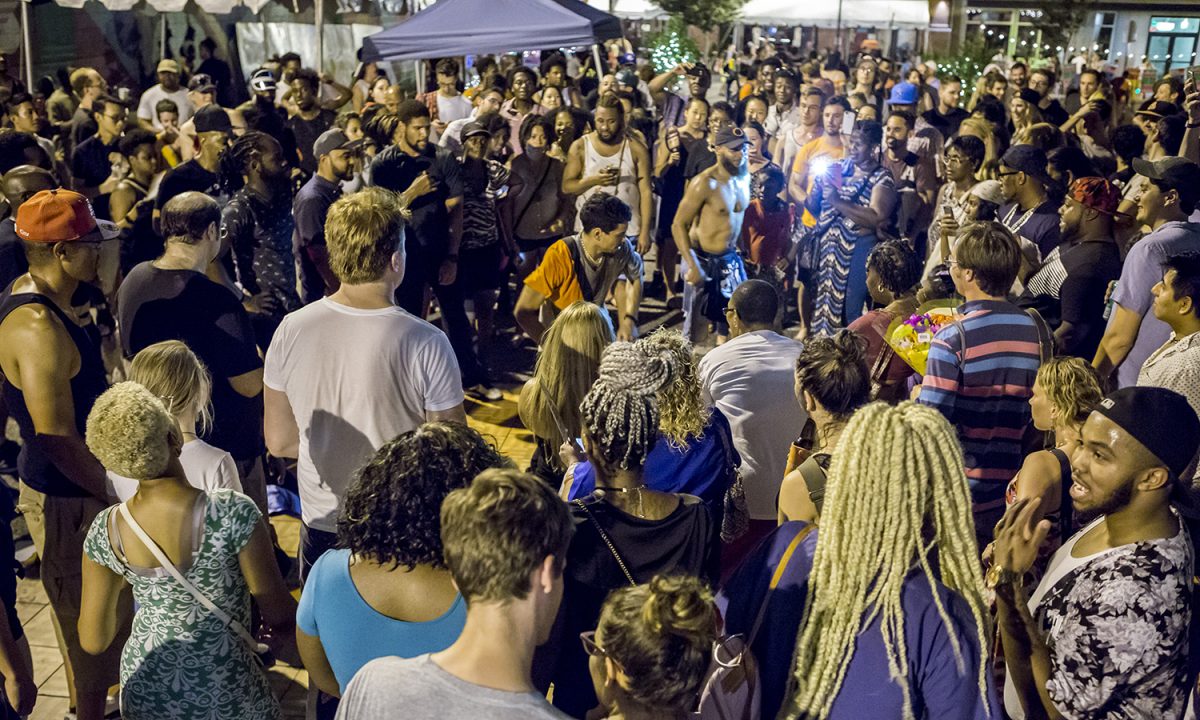 BOPA
This weekend, Baltimore's largest free arts festival, Artscape, returns to Mount Royal Avenue and Charles Street with the theme Discover inspired by the 50th anniversary of the Apollo 11 moon landing. In between dancing along at the festival's live concerts and snapping pictures of the interactive exhibits, venture into neighboring parts of the city for more entertainment.
EAT
North Avenue Market, 30 W. North Ave. 8 p.m.-2 a.m. $10.
While there will be tons of great eats at Artscape, we recommend starting the weekend off with a Big Softy special during this pop-up at the newly renovated North Avenue Market. Stop by the latest event in the Night Brunch series to sample an incomparable menu of fried green tomatoes with crab salad, a Parisian sandwich with country ham and soft scrambled eggs with truffles, and soft shells on croissants. Wash down your meal with drinks crafted by Charm City's beverage boutique, Le Monade, and jam out to DJ Impulse's picks in honor of his birthday.
DRINK
Wet City, 223 W. Chase St. Times vary. Free.
Since Wet City's anniversary falls on the same weekend as Artscape, the Mt. Vernon bar is throwing a weekend-long party that celebrates both craft beer and local artists. The festivities begin Friday night, when local rapper DDm will host a mixer in honor of his latest album, Beautiful Gowns. (Of course, he will be in charge of the evening's soundtrack.) Be one of the first people to try the hazy IPA "He Say She Say"—named after DDm's catchy single—as well as a new IPA "Like Whoa!" brewed in collaboration with Peabody Heights Brewery.
SEE
Locations vary. 6-9 p.m. Free.
Everyone loves a good ol' fashioned bar crawl, and this 15-stop tour around the Station North Arts and Entertainment District puts an arts-centric spin on that fan-favorite concept. Whether you start at Baltimore Print Studios, Motor House, or Gallery CA, each participating location will have something fun for visitors to do, see, play, or drink. Spend the evening exploring the wide range of creative organizations and businesses in Station North before heading to Rituals (formerly the Windup Space) for a boozy after-party, hosted by BmoreArt and North Avenue Art Market.
HEAR
Metro Gallery, 1700 N. Charles St. 9 p.m. $8-10.
It seems like every time we blink, Eze Jackson is doing something new. This local MC and longtime staple in the city's music scene has a full resume as the front man of Soul Cannon, the host of Lineup Room's Bmore Beat Club, a co-host of Bmore Hip Hop Karaoke, a frequent collaborator with Baltimore Boom Bap Society, and, this Saturday, he's releasing his third solo album, Fool. Be among the first to hear the hip-hop artist perform songs from the new album during this Artscape after party following sets by Konjure Collective, Aus Taylor, and Illimite World.
DO
1700-1800 block of N. Charles Street. 9-11 p.m. Free.
While some visitors may head home at dusk, the Artscape festivities continue on for hours after the sun sets. Whether you spend Friday and Saturday night dancing the night away to the sounds of techno artist Juana, a.k.a. Discwoman, and DJ Tzeech on the Johns Hopkins University Station North Stage, or laughing until your stomach aches during LOL@Artscape, take advantage of these free events that keep the party going all night long.