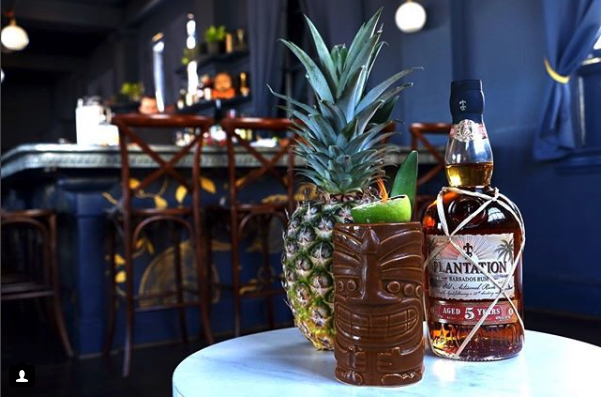 Facebook
EAT
Sandlot, 1000 Wills St. 4-10 p.m. $45-80.
Just when we thought Sandlot had everything we needed to get our beach fix in the city—waterfront views, a sandy shoreline, and spiked slushies—they added the one thing that was missing: steaming piles of crabs. Starting this Friday, Harbor Point's waterfront oasis will be serving up crabs from Conrad's Crabs & Seafood Market on the first Friday evening of the summer months along with must-have sides like potato salad and corn on the cob. Wash it all down with beers from event partner Flying Dog Brewery, including the Old Bay-infused Dead Rise brew for the perfect pairing.
DRINK
The Bluebird Cocktail Room, 3600 Hickory Ave. Fri.-Sat. 5 p.m.-2 a.m.
Somehow, it's already been a year since Hampden's literary-themed cocktail bar opened its doors, and this weekend, The Bluebird is celebrating its first birthday with tiki-inspired drinks, eats, and music. Starting on Thursday, the neighborhood favorite will transform into a tropical oasis as part of its weekly summer event and continue the vibes through its anniversary on Saturday. Don your best Hawaiian shirt and raise a frozen absinthe frappe to many more years of artisanal cocktails and bookish style.
SEE
Current Space, 421 N. Howard St. Fri.-Sat. 12-4 p.m. Free.
Since coming onto the Baltimore arts scene almost 15 years ago, this small Bromo Arts District gallery has become known for hosting experimental exhibitions that push artistic boundaries. On Friday, the gallery will debut two new exhibitions: Diaphanous Shades, a collaborative work by Virginia-based artists Brian Burr and Lauren Rice that visually compresses the past, present, and future of Western civilization, and Sweet Sweat, a solo exhibition by photographer Lindsey Bottos that focuses on faded relationships. Head downtown to see these thought-provoking works, which will be on display through the end of the month.
HEAR
The Baltimore Museum of Art, 10 Art Museum Dr. 5-9 p.m. $35-50.
Jack Whitten, whose revelatory works are now on display at The Baltimore Museum of Art, had a deep appreciation for jazz music and is the inspiration for this year's summer concert series at the museum. This Saturday, hear outer space-inspired experimental jazz music from the renowned Sun Ra Arkestra in the BMA's Sculpture Garden, and, before the music starts at 7 p.m., enjoy evening access to Whitten's widely-regarded exhibition.
DO
Whitelock Community Farm, 922 Whitelock St. #4. 3-7 p.m. Free-$20.
This weekend, the "Excellent Women" of Baltimore are throwing a can't-miss picnic party in the spirit of making new friends and celebrating girl power. For this meet-up hosted by the Society of Excellent Women, head to the Whitelock Community Farm to sample eats from local women-owned businesses (think Wild Thyme Food Truck, Cocina Luchadoras, and Mrs. Married Mack's Hand Pies), splash around in summertime-themed mini pools by Minnidip, and get to know other Charm City movers and shakers.