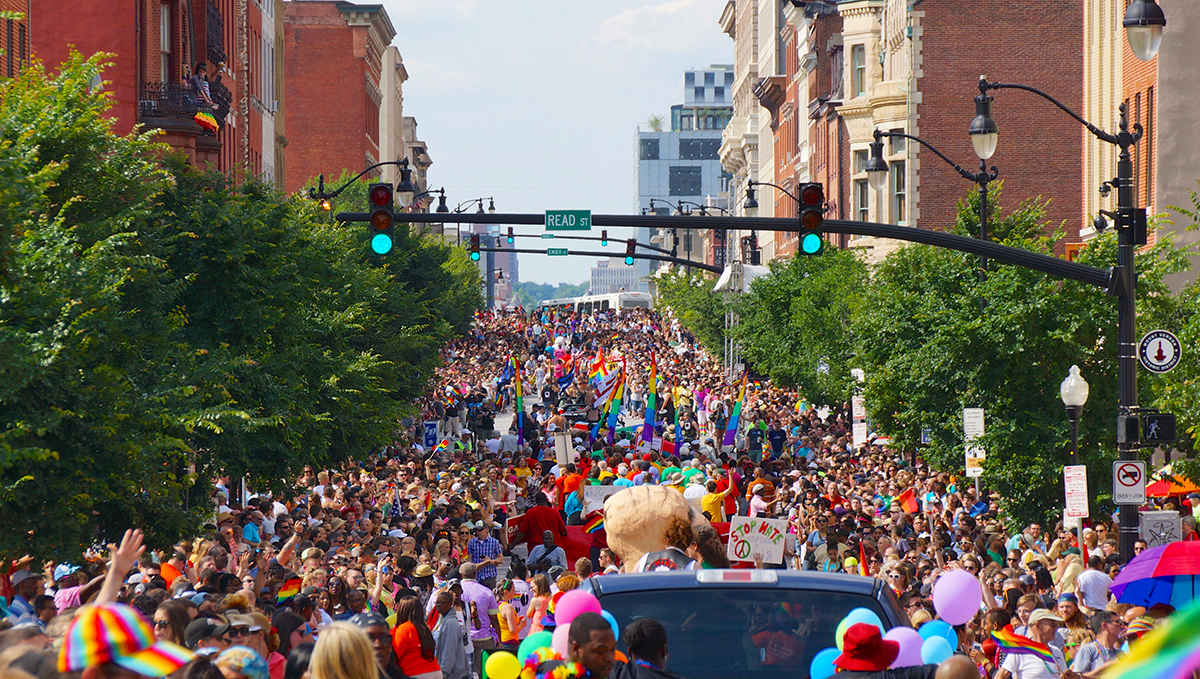 Tom Eytan / Flickr Creative Commons
EAT
Eddie's of Roland Park, 5113 Roland Ave. & 6213 N. Charles St. 11 a.m.-3 p.m. Free-$10.
It seems like things in Baltimore are constantly changing—from restaurants and storefronts to entire city blocks—but one name we've been able to count on for more than 75 years is Eddie's of Roland Park. This weekend, the beloved gourmet grocery store is throwing a Fido-friendly sidewalk soirée to benefit BARCS Animal Shelter, featuring a classic grill-out menu of beef, veggie, or chicken hot dogs with all of the fixin's. Bring your four-legged friend to dance along to beats by DJ Baby Alcatraz and support this mutt-to-market cause.
DRINK
Canton Waterfront Park, 3001 Boston St. 12-7 p.m. Free-$89.
Local vino lovers, rejoice! This boozy festival returns for its fifth year with a dizzying 160-plus wines from around the world, snacks by more than 30 gourmet food trucks, and tons of sweet treats such as adult snow cones. Sip the day away at Canton Waterfront Park and, in between glasses, take in cooking demonstrations and wine seminars, and browse through area craft vendors.
SEE
The Walters Art Museum, 600 N. Charles St. Wed.-Sun. 10 a.m.-5 p.m. Free.
In preparation for the much-anticipated Artscape festival on July 19-21, visit the Walters Art Museum to stand in awe of the work by the seven finalists in this year's Janet & Walter Sondheim Artscape Prize competition. This prestigious award grants a $25,000 fellowship to further the career of a local visual artist or collaborator, and the 2019 finalists are Negar Ahkami, Akea Brionne Brown, Cheeny Celebrado-Royer, Schroeder Cherry, Phylicia Ghee, Jackie Milad, and Stephanie Williams. This exhibition represents some of the most impressive pieces in the region, so be on the lookout for the announcement of the winner on July 13.
HEAR
Merriweather Post Pavilion, 10475 Little Patuxent Pkwy. 5:30 p.m. $46-76.
If you joined the Grammy Awards audience by giving Brandi Carlile a standing ovation in your living room after her striking performance of "The Joke" at this year's ceremony, you're not alone. The world has (finally) caught onto this Seattle native's awe-inspiring lyrics and Americana-roots sound, and this Friday, she's bringing show-stopping hits like "Every Time I Hear That Song" and "Party of One" to the Merriweather Post Pavilion stage. Get there early to find a spot on the lawn and spend the evening belting out hit after hit from By The Way, I Forgive You.
DO
Locations, time, and prices vary.
There's no doubt about it: The city of Baltimore is ready to paint the town rainbow. From boozy fundraisers and disco parties to Pride-themed movie nights and gallery talks, this weekend's Pride festivities will certainly be one for the books. We've laid out a month-long itinerary of events to check off your list, but here's a few must-dos to hit during the official Baltimore Pride weekend: the annual 11-block Pride Parade along North Charles Street followed by the iconic high-heel race, the last Charm City Pride Fest at legendary club Grand Central, an all-hours Version with Trillnatured dance party at The Crown, and the Charm City Exxxtreme Glow Party at Mosaic Nightclub & Lounge with special guest Shunga Cain from RuPaul's Drag Race.