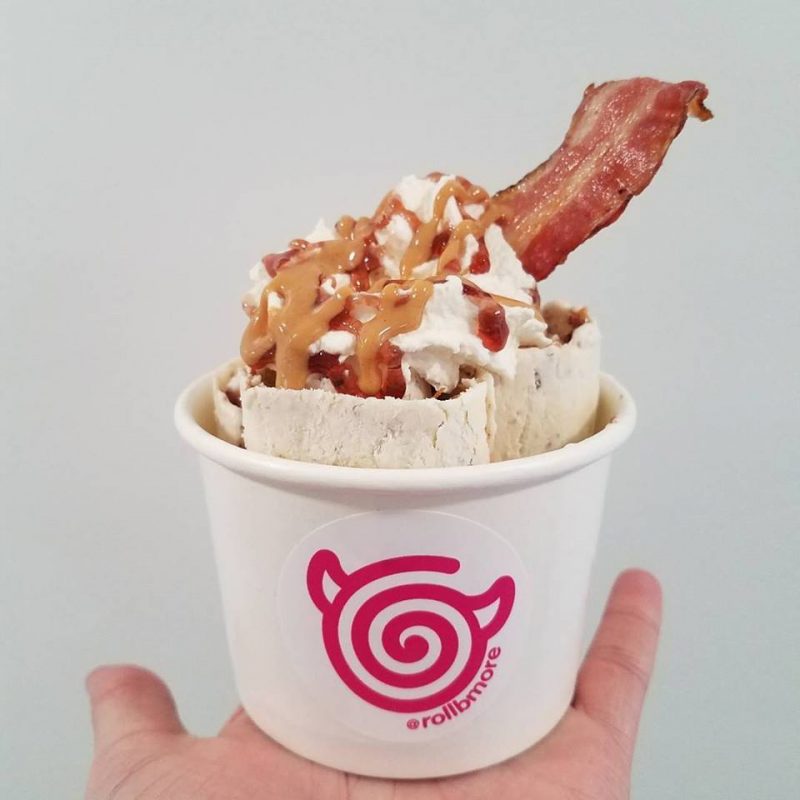 Facebook
Five things to eat, drink, see, hear, and do with your Charm City weekend.
 EAT
Roll Ice Cream & Coffee, 3222 Eastern Ave. 12-5 p.m. Free. 443-595-7655.
Even though Winter Storm Toby ruined the first days of spring, that won't stop us from celebrating the new season with warm-weather festivities. This Saturday, head to Highlandtown for the grand opening of this brand-new ice cream shop, featuring the trendy frozen treat and Thai street-food eat, rolled ice cream. Enjoy free samples, enter to win free ice cream for a year, and watch a live performance by the Baltimore Symphony Orchestra's OrchKids. And if you're feeling brave, participate in their inaugural ice cream eating contest. Just brace yourself for the impending brain freeze.
 DRINK
The Brass Tap at The Fitzgerald, 1205 W. Mt. Royal Ave. 11 a.m. Free. 888-901-2337.
It's been nearly four centuries since a group of European settlers first stepped off their ships and onto Maryland's western shore. Now, we're celebrating the anniversary of those settlers discovering our great state with events across the city—from museum exhibits to county-wide festivals. At the Brass Tap, more than 20 breweries will showcase two of their best made-in-Maryland brews in this boozy tribute to the Land of Pleasant Living. Expect local favorites like Union Craft, Monument City, and Peabody Heights, DuClaw Brewing, Heavy Seas, and Maryland's only woman and minority-owned brewery, Denizens Brewing Co. 
 SEE
Hippodrome at France-Merrick Performing Arts Center, 12 N. Eutaw St. Fri. 8 p.m., Sat. 2 & 8 p.m., Sun. 1 & 6:30 p.m. $49-107. 410-837-7400.   
Get ready to pledge your allegiance to the band. Based on the hit comedy film of the same name, Broadway's School of Rock musical follows wannabe-musician-turned-substitute teacher Dewey Finn as he transforms his fifth-grade class into a pint-sized rock band. This weekend at The Hippodrome, hear all the original songs from the movie plus 14 new guitar-shredding pieces from composer Andrew Lloyd Webber. Jack Black not included—sadly. 
 HEAR
WTMD, 1 Olympic Pl., Towson. 7:30-10 p.m. $20. 410-704-8938. 
There's probably nothing more embarrassing than reading your middle school diary in front of a crowd of strangers, and yet Mortified, the largest and longest-running project of its kind, is bringing grown men and women to the Towson radio station to do exactly that. This certifiably cringe-worthy evening of comedy comes to the stage with stories of love letters and home videos, reminding us all of one simple truth—at the end of the day, we're all awkwardly human. If you can't make it, tune in to 89.7 FM for a live broadcast.
 DO
The Baltimore Museum of Art, 10 Art Museum Dr. 8-11 p.m. $10-25. 443-573-1700. 
This Friday, immerse yourself in all things lunar in honor of The Baltimore Museum of Art's newest installation, Moon Dust. At this cosmic party, dance beneath Spencer Finch's shimmering installation to music by DJ Trillnatured, sip on moonshine by the Baltimore Whiskey Company, and experience the scents of night-blooming flowers with local body-care company Priya Means Love. From stargazing on the museum's steps to making a take-home sparkling constellation, revel in the chance to experience the museum, fittingly, at night.