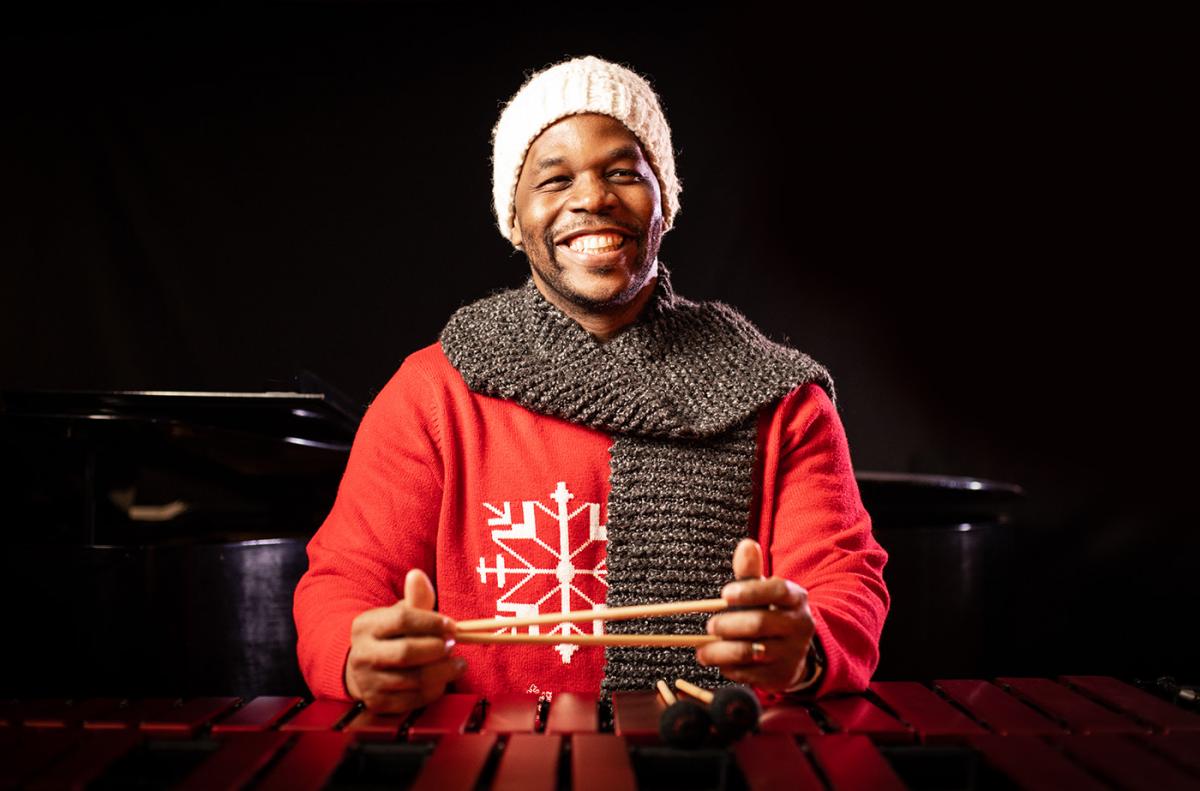 Warren Wolf is playing a live show from the produce department of Eddie's this weekend. —Photography by Sam Prather
---
EAT
Various locations.
It goes without saying that this year's Thanksgiving festivities will be far from traditional. So why not switch things up and let a local chef take care of Turkey Day? Take a break from kitchen duty—and support small businesses while you're at it—by ordering in from one of many local dining spots offering curbside pickup and contactless carryout. Score a full turkey dinner with seasonal sides (think maple sausage stuffing and Maryland-style sauerkraut) from spots like Atwaters and Braglio Farms. Or toss tradition all together for a seafood supper from Dylan's Oyster Cellar. Don't forget to finish your feast with something sweet, like one of The Charmery's over-the-top ice cream pies.

DRINK
Max's Taphouse. 735 S. Broadway. 7 p.m
This Black Friday, the beer experts at Max's Taphouse are brewing up a special celebration featuring their darkest porters and barrel-aged stouts. Head to the Fells Point bar's online shop to browse bottles, to-go cans, and brews on draft—which will all be available for contactless pickup at the newly opened walk-up window. Then, head home to tune into a special edition of the gastropub's Whale Lounge show. Hosted by Max's own Tim Scooter Christofield and filmed on site at Monument City Brewing Company, this virtual episode will take a deep dive into blends like Monument City's "BA Woodstove" stout aged in rye whiskey barrels—which is only available online through Black Friday, so snag yours fast! Plus, be sure to enter for your chance to win a local swag prize pack (Details on Max's Facebook page.
HEAR
Virtual. 9 p.m.
Once Thanksgiving passes, it's only a matter of time before Christmas music fully takes over playlists and radio airwaves. This Saturday, lovers of holiday jingles can tune in to an after-hours performance from local multi-instrumentalist Warren Wolf—who will be playing songs from his new album Christmas Vibes live from the produce department at Eddie's of Roland Park. Prior to the performance, swing by Eddie's to pick up an limited autographed copy of the holiday CD while supplies last. Then at 9 p.m., tune in via Facebook Live as the Baltimore vibraphonist performs Christmas classics like "Sleigh Ride" and "Winter Wonderland."
DO
Virtual. The Y of Central Maryland. $7-47. Sign-up fees vary.
Lace up your running shoes for The Y of Central Maryland's time-honored Turkey Day tradition, which is going virtual this year to offer families a full week of foot-racing fun. Here's how it works: First, register online and head to your nearest Y location to safely snag a commemorative T-shirt. Then, charting your own 3.1-mile course, get ready to trot. Sprint it out solo—or take flight with your flock—and finish up by logging your time onto the virtual race platform. And be sure to visit Facebook to share your photos, costumes, and Turkey Day traditions using the tag @YTurkeyTrot—it could score you some free swag!