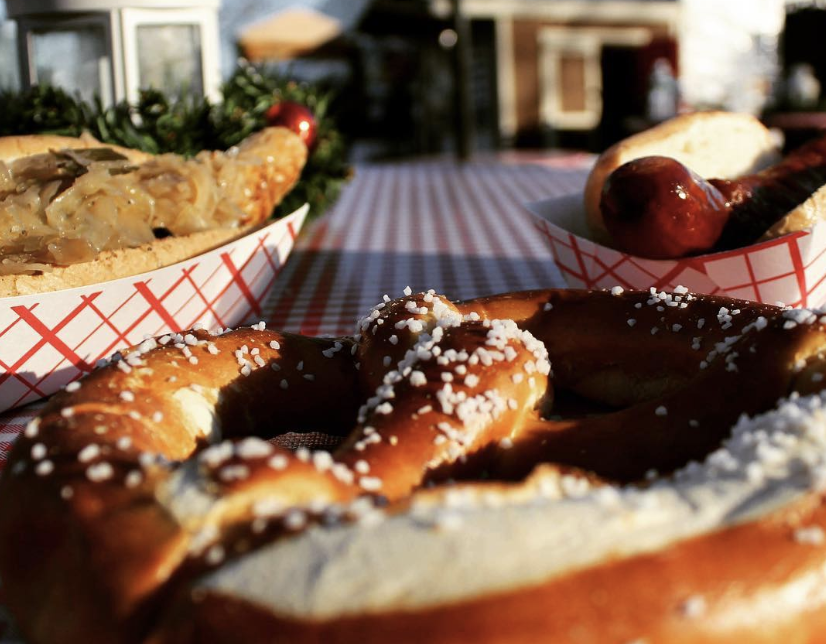 @bmorechristmas via Instagram
EAT
West Shore Park, 501 Light St. Fri.-Sat. 11 a.m.-8 p.m., Sun. 11 a.m.-7 p.m. Free.
Save the leftover turkey and stuffing for another day and spend the rest of the weekend sampling authentic German fare at the annual Christmas Village. From grilled-to-order bratwurst and Bavarian burgers to sweet tooth staples like lebkuchen (German gingerbread) and strudels, this traditional holiday market is packed with enough German delicacies to pull you out of your post-Thanksgiving food coma. Don't forget to snag holiday gifts like homemade hot sauce and marzipan on your way out.
DRINK
Diamondback Beer, 1215 E. Fort Ave. 12-11 p.m. Free.
Whether you're looking to get out of the house (aka away from your extended family) or need a reprieve from the Black Friday madness, Diamondback Beer has you covered. Stop by the Locust Point brewery for buck-a-shuck oysters, slices by BricknFire Pizza Company, and free-flowing pours of seasonal brews like Maple Thief, an oatmeal stout, and a Kolsch called Atmospheric Conditions. After warming up with a beer or two, head out to the patio to hear live music by local group Gene & Friends.
SEE
700 W. 34th St. 5 p.m.-12 a.m. Free.
Although Hampden is known as a neighborhood that marches to the beat of its own drum (see Hampdenfest and Honfest), it does follow the unwritten rule against displaying holiday decorations and lights before Thanksgiving. But two nights later, the entire 700 block of West 34th Street will come alive with decked out digs and displays including illuminated Bohs, flamingos, crabs, and, of course, the famous hubcap tree. In this weird and wonderful Charm City tradition, join tons of locals and visitors alike in admiring the "most outrageous Christmas lights" in Maryland.
HEAR
Ottobar, 2549 N. Howard St. 9 p.m. $12.
We've been eagerly anticipating this powerful singer's debut album since her first single, "Consciousness," dropped more than two years ago, and it was well worth the wait. This Friday, hear this rising local artist perform brand-new tracks from her full-length album, Disapora, and experience how Postell's fusion of jazz, soul, hip-hop, R&B, and spoken word creates a moving commentary on love, growth, and injustices faced by the African-American community. Be sure to get to Ottobar early to hear sets by noteworthy locals like rapper Butch Dawson, genre-bending artist Josh Stokes, hip-hop mainstay Al Rogers Jr., and singer-songwriter Bobbi Rush, as well as DJ sets by Loc Spice, Styles b0nd, and Jacob Marley.
DO
American Visionary Art Museum, 800 Key Hwy. Fri. 12-6 p.m., Sat. 10 a.m.-6 p.m. Free.
Start the holiday season off right by supporting local artisans during the American Visionary Art Museum's annual art market, featuring tons of one-of-a-kind items that make early-bird shopping special. Held on Small Business Saturday, the market will highlight original creations made by more than 40 regional artists such as paintings, textiles, and jewelry. After you're shopped out, take a free tour of the acclaimed Jim Rouse Visionary Center.