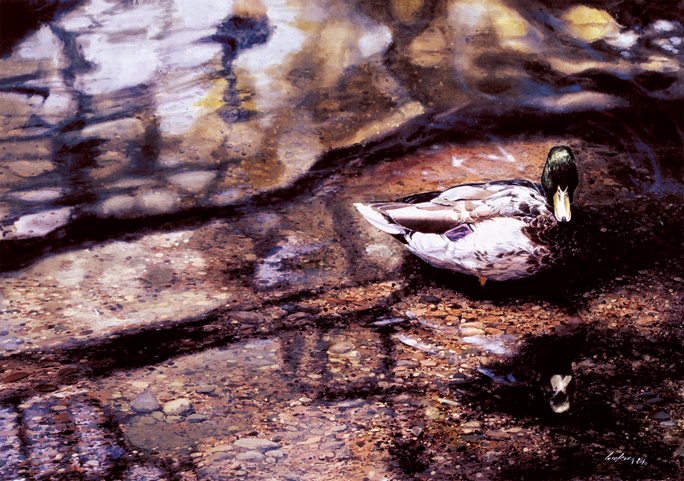 Oil painting by Scott Woolever
There are a slew of things going on in the city this weekend, but it's already the middle of November. The days are getting shorter. Our sleeves are getting longer. The temperatures are dropping fast and before we know it, we'll be in a three-month, bundled-up slump of never leaving the house. So now's the time to go—to get out of dodge and get up to the mountains or out into the fresh country air.
To do just that, take a short drive across the bay for the 44th annual Waterfowl Festival, which celebrates the Eastern Shore with a three-day weekend of wildlife arts, culture, and activities in the historic tidewater town of Easton.
A region rich in heritage, history, and tradition, people come from near and far to see the wildlife artwork—the paintings, photography, sculptures, and carvings on view and for sale by regional artists—and to observe or participate in the bucolic, bay-oriented activities—like goose- and duck-calling contests, dock-jumping dog competitions, retriever demos, live bird demos, and fly-fishing demos.
"It's a true celebration of who we are as a community," says Amy Steward, a longtime festival volunteer and public relations consultant for one of the event's main venues, the Academy Art Museum. "The Eastern Shore has developed and changed but there's still a real element of tradition here and a conscious effort to retain our way of life and our environmental heritage."
Since it began in 1971, the festival has grown from 4,000 visitors to as many as 20,000, with attendees hailing from all across the state, up and down the Mid-Atlantic, and beyond. Like the shore itself, it has evolved, but also like the shore itself, it has stayed true to its roots.
In the early 70s, the Eastern Shore of Maryland was a quiet, beautiful, but rapidly changing place. The Bay Bridge had been erected in 1952, followed by the Chesapeake Bay Bridge-Tunnel and new interstates, and with the country in a state of suburban sprawl, developers saw the lush, local region as a prime opportunity. They started moving in—draining and filling wetland; razing forest; converting farmland for new buildings, houses, and businesses—and before long, plans were under way for a second span of the bridge, with an expected completion by 1973.
At that point, the Eastern Shore's fate started to look like a foreshadowing of much of its future wildlife—exposed, endangered, maybe one day even extinct—but a small group of Talbot County sportsmen and women had devised a way to share the East with the West. On the opening day of goose hunting season, they gathered 50 exhibitions of carvings, paintings, and artifacts at three local venues in Easton. Their aim was to teach the outsiders the insides of the region—the heart of it, the history, the deep-rooted heritage—and consequently help preserve it, along with its wildlife and habitat. Unbeknownst to the founders at the time, that's exactly what it would do.
That first year, the festival raised $7,500 for Ducks Unlimited, and ever since, it has raised more than $5 million for hundreds of conservation projects up and down the East Coast, with an emphasis on the Chesapeake Bay. In 2011, the festival launched its own fundraising arm—Waterfowl Chesapeake—devoted to the creation, restoration, and conservation of waterfowl habitat throughout the watershed.
"I think people from the Western Shore really appreciate the provincial community feel of the Eastern Shore," Steward says. "When they come over, they can experience the small-town charm and some of those open spaces and farmland that maybe doesn't exist as much over there anymore."
After a swing by the decoy auction or a peruse of the town's shops, you can head to the wine and beer pavilion and, with a $10 wristband, taste local wines from the likes of Crow Vineyard in Kennedyville, Casinelli Winery in Church Hill, Far Eastern Shore Winery in Easton, or Linganore Winecellars in Mt. Airy, and imbibe in local beers from Reale Revival Brewery in Cambridge and Eastern Shore Brewing in St. Michaels.
And then there's the food.
"People love coming for a cup of crab soup or a plate of raw oysters," says Steward.
Vendors include local restaurants, churches, and fire departments, plus the Ruritan, Lions, and Elks clubs, who, in addition to crab soup and raw oysters, will be slinging the shore's very best bites: oyster stew, rockfish corn chowder, soft-crab sandwiches, crab cakes, etc.
"It's just a great tradition for people to get together," says Al Silverstein, president and CEO of the Talbot County Chamber of Commerce.. "Every year, we meet people who say, 'Oh, this is my 20th year coming,' or 'Oh, I was here 30 years ago,' or 'Oh, we're meeting friends and going back and staying at the same B&B we always do. There's something for everyone. You can even bring your dog."
So this weekend, grab a friend. (And your pup.) Throw on a sweater. Drink a St. Michaels ale from Eastern Shore Brewing. Eat as many oysters as you can. Marvel at all the wildlife. Winter is coming but for a little while longer, we'll still have those perfect days of fall.