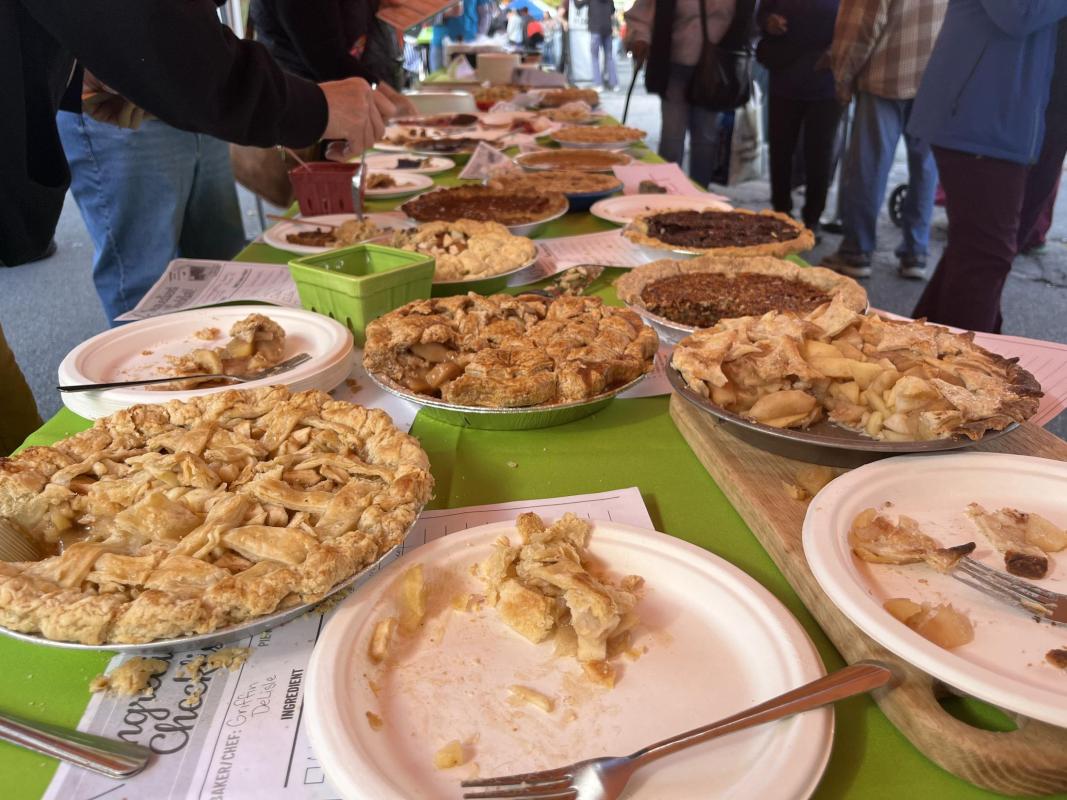 A portion of the nearly 30 pie submissions in the first-annual contest. —Photography by Grace Hebron
Beneath an orange tent along East 32nd Street Saturday morning, warmly dressed locals delivered foil and parchment-wrapped pies—filled with everything from pecans to apples to mac and cheese—for judging in the first-ever Great Waverly Pie Contest.
Hosted by the fan-favorite 32nd Street Farmers Market, the fundraiser for the neighborhood's 29th Street Community Center and nonprofit library Village Learning Place tasked bakers with whipping up their most unique pie using as many fall ingredients from the market's vendors as possible.
Around 10:45 a.m., local judges—including City Council member Odette Ramos, Baltimore food writer Amy Langrehr of Charm City Cook, Cajou Creamery co-owner Dwight Campbell, and local chef Doug Wetzel (all known champions of the beloved community market)—arrived to taste around 30 submissions, ranging from sweet to savory to vegan to specialty.
After thorough evaluations based on taste, presentation, and number of ingredients obtained from farmers market vendors, one sweet and one savory pie took home top honors: Matt Maxion's purple yam (or ube) pie and Garrick Houston's cajun jambalaya pie.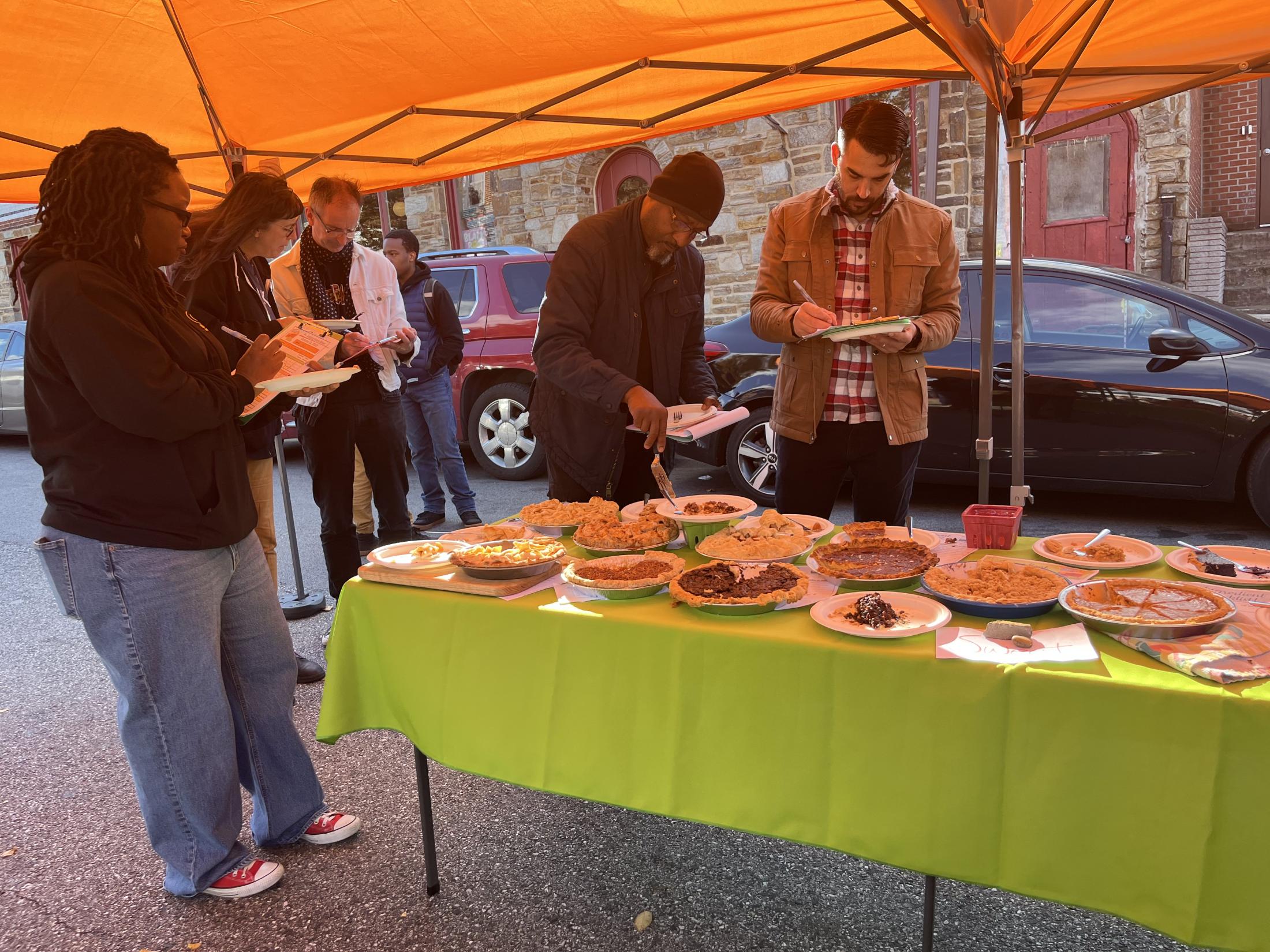 "My dad's side of the family is from the Louisiana-Texas border, so I grew up eating jambalaya, gumbo, all of the New Orleans staples," explained Houston,  who happens to be a native of Houston, Texas. He's an architect by day, but he's been a devoted home baker for the last two decades.
Drawing inspiration from his mother's jambalaya recipe, a lot like a tomato stew, his pie contained ingredients like sausage, olive oil, and bell peppers sourced from regular vendors like Pahl's Farm in Woodstock and Bartenfelder Farms in Caroline County.  "I've been in Maryland for probably four years now," Houston said. "So in the crust, I added Old Bay. I wanted to marry my past, which is my filling, with my present home."
Similarly, Maxion, who moved to Baltimore from California about a year ago, drew inspiration for his prize-winning ube creation—with ingredients including the Southeast Asian plant pandan—from his Filipino heritage. With help from market vendors and VMart Filipino Store in Nottingham, he credited his two successful pies—the other was an apple crumble—to lots of planning and a willingness to lean into the process.
"Because baking should be fun," he said, as market goers walked up to buy slices of leftover pie.
The leftover slices were sold for a $4 donation to 29th Street Community Center's teaching kitchen, while an online pie auction held throughout the weekend (those interested were able to bid on whole pies by local bakers) supported both beneficiaries. 
For her part, 32nd Street Farmers Market board president Martha Lucius was thrilled to see the new neighborhood competition come to life.
"It's been such a build up," she says. "It's [been great] seeing everybody here, and seeing all of the excitement."