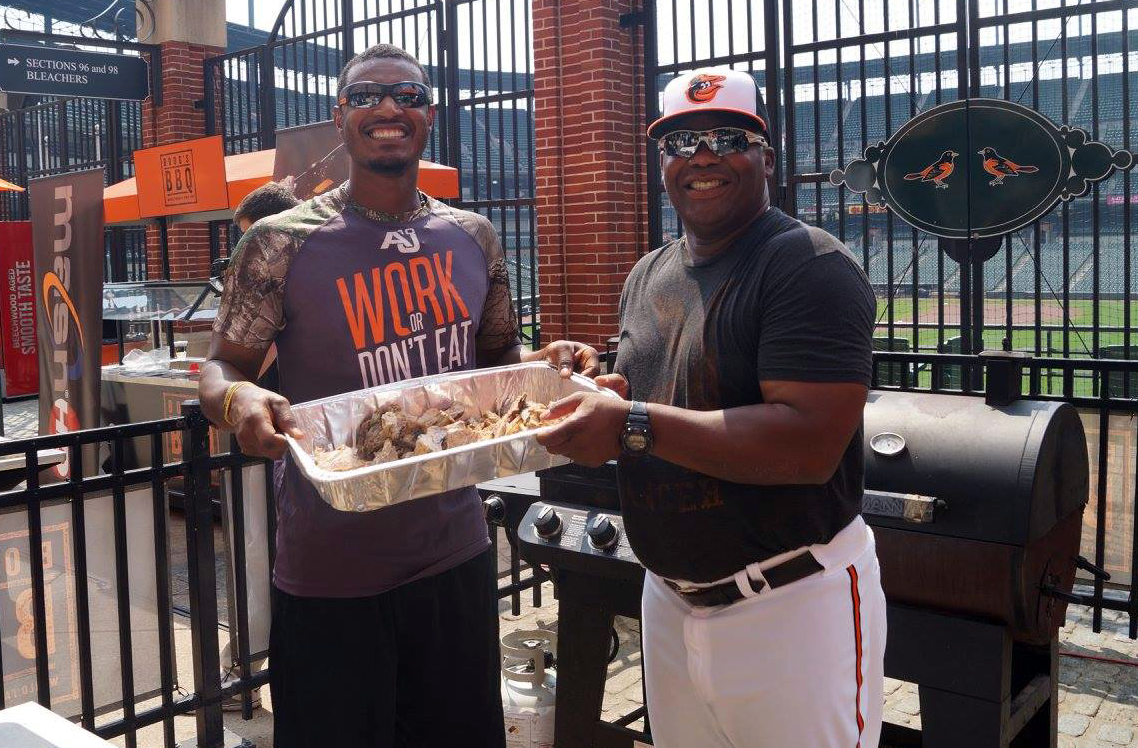 Courtesy of MASN
If you couldn't tell from his Instagram images—or his obsession with pie-ing teammates in the face—Adam Jones is quite the foodie.
The Orioles centerfielder will put his cooking skills to the test in a showdown against The Local Fry owners Kevin and Elizabeth Irish on Wednesday, August 3, at Dempsey's Brewpub.
In conjunction with the Orioles' annual ballpark-inspired fan challenge, Jones took to social media earlier this month asking locals to whip up their favorite stadium staples and tag him in photos of their creations. After scanning the snapshots, he ultimately chose to challenge the husband-and-wife team to a fry-off competition.
"The photo of the loaded French fries that Kevin and Elizabeth submitted looked pretty delicious, so it's definitely going to be a challenging cook-off," Jones said in a press release. "However, between that and my competitive edge, I'm feeling pretty confident going into it."
Kevin and Elizabeth, who opened their Federal Hill fry shop last year, specialize in cooking potato plates inspired by their travels. (Think everything from Hawaiian and barbecue pork fries to a banh mi basket and classic Canadian poutine.) The couple says that they first heard about the contest when customers nominated them on Twitter.
"It was so cool that, of all of the people that submitted photos, [Adam] chose us," says Elizabeth. "He's from San Diego, and in California they have lots of different fry dishes that are especially good during baseball season."
"We couldn't believe it," Kevin adds. "Adam Jones is such a big name in Baltimore, so it will be exciting to meet him on a personal level. But also on a business level, it's great that we can introduce our fries to people who might not know about us yet."
Each team will be required to prepare a dish using French fries as an element, but other than that, there are no restrictions. The event's panel of local judges will include chef Chad Gauss of The Food Market, 13-year-old Chopped Junior contender Bryce Taylor, and Orioles All-Star closer Zach Britton.
Though it will be closed to the public, the cook-off will air on Mid Atlantic Sports Network's pregame show O's Xtra before the birds take on the Texas Rangers on August 3.
To pay homage to the experience, Kevin and Elizabeth are toying with the idea of adding a dish named after Jones to the menu at The Local Fry. Aside from taking a break from service to meet him, the couple says that they are most excited to represent for the local food community.
"We really like how Baltimore is so tight-knit," Elizabeth says. "And it's great how the sports and food scenes are meshing together for this."