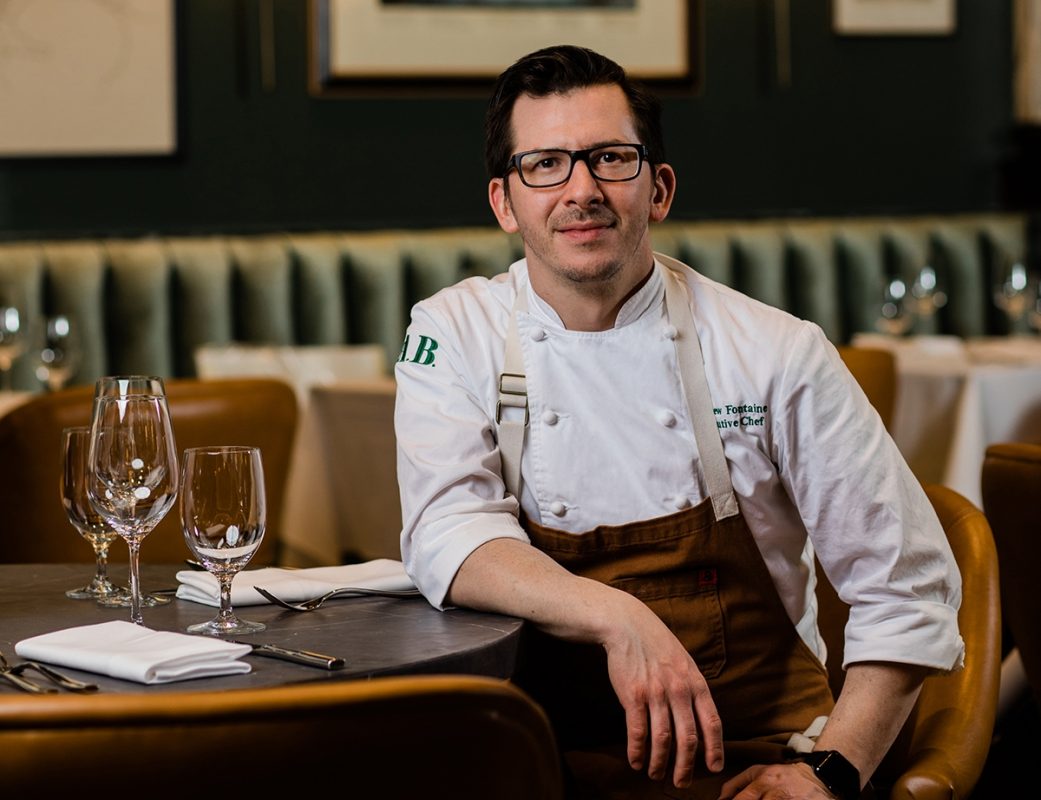 Amy Pezzicara
Columbia-born chef Andrew Fontaine comes to The Alexander Brown Restaurant after stints in the Napa Valley, and, more recently Antrim 1844 in Taneytown. He couldn't be happier about the way in which the food scene has evolved here. "Baltimore has always teetered on the edge of being an unbelievable food city," he says. "It's really close to that tipping point where it can be taken just as seriously as other big cities. The food is not far off from being as good as D.C., Chicago, and Charleston. It just needs a little push and a tug and some exposure."
I know you grew up in Columbia, but had you ever heard the name Alexander Brown?
Growing up around here, everyone has heard of Alexander Brown, the person or the bank—the firm or the building has that presence rooted in a deep history of Baltimore. But I wasn't familiar with his impact on Baltimore until I started this project.
What part of the bank was where the kitchen is located now?
The kitchen is in the basement where the vault is that was original to the bank. We now use it for dry storage, which is very unique. The door to the vault is an antique and, apparently, they're are not many of these left. We have the one that has a serial number of one on it, so it's the first one like it. Of course, having a 4,000-pound door right by the pass to the kitchen creates its own challenges.
Did you grow up dreaming of becoming a chef?
My original plan was to go to law school, but I spent a summer working in my dad's law office here in the city and realized that I didn't want to do that. I had restaurant experience. In college, I managed a restaurant and my grandparents owned a few pubs. As a kid, I always worked in restaurants—I just didn't think I'd do it forever.
What appealed to you about working in a kitchen?
In the beginning, it really was a comfort zone of where I felt at home in terms of the camaraderie with my coworkers. I loved that everyone had a common goal and I love the instant gratification of finishing a dish and putting it up. That really appealed to me. It also appealed to me because you're part scientist, part artist, and part craftsman.
What did you want to accomplish with your menu?
I took inspiration from the Alexander Brown investment firm, family, and their merchant trade and tried to use that. They spent a long time importing the finest linen from all over the world and bringing back here to Baltimore. I've worked hard to find the greatest ingredients from all over the world and bring influences from North Africa, Korean, Spain, and Mexico. The wagyu beef comes from Japan, the morels come from the Pacific Northwest, the Ora Salmon comes from a sustainable farm in New Zealand, and the grits come from Anson Mill in South Carolina. Things will change as there's a natural evolution of the restaurant, but we'll never fully lose track of that.
What are some of the signatures on your menu?
The crab beignets are not going anywhere. We wanted to incorporate the feeling of Baltimore and Maryland and crabs are a huge part of that, but we wanted to do it in a little bit of a different way. Everyone has a different feeling about what makes the best crab cake and there's no right or wrong. I wanted to showcase crab in a very different, refined, and elevated way and came up with the beignets. The inside is al like a crab salad with very little filler and herbs and crème fraiche.
The chicken for two is also turning into a wildly popular dish. We wanted to find a way to have a good whole roasted chicken but make it different. We debone it and then reform it. It's steamed and roasted and arrives at the table as a cleaner package that's easier to serve.
I imagine it's fun to work in a new kitchen.
It's nice to start in a brand new place and get all the toys and goodies that you want. We have sous vide machine and four circulators—more than most kitchens, which have one. We have sausage stuffers, smoking guns, and we are getting a centrifuge. We really try to bring contemporary aspects to what we do and use a fair amount of modern and contemporary cooking techniques.