Clean Start
Ashish Alfred is a recovered drug user—and one of the most talented chefs to join the scene this year.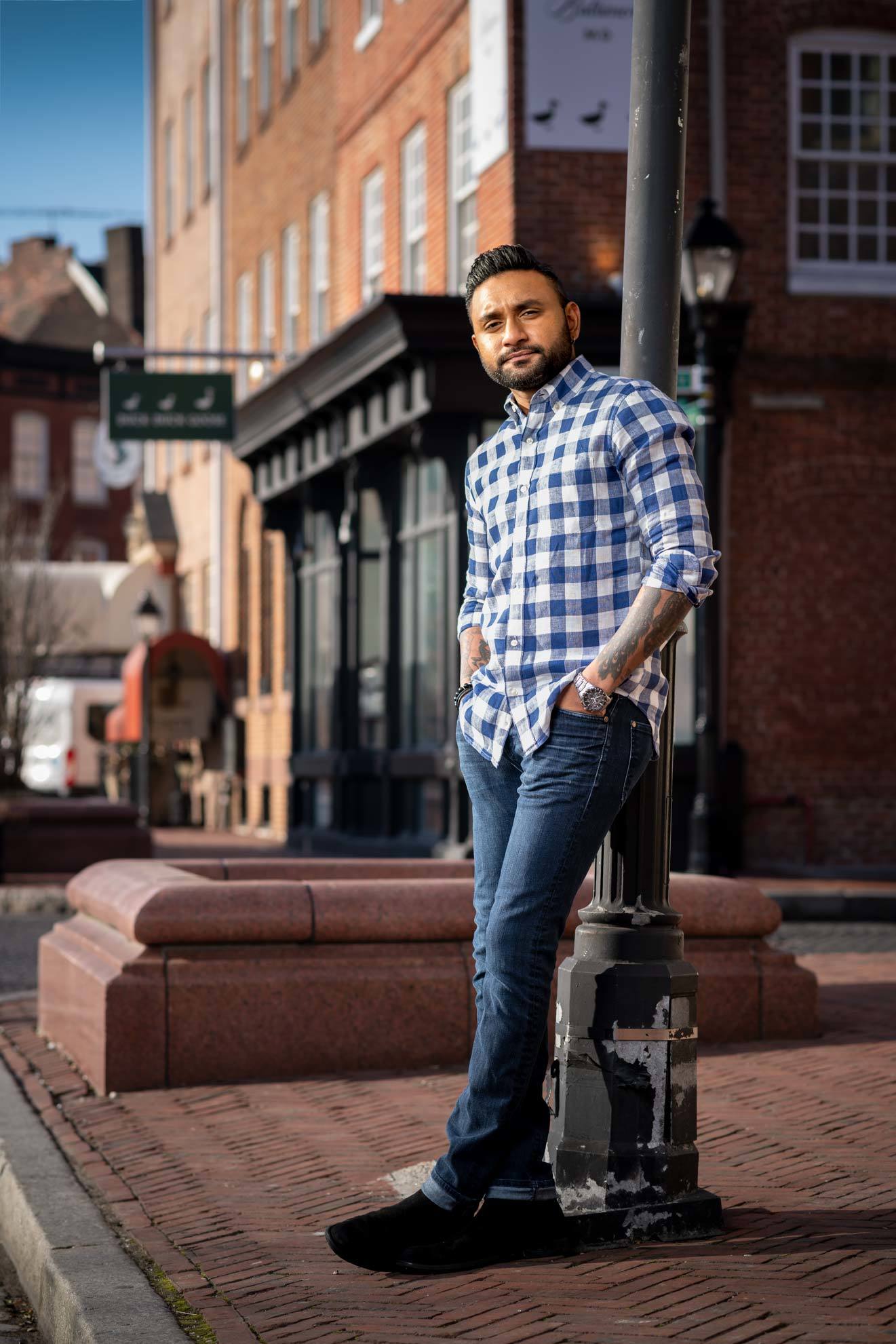 Ashish Alfred's scars—at least the ones that are visible to the naked eye—are mostly healed over. "I used to cut myself," he says, as he searches his arm to show off a scar. "You can't see it much anymore, because I have it all covered up in tattoos—but it's still there."
After a moment of scanning, he finds what he's looking for. There's the scar tissue on his left forearm masked by a skull tattoo. In many ways, the scar—and others like it—is a metaphor for his life, as the once weeping wounds, made with a razor blade during a darker chapter of his life, have formed a patch of thickened keloid tissue. At that time in his life, he says, "I was very much trying to die, whether I was flat out trying to kill myself or just having no regard for my own health and safety whatsoever. It was really only by some miracle that I didn't die."
To the outside observer, with his good looks and three successful restaurants, including Duck Duck Goose in Fells Point and Bethesda, Alfred appears to be the picture of success. And he is a success story, though it's been a long time coming.
Way back when he was being bullied on the playground—for being Indian, for being slight, for just being—the Silver Spring-born chef had to learn to stand up for himself.
"I had switched schools in the fourth grade because I was getting picked on and was starting to come undone," he says. By middle school, the bullying started up again. "I was like 'Fuck it,'" says the 33-year-old chef, whose friends call him Al. "If I'm going to get picked on, I'm going to fight back. I was very, very insecure, so any little thing would set me off."
Alfred did not have it any easier at home. As a toddler, he playfully pounced on the chest of his alcoholic father, Rajesh, and was thrown to the ground, shattering his femur. In the aftermath, Alfred wore a body cast for months. His mother, Veena, did her best, but, as the primary breadwinner and owner a string of assisted living homes, she spent a fair amount of time away from home. Alfred recalls that "her moods revolved around whatever his mood was."
"I remember my father being a nasty drunk as a child," says Alfred. "I also remember him being nasty sober, too. When he wasn't drinking, he was doing the white-knuckle thing. He was sitting there thinking about when he could drink again, so you could never be quiet enough or not move enough. My mom will say that I was a very good boy when I was little. She has said, 'It's almost like you knew to behave.'"
By contrast, in school, Alfred acted out. "I bought pot and starting drinking for the first time in eighth grade," he says. "Being at home was misery and being at school was an escape from that."
Alfred also carried a secret, which he's just starting to grapple with and acknowledge now. "I was molested by a few different people growing up," he says. "They weren't family members. When it happened to me, I felt like it was my fault. I felt like I was doing something dirty that I wasn't supposed to talk about, something wrong, so how dare I speak about it because I was part of it, too. But truth be told, I was 5, 6, 7 years old. What would I have known to say? If you carry around a bag of bricks on your right shoulder, your right shoulder is going to hurt after a while."
The downward spiral continued into his adolescent years. To protect himself, Alfred projected a disaffected, don't-mess-with-me persona. He'd get high and drunk and sneak out of class to smoke cigarettes. "I just didn't want to do my homework or go to school," he says. His surrogate family of friends was a bunch of other like-minded, self-destructive types. "All I had to do to stay with them was drink and party," he says. "That's where I learned to be violent—and then it didn't matter that I was smaller. I figured out pretty quickly that that was a little bit of a family for me."
After graduating from Magruder High School in Rockville 2005, he worked odd kitchen jobs between Washington, D.C., and Bethesda—bar back, bouncer, and barista—but was always focused on his next fix. He pawned his father's Rolex to get drug money. Cocaine was his substance of choice. "Imagine going out and having four or five drinks and feeling buzzed," he says. "Cocaine set me back to zero. Cocaine provided a sense of euphoria. It made it easier to consume more alcohol and take more Percocet—it was a numbing mission for me."
His one source of solace and seemingly only diversion—beyond getting blitzed—was watching the Food Network. "I knew that my life was going to be in the service industry one way or the other," he says. "That's where I was happiest. I liked the hours. I liked the drinking. I liked the partying—I liked all of it."
So, in 2008, after promising Veena that he would clean up his act, Alfred attended The French Culinary Institute in New York City. At the time, neither he, nor his family, understood the extent of his addiction.
"Cocaine provided a sense of euphoria. It made it easier to consume alcohol. It was a numbing mission."

In his contemporary Canton townhome, Alfred engages in a game of fetch with Marco, his energetic Belgian Malinois pup, named for his idol, famed British chef Marco Pierre White. Sitting on a stylish cream linen chair at the dining room table, he's surrounded by calming, neutral colors and inspirational artwork. ("Give thanks," reads one that's propped against the wall.) In hopes of helping others, Alfred is disarmingly open and honest as he talks about the havoc that drugs and alcohol wreaked on his life until he finally got sober on April 12, 2014.
On one particular binge while still a culinary student, he traveled to Ocean City and, in his words, got "yacked" out of his mind. "I finally pull up to my mother's house at midnight, and she takes one look at me and is like, 'You have to be at school in the morning.'" He stops for emphasis, just to be clear that what she's asking of him seemed Sisyphean at the time. "It's midnight," he continues. "I'm at my mother's house in Rockville, and my school is in Manhattan. She puts me in a taxi because if I wasn't at school the next day, I would have failed. I'm doing blow in the taxi on the way to Union Station. I get to the train station, and I'm paranoid because I'm high and there's Amtrak police all around—I dump the blow, so I'm coming down, which is miserable."
The next day, Alfred actually made it to class, but his teacher allowed him to sleep it off in a nearby locker room so that he didn't miss yet another class and get kicked out of school.
Alfred tells his tale with complete clarity, as if it happened just yesterday. The cocaine, he says, keeps you from blacking out, so you tend to remember everything. Whether purposely or not, he draws out his stories, recounts every detail, which allows time for the horror of what he's saying to sink in. Every story is a well-told cautionary tale that leads the listener to the same inarguable conclusion: Don't do drugs.
Despite his addiction, Alfred excelled in cooking school. He learned the classic techniques of Gallic gastronomy: how to clean a sauce and that when you make stock, 20 percent of the weight of your bones should be vegetables. "I was known as the guy who came in hungover or who missed a few too many days of classes," he says, "but I was also known as the guy who could get shit done."
After culinary school, he stayed in New York and worked at a range of restaurants, from the French-focused Daniel to the Italian-inspired Lupa. Still, his demons plagued him and he continued to use. By 2012, he was back in Bethesda, where he opened his first restaurant, 4935 Bar and Kitchen. Quickly, the place tanked because its chef's addiction. A "nightmare" is how he describes himself at that time in his life.
Things hit rock bottom when, one night in April 2014, he shot up heroin with a prostitute. The evening ended with him falling on his face, breaking four teeth, robbing the safe of his own restaurant of $4,000 to buy more heroin, and then waking up the next morning to find that the woman—and his money—had vanished.
A week later, Veena, who had financed his restaurant, bought him a pack of cigarettes and drove him to Caron, a rehabilitation program in Pennsylvania. As he was being admitted, he dumped the bag of blow that was in his wallet, swallowed some random pills from his pocket, and then spent the next two days withdrawing in the detox room. "The feeling is indescribable," he says of detoxing, "but I knew that I never wanted to feel like that again."
It has been a little more than five years now, and Alfred is still sober.
As he stands at the pass in the kitchen at Duck Duck Goose, this work gives him a different kind of high.

In 2016, drawing upon his knowledge of French technique honed at cooking school, Alfred opened his first Duck Duck Goose brasserie in Bethesda. He also rebranded 4935 as George's Chophouse (named after his late half-brother) in Bethesda. On the heels of its success, he opened a second Duck Duck Goose location in 2018 in Fells Point. With its innovative interpretations of French bistro fare and craft cocktails, it has quickly become a great alternative to a neighborhood known for its pubs and pizza joints. "I remember coming here when I was a kid and walking around the harbor with my family and then, as I got older, hanging out around Fells Point," he says. "The bar business has always been very appealing to me—and nowhere is it more appealing than in Fells Point."
Staying clean has helped him be a better chef. "Maybe it's the gift of sobriety. I never feel like I have to put my ego on the plate," he says. "There are a lot of young chefs who spend a lot of money and take a lot of time because they want to show the world that they can do this or that. It's great for the guys who work really hard and they have their James Beards and their Michelin stars. But I want to be the guy whose restaurant you go to and you ate until you couldn't eat anymore—I want the restaurants to be synonymous with a good time."
His sobriety has had other upsides, too. "When I look at my food pictures, I can see the difference from the time I got sober," he says as he scrolls through his Instagram account. "It's been cool to see myself evolve as a cook. I feel like my food and my flavors got cleaner. My presentations got cleaner. I had a clear head—I could really think."
Some days, he admits the cravings can still kick in. "Are there days when I want to go out and get [messed] up—absolutely," he says. "Running a restaurant is hell. You go four, five, six days in a row where you're struggling for plates and glassware and people are quitting right and left because the turnover is so high. You think you don't want to have a drink after that? Yeah, you do."
But regular check-ins with his appointed sponsor from Alcoholics Anonymous, a therapist to deal with ongoing dark thoughts and suicidal ideation, plus exercise and proper meals have helped. "I don't allow myself to be angry or lonely, and I get as much rest as I need to get," he says. "Sobriety is not that difficult. It really is a matter of doing the next right thing, sometimes minute to minute, hour to hour," he says, speaking the language of AA.
His father, who was divorced from his mother in 2001, is now sober, too—and continues to rebuild his relationship with his son. "I'm not making excuses for him or trying to downplay it," says Alfred, "but if I've ever known a man to make a turnaround, he has. I owe my sobriety to him. Every time I see him, he will say, 'Look, I'm sorry.' We have a beautiful relationship now."
Last December, Alfred cooked at the prestigious James Beard House in New York City, with Veena by his side. The nine-course meal included halibut with scallop mousseline in puff pastry and Russian caviar and a duck terrine of foie gras with cherry gelée. "On my first day of culinary school they told us about the opportunities to volunteer at the James Beard House with well-known chefs, so to be cooking my own dinner there was humbling," he says. In March, Alfred was nominated Best Chef by the Restaurant Association of Maryland.
Back in his own Duck Duck Goose kitchen in Fells during dinner service one late winter's night, Alfred is in the zone as he inspects every plate that goes out with the seriousness of a TSA agent. He rearranges the agnolotti with pea purée into a star pattern, changes the crinkled bun on a rib-eye burger with foie gras ("This bread looks like shit," he says to one of his line cooks), instructs his sous chef to remake a chocolate soufflé that has fallen, and tells the kitchen to soak the bone marrow in more milk. ("No one wants to eat blood," he says, as he dabs at the blood on the bone.) He alternates between swearing at his kitchen staff and calling various members of his crew "sweetheart." He's also ever-aware that, although he's had his struggles, he comes from a place of privilege, too. "What am I going to do, be an asshole because my staff didn't go to culinary school?" he says. "You've got to show a little love."
As he stands at the pass in the kitchen at Duck Duck Goose and receives a compliment from a customer who has stopped by to tell him that "everything was excellent," this work gives him a different kind of high. "There's nothing sexier to me than looking out into the dining room and the music is up and there's a table of people doing their happy dance over the food. That's what you get in the business for—that's what 14-hour days are for."
Telling his story has also been a part of his recovery. Alfred has lately learned to share his story publicly. In February, The Washington Post wrote a wrenching story on his past. He also revealed his story on The Today Show. The notoriety is new, and the media attention has set off an outpouring of strangers and people in the community emailing him to ask advice, share their struggles, or congratulate him on staying clean. "It's almost strange being put on a pedestal," says Alfred. "Some part of me wishes that I was getting all this attention for being a good chef, and a small part of me hates that I'm getting attention for the fact that I was a royal fuck-up."
Back in the kitchen, a new, show-stopping soufflé appears about 30 minutes after the fallen one was sent back. This one rises inches high above the ramekin. It's a crowning achievement, the true test of any French kitchen. As he spoons crème Anglaise over the top, it's clear that all eyes are about to be on him. "See," he says, looking at the soufflé. "Good things come to those who wait."