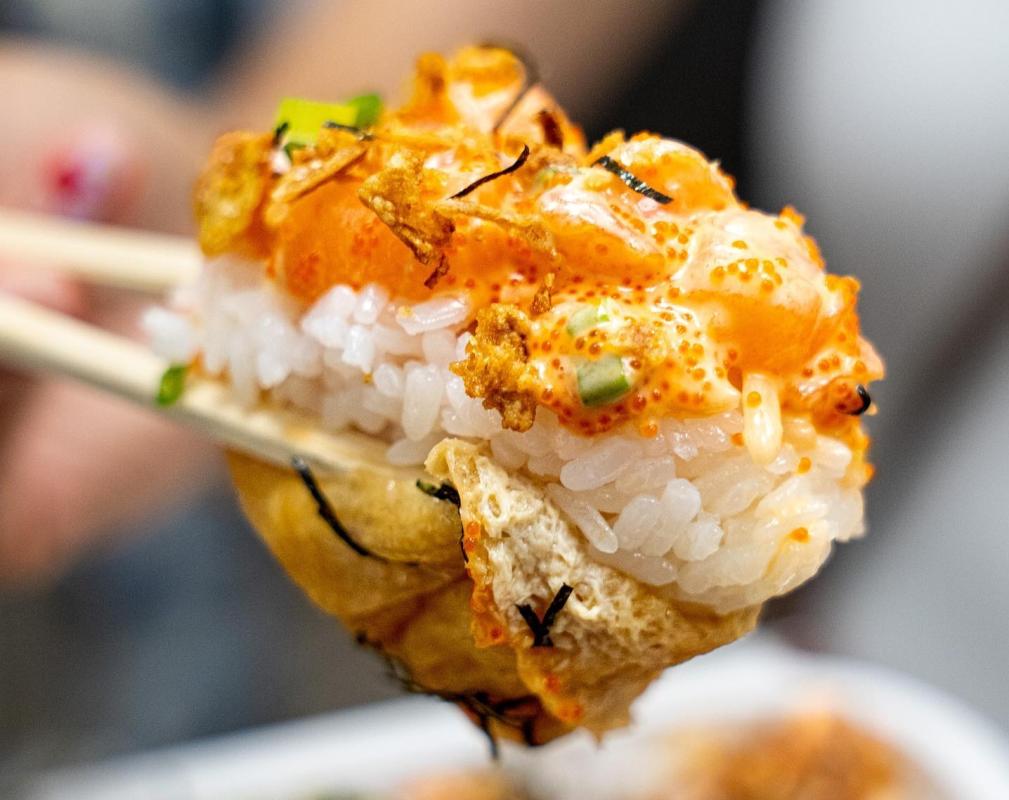 Salmon bombs from Blowfish Poke are among the many eats on offer. —Photography by @fotographeats
Aiming to mimic the night markets that are well known in East Asia—where their families are originally from—organizers of the Asia Collective Night Market will offer an array of food, performances, and activities when the event comes to the Howard County Fairgrounds this Saturday, August 20.
The all-out celebration of Asian food and culture, running from 2-11 p.m., will host more than 50 restaurants from around the DMV, including local favorites Blowfish Poke, Water Song Yunnan Kitchen, NiHao, Mayuree Thai Tavern, Charming Elephant, Ejji, and Ekiben. But the market will also present an opportunity to sample new bites from Baltimore neighbors, such as Washington, D.C.'s 1914 by Kolben or Donutchew out of Fairfax, Virginia.
Co-founder Sophie Shi—who works in social media, marketing, and contract management—says the goal of the event is to create an immersive experience that will help familiarize attendees with AAPI food, arts, and culture. Shi specifically hopes that families can share the experience together and connect one-on-one with vendors.
"I think food is one of the things, probably one of the easiest things, to connect communities," says Yumin Gao, another co-founder who is managing the artists, performers, and merch vendors. "People are interested in learning about Asian culture and celebrating Asian heritage, so this is a great event for them to get together, maybe step out of their comfort zone a little bit, and try different things."
Ben Wang, who deals with outreach and logistics for food vendors and sponsors, says that the team was first inspired to start their own night market after visiting D.C.'s Redeye Market in November 2021. There, tens of thousands of customers flocked to sample bites from just under 50 purveyors. The overcrowded event caused a large social media backlash, according to Washington City Paper, after it sent many attendees into other overflowing D.C. restaurants.
"By seven o'clock, everybody was running out of food," Wang recalls. "Everywhere was crowded, and people were waiting one hour in line just to get food from one vendor."
The group believed they could turn the tide and improve the experience for customers and vendors alike. So in December, they began searching for venues and consulted with organizers from Baltimore's Charm City Night Market—which hosted events honoring the city's historic Chinatown in 2018 and 2019—for advice. Since January, they've been recruiting vendors and securing sponsorships.
"It's a small team, so we've really tried to contribute as much as we can to push things forward," Gao says.
Wang says that the $10 price of admission will allow organizers to finance management, location, staffing, and parking, fostering an overall great experience for attendees.
Adds Gao: "We really want every single vendor to succeed and sell out—that's our hope."
For restaurants, the pandemic necessitated new and alternative business models like ghost kitchens and pop-ups. Wang points out that large-scale events are especially accommodating to those formats.
"The Asian community has a good amount of presence and impact in the small business scene," Wang says, "and our event can definitely help bring more traffic and awareness to those small businesses."
While visitors enjoy their food, they can also catch performances including Filipino martial arts from the Filipino Kali Academy and Cambodian dance from Khmer Performing Arts and Culture. There will also be a live music lineup kicked off by guitarist Steve Hung and closed by singer-songwriter Jae Jin.
Attendees looking for more hands-on programming can explore Chinese painting workshops, Japanese tea tasting, Persian calligraphy demos, Korean paper fan making, and 15 nonprofit stands—most of which will have free services focused on promoting their respective cultures.
Generally, the West Coast and New York are better known for their night markets, and aside from the Charm City Night Market and Redeye, there's been a vacancy around the DMV, so the organizers want to provide locals with the market they've been missing.
"My parents are from China, but I grew up in America and I lived in the Midwest and experienced racism, but here, I feel like there's a much larger AAPI community, and culture and heritage is much more celebrated," Shi shares. "I'm really excited for us to celebrate our culture, celebrate the vendors, and just really get together as a community. Hopefully it will make people more aware of the AAPI community."
Though planning the inaugural event hasn't come without its challenges, the organizers hope to make the night market an annual occurrence.
"It's been an overwhelming journey, but in the end, we're all very excited to present what we have," Wang says. "We hope it will be a great experience for everybody."