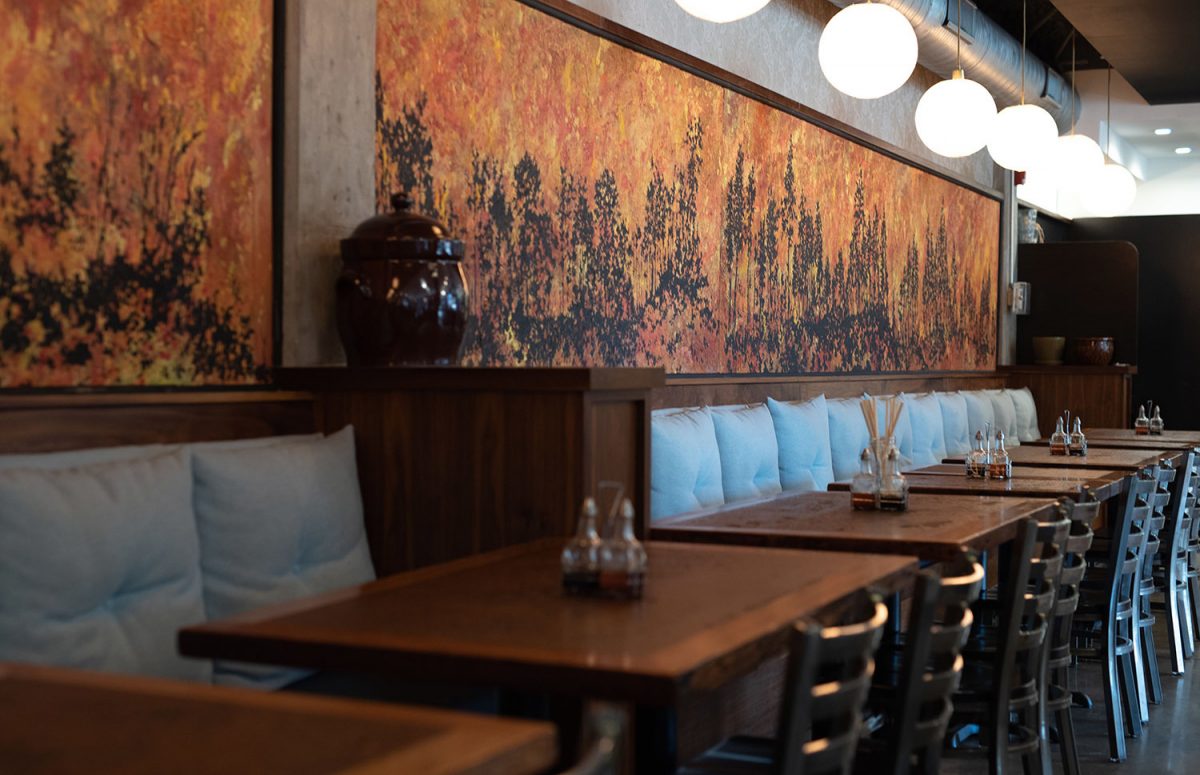 The Hot Dry
When one door closes, another one opens. Such is the case for the Lefenfeld family (including brothers Jake and Ben, as well as Ben's wife, Amy), who closed their seafood spot Minnow in South Baltimore last week. Just seven days later, they reopened the space as a new Asian street food-inspired eatery called The Hot Dry.
The menu focuses on the Hubei region of Central China, and specifically the city of Wuhan—where "hot dry noodles" made with Sichuan peppercorns are revered. In addition to two types of noodles, featured offerings include scratch-made soup dumplings, pickled vegetables, and chicken with chilis and peppercorns. Minnow chef Sarah Murray is staying on, though noticeable changes include a new mural, additional high-top tables, and a lower price point—with dumplings for as little as $5. "This is the concept I've been wanting to do for years," says Ben, whose family is also the team behind La Cuchara in Woodberry. "This is kind of food that I love and that I grew up eating in Columbia."
We sat down with the chef to talk more about the inspiration behind the concept, the importance of culinary authenticity, and his love of noodles.
Why did you decide to open up an Asian street food spot?
When I was growing up, Columbia had a lot of chain restaurants and ethnic restaurants—and it was the Asian restaurants that had the best food in town. In particular, I love noodles. When I go to different cities, I look for soup dumplings at the hole-in-the-wall places. As a kid, I loved going to Chinatown in New York and trying out tons of them.
Why did you decide to open The Hot Dry now?
I started doing research for this menu and concept a couple of years ago. I would have opened this instead of Minnow had I been prepared, but I didn't feel confident in terms of the research I had done and my familiarity I had with the cuisine at that time.
Your chef C.V. includes stints at Asian restaurants after graduating from culinary school. What did you learn from those gigs?
They were both Asian fusion spots—I learned the wok. I learned how to work with ginger and how to toast chili peppers, how to toast garlic and flavor the oil before sautéing it. I learned how to cook eggs in a wok…I was exposed to a lot of beautiful flavors.
Why did you pick this specific region of China to focus on?
I didn't want to cherry-pick across this massive continent. Instead, I wanted to focus on a specific region to have that North Star direction and spirit for specific dishes, though we are by no means calling this authentic cuisine.
Recently, there's been a lot of backlash about Caucasian chefs appropriating Asian flavors and opening Asian restaurants. What's your response to that and is it something you thought about prior to opening?
It's a double-edged sword to focus on a specific cuisine because the questions that come up are, "Did you grow up there?" and "How long did you train there?"—which are completely fair if it's within the context of authentic cuisine. But that's not what we're going for here. There's a lot of eloquence on both sides of this debate, but at the end of the day, I think people should be able to cook whatever they like—as long as they have respect for the journey, they are sourcing correctly and developing correct techniques, and they are doing it with respect for the cuisine, I don't see a conflict. That said, I do plan on traveling to the region within the next few months.
We know that you recently went to Peter Chang's Mama Chang in Fairfax, VA, to break bread—we mean, eat noodles—with Ekiben owner Steve Chu and Leandro Lagera, co-founder of the Chinatown Collective and Charm City Night Market. What was the purpose of the meal?
I wanted to learn more about the issues involved with this controversy. I learned that we need to be ourselves with this. If you're cooking food that you love and trying to do due diligence and learn the history of the cuisine, while not calling it authentic, that's what it comes down to.
Where did the name of the restaurant come from?
Hot dry noodles separate themselves from other noodles in the country in that they're not served in broth. The noodles are tossed with hot oil and they're fun because they can be garnished with lots of different ingredients—ours have black and white sesame seeds, cilantro, and pickled cabbage on the side. There's a secondary reason for the name, as well. The food is hot, and you get that drying sensation from the Sichuan peppercorns.
Tell us about the menu.
We're doing noodles, alkaline noodles, knife-cut noodles, three types of dumplings, chilled vegetable salads, and other dishes that don't involve noodles like twice-cooked pork with Pixian chili paste and dry pot chicken with potato, coriander, and cabbage.
Will there be changes to the bar program, as well?
We've added some cooling drinks to the program. Our bar program was already pretty fun, but we've featured a larger selection of white wines with a higher amount of the residual sugar to work well with the spice. One drink that Jake put on the menu has almond milk as its base. It's absolutely delicious and cools the burn as you're eating the spicy food. We also have a couple of large format cocktails for the table. There's one called, "This Drink Sucks," its vacuum-infused whiskey with black tea.
What about sourcing?
We're making our own lye solution for the alkaline noodles. We are importing Pixian chili paste from Pixia and also using imported fermented bean paste. The cabbage, green beans, and cucumbers for the chilled dishes are all from local farms.