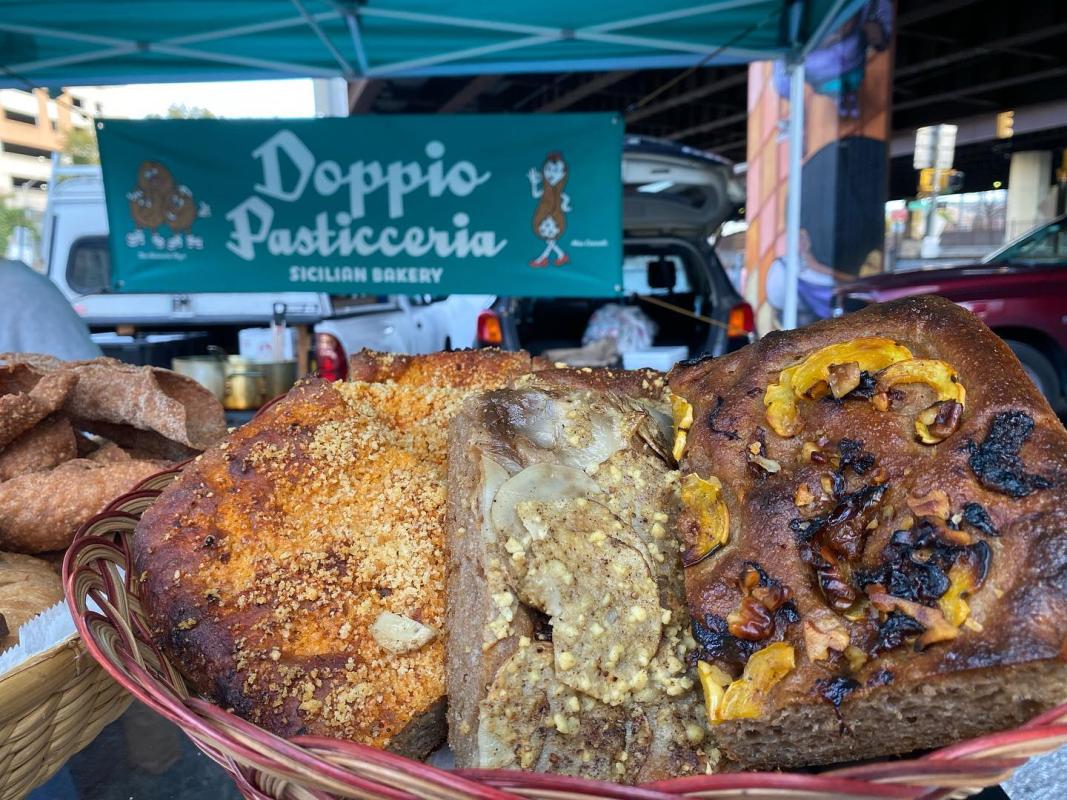 —Courtesy of Doppio Pasticceria via Facebook
OPEN
Doppio Pasticceria: R. House regulars can enjoy coffee and pastries once again. The Remington food hall has been on the hunt for a breakfast and lunch stall since the closure of Ground & Griddled in 2021, and they've finally filled the void with Sicilian-style bakery Doppio Pasticceria. The farmers market favorite, a frequent vendor at the Baltimore, 32nd Street, and Kenilworth markets, has officially soft-opened, serving up pastries and biscotti, as well as espresso and drip varieties from Old Goucher's Sophomore Coffee.
The concept comes from partners Luke Ilardo and Megan Cowman. "We'll be doing egg sandwiches on focaccia that we make in house," says Ilardo, "and then working up to some other ideas we have but haven't really had the bandwidth for. Having our own space is hopefully going to allow some of those different ideas to come to fruition."
When things reach full speed at the new stall, Doppio will offer those breakfast sammies on focaccia with Sicilian twists (think: guanciale, egg, and scratch-made ricotta), plus Italian cookies that pair nicely with coffee and Sicilian-style pastries like cannolis and schiacciata.  As R. House has become a popular post-work happy hour spot, Ilardo also teases the idea of offering snacks like arancini, which cater to those crowds. "One of the awesome things about [operating at the farmers markets] is we have weekly interactions with a number of farmers just by proximity," Ilardo says. "We're super excited to showcase a lot of what we find there."
While there's talk of Doppio moving into a more permanent home in the neighborhood down the line, the owners are looking forward to establishing a presence at R. House throughout the rest of 2023. "R. House is a neighborhood staple," Ilardo says. "Folks know to go there for good food, and as a new business, outside of the farmers market, I don't think many people would know who we are. It's really nice to be going into a space that people are familiar with."
COMING SOON
Attman's Delicatessen: Baltimore landmark Attman's Delicatessen will unveil new digs at Harbor Point this fall. The authentic Jewish deli will take over the space previously occupied by Vida Taco Bar at 1401 Point St. to debut its third location—the original is on Baltimore's Corned Beef Row on East Lombard Street, while the second resides in Potomac, Maryland. "Harbor Point represented a rare opportunity to establish a presence in a neighborhood that is still developing, and grow along with it," said Attman's owner Marc Attman, in a press release. "The Attman family couldn't be more thrilled to start the next chapter of our family business in this exciting new location."
Dubbed the oldest continuously family-owned deli in the country, Attman's dates back to 1915 and is known for its piled-high corn beef sandwiches and scratch-made soups (plus that famous mustard). New features at the Harbor Point location will include waited table seating indoors and outdoors, as well as a full-service bar program. 
Chopt: The latest trendy chain to make its way to the area is Chopt, a DIY salad concept that will officially open on May 10 at Towson's Dulaney Plaza. The eatery specializes in customizable salads that are finely chopped with a mezzaluna knife behind the counter before being tossed in scratch-made dressings and transferred to a tall to-go bowl. There are also menu signatures (look out for a Spicy Sonoma Caesar this spring), warm rice bowls, and stuffed wraps. Inside, the 2,200-square-foot restaurant can seat 45, or orders can be placed for pickup on the Chopt app. 
This location marks a partnership with Baltimore-based Next One Up, a long-term mentoring nonprofit. During a preview event on May 9, Chopt will donate 100 percent of its proceeds to the organization, and all orders will be 50 percent off. (More info, here). The Towson outpost will also work with Next One Up in a collaborative hiring process. "It's been a long time coming, and we are excited to welcome Chopt to the community," said Next One Up founder and CEO Matt Hanna, in a press release. "Chopt has embraced our mission since day one. We are excited to welcome a business that we know will be a great neighbor and a great employer for the young men we serve."
Hampden Yards: Just in time for (hopefully) warmer temperatures, Hampden's new outdoor beer garden will officially debut to the public on May 12. Decked out with picnic table seating, strung lights, umbrellas, a foosball table, and tons of greenery, the communal spot is located behind the Co-Balt co-working space on the corner of Hickory Avenue and West 36th Street. (Look for a hand-painted mural directing you toward the entrance when walking up Hickory.) When visiting, guests can order rotating drafts, local cans, glasses of wine, and icy Crushes and cocktails from the shipping container bar. And there will be ample food options, too, including shareable charcuterie boards, burgers, and soft pretzels.
NEWS
Baltimore Spirits Co. Releases Flagship Four-Year Rye Whiskey: A news item that's seven years in the making: Baltimore Spirits Co. has finally released what the distillery sees as its flagship spirit, Epoch Reserve four-year Maryland rye whiskey. The process the distillery used nods to an early style of rye whiskey that was pot distilled in small batches by Scotch-Irish settlers in Maryland. Whiskey aficionados will find that the new libation has a bright, smooth character with notes of candied cherry, apricot, bananas foster, mint, cedar, and old leather. 
"We're thrilled to have reached this point where we couldn't be happier with this whiskey," Baltimore Spirit Co. CEO Max Lents said in a statement. "We really have wanted to create something that fully immerses someone in our passion for Maryland rye whiskey—and this is it, purely and simply."
And it's already award winning. The distillery shared that Epoch Reserve won Double Gold at the revered San Francisco World Spirits Competition back in April. The new whiskey is only available at the distillery, located at Union Collective in Hampden, but expect it to hit shelves locally and in select regions nationally this month.
EPICUREAN EVENTS
5/7: Heavy Seas Beer Benefit Event for BARCS
Beers for BARCS? We'll cheers to that. Heavy Seas' fifth-annual beer release benefit event for the local animal shelter takes place this Sunday from noon to 5 p.m. at the brewery's newly renovated taproom in Halethorpe. This year's special collaboration release is a Belgian-style citrus witbier, brewed with Citra hops, orange peel, white pepper, coriander, lemon, and orange juice. The beer will be available on draft and in four-packs of 16-oz. cans, and a significant portion of all beer sales will be donated to BARCS. Eventgoers can also expect live music, local vendors, and food provided by Kooper's Chowhound. New this year will be a dog costume contest with prizes awarded to the best-dressed pup. BARCS, of course, will be on-site to answer questions and even bring a few animals available for adoption.
SHUT
Forno: It's a final curtain call for Forno this weekend. The restaurant and wine bar—the ideal spot to enjoy brick-oven pizzas and great happy hour deals before shows in Baltimore's theater district—announced that it is closing after nearly 10 years. "Lately, it's been a long fight, and I wasn't able to win it," owner Ricky Johnson wrote on Instagram. "That's okay. I'm proud of my staff for the work they did every day, and I'm thankful for our friends and neighbors for supporting us." Johnson went on to thank the dedicated communities tied to Everyman Theater and The Hippodrome, calling them "two fantastic institutions of this city that should be cherished." If you're as crestfallen as we are, carve out time this weekend for once last pie, charcuterie board, and glass of wine on Saturday from 6-10 p.m. or Sunday from 2-6 p.m.
Baba's Mediterranean Kitchen: After more than 14 years in business, Baba's Mediterranean Kitchen will close up shop in South Baltimore. Its last day of service will be May 14. "The business changes in a post-COVID world have given us little choice," owner Farid Salloum wrote on Instagram. He added, "I love that so many have cared so much for our food and for Baba's the past 14.5 years. That I have had a team so skilled and so passionate about what they have made for our patrons has been a life-changing bonus. You, and they, made me look forward to coming to work every day, and there are no words to express how appreciative I am for that."
Although it'll be hard to say goodbye to Baba's shawarma, falafel, fresh-baked pita, and delicious dips, the restaurant will endure through a newly released cookbook by Salloum, which is available now in store or on Amazon. Salloum also made sure to shout out his chefs Ryan Scalfari and Billy Bryan and where patrons can find them next. Scalfari will head to Cafe Campli in Hamilton-Lauraville, while Bryan will move to EAT (which stands for eggrolls and tacos) in Locust Point.
Liora and Double Zero: The Baltimore Banner reports that side-by-side, high-end vegan restaurants Liora and Double Zero—both opened by celeb chef Matthew Kenney—have closed in the Inner Harbor. Liora, which debuted in 2021, was known for its fine-dining approach to vegan cuisine, serving up an eclectic menu that featured bibimbap, udon noodles, tacos, fondue, and risotto. Meanwhile, pizzeria Double Zero offered vegan pies topped with delicacies like cashew mozzarella, eggplant bacon, and farro-fennel sausage. The Banner, speaking to a general manager, reported that some of the team hope to open a new plant-based concept, sans Kenney.