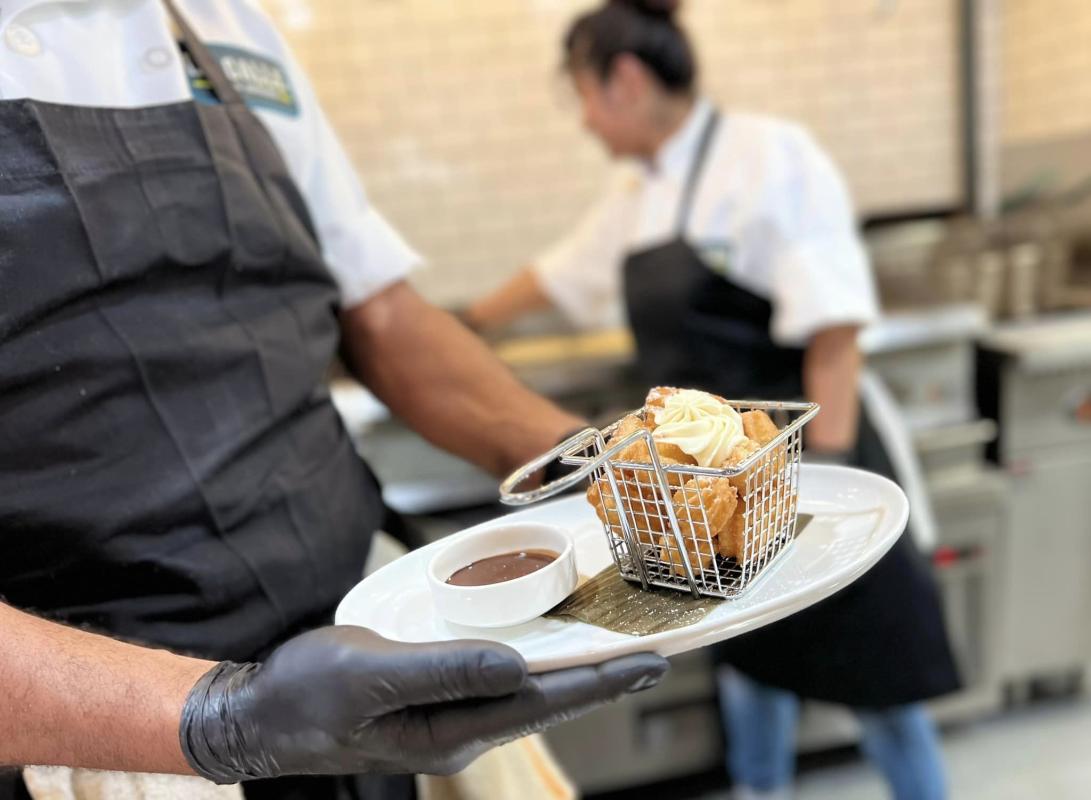 The mini churros at La Calle's new Fells Point location. —Courtesy of La Calle via Facebook
OPEN
La Calle: The globally influenced cantina is back. At the end of 2022, La Calle shuttered its downtown location near City Hall, but last month, it reopened in a new space at 623 S. Broadway in Fells Point. In honor of its new home, the restaurant—known for its ceviches, salads, tostadas, and chef-driven entrees—has expanded its list of tequilas and mezcals, as well as added more dishes to the menu. Co-owner Luis Sandoval says bestsellers so far include the pollo con mole, a pan-roasted half-chicken covered in mole. The flavorful sauce is made with "25 to 30 ingredients," he says. "The taste is sweet and spicy, and people are loving it." There's also brunch service, with offerings ranging from classic steak con huevos to sweet mini churros with vanilla mascarpone.
As for last year's closure, Sandoval says it was due to less foot traffic during lunch hours, which he attributes to the effects of the pandemic and more people working from home. "That was a hard decision," he says, "but COVID pushed us to make it." As a new home, Fells Point was desirable for its regular crowd of visitors and residents alike, as well as the other restaurants in the neighborhood.
The response so far has been encouraging, Sandoval adds: "Regulars are supporting us, and we're getting new customers that live nearby."
Lote 787 by Cane de Sucre: If you haven't stopped by Our Time Kitchen yet, let us give you another reason: A new food truck is now open in the back yard of the shared commercial kitchen in Old Goucher Wednesdays through Saturdays. From the minds behind local catering company Cane de Sucre, Lote 787 offers a build-your-own-bowl concept with Puerto Rican flavors. Proteins to choose from include sofrito chicken, pork al caldero, shrimp al ajillo, and (veggie option) jackfruit criolla. With a base of rice, vianda mash, or salad, diners can then top their bowls with items like a three-bean salad, chicharron, roasted corn, and onion and pepper escabeche.
The Dara: A new Thai concept has taken over some prime real estate in Fells Point. The Dara is now open in the former home of brunch hotspot Red Star at 906 S. Wolfe St. The cuisine focuses on the southern region of Thailand, offering seafood like seared scallops, mussels, and crab fried rice, plus spicy curries. Familiar Thai favorites are on the menu, too, like pad thai and drunken noodles. The restaurant is currently BYOB, but expect non-alcoholic beverages like Thai teas and coffee.
The Garden Rooftop: There's a new restaurant and lounge in the Bromo Arts District. Opening today, The Garden Rooftop is a concept from chef Justin Holloman, who also opened Unity Bar & Restaurant around the corner on West Centre Street last year. Garden will offer a restaurant with sit-down service on its first floor and a cigar and hookah lounge on its second floor, which features a retractable roof. "We want it to be a hub not just for great food, but great vibes," Holloman told us of the concept in 2021. "My fiancé and I often go out to eat and then leave to go continue the night somewhere else. Here, everything you want is in one location."
NEWS
Sagamore Spirit Gets New Majority Owner: It was announced this week that Sagamore Spirit, the Kevin Plank-founded rye whiskey distillery on South Baltimore's newly redeveloped Baltimore Peninsula, has sold a majority stake to Illva Saronno Holding S.p.A—the Italian spirits company known for producing Disaronno liqueur. In an effort to expand its U.S. portfolio, Illva will be relocating its North American headquarters to the Sagamore Spirit campus. Though the new firm will be taking over operations, Baltimore Peninsula spokesperson Eve Jalinoos confirmed to The Baltimore Banner that the whiskey-distilling process—which uses local corn and spring-fed water from Plank's Sagamore Farms in Reisterstown—will remain the same. "Growing Sagamore Spirit has been an incredibly rewarding experience with a team that has obsessed every detail across this holistically Maryland grain-to-glass whiskey business," Plank said in a press release. "I want to thank Illva Saronno Holding for their team's passion in understanding the specialness of our unique product and look forward to the outstanding horsepower they can add into its next chapter." 
COMING SOON
Jerk at Nite: This Washington, D.C.-based jerk chicken concept from Denville Myrie, Jr—which previously operated a location in West Baltimore and later announced plans to open in Pigtown—seems to be headed to Federal Hill. A post shared on Jerk at Nite's Instagram last week indicates that it will take over the former home of No Way Rose, which closed earlier this year. Myrie created the concept while he was a student at Howard University in 2013. He sold Jamaican jerk chicken from his dorm room, and it quickly became a go-to for other students' late-night sustenance (hence the name). Jerk at Nite now has two D.C. brick-and-mortar locations and a food truck, serving up dishes like jerk oxtail tacos and jerk lamb chops.
Fogo de Chão: Get those red and green-sided coasters ready. The Baltimore Business Journal reports that Fogo de Chão will take over the P.F. Chang's at Towson Town Center next year. This will mark the Baltimore area's second location of the Brazilian steakhouse, joining the first in the Inner Harbor. In a press release about its recent growth, the chain revealed that some locations opening in 2024 will feature enclosed patios, rooftops, and lounges designed for "unique dining occasions." Stay tuned for more.
EPICUREAN EVENTS
9/20: Campari Cocktail Dinner at Dutch Courage
Fan of the Negroni? Then you'll surely want to check out this special feast at Dutch Courage. The Old Goucher gin bar will host a Campari Cocktail Dinner on Wednesday, Sept. 20, when chef Alec Jacobsen will serve up four courses, each with a nod to the Italian liqueur. A preview of the menu includes monkfish and crab risotto. Bar manager Kim Vo will, of course, pair each course with a beverage. The dinner will have two seatings, one at 5:30 p.m. and the other at 8 p.m. Make a reservation on OpenTable.
11/11: H3irloom's 'A Story to Tell: An Ode to Hip-Hop' Dinner
Although it's not taking place for a few months, we suspect seats for this pop-up dinner by H3irloom Food Group will go quickly (tickets go on sale tomorrow). Chefs David and Tonya Thomas will host a dining experience inspired by the culture of hip-hop, in celebration of the genre's 50th anniversary this year. Diners will explore the "love affair between hip-hop and food" with courses like a dukkha-spiced barbecued quail, seared scallops, and sticky suya lamb rib. The dinner will take place at a secret location downtown.