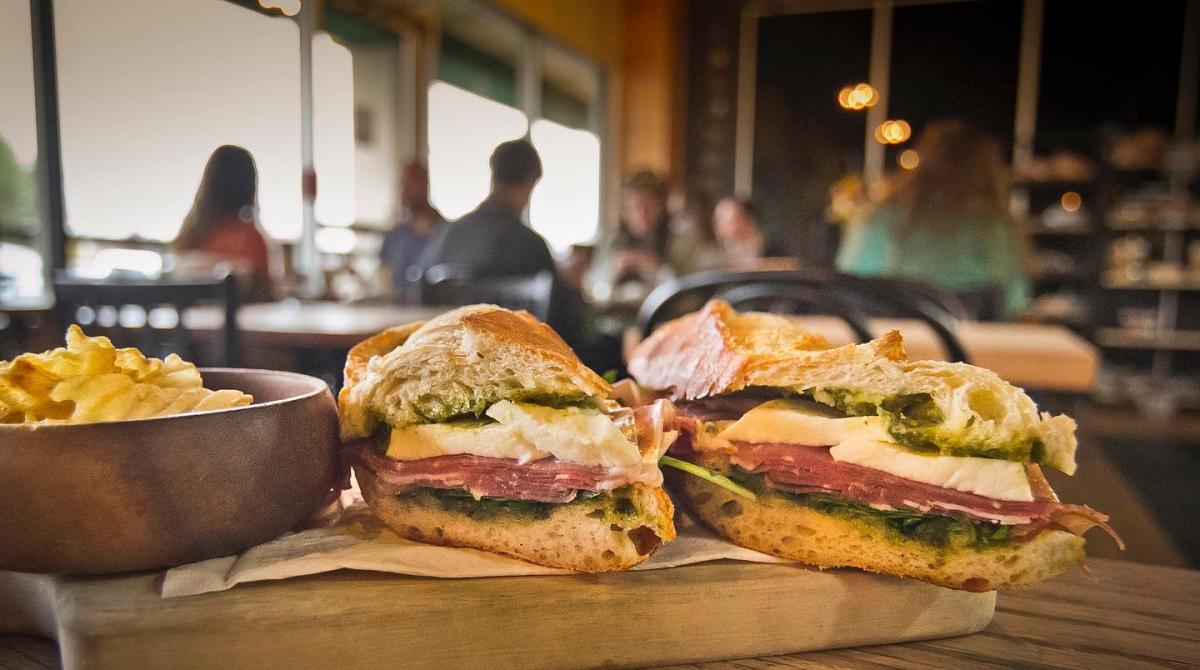 The prosciutto sandwich at Roggenart, which is now open in Towson. —Courtesy of Roggenart via Facebook
OPEN
Roggenart: A new location of this European-inspired pastry palace—which got its start in its now-closed Mt. Washington digs before moving on to open three cafes in Howard County—debuted in Towson this week. The new Allegheny Avenue shop is the largest of Roggenart's locations, serving its signature scratch-made croissants, strudels, tarts, and breads, as well as pressed sandwiches, loaded omelets, salads, and soups. According to the Baltimore Business Journal, expansion is slated to continue into the spring, when Roggenart will return to Baltimore City with yet another new outpost on the ground floor of the City House Charles building (formerly Grand Central nightclub) in Mt. Vernon.
COMING SOON
Catalog Coffee: Fans of the former Ground & Griddled at R. House and Cafe Cito in Hampden (RIP) are familiar with Dave Sherman—the mastermind behind the concepts' famous breakfast sandwiches. Thankfully, Sherman is returning to the area with something new—Catalog Coffee—which is expected to open on the Avenue in Hampden this summer. The space will seat 30 inside, and feature a roll-up garage door when the weather allows for outdoor bench seating out front. 
Not long after he closed Ground & Griddled at the end of 2021, Sherman began scouting brick-and-mortar locations for his newest cafe concept. Catalog's name was chosen for its definition: "a list of items from history." "We wanted to include some familiar favorites [on the menu] that the locals have come to know and love," Sherman tells us. "It's a nod to what we've done and what we want to continue to do in the community."
That means patrons can expect past fan favorites like the Cito Bird chicken sandwich, the Breakfast Banh Mi, and the Smashed Avo. New items will include a Catalog Club sammy and Catalog Cobb salad. For the beverage program, Sherman is once again working with David Anderson—"a coffee G in Baltimore," as he calls him—for coffees and teas on offer, including matcha, housemade cold brews, and hydrogenated teas. 
Why Hampden? Sherman says he noticed that there was "a real void in breakfast hours" on the Avenue, citing Spro Coffee's closure and Common Ground's move to Chestnut Avenue. "We felt like there was a real need for a morning and afternoon gathering spot with a lot of intention and thoughtfulness," he says. "We're excited to be back."
Crust by Mack: Big news dropped this week regarding chef Amanda Mack's beloved bakery Crust by Mack, which previously operated out of Whitehall Mill in Hampden. The Baltimore Banner reports that, after plans for her brick-and-mortar location in Midtown-Belvedere fell through, Mack signed on to be a tenant at Harborplace—the first under the downtown attraction's new owners, MCB Real Estate. "I never imagined having a space here," she told the Banner, adding: "Waterfront real estate statistically in Baltimore isn't for Black-owned small businesses, even though Black people make up more than half of these businesses' consumer base." While Crust's new, expanded home base—located on the second floor of the Pratt Street Pavilion—isn't officially open just yet, Mack celebrated the news with a special Pi Day pop-up (featuring her famous crab pies) in the space earlier this week. Stay tuned for grand opening updates. 
CH-CH CHANGES 
NiHao: If you've been to NiHao in Canton in the past month, you might've noticed some major changes. Originally opened by Lydia Chang (daughter of famed restaurateur Peter Chang) in 2020, the Chinese restaurant reopened last month after a brief hiatus to reconceptualize its menu. Peter Chang is now much more involved, and patrons will find some of his signature items on offer, including the bubble pancake and mapo tofu, as well as the Peking duck, which, of course, remains an option. When we stopped by for a recent visit, standout dishes included the sweet-and-sour crispy branzino, eggplant in garlic sauce, and sour cabbage and scallop fried rice. 
Karina Hou, a new partner in the restaurant, says that, although the original NiHao was critically praised (it even made Esquire's Best New Restaurants in America list in 2020) and popular among young professionals in the neighborhood, the pandemic—like for many restaurants—proved hard to adapt to. Many of the new menu items function well for takeout. But if you're dining in, the new NiHao also offers an extensive wine list, catering services, and a third-floor private dining room that Hou helped to design herself.
EPICUREAN EVENTS
3/17: St. Patrick's Day Food and Drink Specials
Searching for the best spots to hit? Look no further than our roundup of Irish pubs in the area—including Guinness Open Gate Brewery in Halethorpe and James Joyce in Harbor East—which plan to party all weekend long,
3/18: The Night Brunch Anniversary Party
This recurring foodie-and-music event will celebrate its anniversary with a can't-miss gathering at the Baltimore Peninsula office building on Saturday, March 18, from 6-10 p.m. "The food will be a mix of brunch, lunch, and desserts," The Night Brunch shared on its Instagram. "At our core, the experience is all about bringing people together over food, drinks, music, and good energy." Food vendors on the special lineup include Emmanuella's, Soul Smoked BBQ, Althea's Almost Famous, Culture Kitchen, AppleCore's Bake Shoppe, and juice from Extra Pulp. Kid Balloon will create a live installation during the event, and, of course, Night Brunch co-founder DJ Impulse will provide the beats. Tickets are $20.
SHUT
The Civil: Mt. Vernon dining destination The Civil has closed after five years. "With this being our first venture, we had no handbook, no set of rules nor any directions to follow, so a lot of our processes were trial and error," the restaurant wrote on Instagram. "At times our audiences were bigger than our vision." The post added that this isn't a goodbye, "just a temporary farewell" and teases a "rebrand and relocation" coming soon. In the meantime, patrons can visit The Civil's sister location, EAT.DRINK.RELAX, a few blocks up on Cathedral Street.
Pinch Dumplings: After seven years, Pinch Dumplings closed its stall at the Mount Vernon Marketplace food hall on March 5. But, like The Civil, Pinch said on social media it's only a "farewell for now" as it continues to evolve its business model. "We will still be offering wholesale dumplings and participating in pop-ups, as well as searching for our next moment—so have no fear, we'll be back in a Pinch," the dumpling shop wrote.