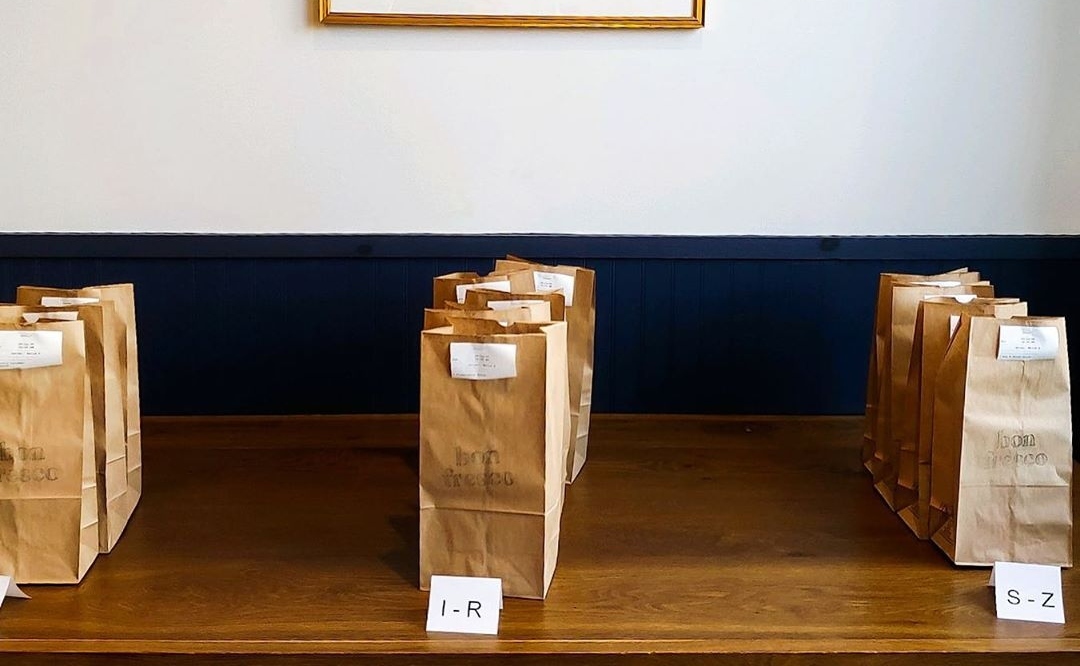 Last week, many area restaurants quickly responded to the COVID-19 crisis, taking precautionary measures by increasing sanitation efforts, printing disposable menus, sanitizing surfaces, and distancing tables.
As concern heightened throughout the weekend, some restaurants announced voluntary closures, including Fells Point businesses Max's Taphouse, Kooper's Tavern, and The Horse You Came in On Saloon.
Tony Foreman, whose Foreman Wolf Restaurant Group owns Charleston, Petit Louis, Cinghiale, Bar Vasquez, and Johnny's, says there was a major downturn in diners over the weekend.
"Saturday night was fine, but you could feel it coming," he says. "On a typical Sunday at Johnny's we do 150 to 180 dinners. Last night we did 35."
And then today, the hammer dropped.
While many restaurants continued to weigh what to do, Governor Larry Hogan ordered the closing of all Maryland bars and restaurants by 5 p.m. on Monday, March 16 to slow the spread of COVID-19. The deadly virus has wreaked havoc on businesses across the state—and nowhere is this more acutely felt than in the restaurant industry, a business based on social contact.
According to figures from Resy, a national reservation platform for higher-end restaurants, as of last Wednesday business was down by 20 percent across the United States from a year ago, by 30 percent in New York City, and as much as 60 percent in Seattle, with the highest reported number of cases and deaths in the country.
At his press conference Monday morning, the governor said the unprecedented steps "may seem scary," continuing that the state has never faced anything like this before. "This is going to be much worse than anyone is understanding," Hogan said.
Hogan is allowing for area businesses to stay open for delivery and curbside takeout. Many restaurants have been making the switch in the past few days, including The Corner Pantry, Foraged, Baby's on Fire, Bon Fresco, Nepenthe Brewing Co., R. House, Stone Mill Bakery and Cafe, Orto, Sobo Market, and Clavel, which is offering its signature dishes along with special batches of spicy mezcalitas to-go.
In Little Italy, Aldo's chef/owner Sergio Vitale is leading the charge with a new website for patrons to get food delivery and curbside pickup from neighborhood favorites including Aldo's, Café Gia, La Scala, and Lew Gambino's.
"Gia [Fracassetti] and I came up with this in response to these challenging times," says Vitale, who points out that his full menu will be available to patrons. "My own father, chef Aldo, is 75 years old and at risk. We must all do our part to mitigate and combat the spread of COVID-19." Vitale also points out that purchasing online gift cards to Little Italy restaurants is "another way to support the businesses you love."
Even restaurants that don't usually do a big takeout service are encouraging diners to place orders and pick them up curbside. All Foreman Wolf restaurants, with the exception of Charleston, for instance, will offer takeout, as well as delivery services at their Bin 201 and Bin 604 wine shops in Annapolis and Harbor East.
Josh and Stephanie Hershkovitz, the siblings who own Hersh's in South Baltimore, embraced the carry-out only model over the weekend, even before Hogan's mandate.
"It was a difficult decision to close," said Josh, in a lengthy email filled with emotion. "At the end of the day, we both feel that if you believe in the human endeavor of science, you have to live by the practices that bear the best results, with respect to pandemic mitigation."
This past Friday evening, Hersh's saw a packed house and hosted a rehearsal dinner in the upstairs dining room.
"This crazy night filled us with joy at our restaurants' impact on our community, but also a sense of dread as we watched folks waiting for tables, reaching over each other to get drinks, and rubbing up against each other as servers walked by them to get food to tables," Josh added. "It was this packed night that steeled our resolve and made us commit to closing. We put so much love into our food and our hospitality that we have no doubt that our customers will see this move out of love, as well."
At La Cuchara in Hampden, chef/co-owner Ben Lefenfeld said he and his team spent the whole morning preparing to shut down well before the governor made his announcement.
"I think that Governor Hogan is doing the right thing," Lefenfeld says. "As a business owner, it was tough to figure out what to do. I'm glad we finally got some guidance."
On a good day, the service industry operates on razor-thin margins. As workers scramble to make a living, employers are no doubt facing the tough decisions of laying off staff.
Alex Smith, president of Atlas Restaurant Group, concurs with Lefenfeld. "I agree the governor made the right decision for everybody," he says, adding that his restaurants tried to stay open as long as possible to support their hourly employees, who rely on a base wage and tips from customers. "As a business with 1200 employees we can't afford to pay all of them without revenue coming in."
Lefenfeld adds that he and his team are weighing whether or not they will be open for carry-out next week, but for now they are selling gift cards.
"Twenty-five percent of the sale of the gift cards is going to our staff," he says. "We are doing all that we can to keep people afloat."
With regard to his 60 employees, Lefenfeld says that he is attempting to not let anyone go. "Everyone is using paid time off and we are hoping to pay our salaried employees through this entire ordeal," he adds.
The Hershkovitz's are trying to create other employment opportunities for their team.
"Being creative, we've come with several options for each staff member, from temporary unemployment to being part of our carry out/delivery operation to working at our father's supermarket, which has no lack of positions for folks interested in working," says Josh. "We have predicted our temporary closure will last about two weeks, but we will monitor the situation as it progresses."
Though many chefs and restaurateurs are working diligently to secure employment for their staff, there is still a fear that some might not survive an indefinite shutdown: "This will close a lot of restaurants," Foreman says. "A lot of places won't be able to sustain this."
Adds Smith, "It's going to hurt."
While the impact will be felt for some time to come, Lefenfeld points out that Charm City is uniquely resilient.
"The Baltimore restaurant community is a pretty tight-knit group," he says. "People will rally, not just around the restaurants, but all of the small businesses in the city and support each other."