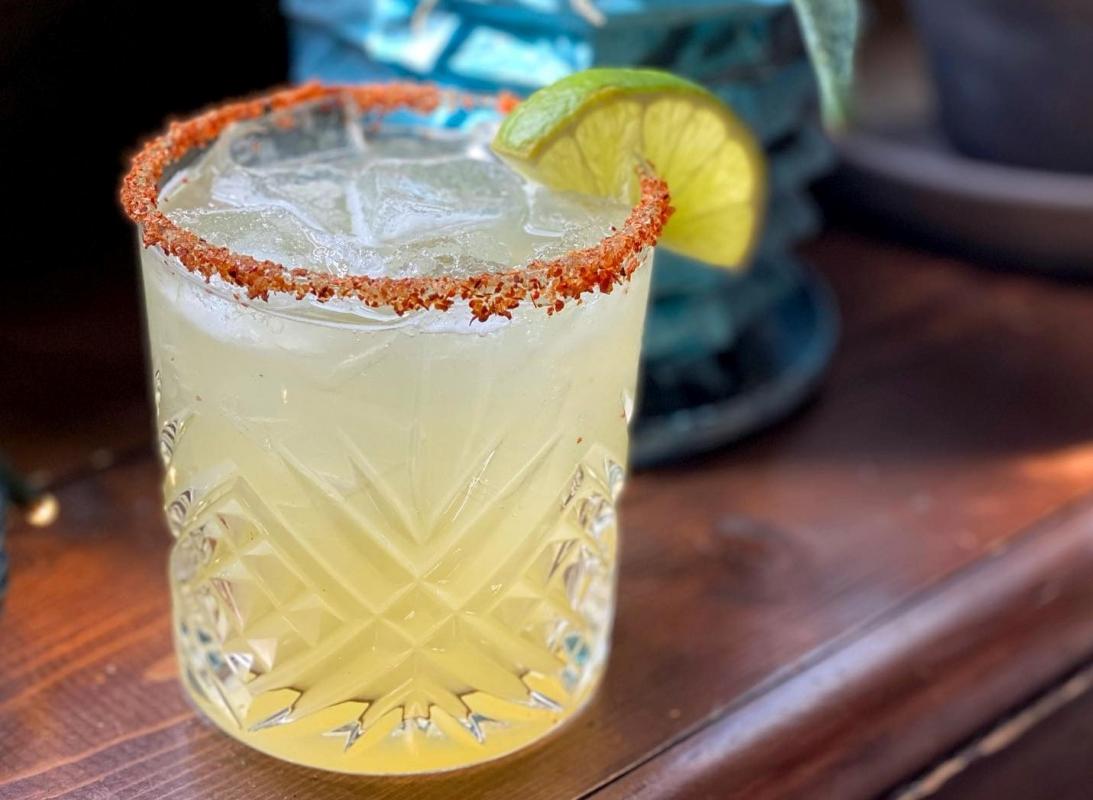 —Courtesy of Barcocina via Facebook
One might think that National Margarita Day would fall sometime during the warmer months, but we'll take a strong tequila drink—especially one that conjures thoughts of beaches and warm breezes—any time of year. Whether you're an on-the-rocks type of person, or a fan of smoky cocktails garnished with chili flakes and pineapple wedges, the local bar scene offers plenty of ways to partake on February 22. To celebrate in style, spice up your average post-work happy hour by heading to any one of these local watering holes.
Alma Cocina Latina: Among the city's many margarita purveyors is this Station North spot that pays homage to owner Irena Stein's roots in Venezuela. In addition to the decor and cuisine, the restaurant's Latin American vibe also shines through in its cocktail list, which boasts a signature house margarita made with barrel-aged tequila, lime juice, and fresh agave nectar. 1701 North Charles St.
Banditos Bar and Kitchen: With an expansive tequila and mezcal menu, this neighborhood spot makes a mean marg. Visit the Federal Hill flagship, or the White Marsh spinoff, for strong sippers made with fresh lime juice and agave nectar.
Barcocina: Follow the Fells Point cobblestone to this waterfront hangout, which pairs its signature dips and tacos with a menu of refreshing cocktails. Aside from the house margaritas on tap, the bar crafts a blackberry iteration (blanco tequila, cointreau, lime juice, house sour mix, and blackberry-rosemary simple syrup), as well as the signature "Margarita En Fuego" made with jalapeño-infused tequila. 1629 Thames St. 410-563-1500
Blue Agave: This Federal Hill favorite is an ideal spot to catch up with friends over classic margaritas on the rocks and a basket of house-fried tortilla chips. To switch things up, sample flavors such as mango, prickly pear, pomegranate, red pepper, or the "Spicy Guavarita" mixed with guava syrup and a splash of pineapple juice. 1032 Light St., 410-576-3938
Clavel: From the interior greenery to the house-made tortillas, everything about this Remington hangout is meant to mimic the atmosphere of the owners' beloved Oaxaca, Mexico. The top-notch beverage program—which makes use of house-grown ingredients like hibiscus and squash flowers—features a collection of unique margaritas including a spicy version with tres chiles shrub and the signature "Mezcalita" garnished with grasshopper salt. 225 W. 23rd St., 443-900-8983
El Bufalo Tequila Bar & Kitchen: It should come as no surprise that this Canton mainstay, whose margaritas take up their own section on the drink menu, will be a go-to for the tequila-filled holiday. Flavors to please every palate include strawberry, coconut, cucumber basil, sweet heat, and the "Fizzy Bellini Marg" topped with Champagne.   2921 O'Donnell St. 410-814-0594
Felipe's Mexican Taqueria: Since 2/2/22 happens to fall on a Tuesday, this Towson hangout is celebrating accordingly with two-for-one margaritas. Swing by The Shops at Kenilworth to step up your happy hour game with the discounted drinks—made with fresh-squeezed citrus—which arrive either frozen or on the rocks in flavors including strawberry, passionfruit, and mango. 842 Kenilworth Drive
Holy Frijoles: If you're celebrating on the Avenue in Hampden, stop in to this hallowed haunt to sip one of the many margs on offer—and play a game of pinball while you're at it. If you're a purist, enjoy the classic margarita with tequila, triple sec, house sour mix, and a requisite salt rim. Those looking to customize their drink can add mango, strawberry, prickly pear, or pomegranate puree for $1 extra, or go for the frozen wildberry "Velvet Hammer." 908 W. 36th St. 
La Food Marketa: There's no shortage of Spanglish fare at this Baltimore County favorite located in Pikesville's Quarry Lake at Greenspring. Chef Chad Gauss's spinoff of The Food Market in Hampden boasts a beverage list highlighting everything from draft beer and Mexican sodas to mojitos and sangrias. But the restaurant's margarita menu—featuring classic and spicy grilled pineapple varieties that can be ordered by the glass or pitcher—is the true claim to fame. 2620 Quarry Lake Drive, Pikesville, 410-415-0606
La Tolteca: With locations scattered everywhere from Owings Mills to Bel Air, this casual cantina has become a go-to for diners across the state. Marvel at the Mexican murals while chowing down on cultural classics like nachos, burritos, and deluxe salads. Be sure to wash it all down with massive strawberry, raspberry, peach, mango, coconut, or lime-flavored margaritas. Multiple locations including 11515 Reisterstown Rd. 
Maximón: Highlighting stone arches, lush greenery, and frequent live Latin jazz, this Harbor East hotspot is inspired by the flavors of Mexican and South American cuisine. You can't go wrong with a basket of tortilla chips and an order of the house guacamole—topped with queso fresco and seasonal fruit—for the table. Paired with the signature Maximon Margarita—made with Tequila Ocho Plata, Cointreau, agave, lime, and salt—it's a perfect match. 200 International Drive. 
Nacho Mama's: This Canton Square stalwart, which also features a second location in Towson, has a longstanding reputation for putting its own Baltimore spin on the classic Mexican cantina. But aside from the crab quesadillas, Orange Crushes, and Natty Boh tallboys, the restaurant's true specialty is its hubcap margarita. In keeping with the Elvis-themed interior, the drinks—served in actual hubcaps—come in varieties like the "Graceland" (house tequila, triple sec, lime margarita mix), the "Blue Suede Shoes" (El Jimador and blue Curaçao), and the "Priscilla" (Don Julio Blanco, Cointreau triple sec, and lime juice.) Multiple locations including 2907 O'Donnell St., 410-675-0898
Papi's Tacos: There's something for everyone at this local taco joint, which showcases a lengthy list of unique margarita flavors including passion fruit, watermelon, mango, and pineapple chili. A special "Margaritas Locos" menu lists drinks like a jalapeño-infused "Rita En Fuego. On National Margarita Day, head to the brand new Towson location to sip $30 pitchers with friends. 826 Dulaney Valley Rd. 
Vida Taco Bar: The strictly tacos-and-tequila menu at this Harbor Point hangout makes it an ideal spot to celebrate National Margarita Day. There are plenty of tequila drinks, including a citrusy Paloma and the hibiscus and cinnamon-infused "Purple Drank," to choose from. 1401 Point St. 443-835-3474
Zen West: This York Road haunt, located just a stone's throw away from Belvedere Square, is known for its strong sips and tasty Tex-Mex plates. Line your stomach with eats like Texas chili, fajitas, and quesadillas before downing a blood-orange margarita or the bar's signature "Sangrita"—a frozen house margarita swimming in sangria. 5916 York Road, 410-323-3368
Additional fact checking by Reines Maliksi.