Food & Drink
We raise a Boh to Baltimore's old-school watering holes.
---
By Lydia Woolever
Photography by J.M. Giordano
Lettering by Luke Lucas
Spot illustrations by Jason Schneider

ALLY HUTCHINS HAS SPENT MOST OF HER LIFE behind the bar at 1919. On a Wednesday evening in late October, the 60-year-old Baltimore native stands with her back to the register, taking drink orders from patrons who arrive as soon as the door opens at 5 p.m.
"Hi, Dominic—what can I get for ya?" she shouts to a regular, her gray braid swinging as she lets out a raspy laugh and The Young Rascals' 1967 "Groovin'" plays softly on the stereo.
Hutchins is at home here, as her family bought the place and its blue neon sign back in 1984, and she now lives upstairs with her husband, John, and their bull terrier, Sniffy. Usually, she's downstairs, amidst the tchk of beer cans and above the loose-leashed dogs who mosey in through the alley of this neighborhood hangout, which is tucked back from busy Fleet Street on the eastern edge of Fells Point. In fact, blink and you can miss it. Though not once you're inside.
"Put something up and it never comes down," says Hutchins, looking around the shrine-like walls, where every inch is covered in fading photographs, folk art, bumper stickers, cattle skulls, and Christmas lights that glow year-round—an eclectic patina that reflects the cast of local characters who have made this their bar.
"We've had two deaths here, one wedding, and some people have even told me that they got pregnant because of my drinks," says Hutchins. "But at the end of the day, it's just a bar. Sometimes magic happens. Sometimes nothing does."
Of course, such stardust does not grace every drinking establishment, and bars like 1919 are becoming an endangered species. Today, we call them dive bars, which was once heard as an insult but now is an undeniable term of endearment, particularly in these changing times. As longtime owners age out, new developers move in, leaving a sleek homogeny of high-end cocktail bars and hipsterfied microbreweries in their wake.
Dive bars defy definition, ranging in the eye of the beholder from simple, old-school, corner taverns beloved for their bouffanted barkeeps to rough-around-the-edges drinking dens with dim lighting and rock-and-roll. Always, they sell affordable drinks and lack most modern amenities. Maybe there's a jukebox, or dartboard, and often, a well-worn pool table. The faint whiff of cigarette smoke is commonplace. As is Keno. Don't expect websites or social media—just know they close late (or at a last-minute time of their choosing) and a handful still open at sunrise. Night and day, there are regulars, most of whom live within crawling distance of this de facto living room.
"People would probably strike if we closed, so we keep going," says Ana Marie Cushing of Cat's Eye Pub on Thames Street, even as neighbors like BAR and The Wharf Rat fall like dominoes.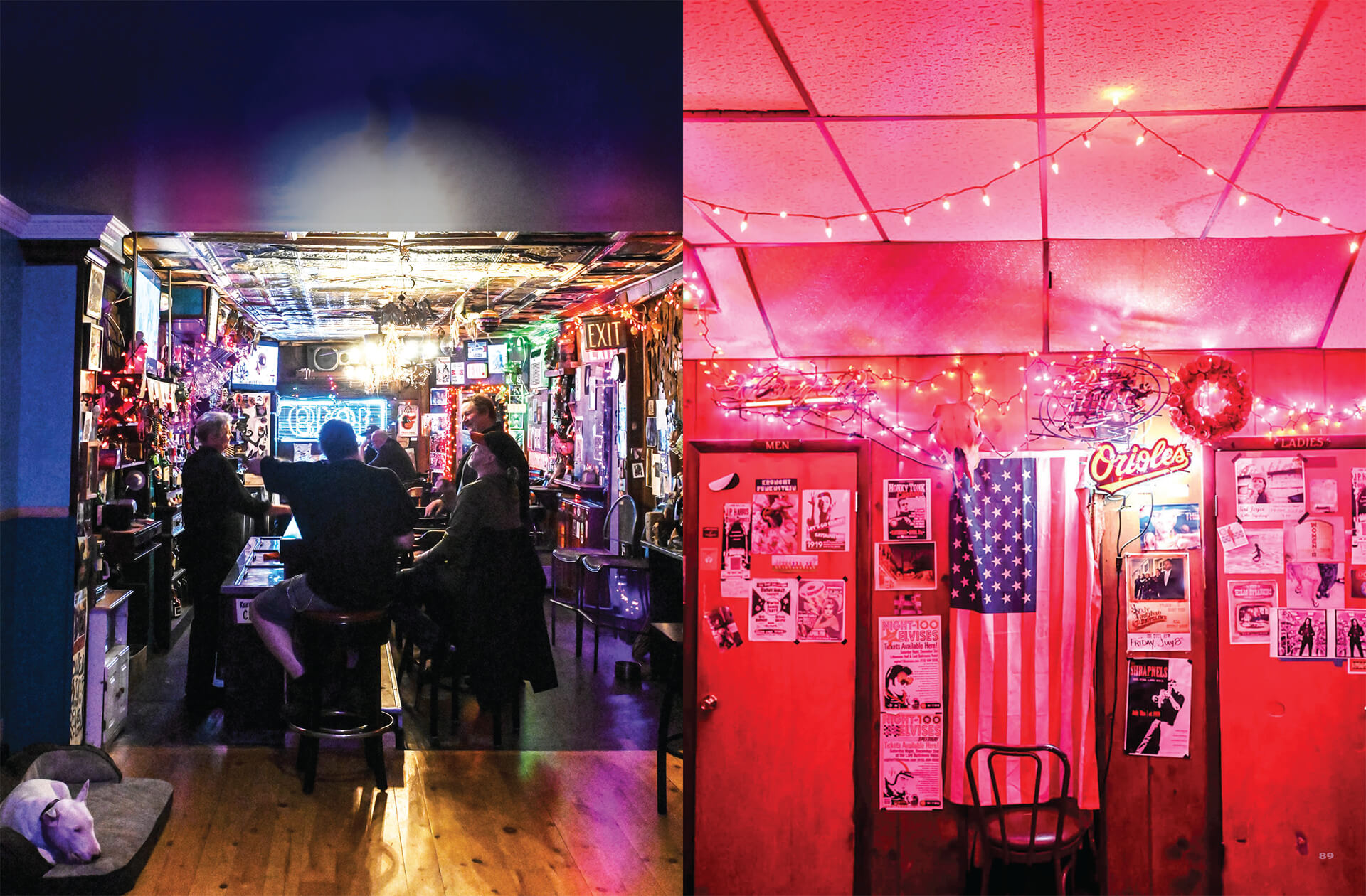 Above: Scenes from 1919 in Fells Point.
In Baltimore, neighborhood bars were once a dime a dozen—some straightlaced, some rowdy—with seemingly every corner offering a beer and a shot to a mix of shift workers, sailors, artists, newspapermen, and other street-roving souls. In 1968, there were 2,200 liquor licenses to today's 1,221, and by 1979, Baltimore magazine predicted that, soon enough, "New bars will all look the same, and how a drinker is to tell one hanging-fern/exposed-brick/butcher-block-tabled spot from another escapes [us]." That proved alarmingly prescient. Then the coronavirus pandemic closed even more of these one-of-a-kind haunts for good.
"When one place goes, a little piece of you goes with them," says Andy Norris, second-generation owner of Bertha's Mussels, which will shutter on South Broadway this month after 50 years in business. "People come here from other places and find their own families here. Which epitomizes Charm City."
Indeed, these bars are intertwined in Baltimore's identity—frayed tethers to its underdog spirit and blue-collar roots, crumbling temples of simpler times. Here, conversation conquers digital scrolling, and community is formed over strong-pour communion. At their best, these are everyman spaces—where regardless of age, class, race, or gender, everyone can come together over the Orioles, Utz, and Natty Boh. Though some have undoubtedly opened their arms to outsiders more than others.
"We welcome everybody," says Ben Franklin, veteran bartender at the Mt. Royal Tavern in Mid-Town Belvedere. "That is, until you become an asshole—then we throw you out."
No nonsense. No nostalgia. No irony. No frills. No fuss. Baltimore dives hold the line between the past and future, where behind brick glass and Formstone facades this city can remember where it came from, and, with a good buzz, consider where it wants to go.
At the very least, we can still pull up a barstool and push the limits of last call just a little bit longer, particularly at places like those featured below.
"This place has given me life," says Hutchins, noting that her daughter, Zana, who manages 1919's live-music lineup, hopes to take over the bar one day. By 6 p.m., it's standing-room only, though no one seems to mind. "I'll probably stay until I can't get up and down the steps anymore. Besides, what else am I going to do?"
A vintage cigarette machine greets you at Club Charles.
---
3 MILES HOUSE
REMINGTON
There are few places in Remington where the old and newly revitalizing neighborhood collides more than this blush-colored hole-in-the-wall on Miles Avenue. For the last two decades, 3 Miles House has been an enclave for longtime locals to wind down after a hard day's work. Most regulars knock back cans of red-label Budweiser, with scratch-offs sold behind the bar, along with Newport cigarettes for the smoking patio out back. It's the old guard for the first few hours of service, but on weekend evenings, more recent residents trickle in for the lacquered jukebox and games of darts under the watchful eye of a painterly portrait of John Wayne.
Know The Way: Get buzzed in through the 27th Street door, next to the mural of the bar's late house cat, Missy, who was known to curl up against customers.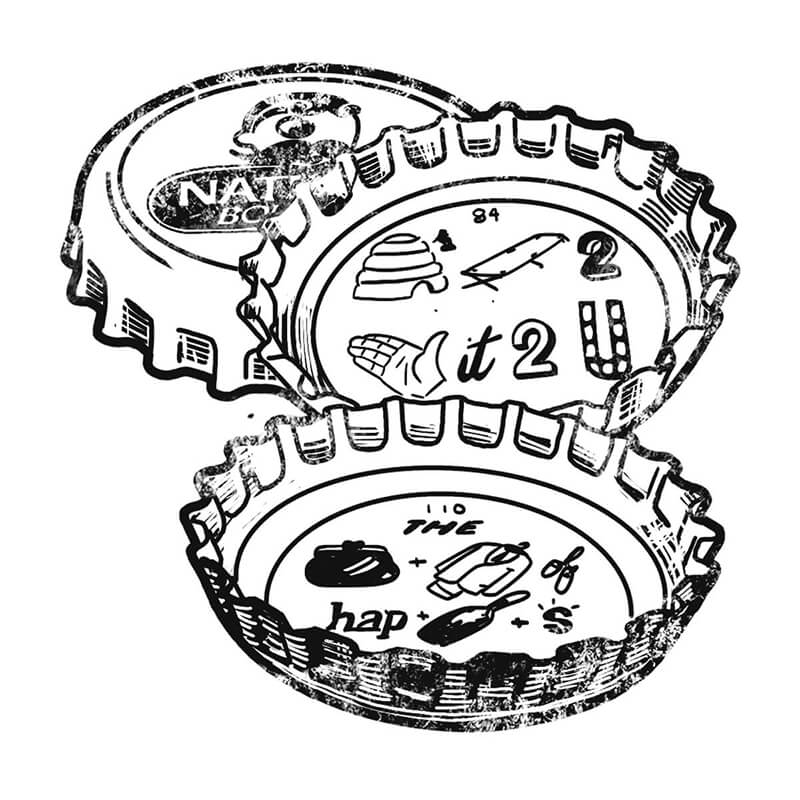 THE BOILERMAKER
Beloved by bartenders, this shot-and-a-beer combo was apparently named for the post-shift drink of steam locomotive workers in the 1800s. Whether downed as a slow sip or quick chaser, it remains a cheap, stiff way to take a load off. Never go wrong with a bourbon and Boh.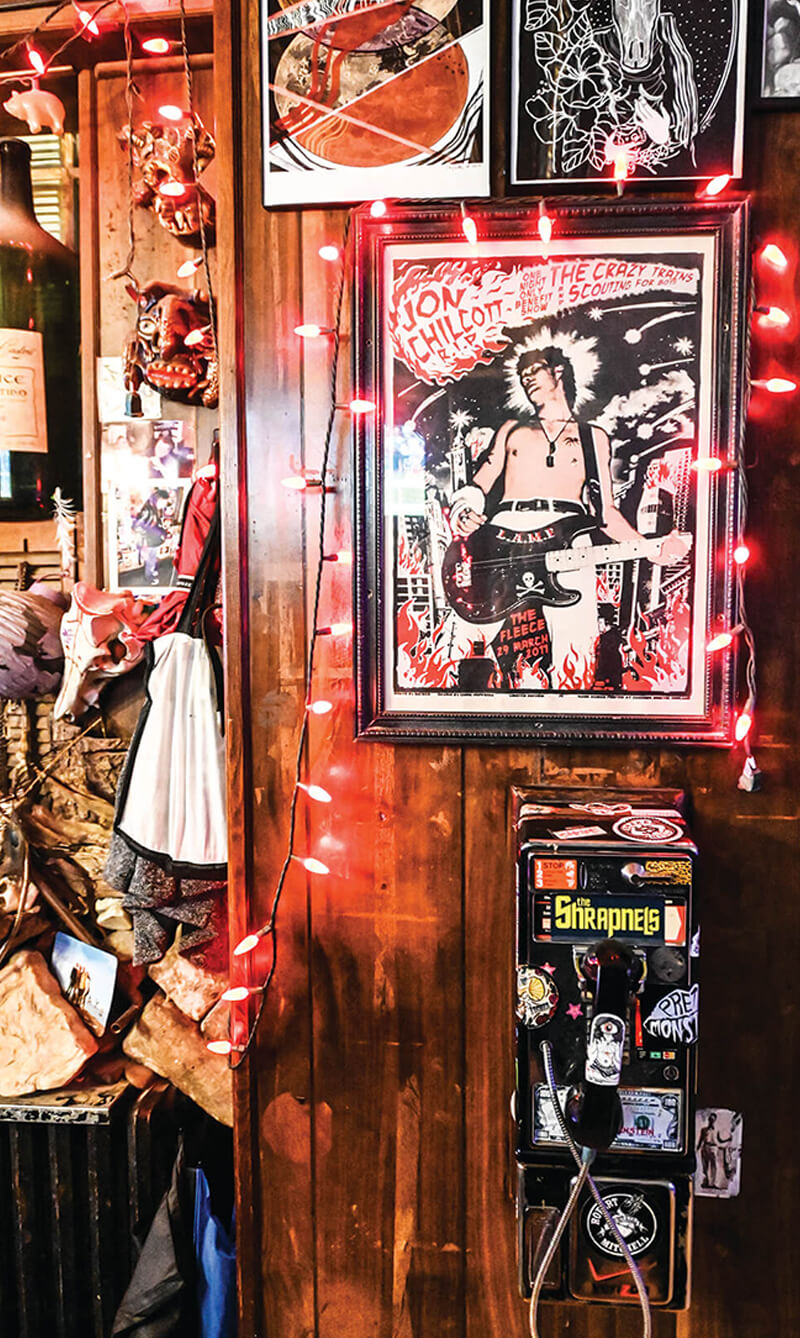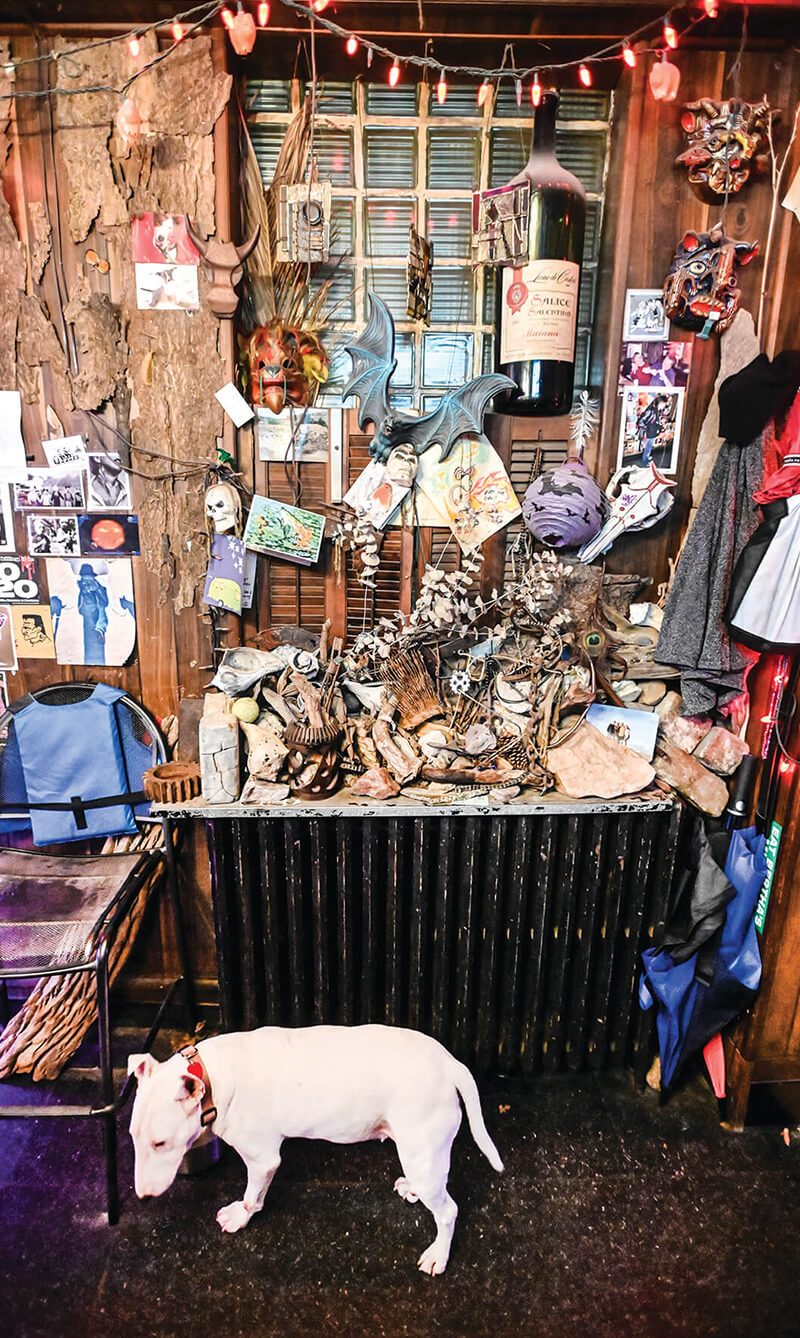 Above: An old pay phone and abundant memorabilia at 1919; the 1919 mascot, Sniffy.
1919
FELLS POINT
There is a good chance you've driven down Fleet Street a thousand times and never known that on the edge of a quiet alley sits this hidden gem of a neighborhood bar. Once you discover its blue neon sign, you'll want to return time and time again to this narrow Fells Point rowhouse, covered in an eclectic mix of mementos gathered over the last 38 years. Amidst dusty chandeliers and colorful string lights, it's a whimsical swirl of weird and wonderful that bottles some dwindling essence of Baltimore, where artists, musicians, and other bohemian types mingle with both lifelong and come-lately neighbors over cans of beer, booze on the rocks, or owner Sally Hutchins' special dirty martinis. On weekends, expect an impressive lineup of live alt-country tunes, from bluegrass residencies to their monthly hootenanny.
Must Love Dogs: Enter like a local through the side door, where repeat customers often bring four-legged friends for happy hour.
---
BUCK FOWLER'S TAVERN
OVERLEA
Google might say that Buck's on Belair Road—pronounced "b'lair" in these parts—is permanently closed. But past northeast Baltimore's autobody shops and car dealerships, on the literal city-county line, you'll find this circa-1950 tavern is still kicking, though just barely. Into the '90s, the family-run, former "stag bar" (aka men only) was a popular hangout for Colts players like Art Donovan and Bruce Laird, but many of its biggest fans have kicked the bucket in recent years. Even so, the Coors Light sign turns on daily at 11 a.m., with WBAL on the TV, a Sun on the oak bartop, and perhaps the city's best dartboard in the back room. During a recent lunch beer, one local, whom the tenured bartender referred to as "the mayor," topped off his own tequila and talked about how bustling the place used to be. Take his advice: "If you're not looking for a lot of wild and crazy excitement, come on down, sit with the old farts, and have a beverage."
All In The Family: The second-generation proprietor, Chuck, passed away in 2004, when he was eulogized in The Sun as "the host with the most," leaving the business to his son-in-law.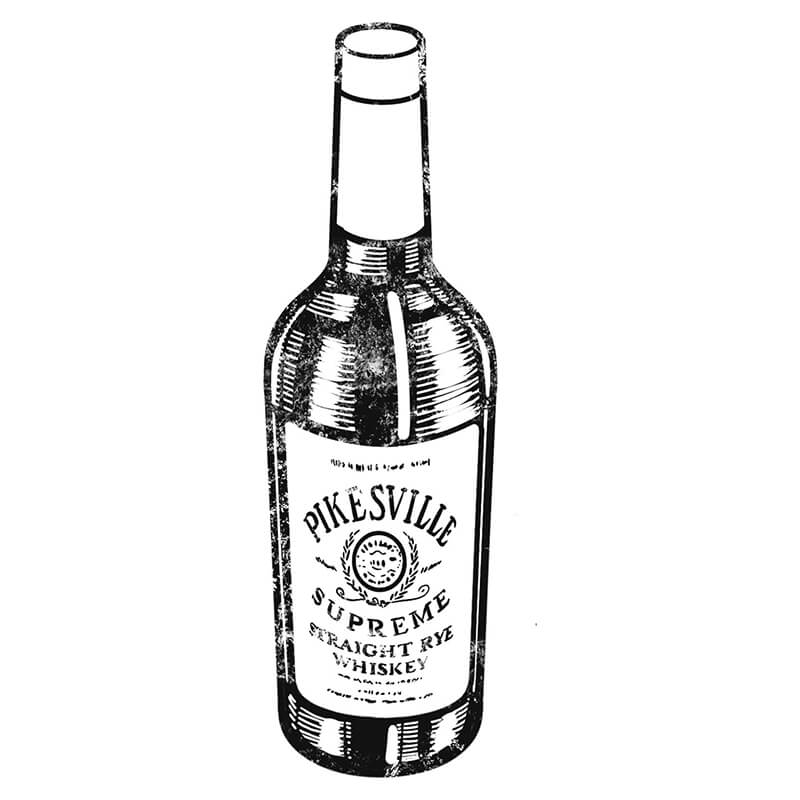 R.I.P. WHITE LABEL
There was a time not that long ago when every Baltimore dive kept a rail bottle of white-label Pikesville Supreme behind the bar. First distilled in Maryland in the late 1800s, the rye whiskey was discontinued in 2016, much to the chagrin of imbibers with frugal wallets and decent taste.
BUTTS & BETTY'S
UPPER FELLS
The red neon in the oblong windows of Butts & Betty's speaks to the sort of all-service glory days that this 87-year-old linchpin once offered near Patterson Park. Unlike the packaged goods advertised on aging bar signs across the city, this Gough Street bar touted sandwiches and money orders, while a newer marquee with some missing letters also now trumpets lottery, NFL, and a working ATM. Sadly the hot pastrami has disappeared, like most of the Bethlehem Steel workers who used to show up for drinks and dinner at 6 a.m. Pizzas now get nuked behind the bar to help buffer the Jameson and Jell-O shots that flow so freely here. Keno and a purple pool table encourage you to stay awhile, while neighborhood pups, like Penny the pug, greet guests like they own the place.
Leading Ladies: The bartenders of this fourth-generation, family-run, woman-owned business are that just-right blend of surly and sweet that makes a modern Bawlmer hon.
CAT'S EYE PUB
FELLS POINT
If Baltimore had an official honky-tonk, it would be down the cobblestones of Thames Street and up through the turquoise portal of Cat's Eye Pub. Seven days a week, this Fells Point anchor cranks out a serious roster of live music—from rock-and-roll and blues to funk and jazz by notable local and regional favorites like Nothin' But Trouble, Sean K. Preston, and Ursula Ricks—luring a rug-cutting crowd, always ready for a good time. Maritime memorabilia nods to the neighborhood's past, when watering holes like this old faithful were safe harbor for the tugboat captains and visiting sailors of a working waterfront. As fancy hotels, valets, and bouncers move in on the surrounding blocks, Cat's Eye, circa 1975, keeps the salty-dog flame burning. Pick one of the 35 beers on tap, ogle at the old oil-painting homage to Ireland, and ask for second-generation owner Tony Cushing, who is often behind the bar and ready to pour a round of shots.
Love Letters: After several coats of paint, management has conceded that the bathroom graffiti is a rite of passage. Grab a Sharpie and leave your mark.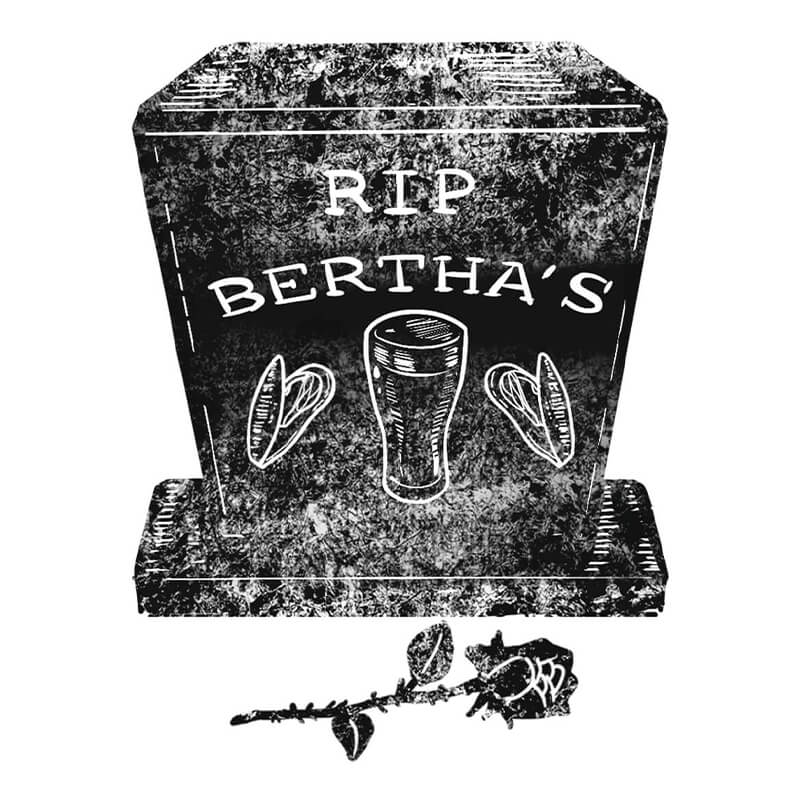 GONE BUT NOT FORGOTTEN
Let's pour one out for those that have left us lately.
American Harry's
Backstretch Saloon
Bad Decisions
BAR
Bertha's Mussels
Dimitri's
The Dizz
Holiday House
Leadbetter's
Long John's Pub
Midway Bar
Morsberger's Tavern
Park Inn
Pop's Tavern
Rendezvous Lounge
The Wharf Rat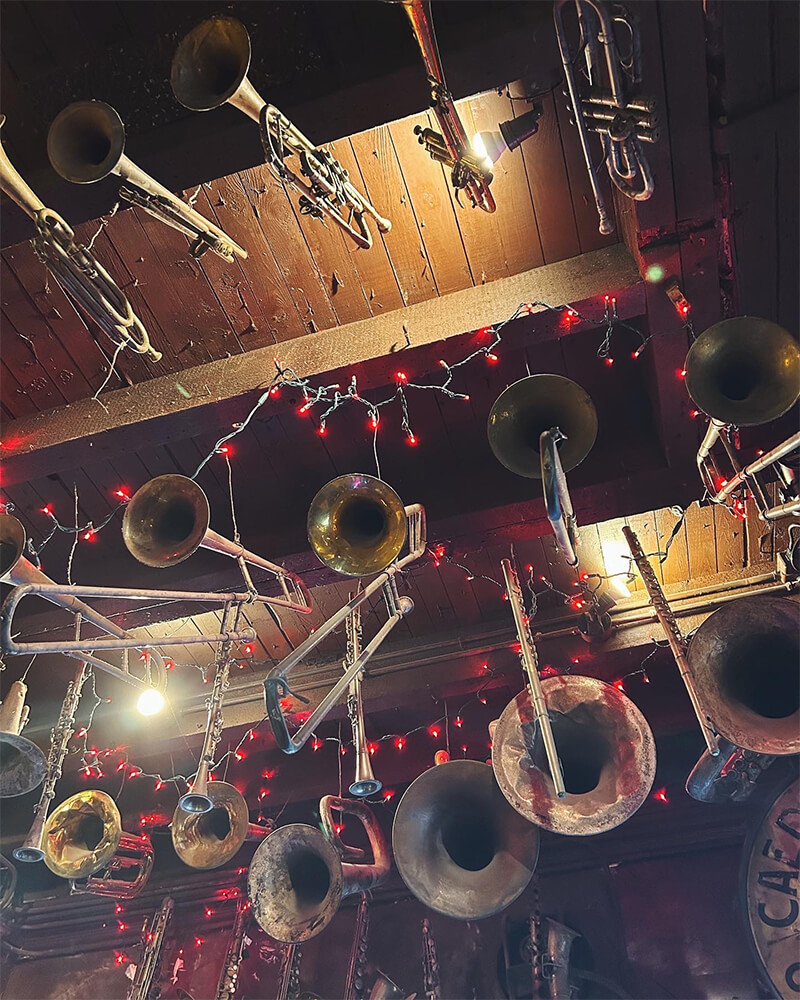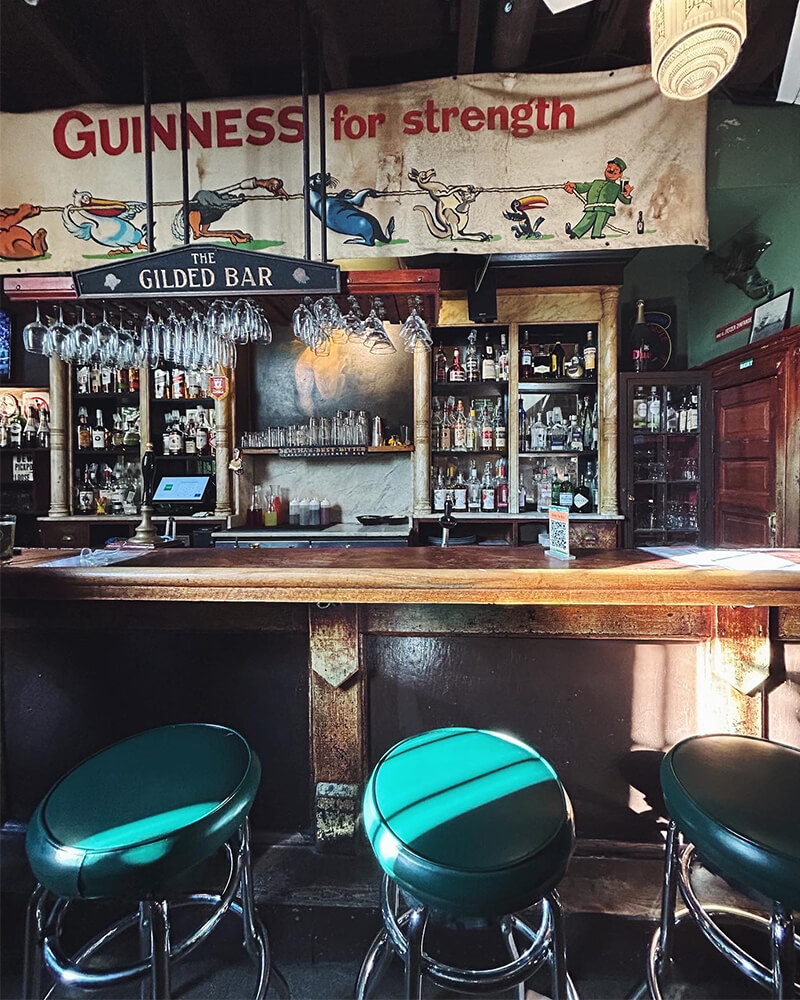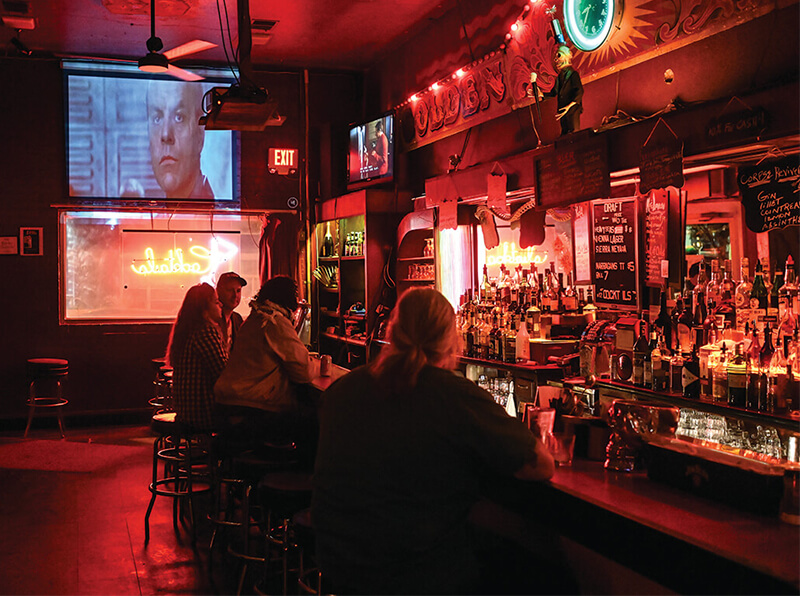 Above: The main bar and the exterior neon at Club Charles in Station North.
CLUB CHARLES
STATION NORTH
We got into a heated debate at the Mt. Royal Tavern over whether Club Charles qualified as a dive bar. Low lighting? Check. Cheap beer and shot combos? Check. A Rock-Ola jukebox featuring an incredibly curated catalogue that ranges from David Bowie to Björk? Check, check. Sure, Club Chuck, as it's affectionately known, is hard to categorize, but in our eyes, this Art Deco hideout has all the charm, edge, and crimson Lynchian lighting that fits the bill. Open Wednesday to Sunday until 2 a.m., it's a rendezvous for night owls of all ilks, often featuring a cast of creative characters and the occasional visit from our own Pope of Trash, John Waters. Trust in the front window's neon "Cocktails" sign—the bartenders here make bona fide concoctions, often featuring macabre names like Persephone and Corpse Reviver. We opt for the rye Manhattans.
Pulp Fiction: Owner Joy Martin's mother, Esther, opened the bar as The Wigwam in 1951, which Waters once described as "Studio 54 for bums."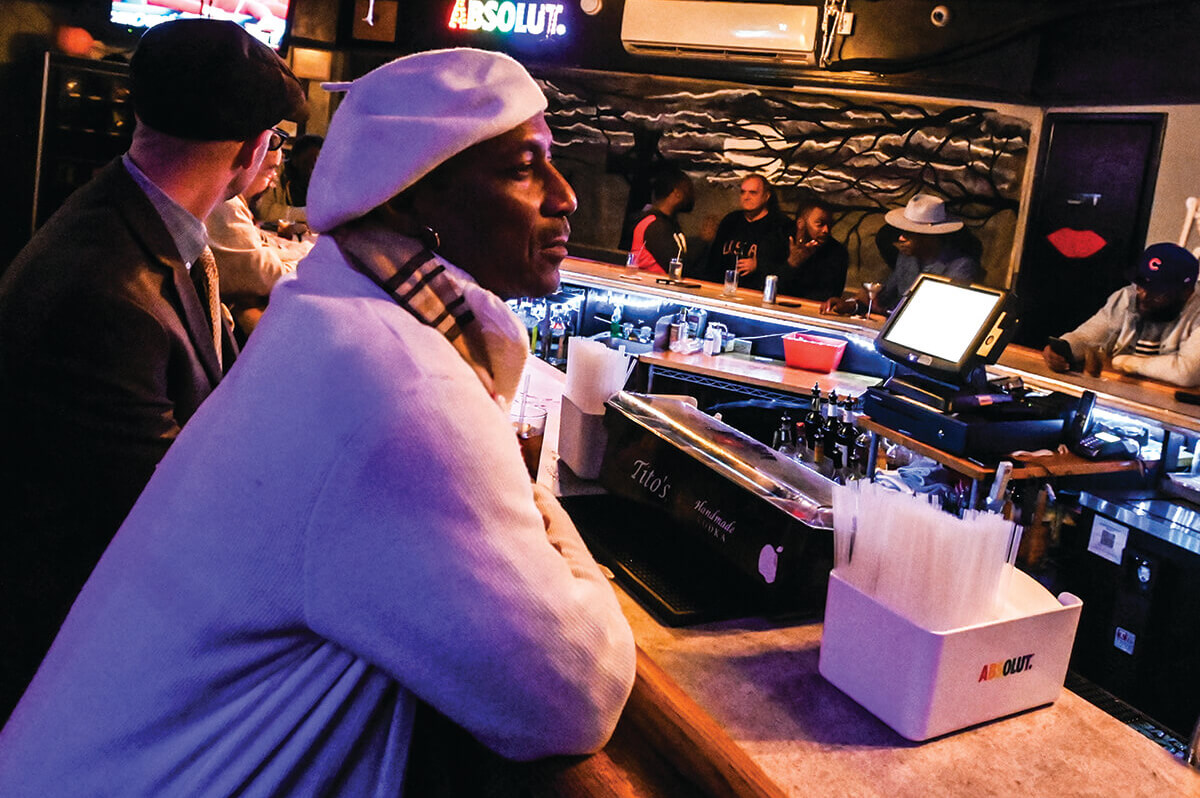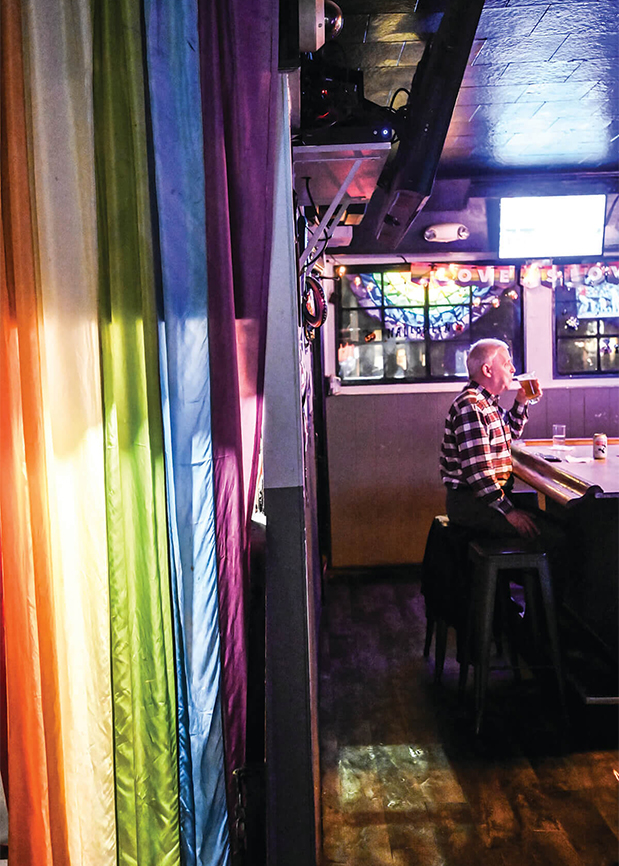 Above: Sipping a beer at The Drinkery; the U-shaped bar of The Drinkery in Mt. Vernon.
THE DRINKERY
MT. VERNON
Waxing rhapsodic about last-of-their-kind dives is especially true when it comes to stalwarts like The Drinkery on Read Street. An institution of the local LGBTQ community since 1972, this buttery-yellow building on the western edge of Mount Vernon is one of the longest-standing gay bars in Baltimore, with the loss of other inclusive establishments perhaps epitomized in The Hippo becoming a CVS. Inside, the V-shaped bar follows the shape of its snug room, and all around it, a buoyant crowd rubs elbows while Whitney Houston blasts through the stereo. Order a cold can of Union Craft Brewing's locally made Divine IPA, or a mixed drink of your choosing, but buyer beware—these are heavy pours. (Luckily, there's a throwback snack machine to soak up the spirits.) "Dive bars are just more fun," says manager Larry Evener. "There's camaraderie—everybody gets to know everybody."
Boogie Shoes: On our last visit, the back corner turned into an impromptu line dance, and all were welcome to join.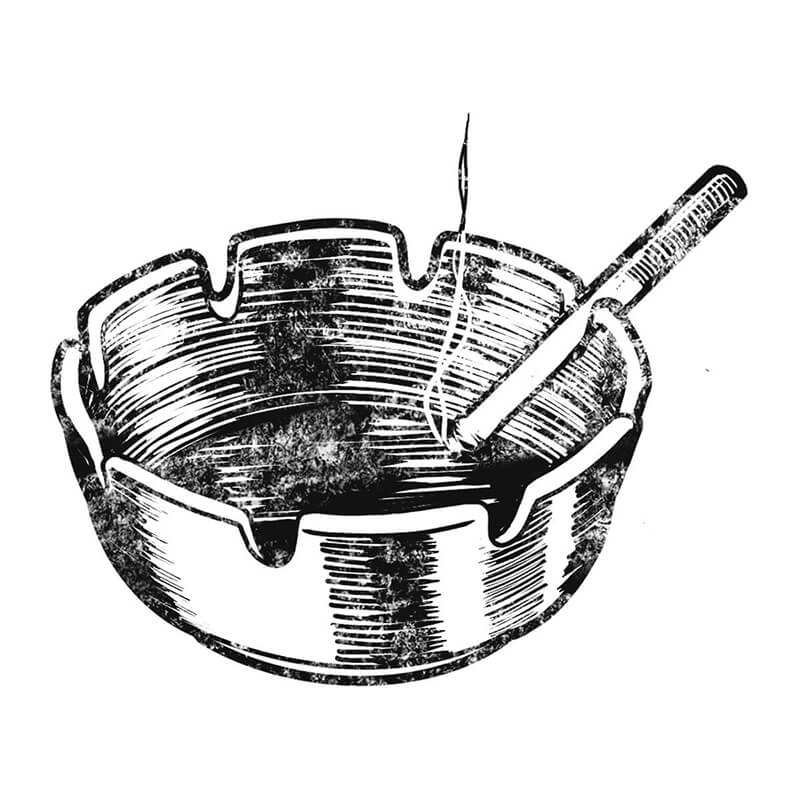 NO SMOKING
It's been 15 years since Maryland banned smoking inside bars and restaurants, and while we don't miss the overflowing ashtrays, we do have a soft spot for the few old dives that never got rid of their retro cigarette machines. Some places still sell packs from behind the bar.
FRAZIER'S ON THE AVENUE
HAMPDEN
There's a decision that must be made when visiting Frazier's on 36th Street in the heart of Hampden: to enter the cavernous Cheers-like hall to the left, with its back billiards, compact bar, and shlumpy leather couch amidst a cacophonous swirl of '80s music and ole Bawlmer odes—Pimlico, Memorial Stadium, Arrow Beer. Or to enter the small, rock-ish side bar to the right, with its single pool table and fading framed posters from the 1979 City Fair. "It's crazy over there, isn't it?" said one regular on a Thursday evening, referring to the former as we sidled into a green laminate booth in the latter. The side bar opens at 5 p.m., while service starts at breakfast or lunch with hangover-curing comfort food next door. Both spaces draw a diverse mix of locals for $2.50 happy-hour drafts and a late last call of 2 a.m. Karaoke is over, but trivia now takes place on Tuesday nights.
Back In The Day: Circa 1939, the original Frazier's used to be located on the now-residential corner of West 33rd Street and Elm Avenue.
IDLE HOUR
RIVERSIDE
One might not expect to find a corner bar best known for its devotion to Chartreuse on a list of local dives, but next year, Idle Hour turns 20, and all along, the beloved South Baltimore haunt has straddled its good taste with an unpretentious irreverence, making it right at home in the once-working-class neighborhood of Riverside. For certain customers, house pickleback shots are preferred over that signature green liqueur that has been made by French monks since the 1700s (and which this bar was once apparently the top-seller of in the entire United States). On your way in under its tiny tin awning, smack a favorite bumper sticker on the collage-like door, then grab a well-worn stool and listen to the record player spin all night. A few years back, their loyal following helped raise over $50,000 to keep the red lights glowing on Fort Avenue. Here's to another 20, at least.
Rock On: The bar hosts BYO vinyl and DJ nights, with listening sessions currently in collaboration with WYPR's Essential Tremors radio show.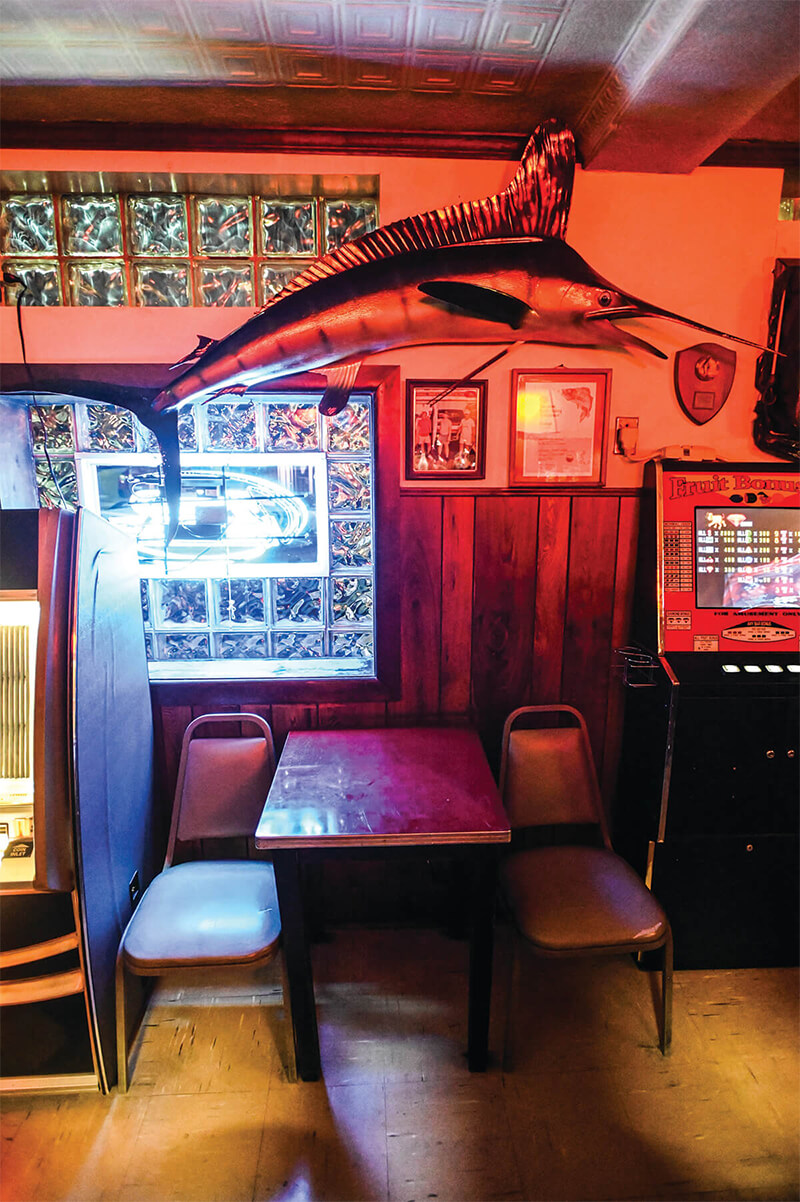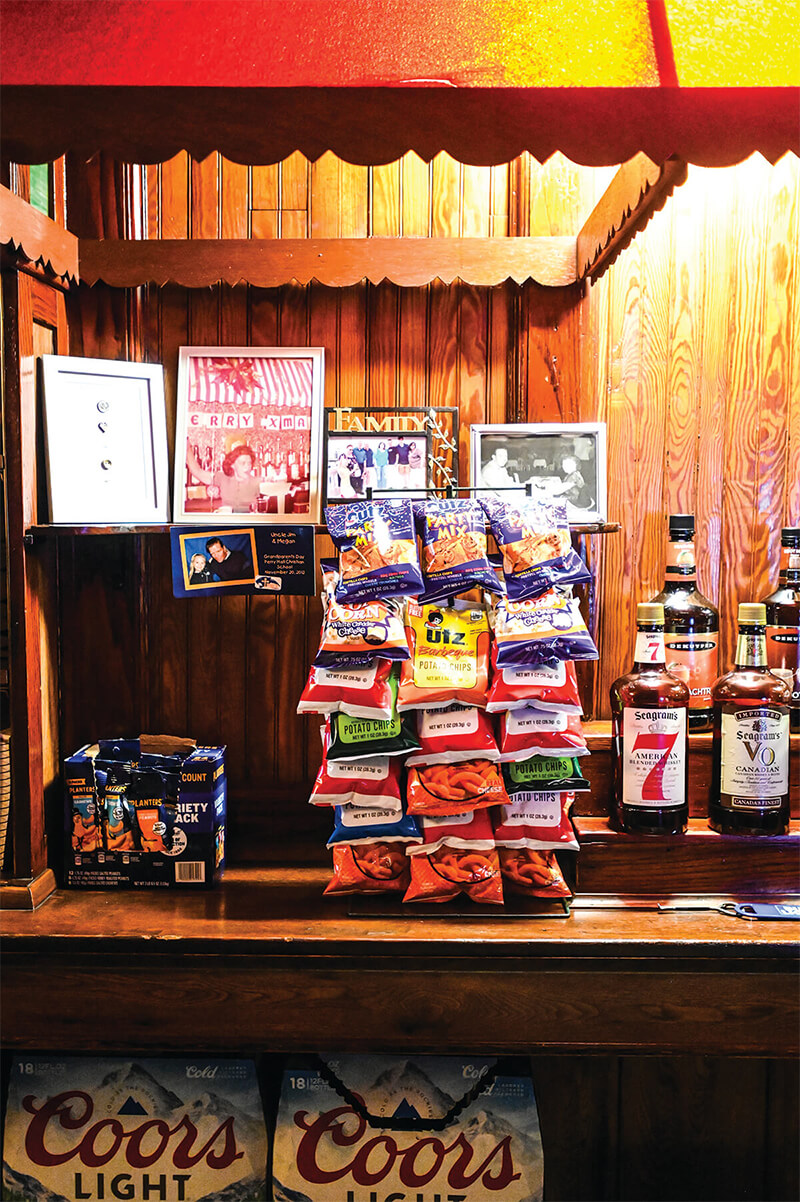 Above: Iconic brick glass, a taxidermied marlin, and Utz chips for life at Mary's Tavern.
MARY'S TAVERN
UPPER FELLS POINT
Searching for a dive bar in Upper Fells, you'll likely walk right by Mary's on its sleepy corner of Gough Street on your way toward its neighbor, Butts & Betty's. Don't come looking for loud music and sticky counters. Instead, owner Jim Poniatowski keeps his pint-size parlor impeccably tidy, and he's always on call, either in his backroom recliner or at the bar watching technicolor TV shows. Walking inside is like stepping back in time to the bygone days when every Baltimore block had its own standby, tended to by the folks who lived upstairs. We stumbled upon this multi-generation, circa-1959 treasure years ago and have kept it close to the chest ever since, in hopes that it would stay as unchanged as it was that first evening. Red awnings and wood paneling wrap the room in warmth, and cold cans of Boh are served with an itty-bitty beer glass, like the shift drinks of yore.
Greatest Hits: Mary's has one of the last legit jukeboxes in the city, spinning classics like Elvis and Patsy Cline.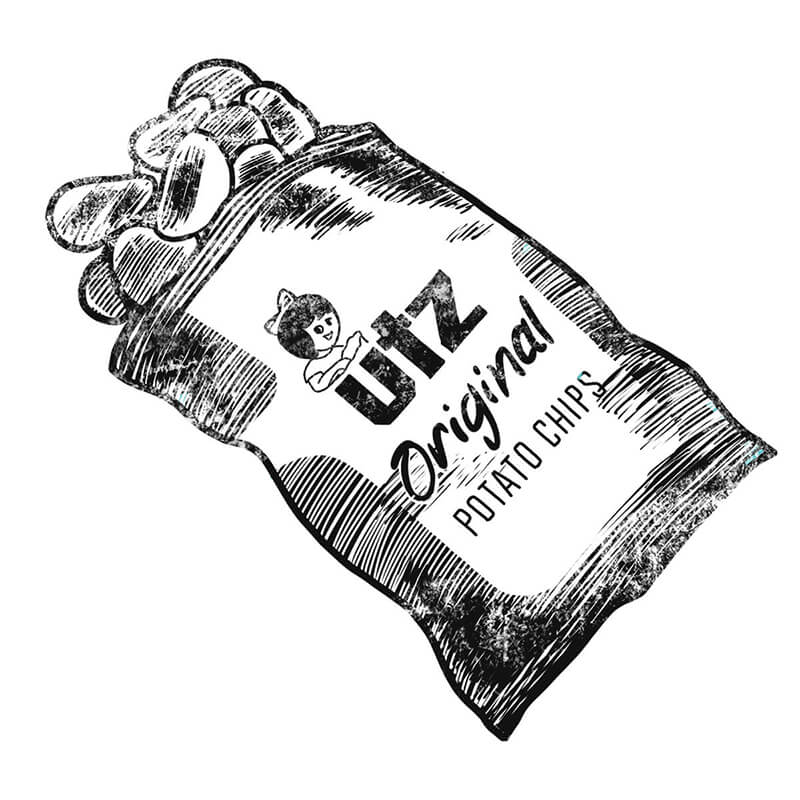 BAR SNACKS
Everyone knows that Baltimore is Utz country, and a good indicator of a local dive is often found behind the bar, where a small rack hangs fun-size bags of these Pennsylvania-made potato chips. Extra points for those with the crab flavor or Party Mix.
Above: The Sistine Chapel mural ceiling at the Mt. Royal Tavern; making important jukebox selection decisions at the Mt. Royal Tavern; the iconic neon sign at the "Dirt Church."
MT. ROYAL TAVERN
MID-TOWN BELVEDERE
In our eyes, the Mt. Royal Tavern might be the best dive bar not just in Baltimore, but the entire world. In this city, though, it is the ultmate granddad of such institutions, where locals know it as MRT, or even more aptly, the "Dirt Church"—that unorthodox mecca congregating all walks of city life for nights of bacchanalian revelry along its long blue bar and beneath its Sistine Chapel-replica ceiling. "Beware pickpockets and loose women," one sign warns, though the clientele is largely an amicably inebriated MICA-meets-buccaneer bunch. Follow the red neon sign inside, where cheap beer, hefty shot glasses, and bags of Utz are in stock seven days a week, starting at 10 a.m. Pay your hand-written tabs with cash only and chat up your barkeeps, who are full of colorfully R-rated stories. (The bar once installed a "cuss bucket," which didn't last long, of course.) The back smoking alley is a party in its own right, and the real-deal jukebox is one of the best in town, featuring everything from The Misfits to Tom Waits and Howlin' Wolf.
Pen Pals: Ask your bartender for the gift pack: a house postcard to send to someone special and a matchbook that dubs the bar "where art is bullshit and good bullshit is an art."
MUIR'S
FEDERAL HILL
Once a neighborhood of factory and waterfront workers, the Fort Avenue stretch from Federal Hill to Fort McHenry used to be a haven of blue-collar bars. These businesses have been replaced by condos and coffee shops, but Muir's is still there, with its pinnacle spire and "Beer Wines Liquors" neon sign. Circa 1944, it's the oldest continuously owned bar on the block and still run by the namesake family. Don't let the bright lighting and white walls of recent renovations fool you; this is still a true-blue corner bar, with one retired barmaid turned neighborhood barfly recently schooling us on her mashed potato recipe. (We'll take it to the grave, Sharon.) They open before lunchtime, Monday to Saturday, when Natural Light beers and neat Jim Beams are go-to orders.
Harbor Heritage: Three generations of Baltimore's industrial muscle have run this bar. The original owner, Roland Muir Sr., was a tugboat captain; his successor, Roland Jr., was a longshoreman (and National Brewing Company employee); and his nephew, Tom—the current owner—works at the Port today.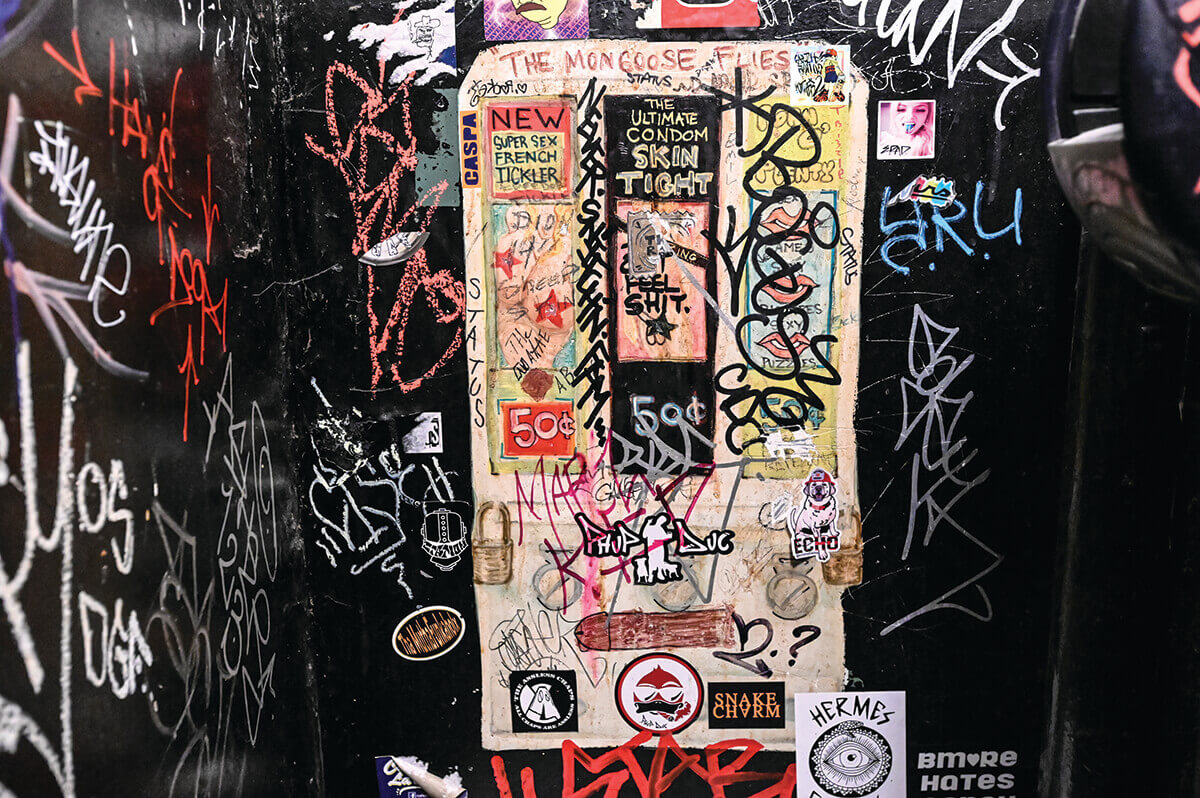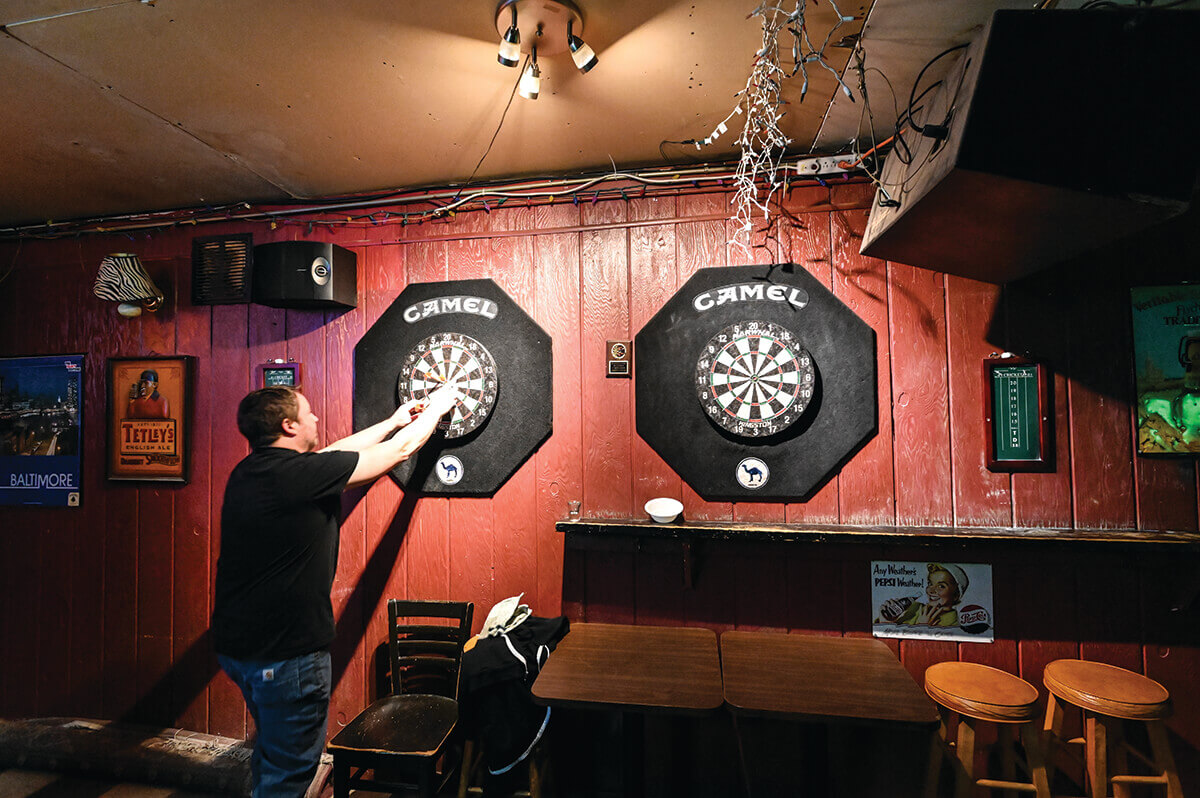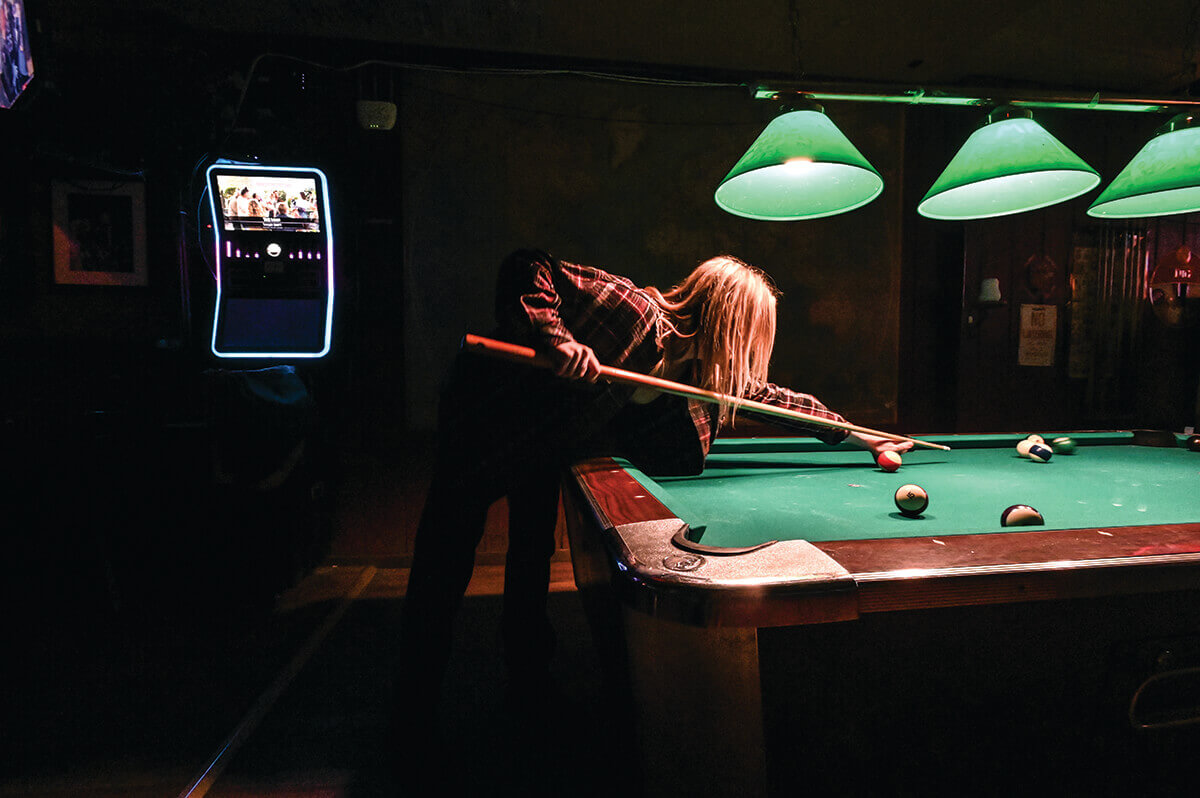 Above: Scenes from Mum's in Federal Hill: graffiti and stickers cover the walls; darts and pool are still favorite pastimes.
MUM'S
SHARP-LEADENHALL
On a leafy residential street on the western edge of Federal Hill, Mum's is a far cry from the Mother's Grilles and Mad Rivers that make up much of the rest of the neighborhood. The gritty dive is a cocoon of dark wood and crotchety service, with a sign shouting "THIS IS NOT A FRAT PARTY" to the packs of post-college kids who sometimes stumble inside. One Wednesday night this fall, the L-shaped bar was full of low-key locals, ranging from millennials to boomers, with one young couple playing pool beneath the seemingly sole light source: a green-glass billiard lampshade. The old jukebox has been digitized, and we're patiently waiting for live rock concerts to return by the boarded-up fireplace, where a life-size cut-out of Luke Skywalker now watches over in their stead.
Hot Shot: Forget Fireball—first timers should order the "Number 1 Special," which includes a can of Boh and a shot of "Evil," aka a sweet, house-made, cinnamon-honey ode to the Lithuanian liqueur, Viryta.
OTTOBAR
REMINGTON
Most folks know of this hallowed Howard Street venue as a rock club, with music lovers wandering down the alley to crowd the mosh pit for concerts beneath the twinkle of its grungy old disco ball. Upstairs, though, is another story, where a mishmash of red vinyl booths, checkerboard linoleum floors, local art, and a lone pool table create an oft-overlooked yet quintessential dive. Open nightly, the Ottobar lounge is a rough-and-tumble retreat for hipsters and hard-rock enthusiasts, with a constant rotation of events, from drag shows and dance parties to their infamous Metal Monday showcase. The logo famously features a martini being stirred by the namesake bar cat, but we lean toward Natty Bohs and whiskey-ginger ales.
Music Maven: If you get the chance, chat up owner Tecla Tesnau, who has many a story after being with the business since its humble downtown beginnings, circa 1997. "These crazy little bars are great places to get steeped in the pulse of the city," she says.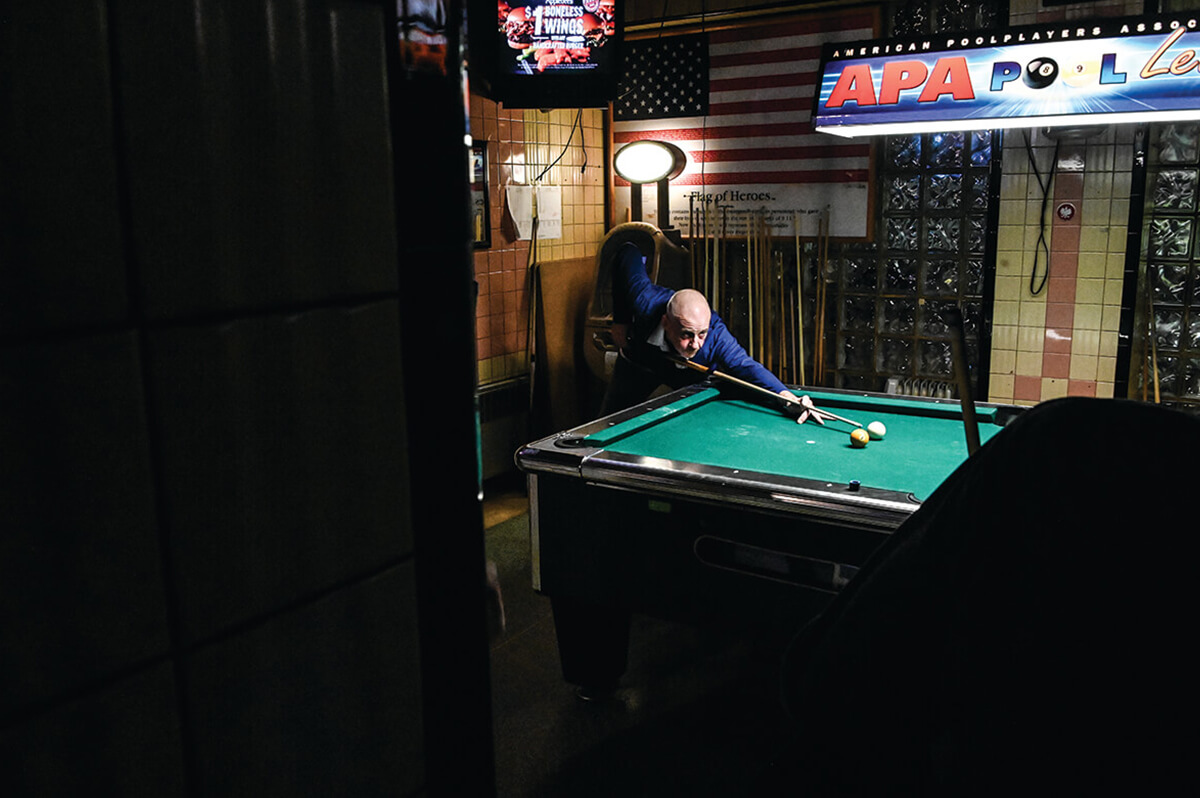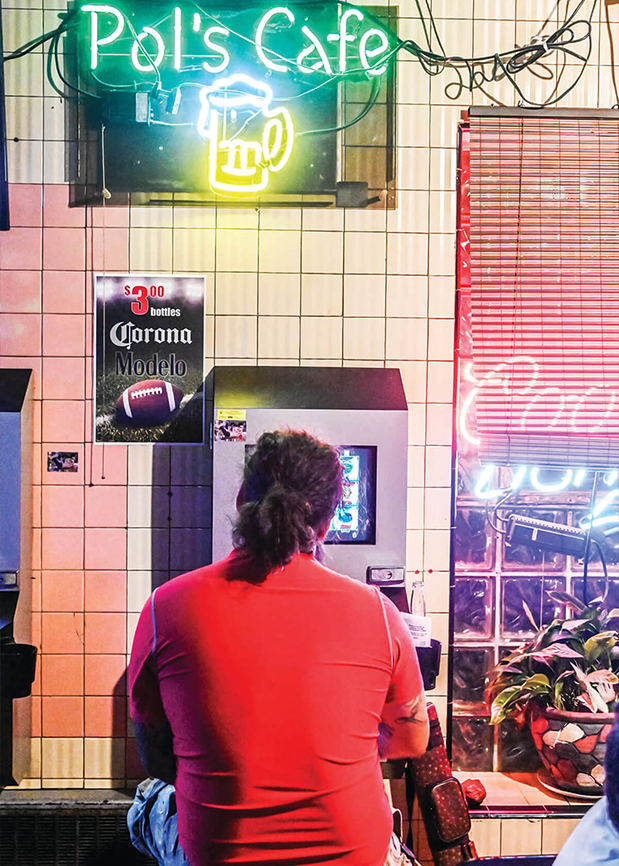 Above: Playing the slots at Pol's Cafe; shooting pool at Pol's.
POL'S CAFÉ
CANTON
One local bar owner told us that we had to check out this weathered Canton pool hall. It's where he and his staff would end up after closing time, which makes sense—following a busy night of hospitality, Pol's is the kind of unassuming corner joint where the industry, or any neighborhood regulars, like the ones who rooted on the Ravens during one fall visit, can be anonymous. This Foster Avenue elder dates back to 1934, which, upon closer look, you can clearly see in the silver bar, the brick-glass windows, and the pink-and-cream subway-tiled walls. TVs and video poker now distract visitors waiting their turn at eight-ball.
Earn Your Stripes: The billiard table, with its golden trophies lining the top of the mantle-like bar, is a stop on the local pool-league circuit.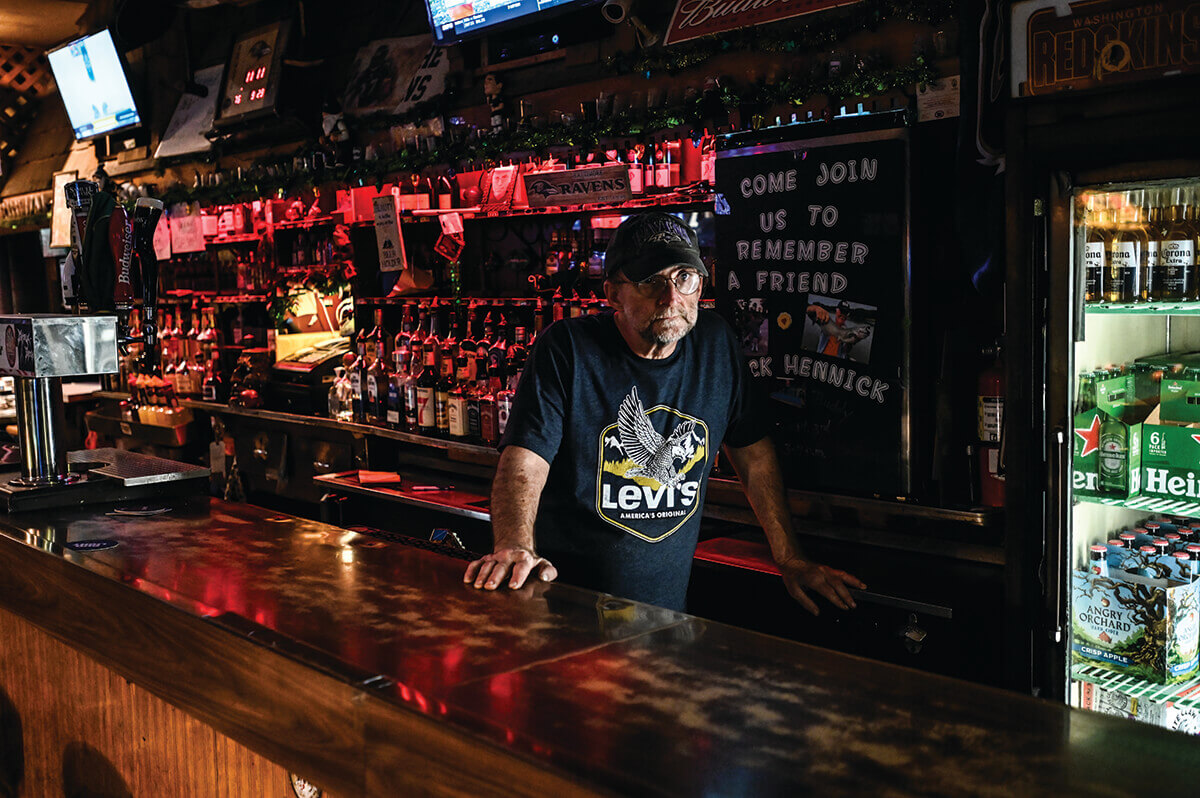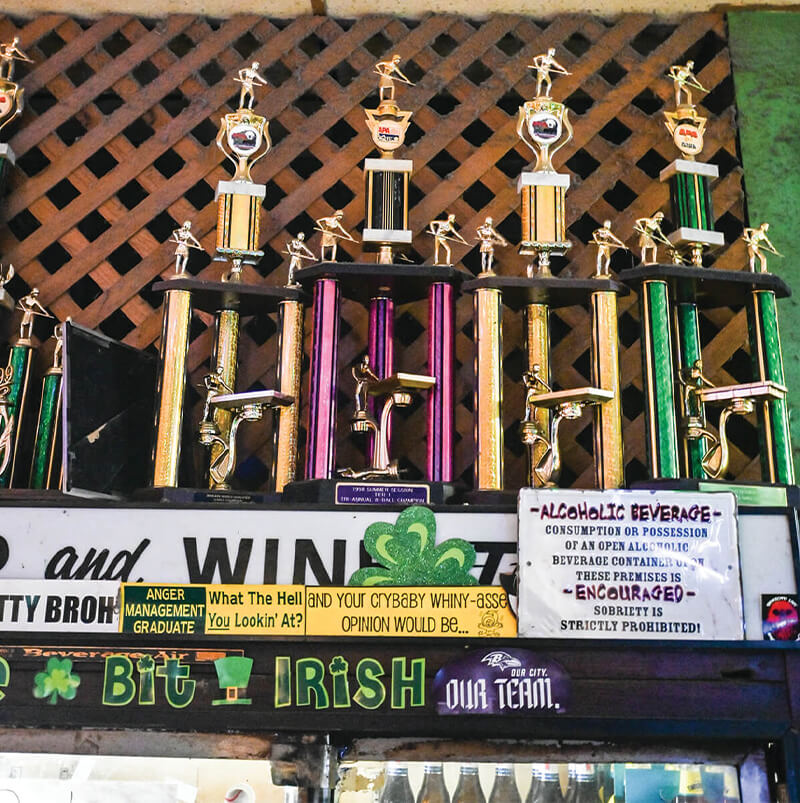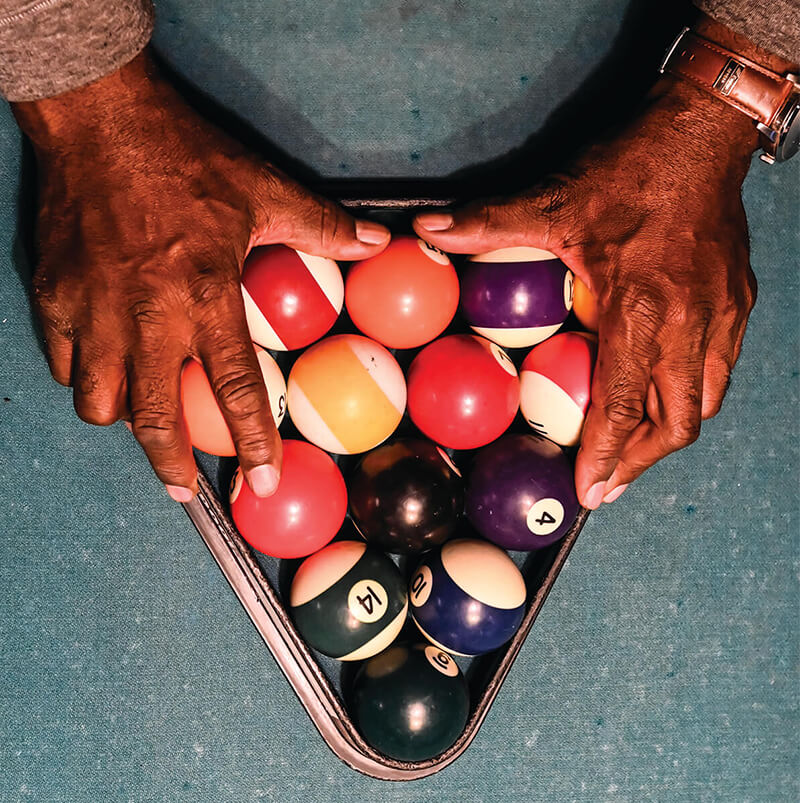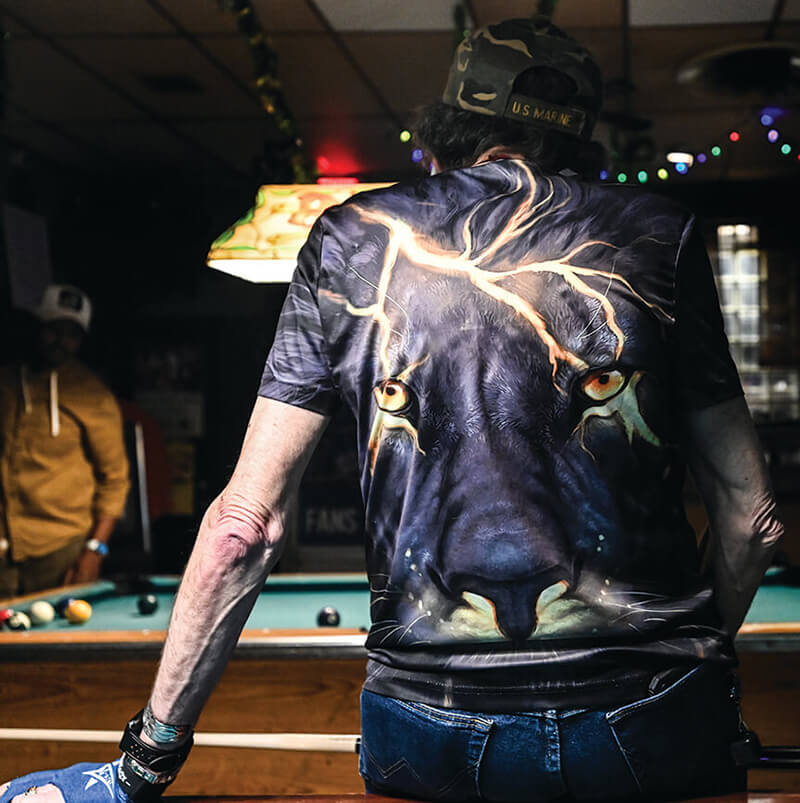 Scenes from Shamrock Inn: Tending bar; pool trophies line the wall; racking solids and stripes; a game of eight-ball heats up.
SHAMROCK INN
HAMILTON
Harford Road used to be a serious strip for unfancy neighborhood bars, from Dead Freddie's to Holiday House. Slowly they've closed or changed hands, but Shamrock Inn remains—a city-limits melting pot that, with a blessing from habitué John Waters, was voted one of the best bars in America by Esquire magazine in both 2007 and 2011. It's one of the few places "that hasn't been affected by real estate porn," wrote Waters back then, and that's certainly still true today. Past the cobwebbed cigarette machine, snag a busted barstool and signal owner Terry for a beer from the packaged-goods cooler. "You actually like that stuff?" asked one eyepatched pool shark swigging a Natural Ice when we ordered our first Boh. Whatever you're drinking, you're here to watch the wannabe Cool Hand Lukes heckle each other over solids and stripes. On occasion, cover bands and DJ sets fill the back room.
Order A Poor Man's Crab Cake: Eating food at a dive bar is a bit like Russian roulette, but this compact flat-top-fryer combo fuels a full food menu, from grilled cheese to Baltimore coddies, aka "the poor man's crab cake."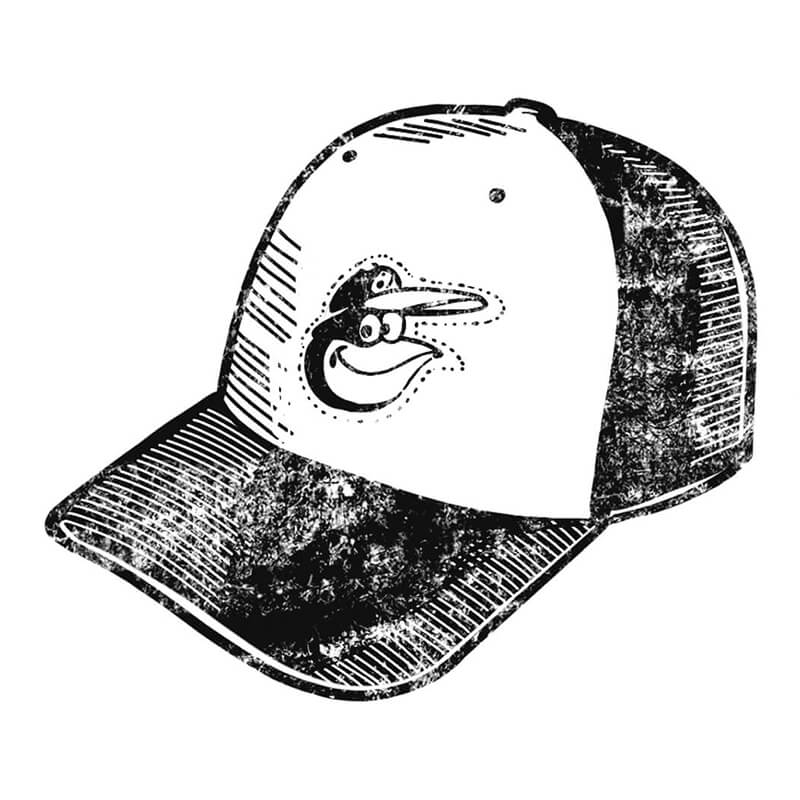 LET'S GO O'S
Whatever your opinion on TVs in bars, there are few better ways to bond with strangers in Baltimore than by bellying up for a Ravens or O's game. Remember the din of local drinkeries when the Birds made it to the American League Championship Series in 2014?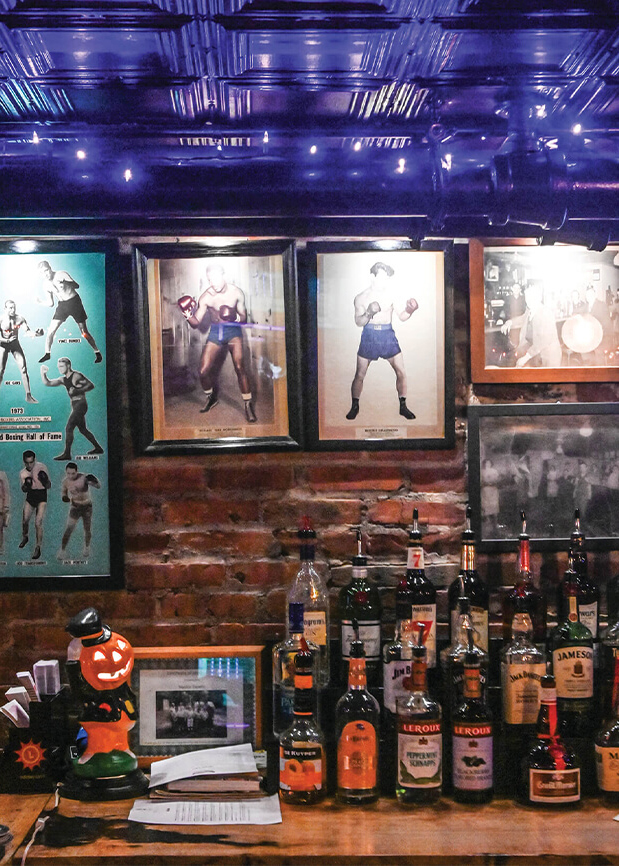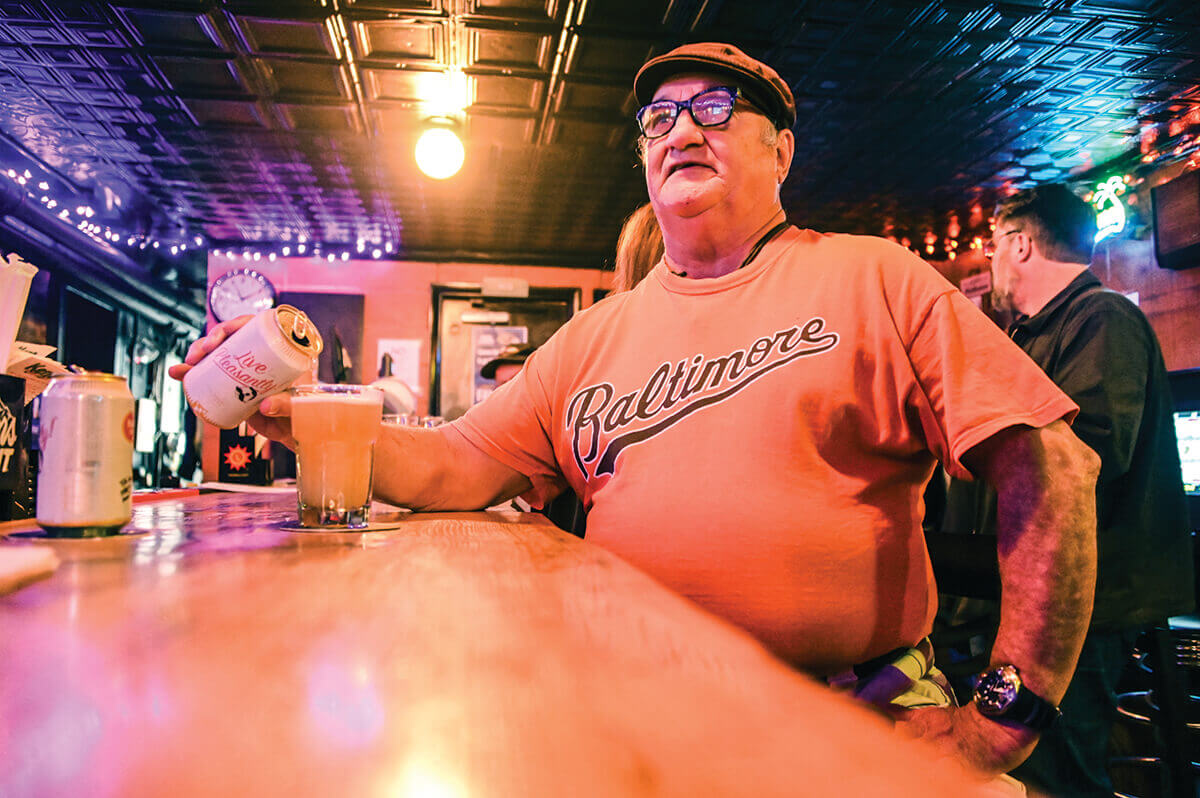 Above: Pouring a Boh and a display of Baltimore's boxing history at Venice Tavern in Highlandtown.
VENICE TAVERN
HIGHLANDTOWN
On the corner of Conkling and Bank streets, a white sign with a giant green arrow points down sidewalk steps to one of the last basement bars in Highlandtown, if not Baltimore. Born when Prohibition was repealed in 1933, Venice Tavern was founded by Italian immigrants Mary and Frank DeSantis, who sold spaghetti and 15-cent beers out of this subterranean lair beneath their own home. Now run by fourth-generation great-grandson, Dominic, the bar's black-and-white photographs reveal that not much has changed. A portrait of President Franklin Delano Roosevelt, the patron saint of Repeal Day, still presides over the bar, which is open Monday through Saturday, starting as early as 8 a.m., but now craft beers have been added to the taps, like Diamondback's Green Machine and Brewer's Art's Resurrection. Imbibers range from Gen Z pool players aiming for the corner pocket to blue-collar barflies betting their luck on video slots.
Local Lore: Baltimore's boxing history is on full display here, with vintage fliers and a hand-drawn mural celebrating the lightweight achievements of Dominic's grand-uncle.
WALT'S INN
CANTON
On the beaming plastic sign at the corner of O'Donnell Street and East Avenue, the number seven has been painted over, indicating that this once-nightly neighborhood bar has felt the changes faced by many of its kind in the wake of COVID-19. They're now only open on weekends, but the Canton throngs still know to shuffle down to the tin awnings, Formstone siding, and porthole windows of Walt's on Fridays and Saturdays, when the seasoned songhouse hosts arguably the best karaoke in town. Be sure to join on the chorus when some brave singer picks Wilson Phillips, Tracy Chapman, or Jon Bon Jovi. But let the Solo cups foretell just how rowdy (and, oftentimes, bro-tastic) this bar can be.
Hot Tip: Muster the courage needed to trill your favorite tunes with the help of infamous house Jell-O shots, which, on one recent visit, meant pumpkin pie flavor with a crown of whipped cream.
ANOTHER ROUND
NEW BARS KEEP THE OLD CHARM FLOWING IN BALTIMORE.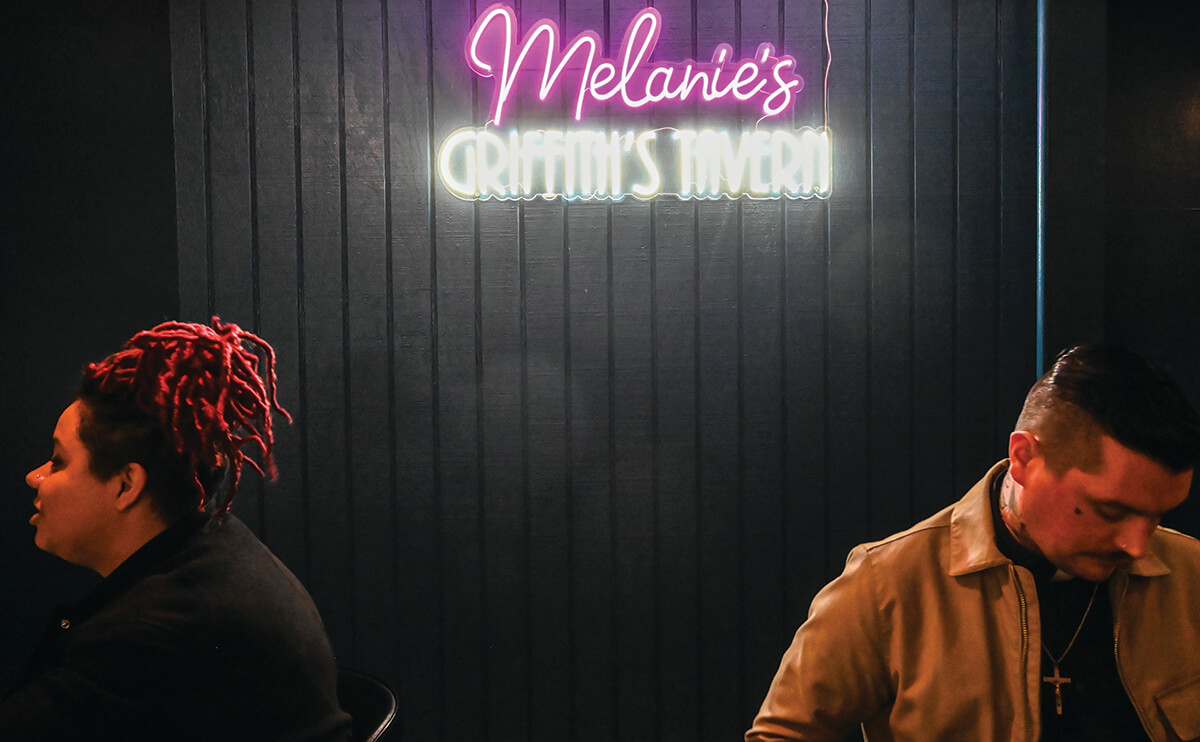 REMINGTON
There was a moment when we foolishly wondered where else we'd go in Remington for a shot of Pikesville Rye and off-key karaoke once the green-and-yellow light shut off for good at Long John's Pub. But in 2018, Baltimore native Aaron Reinhart eased our worries when he purchased the bar. Sure, the white-label bottles and mic-sung standards might have gone the way of the buffalo (and luckily, the carpet floor, too), but Reinhart kept the old Formstone, and the new neon sign has quickly become a neighborhood beacon, drawing a diverse crowd for affordable drinks—more than 50 offerings in total, from Coors Banquet bottles to Charm City Meadworks' honey brews—and a sizeable menu of down-home pub fare. On a recent Friday happy hour, every seat was taken at the J-shaped bar.
Heading North: Reinhart also took over Belvedere Square's old Swallow at the Hollow watering hole back in 2011, and it's busy as ever today.
HAMPDEN
There was a collective sigh of dismay among many Hampdenites when it was announced that the neighborhood's last authentic dive bar, known by locals as "the Ice House," would be sold. But since reopening in April with a fresh coat of paint, new owners Allison Crowley and Hannah Spangler have made minimal changes to the Hickory Avenue hangout, originally a men-only stag bar and always a mainstay for the neighborhood's dwindling working-class crowd, though the vibe has certainly evolved. Natty Boh now mingles with natural wine, but, more importantly, the atmosphere has grown increasingly inclusive for younger patrons and the LGBTQ community. On a recent Thursday night, a baby and its beer-sipping parents were down the bar from a gray-haired old-timer fiddling with a pack of Winstons.
Fun And Games: Past customers can rejoice in knowing that the Pac-Man and Skee Bowl games live on in the bar's left corner.
PIGTOWN
A stone's throw from Carroll Park, this Pigtown corner bar has become a welcome addition to the Southwest Baltimore community since arriving in 2018. The former Cockeyed Cow Saloon got an upgrade under owner Candice Bruno, who has transformed the classic cop hangout on Carey Street into a Black-owned, open-armed meeting place for a medley of neighbors— first, through its rum-based tropical cocktails and Caribbean-themed food menu, then through its recurring events, from yoga classes to board game nights. Still, in true dive fashion, plenty of beers, both ubiquitous and rare, are on offer, plus a house punch that packs a one-two.
Looking Back: Old Major is named for a central character in George Orwell's seminal Animal Farm, and, of course, the neighborhood's swine-strewn history, when pigs were once paraded from the nearby B&O rail lines through the streets to local slaughterhouses.
STATION NORTH
Randy Coffren and Rich Pugh know how to open a Baltimore bar. From their flagship Johnny Rad's on the Fells-Canton border to its sister Snake Hill in Highlandtown, the duo strikes the right chord in creating hip hangouts that are suffused with the city's scrappy soul. At their new digs on Maryland Avenue, the old Gallery One bartop has been updated with punk concert bills from the late Charm City Art Space venue, located next door, and the genre's heyday gets a hat tip throughout, from '70s-inspired décor to a disco-balled dance floor for late-night debauchery. Order a Narragansett tallboy and the slam-dunk smash burger to sustain you through the night. Says Coffren, a self-proclaimed dive bar expert, "I'm going to end up buying one of those tiny six-tops and tending bar until I croak." We hope he means it.
Side Hustle: Slink off to the side lounge, where a neon sign beckons "The Party" to its analog TV and retro sofas.
FELLS POINT
Cocktail aficionados know that bartender Doug Atwell helped change the city's drink game when he co-ran the original Rye cocktail bar on a sliver of South Broadway in Fells Point. That era ended in 2016, but luckily for the rapidly skyscraping neighborhood, the veteran barkeep has now opened a new corner bar at the crossroads of Bond and Fleet streets. Its nonchalant space hawks fresh takes on classic concoctions, plus budget-friendly libations like Coors Banquet bottles or High Life ponies (which can be easily converted into Atwell's pride-and-joy Dr. Pepper shots). An old-school jukebox will be up and running any day now. All we ask is that he brings back "Thunderstruck."
What's In A Name? Southpaw's nom de plume is not because Atwell is left-handed but rather combines the owner's three favorite things: baseball, dogs, and Southern food. What's more Baltimore than that?