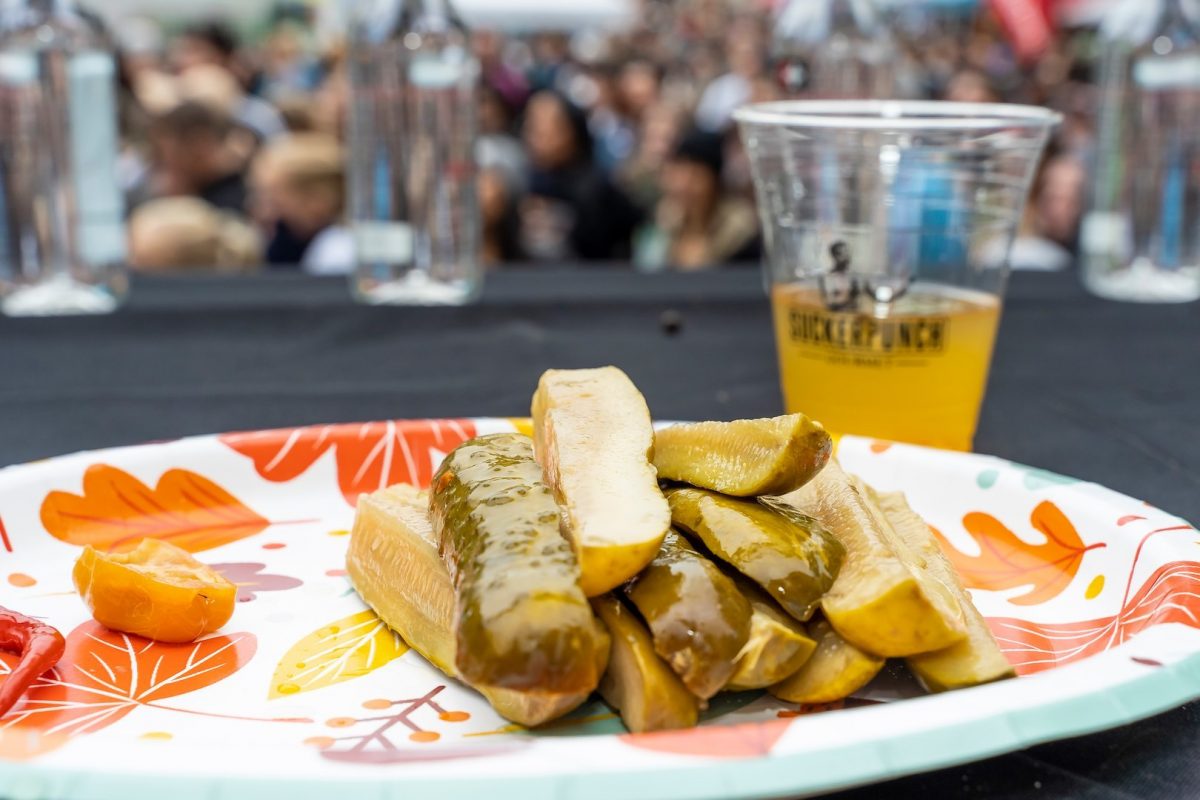 The Big Dill
Power Plant Live and pickle party promoters The Big Dill have teamed up to bring a massive festival celebrating the beloved brined snack to Charm City.
Whether you already relish pickles, or are just pickle curious, the inaugural event is sure to satisfy all odd cravings. Attendees will enjoy pickle vendors, bars offering requisite pickleback shots, and 40 food trucks peddling their pickle-inspired creations. The festivities will take over Power Plant Live on September 22 from 1-6 p.m. (VIP guests will be granted early entry at noon.)
There are three levels of pickle passes—some of which range all the way up to VIP (very important pickle)—which grant admission to attractions like a pickle-eating contest, live country music, carnival games, and even a class on the art of pickling.
Inspired by the growing pickling trend, the event is bringing together an array of local vendors offering everything from themed barbecue to desserts. (If you are feeling bold, Dessert Fantasies will be celebrating with pickle cupcakes.) Josh White, head chef at Wayward Smokehouse, says he's looking forward to getting in on the fun.
"Pickling has absolutely become more popular in recent years," White says. "There are some great Southern chefs [such as] Sean Brock and Edward Lee who have really pushed the envelope on pickling and infusing different flavors and ingredients into pickling. They appear on white tablecloth menus and old school barbecue joints alike."
Specifically for the festival, White is planning to put an entirely new spin on the classic chicken wings that he serves at Wayward.
"We were asked to participate and make wings, which just so happens to be one of my specialities," he says. "I've done pickle-brined fried chicken in the past and it was always a hit, so I figured, why not? I may or may not be working on a pickle barbecue sauce to pair with them, as well."
There will also be plenty of pickle-infused drinks to wash down all of the eats. Whiteford-based Slate Farm Brewery has partnered with the event to provide pickle, cucumber, and strawberry-flavored beer. If you'd rather down a shot, the creators behind The Original Pickle Shot—bottled in Ocean City—will be mixing a variety of pickle brines with small-batch vodka to create an excellent hangover cure.
What some might not know is that Baltimore has a hidden history with pickles. It dates back to 1881 when pickle and kraut manufacturing company C.C. Lang & Son was founded at 725 North Haven Street, according to the Baltimore Museum of Industry. Though it's now closed, it once rivaled Pittsburgh-based H.J. Heinz Company in size.
Originally using cucumbers grown on the Lang family farm in Glen Arm, Maryland, the company eventually expanded to open factories in Virginia, South Carolina, North Carolina, New York, and Michigan. Lang's also held a patent on a machine that could slice cucumbers longitudinally for more efficient packing.
Organizers and vendors are looking forward to celebrating the local roots of the acidic snack at the first-of-its-kind festival next month.
"I've cooked for a lot of different events, but never a pickle festival," White says. "I always get excited for people to try our food, but I'm really excited to try what everyone else is making. I'm a huge pickle fan."